2011-12 Departmental Performance Report
Minister's Message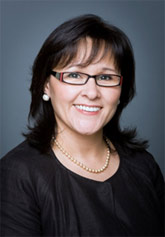 I am honoured to present the 2011-2012 Canadian Institutes of Health Research (CIHR) Departmental Performance Report.
The Government of Canada understands the importance of advancing health science and technology. New scientific knowledge, gained through dedicated research, helps strengthen the health-care system and creates new economic opportunities. CIHR not only facilitates important health research, it also helps translate research findings into better lives for Canadians. 
To build a strong research enterprise, we need to attract and retain the brightest minds. That is why the Government of Canada has launched programs such as the Canada Excellence Research Chairs, the Vanier Canada Graduate Scholarships and the Banting Postdoctoral Fellowship programs to help support researchers at various stages of their careers. CIHR administers the Banting program on behalf of the three federal research granting councils and, in 2011-2012, awarded another 70 Banting fellowships to support top researchers from across the country and around the globe.
Over the past year, CIHR provided invaluable support as the Government of Canada responded to a range of pressing health issues. For example, CIHR responded to a shortage in the supply of medical isotopes by helping to fund research on alternative methods of production. This past February, a team of researchers announced they had developed a method of producing medical isotopes with existing cyclotrons in hospitals and clinics around the country.  Earlier this year, CIHR announced a new research initiative focusing on Community-Based Primary Health Care, with support to researchers investigating issues such as access to care for vulnerable populations, chronic disease prevention, and factors contributing to improved health outcomes. Research being conducted through this initiative will help strengthen primary health services to ensure patient-centred care.
CIHR is also laying a strong foundation for the future of health research in Canada. In 2011-2012, CIHR continued to implement its five-year strategic plan, Health Research Roadmap: Creating innovative research for better health and health care. In line with this strategic plan, CIHR and the Government of Canada launched the Strategy on Patient-Oriented Research with a coalition of stakeholders from the health charities, industry, provincial and territorial governments, academic health-care organizations and faculties of medicine/health sciences.
CIHR continues to be a world-leader in promoting excellence in health research, and its cutting-edge initiatives will result in improved health outcomes in Canada, and internationally.
The Honourable Leona Aglukkaq, P.C., M.P.
Minister of Health
---
Section I: Organizational Overview
Raison d'être
CIHR Institutes: 2011-12
President: Dr. Alain Beaudet, MD, PhD
Annual Spending: $1,009.1 million
Head Office: Ottawa
Employees: 432
Aboriginal Peoples' Health:
Dr. Malcolm King
Aging:
Dr. Yves Joanette
Cancer Research:
Dr. Morag Park
Circulatory and Respiratory Health:
Dr. Jean L. Rouleau
Gender and Health:
Dr. Joy Johnson
Genetics:
Dr. Paul Lasko
Health Services and Policy Research:
Dr. Robyn Tamblyn
Human Development, Child and Youth Health:
Dr. Shoo K. Lee
Infection and Immunity:
Dr. Marc Ouellette
Musculoskeletal Health and Arthritis:
Dr. Phillip Gardiner
Neurosciences, Mental Health and Addiction:
Dr. Anthony Phillips
Nutrition, Metabolism and Diabetes:
Dr. Philip M. Sherman
Population and Public Health:
Dr. Nancy Edwards
CIHR is the Government of Canada's health research funding agency. It was created with a mandate "to excel, according to internationally accepted standards of scientific excellence, in the creation of new knowledge and its translation into improved health for Canadians, more effective health services and products and a strengthened Canadian health care system".
Responsibilities
CIHR was designed to respond to the evolving needs for health research, and this is reflected in the difference of its mandate from that of its predecessor, the Medical Research Council of Canada. CIHR's mandate seeks to transform health research in Canada by:
funding investigator-initiated research as well as research on targeted priority areas;
building research capacity in under-developed areas and training the next generation of health researchers; and
focusing on knowledge translation that facilitates the application of the results of research and their transformation into new policies, practices, procedures, products and services.
CIHR integrates research through a unique interdisciplinary structure made up of 13 "virtual" institutes. These institutes are not "bricks-and-mortar" buildings but communities of experts. Each Institute supports a broad spectrum of research in its topic area: biomedical; clinical; health systems and services; and the social, cultural and environmental factors that affect the health of populations. Institutes form national research and knowledge translation networks linking researchers, funders and knowledge users across Canada to work on priority areas.
CIHR reports through the Minister of Health and plays a key role in the Health Portfolio, the focal point for the Government of Canada's health-related activities. As Canada's health research funding agency, CIHR makes an essential contribution to the Minister of Health's overall responsibilities by funding the research and knowledge translation needed to inform the evolution of Canadian health policy and regulation; and, by taking an advisory role on research and innovation issues. This is achieved through an extensive and growing set of linkages with Health Canada and the Public Health Agency of Canada, providing decision-makers with access to high quality and timely health research.
CIHR works closely with the Natural Sciences and Engineering Research Council (NSERC) and the Social Sciences and Humanities Research Council (SSHRC), the two Granting Councils of the Industry portfolio, to share information and co-ordinate efforts, harmonize practices, avoid duplication and foster multi-disciplinary research. The three organizations (referred to as "Tri-Council") also try to make it easier for researchers and others to interact with them, through the implementation of common policies, practices and approaches whenever possible.
CIHR's Governing Council (GC) sets the strategic directions and evaluates performance, supported by six sub-committees. Leadership on research, knowledge translation and funding for research is provided by the Science Council (SC) and leadership on corporate policy and management is provided by the Executive Management Committee (EMC).
Strategic Outcome and Program Activity Architecture (PAA)
CIHR's Program Activity Architecture (PAA), approved by Treasury Board in May 2009, is shown in Figure 1 below. The PAA consists of one Strategic Outcome and five Program Activities that support the Strategic Outcome. The performance information presented in Section II is organized according to this PAA structure.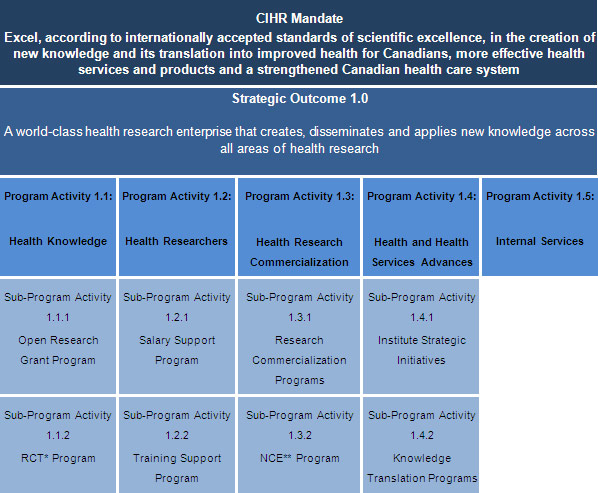 Long description: CIHR's Program Activity Architecture
*RCT: Randomized Controlled Trials
**NCE: Networks of Centres of Excellence
Organizational Priorities
In 2009, CIHR's Governing Council approved CIHR's second Strategic Plan (2009-2014), The Health Research Roadmap: Creating innovative research for better health and health care. This Strategic Plan was the product of widespread consultations with members of the health research community, careful assessment of Canada's strengths and weaknesses, and ongoing deliberation about what CIHR would like to achieve by 2014. Roadmap sets out a vision comprised of four strategic directions aligned with CIHR's corporate, business and operational priorities.
In 2010, CIHR developed a rolling, CIHR Three-Year Implementation Plan and Progress Report for Roadmap. This plan highlights the activities CIHR will undertake over the next three years in order to achieve the strategic directions outlined in Roadmap. A refresh of this implementation is scheduled to occur on an annual basis to assess how well CIHR is moving towards its strategic goals and priorities.
Summary of Progress Against Priorities
Priority
Type
Program Activities
Invest in World-Class Research Excellence
Ongoing
1.1 Health Knowledge
1.2 Health Researchers

CIHR initiated a process to design a new Open Suite of Programs and peer review system to maintain the long-term sustainability of CIHR's contribution to the Canadian health research enterprise, remove barriers, and enable researchers from all pillars to improve CIHR's ability to deliver on its mandate. In consultation with members of CIHR's researcher and stakeholder communities, CIHR developed a design discussion document, which outlines the proposed reforms to the Open Suite of Programs and peer review system. In early 2012, the discussion document was released to the broader research community for further consultation. CIHR received feedback from thousands of stakeholders across the country, including researchers, peer reviewers, institution administrators, professional associations and partners. CIHR will continue to engage the community as the new Open Suite of Programs and Peer Review Process design evolves.

CIHR also increased its funding envelope for Open Grants Competition to sustain a minimum of 800 new grants per year.
Priority
Type
Program Activity
Address Health and Health System Research Priorities
Ongoing
1.4 Health and Health Services Advances

The Strategy for Patient-Oriented Research (SPOR) was officially launched in August 2011 as a Signature Initiative. SPOR is a pan-Canadian partnership involving health researchers and professionals, policy makers and patients. The goal of SPOR is to provide the right clinical intervention to the right patient at the right time, ultimately leading to better health outcomes and a better health system in Canada.

In 2011-12, the Canadian Epigenetics, Environment and Health Research Consortium (CEEHRC) launched a number of competitions worth over $25 million. The overarching objective of the CEEHRC Team Grant funding is to enhance the translation of epigenetics research to health benefits. The CEEHRC is connecting existing resources and expertise to accelerate the translation of epigenetic discoveries into new diagnostic procedures and therapies.

To launch its Personalized Medicine Signature Initiative, CIHR announced its participation in the launch of a funding competition for large-scale genomics projects. The competition, conducted in partnership with Genome Canada, will fund major projects to help improve the ability to prevent, diagnose and treat diseases and realize significant social and economic benefits. Successful projects must receive matching funding from other sources and engage end-users to have clinical utility or application. Eight of CIHR's Institutes are participating in this competition.
Priority
Type
Program Activities
Accelerate the Capture of Health and Economic Benefits of Health Research
Ongoing
1.3 Health Research Commercialization
1.4 Health and Health Services Advances

To gather stronger evidence on the effectiveness of its funding programs, in 2011–12 CIHR began requesting that investigators submit the results of their research through the new Research Reporting System. The system will strengthen CIHR's accountability to the Government of Canada and all Canadians for the funds it provides for health research. Principal investigators will have 18 months after the end of each grant period to complete their reports, with CIHR providing ongoing support to assist them in the task. Data collected will help demonstrate the impacts of CIHR funding.

CIHR enhanced its partnership with Canada's Research-Based Pharmaceutical Companies (Rx&D) responding to the Minister of Health announcement of a renewed partnership between Rx&D and the Government of Canada for the purpose of strengthening clinical research in Canada.

In 2011-12, CIHR was successful in working with Ministries of Health across Canada to launch the Evidence Informed Healthcare Renewal (EIHR) Expedited Knowledge Synthesis and Healthcare Renewal Policy Analysis funding opportunities which incorporated key questions related to healthcare renewal raised by the Ministries.
Priority
Type
Program Activity
Achieve Organizational Excellence, Foster Ethics and Demonstrate Impact
Ongoing
1.5 Internal Services
CIHR's Governing Council commissioned a second International Review of CIHR to assess the organization's success in achieving its mandate. The review was conducted by a prestigious eleven member panel of global leaders in health research, led by Dr. Elias Zerhouni, the former Director of the U.S. National Institutes of Health. The review took place in Ottawa in February and March 2011. Dr. Zerhouni presented the panel's findings and recommendations to CIHR's Governing Council in June 2011. The Governing Council met in August 2011 to consider its response to the recommendations and to provide strategic direction to management on the development of a corresponding action plan. Governing Council will continue to provide oversight and strategic direction to management as it implements the action plan and reports on progress.
Risk Analysis
CIHR continued to proactively identify, assess and mitigate risks under the terms of the approved Risk Management Framework. The Risk Management governance structure contained in this Framework clearly defines the roles and responsibilities of Risk Owners, CIHR management, Chief Risk Officer, Governing Council, and Audit Committee. The Framework also includes CIHR's Risk Management Policy, and describes the process and reporting requirements that have been established to develop and refresh the Corporate Risk Profile.
Reform of the Open Suite of Programs is one of the significant risks actively managed by CIHR. To address this particular risk, CIHR:
Established a governance structure for the implementation of the reforms that includes an executive Task Force, an implementation team and a Network comprised of senior staff members and subject matter experts;
Completed an external stakeholder analysis and used the results to develop and implement an external stakeholder engagement and communication plan;
Developed and released a design discussion document for CIHR's Open Programs and Peer Review reforms to support external engagement activities;
Conducted a number of forums across the country with researchers and research institutions to get input and receive feedback on the proposed design; and
Conducted a number of working sessions with University Delegates to inform the design of the open suite of programs.
While progress has been made on the approved mitigation strategies, the risk level associated with the successful reform of the Open Suite of Programs remains high. The objective of CIHR management is to reduce the level of risk in the future by continuing to engage key stakeholders in the reform process in order to further refine the design of the new Open Suite of Programs.
Summary of Performance
2011-12 Financial Resources ($ millions)
| Planned Spending | Total Authorities | Actual Spending |
| --- | --- | --- |
| 983.4 | 1,015.2 | 1,009.1 |
Total Authorities:
CIHR's total Parliamentary authorities increased to $1,015.2M in 2011-12, an increase of $31.8M compared to its planned spending. The increase in Parliamentary authorities was the result of an increase to CIHR's base budget of $15.0M to support advanced health-related research such as the Strategy on Patient-Oriented Research, as announced in the Budget 2011. CIHR also received $9.3M of additional Parliamentary authorities during the 2011-12 fiscal year (via the Supplementary estimates) to fund the third round grants for the Centres of Excellence for Commercialization and Research (CECR) program, and net additional transfers from other Federal government departments totalling $2.1M to fund strategic investments in areas including HIV/AIDS, Autism, Food and Nutrition and Grand Challenges Canada. CIHR also received an additional $5.4M through technical adjustments to cover employee salaries and related benefits, unforeseen severance as a result of changes made to CIHR terms and conditions of employment and other entitlements.
Actual Spending:
In 2011-12, CIHR's expenditures totalled $1,009.1M, which was $6.1M less than its total available Parliamentary authorities. The difference encompasses the following:
CIHR lapsed $1.9M of its total 2011-12 Grant Vote. Approximately $1.6M of this lapse occurred with respect to listed grant programs including Canada Graduate Scholarships, Vanier Canada Graduate Scholarships and Canada Excellence Research Chairs programs. CIHR is unable to reallocate unused authorities from listed grant programs to other initiatives.
CIHR carried forward $2.1M unspent authorities of its Operating expenditure Vote to the 2012-13 fiscal year.
CIHR absorbed $2.1M from its Operating expenditure Vote to support the appropriate level of employee benefit charges.
2011-12 Human Resources (full-time equivalents-FTEs)
Planned
Actual
Difference
No significant variance was noted between planned and actual FTEs in 2011-12.
428
432
(4)
Note: CIHR uses a peer review process to identify exemplary projects and individuals that merit funding. In 2011-12, over 2,720 peer reviewers provided their time, without remuneration, and served on 217 peer review committee meetings to review over 18,000 applications. CIHR is grateful to each of these peer reviewers for their volunteered time.
Progress Toward Strategic Outcome
Strategic Outcome #1: A world-class health research enterprise that creates, disseminates and applies new knowledge across all areas of health research
Performance Indicators
Targets
2011-12 Performance Summary

Canadian ranking in health research intensity compared to international levels.

Maintain or increase international ranking.

Health research intensity can be measured by the overall relative expenditure on Government Budget Appropriations or Outlays for Research and Development (GBAORD). According to the Organization for Economic Co-operation and Development (OECD) from 2000 to 2008, Canada increased its investment and was ranked in the top third of the G7 countries. Canada maintained its international ranking from 2007 to 2008 in "health-related Government Budget Appropriation or Outlays for Research and Development as a percentage of the Gross Domestic Product (GDP)" [Annex A].

Canadian number and share of world health research papers.

Maintain or increase share.

The number of Canadian publications in Medical Sciences per million dollars of Gross Domestic Expenditure on Research and Development (GERD) has increased steadily over the past 10 years. In 2009, which is the last completed year, Canada was ranked second for two consecutive years [Annex B]. Additionally, Canada's world share of medical publications remained stable at nearly 5% from 2009 to 2011 [Annex C].

Number of citations of Canadian health research papers compared to international levels.

Maintain or increase international ranking.

Internationally recognized, standardized measures for citations used to determine the impact and quality of Canada's published health research is the Average of Relative Citations (ARC) and Average Relative Impact Factor (ARIF). Canada has an ARC of 1.40 which positions it in 2nd place within the G7 and 13th place worldwide. Canada's ARC has increased over the past 10 years [Annex D]. The ARIF for Canada was 1.22 in 2011 [Annex E], which is a slight increase compared to 2010. The 2011 ARIF score puts Canada in 3rd among G7 countries and in the 8th rank worldwide, compared to the 9th rank for the previous year.

Researchers per thousand workforce compared to international levels.

Maintain or increase international ranking.

A report published by the OECD in 2007 showed that the number of researchers per capita in Canada has increased steadily since 2000 when CIHR was established. In 2007, which is the last year with complete data for all the G7, Canada was ranked in 3rd position [Annex F].

Changes in health practices, programs or policies informed by CIHR-funded research.

Evidence that the work of CIHR funded researchers resulted in long-term impacts.

Reports from the Institutes and other sources show that CIHR-funded research has had a positive impact on creation and implementation of new health practices, programs and policies. For example, an estimated 18% of children have mental health problems but, due to limited health care resources, only 15–30% of them receive timely treatment. The research supported by CIHR has permitted to develop an alternative delivery model, called Strongest Families. Three CIHR-funded clinical trials conducted from 2003 to 2007 concluded that the Strongest Families program is effective in treating mild to moderate pediatric mental health disorders. The program now operates in four of Nova Scotia's nine district health authorities, and is expanding to communities across the country.

Diversity of research supported (by theme and Institute).

Maintain diversity of funding and increase funding in priority areas.

CIHR continues to support an increasing number of health researchers and trainees, thus steadily contributing to building Canada's health research capacity. Since CIHR's inception, the number of CIHR-supported health researchers and trainees has grown from approximately 6,000 in 2000-01 to over 13,000 in 2011-12. [Annex G].

In 2011-12, CIHR continued to fund all areas of health research by primary themes, and Institute-specific research area [Annex H].
Performance Summary, Excluding Internal Services
Program Activity
2010–11
Actual
Spending
($ millions)
2011–12 ($ millions)
Alignment to Government of Canada Outcome
Main
Estimates
Planned
Spending
Total
Authorities
Actual
Spending
1.1 Health Knowledge
468.5
444.0
444.0
450.3
470.5
Healthy Canadians i
1.2 Health Researchers
195.7
204.7
204.7
205.0
182.8
Healthy Canadians i
1.3 Health Research Commercialization
53.1
45.9
45.9
55.3
56.0
Healthy Canadians i
1.4 Health and Health Services Advances
275.4
261.6
261.6
274.7
268.0
Healthy Canadians i
Total
992.7
956.2
956.2
985.3
977.3
 
Performance Summary for Internal Services

Program Activity
2010–11
Actual
Spending
($ millions)
2011-12 ($ millions)
Main
Estimates
Planned
Spending
Total
Authorities
Actual
Spending
1.5 Internal Services
34.2
27.2
27.2
29.9
31.8
Total
1,026.9
983.4
983.4
1,015.2
1,009.1
Strategic Environmental Assessment
During 2011-12, CIHR considered the environmental effects of initiatives subject to the Cabinet Directive on the Environmental Assessment of Policy, Plan and Program Proposals and did not produce any public statements.ii
Expenditure Profile
This graph represents the trend for planned and actual spending over time against total Parliamentary authorities, including Canada's Economic Action Plan (CAEP) initiatives, as laid out in the Government of Canada's 2011 Budget, that had an impact on the organization's overall spending.
More precisely, the 2011 Budget included investments in innovation, as described below:
A $15 million permanent budget increase for CIHR to support advanced health-related research such as the Strategy on Patient-Oriented Research; and
A new investment of $53.5 million over 5 years to support 10 new Canada Excellence Research Chairs.
Offsetting these investments is the third year of the implementation of Budget 2008 Strategic Review. CIHR's budget was reduced by $22.1 million for 2011-12 and ongoing.
Departmental Spending Trend
($ millions)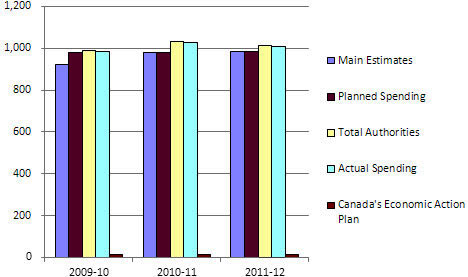 Long description: Departmental Spending Trend
Estimates by Vote
For information on CIHR's organizational Votes and/or statutory expenditures, please see the Public Accounts of Canada 2012 (Volume II). An electronic version of the Public Accounts 2012 is available on the Public Works and Government Services Canada's website, Public Accounts of Canada 2012.iii
Date modified: