2010-2011 CIHR-IHSPR Article of the Year Award Recipient
Recognizing ground-breaking health services and policy research
The CIHR Institute of Health Services and Policy Research (CIHR-IHSPR) is pleased to announce that Dr. Damien Contandriopoulos has received the 2011 CIHR-IHSPR Article of the Year Award. This award recognizes published research that has significantly contributed to the advancement of the field of health services and policy research in Canada.
The CIHR-IHSPR Article of the Year Review Committee selected Dr. Contandriopoulos's article, "Knowledge Exchange Processes in Organizations and Policy Arenas: A Narrative Systematic Review of the Literature", for its relevance to health services and policy research, as well as for the extent to which it contributes to the advancement of this field of research in Canada and has an impact on policy.
In addition to receiving an award of $10 000, Dr. Contandriopoulos was honoured at the Canadian Association for Health Services and Policy Research conference, held in Halifax in May 2011.
About the recipient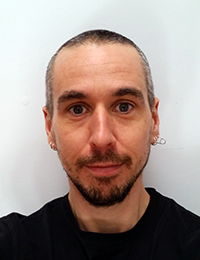 Dr. Damien Contandriopoulos holds a master's degree in anthropology, a doctorate in public health (administration option), and a post-doctorate in political science. In 2009, after five years as an FRSQ Research Scholar at the Faculty of Medicine at the Université de Montréal, he was recruited as an associate professor by the Faculty of Nursing at the same university. He is also a member of the FERASI multi-university centre for training and expertise in nursing administration research and co-manager of the policy and ethics axis of the Université de Montréal Public Health Research Institute (IRSPUM). Dr. Contandriopoulos holds several major CIHR grants and has just received a second salary award from the FRSQ in order to continue and develop his research program.
His research program deals with the reciprocal relationships between public policies and organizations in the health field and addresses two main research areas. The research in the first area focuses on the processes involved in developing public policies and attempts to understand why and how such policies are proposed, developed, adopted, and implemented. The research in the second area focuses on the interrelationships between the governance of the health and social services system and clinical and organizational practices. In theoretical terms, this program is distinguished by its ambition to integrate the traditions of various disciplines, but in applied terms, it remains focused on the ultimate objective of helping to improve the effectiveness and efficiency of health care systems in Canada.
Dr. Contandriopoulos's article, "Knowledge Exchange Processes in Organizations and Policy Arenas: A Narrative Systematic Review of the Literature", was published as a featured article in the December 2010 edition of the Milbank Quarterly. This article is intended to contribute to an understanding of the processes and tools used to exchange knowledge regarding organizational decision-making and policy-making. Its most original feature is that it incorporates, into existing models in the field of knowledge exchange, models derived from political science and from lobbying practices.
Dr. Contandriopoulos supervises undergraduate, master's, and doctoral students and teaches at the master's and doctoral levels. He is regularly consulted by provincial and national media as an expert on the future of the health-care system, and he devotes considerable effort to making the results of his research available in the public sphere. To learn more about Dr. Contrandriopoulos's research, please contact him at damien.contandriopoulos@umontreal.ca
Date modified: