CIHR-IMHA Emerging Leaders Workshop 2022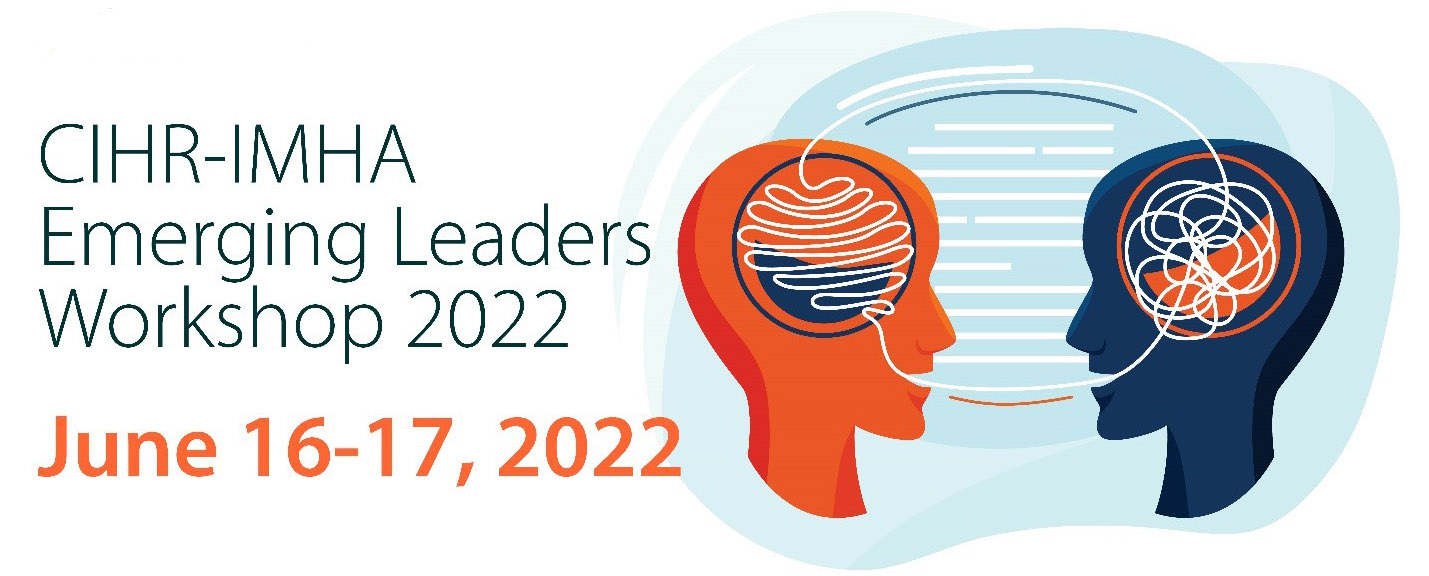 Overview
As the Canadian health research landscape changes, the tools and skills needed by the research community continue to evolve rapidly. Depending on a researcher's host institution, however, exposure to skills, concepts and practices that will advance one's research program may vary. In its role as a convenor in the health research ecosystem, CIHR-IMHA recognises the developing niches of expertise required to embed inclusive impact into future health research. Designed to complement the very popular CIHR New Investigator Forum, the Emerging Health Leaders Workshop will provide Early Career Researchers with an opportunity to develop new skills in an area of their interest.  
Objectives
The CIHR-IMHA Emerging Leaders Workshop is designed to support early-career researchers, including postdoctoral fellows, and patient partners develop skills in critical cross-cutting areas including: Purpose and Social Responsibility, Research Impact, Open Science, Patient Engagement in Research, and Scientific Writing.
The objectives of this workshop are to:
Provide attendees with a broad understanding of each area on day 1 so they can be familiar with concepts that are appearing more regularly in their fields;
Provide attendees with a focused workshop on an area of their choice on day 2 in order to develop skills and tools needed to further champion these important domains within their areas.
Workshop agenda
CIHR-IMHA will be hosting a two-day workshop for early-career researchers and patients whose research focus falls under IMHA's mandate. Each cross-cutting theme will allow for participation in small groups.
Day 1 will feature keynote and symposium talks on key thematic areas intended for all workshop attendees. Each presentation will be followed by Q&A time.
Day 2 will be hosted via a series of workshops in each cross-cutting area for targeted skills development. Attendees will be delegated to one workshop each based on the area of interest selected in their submission form. Workshop length and composition will vary from theme to theme.
Cross-cutting themes
Purpose and Social Responsibility
Research Impact
Open Science
Patient Engagement in Research
Scientific Writing
See the full workshop program.
Important dates
Conference dates: June 16-17, 2022
Application opening: March 1, 2022
Application Closing: May 13, 2022
Anticipated Notice of Decision for attendees: May 27, 2022
Eligibility
Eligibility to apply
For an application to be eligible, the Applicant must be:
One of the following:
The Applicant's work must be relevant to the broad CIHR IMHA mandate.
Conditions
Interested applicants must adhere to the following conditions of attendance to this intensive workshop:
Participation (Zoom) in the keynote & symposia on day 1 and the entire workshop selected on day 2.
Recipients must be proficient in English.
All participants will be required to complete a short evaluation (10-15 min.) following the workshop so that we can learn and improve for next year.
Review process
As this workshop has limited capacity, CIHR IMHA will conduct an initial review of applications to determine alignment with objectives and eligibility of this workshop. Applications who are not deemed to be relevant will be withdrawn.
Decision
The top applications in each cross-cutting theme (Purpose and Social Responsibility, Research Impact, Open Science, Patient Engagement in Research, Scientific Writing) will be selected. The selection process will be aimed at fair and equitable access for researchers from various geographies, genders, methodological backgrounds, and ability to enhance skill development among those who identify as belonging to equity-seeking groups.
Spots will be reserved for 10 applications from postdoctoral researchers who are actively looking to pursue an academic career as an independent investigator and for 15 applications from patient or caregiver partners.
How to apply
Please note that the application period is over.
Contact information
For all inquiries please contact the IMHA mailbox at: imha-iala@cihr-irsc.gc.ca.
Date modified: