Dr. Jean-Christophe Bélisle-Pipon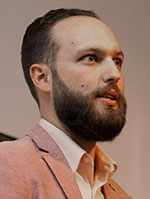 Affiliation
Assistant Professor of Health Ethics
Faculty of Health Sciences
Simon Fraser University
Committee membership
Standing Committee on Ethics
Biography
Dr. Jean-Christophe Bélisle-Pipon is Assistant Professor of Health Ethics in the Faculty of Health Sciences at Simon Fraser University. Bioethicist by training, Dr. Bélisle-Pipon is conducting research at the interface of health policy, citizen and patient engagement in research and health governance, as well as business practices. His professional experience, having worked for both the pharmaceutical industry and the government, provided him with an insider's understanding of the ethical, policy and societal dimensions of health technology development and assessment. Dr. Bélisle-Pipon uses both empirical and conceptual bioethics methodologies to make recommendations on the appropriate management and resolution of ethical issues for health regulators and private sector decision-makers.
His normative focus has now turned to the ethical, legal, and social implications of artificial intelligence (AI) in health. He is currently leading a research program to help health technology assessment agencies identify, address, and manage the ethical and societal considerations arising from the assessment and deployment of AI in the health system. He currently works on participatory, democratic, and deliberative processes for engaging stakeholders and citizens in the stewardship for the evaluation and implementation of AI solutions within the healthcare system. In addition, he works on the interface between ethics, health, and arts, particularly in exploring and examining how ethics and aesthetics can open up moral spaces for collective discussions on delicate, topical, and necessary social issues.
He carried out his CIHR-funded postdoctoral fellowship at the Petrie-Flom Center for Health Law Policy, Biotechnology, and Bioethics at the Harvard Law School (2017-2020) and pursued a second fellowship at McGill University (2020). He was a member of the Board of Directors of Québec Health Research Fund (2017-2020) and currently serves on the Board of Directors of the International Association of Bioethics.
Date modified: