Pre-announcement: Sleep Research Consortium Funding Opportunity
This funding opportunity is now available on ResearchNet.
CIHR is hosting an information webinar on September 8, 2021 to outline the goals, objectives, eligibility and requirements of the funding opportunity and to answer questions on how to apply.
A linkage tool is available to facilitate partnerships between interested researchers, organizations and stakeholders. Please note that completing the linkage tool is voluntary. Its use is not a requirement of the application process and in no way confers any advantages in the assessment or funding of applications.
The CIHR Institute of Circulatory and Respiratory Health (ICRH), Institute of Aging (IA), Institute of Indigenous Peoples' Health (IIPH), Institute of Human Development, Child and Youth Health (IHDCYH), and the Institute of Neurosciences and Mental Health (INMHA) in partnership with Eisai Limited and Mitacs are excited to announce an upcoming funding opportunity for Sleep Research Consortium.
Anticipated Timelines
Program Launch: Summer 2021
Webinar(s): Fall 2021
Registration Deadline: Fall 2021
Full Application Deadline: Winter 2022
Notice of Decision: Spring 2022
Funding Start Date: May 1, 2022
*These timelines are estimates and subject to change.
Overview
The purpose of this funding opportunity is to support a Sleep Research Consortium (the Consortium) that is comprised of coordinated interdisciplinary research teams focused on sleep hygiene and insomnia through the lifecycle. The Consortium will have a broad mandate that includes expertise across the CIHR research pillars; multiple sectors (government, charities/not-for-profits, and private organizations/industry); multiple stakeholders (communities, patients/people with lived/living experience, families, caregivers); and focused on co-creating new knowledge and mobilizing knowledge to improve health and well-being outcomes as they relate insomnia and sleep deprivation.
Individual Research Teams will operate under a Consortium structure. One of the successfully funded teams will be provided additional funds to also function as a Coordination & Knowledge Mobilization Centre (CKMC) for the Consortium. The CKMC will coordinate the development of a governance structure and integrate Research Team activities across a number of defined Cross-Cutting Themes. The Consortium is expected to have a broad representation of researchers including Indigenous health researchers (to support Indigenous led solutions for proper sleep health and well-being), researchers from different relevant disciplines (e.g., allied health professionals, social sciences, medicine, primary care, and community care), and across CIHR research pillars. The Consortium is also to include people with lived/living experience to offer diverse perspectives.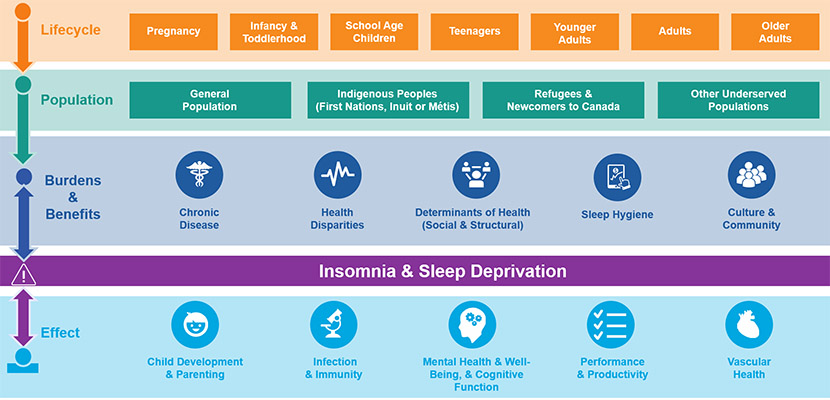 Objectives
The objectives of the Sleep Research Consortium are to:
Improve the understanding of the causes, defining measures of sleep, and avenues for prevention, detection and management of sleep deprivation and insomnia, including in the context health disparities, and Indigenous Peoples health and well-being and, through coordinated data collection and research activities across the CIHR research pillars to co-create new knowledge, and technical and scientific expertise;
Accelerate the iterative, bi-directional translation of research results and evidence into practice for improved health and well-being associated with poor sleep hygiene and insomnia;
Develop, implement, evaluate, and validate interventions that foster improved sleep health and well-being as they relate to insomnia and sleep deprivation, evaluate outcomes of interventions, and accelerate the mobilization of research evidence of best, promising, and wise practices to bridge gaps between research outcomes and health impacts for the betterment of sleep; and,
Build, foster, and promote relevant sleep research capacity, including training, career development, and experiential opportunities through a high-quality, multidisciplinary capacity development and mentoring environment that actively engages trainees and researchers at all career stages and across ethnicities, including Indigenous investigators.
Research Areas
This funding opportunity will support applications relevant in the following research areas:
Sleep biology
Sleep across the life cycle
Sleep and performance
Sleep and mental health and well-being
Funds Available
The total amount available for this funding opportunity is $5,150,000.
Of this $5,150,000:
$1,375,000 is available to fund one (1) grant specifically relevant to sleep and mental health and well-being.
$2,750,000 is available to fund two (2) grants relevant to other identified research areas.
The maximum amount per grant is $275,000 per year for five (5) years.
$1,025,000 is available to fund one (1) CKMC. Of this amount, $150,000 is provided by Eisai Limited.
The maximum amount available for the CKMC is $205,000 per year over five (5) years.
The total amount available for this funding opportunity may increase if additional funding partners participate. Funding will not be renewable.
Disclaimer: The information contained in this pre-announcement of the Sleep Research Consortium funding opportunity is subject to change and does not commit CIHR or partners to the requirements outlined in this version. The final funding opportunity will be published by CIHR in the Funding Opportunity Database in ResearchNet in Summer 2021.
Date modified: