Discoveries for life
The faces of health research 2017
Title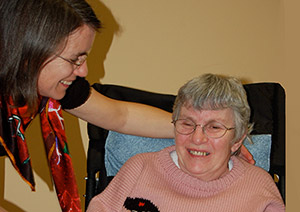 Caring for people with dementia
Active participation in life: a key factor in promoting health
Dr. Alison Phinney
University of British Columbia
As a young nurse, I cared for people with dementia, and often found myself wondering what it was like for them to live with this condition. This curiosity led me to doctoral study where I developed methods to engage people with dementia in research, using interviews and participant observation to better understand their lived experience. I have since continued along this line of inquiry, integrating social science and health perspectives to learn what can be done in organizations and communities to support personhood and social citizenship for the growing numbers of people who are living with dementia. Our current work uses applied qualitative methods to study people's perceptions and experiences of meaningful activity, and how communities can help them maintain this kind of involvement. We have learned that having opportunities for physical and creative expression is critical for well-being, and contributes to people's capacity to remain engaged as full social citizens.
Further reading: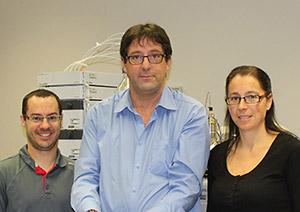 Bile acids: The heart of life
Life is BilE Acid UTIFUL!
Dr. Olivier Barbier
Laval University
Bile acids are located at the crossroads of pharmaceutical, nutritional, microbiomial and environmental sciences. While some bile acids are used clinically, others play a central role in the relationship between food, intestinal microorganisms and our bodies. Not only do these acids facilitate the exchange of information between organs (the liver and the intestine, for example), they also participate in the communication between cells (to modulate inflammation of the liver, for example), all while allowing the cell to control its own death. Furthermore, they play an essential role in nature because they act as pheromones that allow salmon, trout and certain eels to flee their predators and reproduce!
Bile acids are thus fascinating study subjects, both for the basic sciences and for those interested in their therapeutic potential. Researchers have only barely scraped the surface of how bile acids may be used, both clinically and environmentally, and much still remains to be discovered. This is the task at hand for members of the CHU de Québec Research Center's molecular pharmacology laboratory at Laval University's Faculty of Pharmacy. By combining approaches from molecular biology with targeted metabolomics, Olivier Barbier (director of the laboratory), Mélanie Verreault and Jocelyn Trottier (professional researchers and cofounders of the laboratory), as well as several graduate students and research interns, are deciphering the pathophysiological properties of these molecules and finding new applications for them.
Further reading: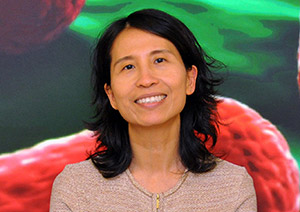 Expanding the reach of evidence-based interventions through partnerships and the public health approach
Health benefits messages can be just as powerful as vaccines
Dr. Theresa Tam
Chief Public Health Officer of Canada, Public Health Agency of Canada
I began my career as a pediatric infectious disease specialist, because I was drawn to patient care and had a desire to understand human-pathogen interactions. Recognizing the role of public health in addressing the root causes of illness, I trained in field epidemiology and entered the federal public service with a focus on infectious diseases and the impact of immunization on population.
As Chief Public Health Officer of Canada, I continue to feed my passion for science through a commitment to build a robust evidence base that motivates public health action. This role allows me to build on previous networks and partnerships, reaching across areas of expertise, borders and cultures so that I can work collaboratively in addressing the large and complex issues that face us on a national and global scale.
I believe that public health should reduce inequality so that all Canadians can reach their optimal health. This means leveraging other sectors, as well as incorporating research and innovation from other disciplines so that benefits can be communicated to the public. A public health message can be as important and powerful as a vaccine.Through use of sound evidence and innovative partnerships, I aim to use my voice to deliver credible, meaningful and empowering messages.
Further reading: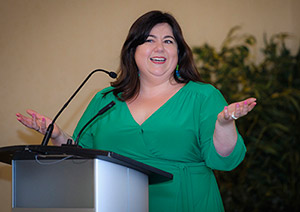 Helping Canadian patients get access to family doctors and nurses
How data from MAAP-NS could provide benefits for Canada's health system
Dr. Emily Gard Marshall
Dalhousie University
With Canada's aging population and increasing multimorbidity, access to primary healthcare (PHC) is extremely important. In 2009, I moved to Nova Scotia and tried to find a family doctor. After several unsuccessful attempts, I thought: "I wish I could call every doctor and nurse practitioner in this province to find out if they are accepting new patients!"
So I launched "MAAP-NS: Models and Access Atlas of Primary Care in Nova Scotia", the first Canadian study that links census survey data of PHC providers and practices to equity and comprehensiveness outcomes from administrative data. Since then, researchers have collected MAAP data in Prince Edward Island, Newfoundland, and British Columbia. I've launched studies to understand what it's like to be an unattached patient and approaches that can be used to increase PHC access in Canada's health system. Collectively, my intersectoral and interdisciplinary team is building a national hub of PHC research with robust, multimethod, and linked datasets responsive to health system needs.
Further reading: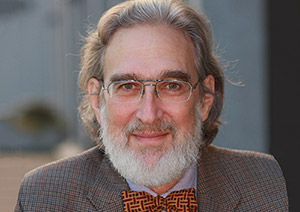 How CIHR seed money grew a national educational program for prostate cancer patients
Empowering patients dealing with the side effects of cancer treatment with knowledge
Dr. Richard Wassersug
University of British Columbia
A decade ago, I had a small CIHR grant. What came of that is now a national educational program to help prostate cancer patients along with their loved ones manage the side effects of their treatment. That program currently has industry funding. A book on androgen deprivation therapy was published as part of that educational program. In addition more than a dozen research papers have been published along the way, all related to helping patients and their partners recognize and adapt to the side effects of the major drugs used to control prostate cancer.
Further reading: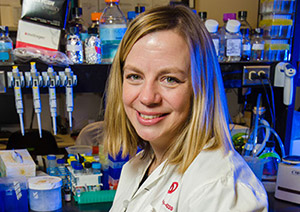 Natural Problem Solvers Wanted!
From endless questioning springs discovery: One researcher shares their career trajectory
Dr. Katey Rayner
University of Ottawa Heart Institute
Being a scientist hasn't been exactly what I expected. I was drawn to biomedical research simply because I liked understanding why diseases happen so we can cure them. However, I have learned over the past decade that being a scientist is also being at the cutting edge of understanding how the human body works.
I have witnessed how the understanding of heart disease has changed. We are working in my lab to try to understand what triggers inappropriate inflammation in the arteries, and what tools we can use to better diagnose patients with heart disease before they have a heart attack. And research like ours is finally beginning to bear fruit in the clinic: the first clinical trial using an anti-inflammatory drug lowered the rate of heart attack and stroke. So it's working–our research is working to help us make progress to help the many millions who suffer from cardiovascular diseases and for whom current treatments just do not work.
Most importantly, along the way I have had fun working with the brightest young scientists Canada has to offer, which is by far the best part of my job!
Further reading: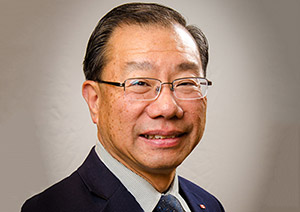 One of the world's leading neonatologists shares their personal recipe for success
Constant questioning, careful listening and an unwavering belief in yourself! Three essential ingredients to making a lasting impact
Dr. Shoo Lee
CIHR Institute of Human Development, Child Youth Health
Mount Sinai Hospital
Throughout my career, my goal has always been the same — to make an impact. By questioning constantly, listening carefully, and believing in yourself you will be amazed at what you can accomplish.
I come from humble origins. My parents were illiterate, yet they valued education and paid the school fees first, even when there was not enough to eat. I kept their lessons in mind as I finished medical school, earned my PhD, and helped make Canada a world leader in neonatal care.
Now, I am fortunate to be Scientific Director of the CIHR Institute of Human Development, Child and Youth Health where I can facilitate improvements that will impact the health and well-being of all Canadians. First, we asked our researchers and clinicians — how can we help YOU make an impact? From their answers we developed our strategic plan, the Healthy Foundations of Life, which informed our key initiatives, including the Healthy Life Trajectories and Preterm Birth Initiatives. Then, we focused on building capacity by funding early-career investigators, clinician investigator teams, and mid-career Applied Chairs.
With all of these resources in place, and more to come; it's your turn — make an impact!
Further reading: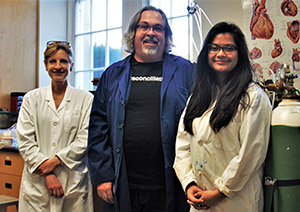 Seizing a tantalizing opportunity to explore unchartered territory
CIHR support helped demonstrate that 'CapZ' was a dynamic protein that controls heart disease signals
Dr. Glen Pyle
University of Guelph
As a post-doctoral fellow at the University of Illinois I came across a protein called 'CapZ' whose function seemed to be well established. But some of the details in these studies hinted at a larger, unexplored role, and offered a tantalizing opportunity to explore unchartered territory. These curiosity driven ideas formed the basis of our first CIHR grant and we have been working to unravel the mystery of CapZ ever since.
When we started, CapZ was considered to be a passive but important protein that helped to hold heart muscle together. With the support of CIHR we showed that CapZ was actually a dynamic protein that controlled signals of heart disease.
We discovered that causing small changes in the amount of CapZ protected against heart attacks and are currently developing therapies to move this discovery towards a treatment for patients.
More recently, our CIHR-supported work discovered that these same changes in CapZ slow the ageing of the heart. Interestingly, differences in CapZ levels between males and females might explain the disparity in life expectancy between the sexes.
CIHR funding has been vital in moving our discovery based research towards real life applications in the battle against heart disease.
Further reading: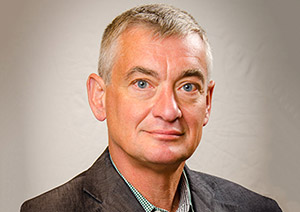 At the vanguard of a "genetic revolution"
A fascination with molecular genetics became the impetus for a stellar career in genetics and genomics
Dr. Paul Lasko
CIHR Institute of Genetics
McGill University
I first became fascinated with molecular genetics while working on an independent lab research project as an undergraduate at Harvard and started to work with the fruit fly, Drosophila melanogaster, in my PhD project at MIT. During my postdoctoral period at the University of Cambridge, I turned my attention toward understanding the genetic control of development, the process through which a multicellular organism arises from a single cell.
In 1990, I established my own research group at McGill which conducts fundamental research in Drosophila in order to study genetic mechanisms that control reproduction and the development of animals from fertilization to adulthood.
One focus has been on the vasa gene, which has been linked to germ cell and stem cell biology in humans. Dysregulation of this gene is associated with malignancy and male infertility syndromes. In 1999, I was involved in the Celera 'annotation jamboree', an unprecedented and historic international community effort that modeled the human genome by using information from the Drosophila genome sequence.
In collaboration with Nahum Sonenberg's lab, my group has also made numerous advances in gene expression analysis, improving our understanding of how cells grow and communicate. Much of this research has focused on a key protein called eIF4E, which has been linked to cancer and autism.
Further reading: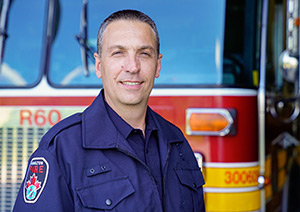 The FIREWELL research program is spreading like wildfire across Canada
Safeguarding firefighters by preventing injuries that can be sustained performing their duties
Mr. Robert D'Amico
Hamilton Professional Fire Fighters Association, IAFF Local 288
The equipment that a firefighter wears combined with tools they carry can weigh more than 100 pounds, which can contribute to joint and bone injuries on the job. Seven years ago, I got involved with the FIREWELL research program because it was a unique opportunity to partner up with researchers to help prevent these injuries sustained by firefighters while performing their duties. It's important to conduct research that explains how firefighters get hurt and when they get hurt.
We're using the research findings to develop tools that show firefighters what they're doing wrong, why they're doing it wrong, and how repeated improper techniques could lead to serious injuries 10-15 years down the road.
Our CIHR-funded research results have been posted on websites, around fire stations, and discussed at different functions.
FIREWELL is now spreading across the country and I hope to do more research that will help firefighters across Canada.
Further reading: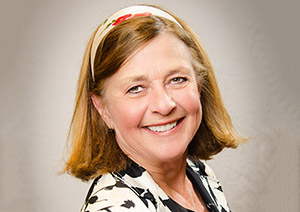 Making a positive difference in health care delivery
MOXXI: The Medical Office for the Twenty-First Century is a unique, integrated eHealth solution for primary care physicians
Dr. Robyn Tamblyn
CIHR Institute of Health Services and Policy Research
McGill University
I went into health research because I wanted to make a difference. I trained as a nurse to improve the health of people. But, I realized that the system faces big, complex challenges, and that to affect the health of many people, to really improve population health and system outcomes, research is critically needed.
My research focuses on creating advanced technologies to monitor adverse events in populations and creating new tools to improve the safety, effectiveness and quality of health care. One of these systems is The Medical Office for the Twenty First Century (MOXXI), a unique integrated solution created for primary care physicians that allows them to identify all dispensed drugs and medical services provided to their patients, giving them better control and understanding of their patients drug intake and health problems.
I'm dedicated to and passionate about working towards developing new eHealth innovations that will improve the effectiveness and efficiency of patient and population-centred care. As the Institute of Health Services and Policy Research's Scientific Director, I look forward to continuing to work through the challenges of developing new avenues of care delivery, and to working together with CIHR, Institute staff, and our research community towards IHSPR's vision of outstanding health services and policy research to improve health system outcomes.
Further reading: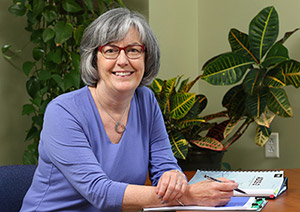 Preschool autism interventions: Assessing the best in class
Evaluating intervention services for preschoolers with autism spectrum disorder (ASD) to maximize potential and value for dollar
Dr. Isabel Smith
Dalhousie University
As more children are diagnosed with autism spectrum disorder (ASD), governments invest considerable resources in intervention programs for preschoolers. Research shows that early and intensive behavioural intervention (EIBI) improves children's language, problem-solving and everyday functioning.
However, current models of ASD service delivery vary widely and outcomes for individual children are hard to predict. Little is known about which programs yield the best results for the money being spent by families and governments.
What if there was a way to achieve a better quality of life for children and families while limiting costs? Can interventions be optimized to meet individual needs?
With funding from CIHR and others, a research team led by Dr. Isabel Smith, Dalhousie University / IWK Health Centre, has been studying the Nova Scotia EIBI program, including comparison with other programs. The lessons learned have the potential to answer these important questions and to guide evidence-based programming and policy decisions across Canada.
Further reading: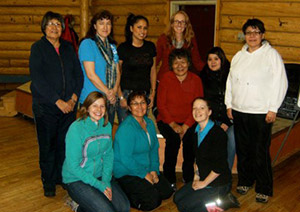 Canadian North Helicobacter pylori Working Group
Community-driven research in Canadian Arctic communities
Dr. Karen Goodman
University of Alberta
Helicobacter pylori (H. pylori for short) is the name of a bacteria that can infect the human stomach lining. It is found all over the world, with an estimated prevalence of 70% in developing countries and 40% in developed countries, though declines have been noted in some areas in recent decades.
H. pylori infection can persist long-term, causing chronic stomach inflammation, and in some cases, peptic ulcer disease and stomach cancer. H. pylori has a disproportionately high prevalence in northern Canada (>50% has been reported for several Arctic communities); while the estimated prevalence in southern Canadian populations is much lower (closer to 30% or less).
The Canadian North Helicobacter pylori (CANHelp) Working Group is a collaboration of academic scientists, northern community leaders and health care providers who are investigating H. pylori in order to address community concerns.
Our community-driven research goals are to describe the disease burden and risk factors associated with H. pylori infection, develop clinical management approaches to reduce health risks, and to develop knowledge exchange strategies that help foster a greater understanding of H. pylori infection.
Further reading: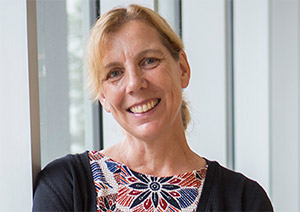 Introducing FROOGIE
A smartphone app that is helping families eat more fruits and veggies!
Dr. Sara Kirk
Dalhousie University
We all want our children to have a healthy start and to enjoy a healthy future.
As part of a balanced diet, a high intake of fruits and vegetables can reduce our risk for developing some types of chronic diseases. Unfortunately, researchers at the Healthy Populations Institute at Dalhousie University have found that many of today's busy families experience challenges when it comes to eating enough healthy foods such as fruits and vegetables.
That's why we created Froogie. Working with a local developer, Weusthem, we crafted an app for families to track their fruits and veggies consumption in a fun and engaging way.
A combination of the words "fruits" and "veggies", Froogie offers tips and reminders that promote daily fruit and veggie intake and help meet age-appropriate dietary intake goals. Each animated Froogie character has a special twist for families to discover, encouraging families to live life on the veg!
You can learn more about Froogie by visiting the Froogie app. The app is free to download on the App Store or Google Play.
Further reading: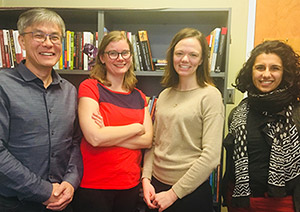 From left to right: Dr. Yuns Oh, Dr. Mary Jean Hande, Dr. Christine Kelly and Ms. Aliya Jamal
Direct funded home care for Canadian seniors
Does this help seniors maintain autonomy or create problems for service providers?
Dr. Christine Kelly
University of Manitoba
Most seniors want the choice to "age in place," at home and in community, rather than having to stay in hospital or move into residential care facilities. A growing policy mechanism to support this demand is "directly-funded" (DF) or self-managed home care. DF home care allows individuals with the necessary financial resources to hire and manage attendants or to arrange for their own service providers instead of accessing public, government-provided services. This model is championed for increasing autonomy, cultural sensitivity, cost-effectiveness, and even improving health outcomes. Yet, it also contributes to precarious forms of work for service providers. Rather than a program evaluation, our research is an in-depth, qualitative exploration of the question: How do DF programs shape the experiences, working conditions, policy landscape, and theoretical implications of home care in Canada?
This examination focuses on inequalities related to disability, gender, racialization and immigration.
Further reading:

Research interests fueled by personal experience
How a researcher became fascinated with applying biology for innovative treatments
Dr. Uri David Akavia
McGill University
I went into health research when I became a patient, of one stripe or another, at age 7. I was quite impressed by my doctors, and I also really wanted to understand Crohn's Disease (which is what I have). I ended up becoming more and more interested in biology and how it can be used for treatment.
In my lab, we are working on understanding the interplay between metabolism and expression in cancer. We are developing new technologies that will help us better measure gene expression and we are working on generating new datasets. We are also trying to manipulate known metabolic regulators through genome editing technologies, so that we can get an in-depth view of their role in the metabolism of cancer.
We are tackling breast cancer by using computational models of metabolism to try and predict metabolic weaknesses and develop therapeutic approaches. We hope to have an effect on clinical treatment of patients based on our research.
Further reading: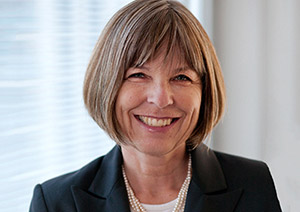 Making older women visible in research
A movement to study the differences between men and women
Dr. Paula Rochon
Women's College Research Institute
I was inspired to work with seniors in part because of my grandparents, who emphasized the importance of staying healthy as you get older. My grandmother was a committed athlete, which was unusual for women of her generation. I admired her dedication, and became a geriatrician as well as a researcher.
My research has demonstrated that women represent more than 85 per cent of centenarians in Ontario. Despite this, data from studies of medications that are often prescribed to older men and women are virtually never reported separately. This makes it difficult for doctors to know if they should be prescribing lower doses to women, for example.
Now, through my research and leadership of an initiative called the Women's Xchange, I am working to ensure that research considers the differences between women and men, both biologically and in terms of gender.
Further reading: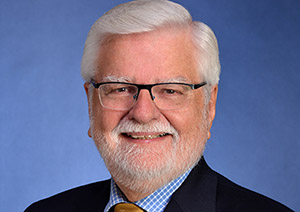 Is there any way to measure pain among those who can't communicate it verbally?
Observational scales can help solve that problem
Dr. Kenneth D. Craig
University of British Columbia
Do babies and young children, or people with intellectual disabilities or brain impairment experience pain? Surprisingly, when this became the focus of our work at UBC a couple of decades ago, researchers wondered whether these patients could actually have difficulty verbally reporting the problem. We discovered that they talk loud and clear when you pay attention to their nonverbal behaviour. We also found that facial expression can be valuable to those who are attentive. As a result, observational scales are now used as a standard in health care settings where pain remains a serious problem in nonverbal populations. Rather than being insensitive to pain, studies can disclose greater sensitivity and help patients coping with it. This research is but one illustration of how Canada is a leader in pediatric pain research.
Further reading: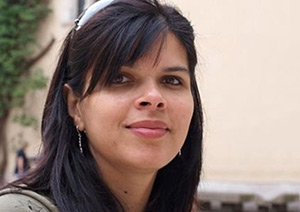 Shifting health systems to help low-income seniors in social housing
Exploring the new role of community paramedicine
Dr. Gina Agarwal
McMaster University
Our population is rapidly changing. Lifespans are increasing and more people are living in poverty and social housing. As a result, seniors have a greater risk of cardiovascular disease, diabetes, and falls. Those with lower incomes report poor overall health, which leads to 911 calls and expensive emergency room visits. Our health system is struggling to keep up with demand.
How can we improve the lives of low-income seniors and reduce the burden on our health system?
My research takes a fresh look at how weekly drop-in sessions for seniors at subsidized housing arranged by paramedics could reduce their visits to emergency rooms at hospitals. Sessions include risk assessments, health education, referrals to resources (e.g. MedsCheck), and communication back to the family doctor. Starting as a pilot project in 2010, the success of this community paramedic program has been implemented by 10 Ontario paramedic services, and continues to expand!
Further reading: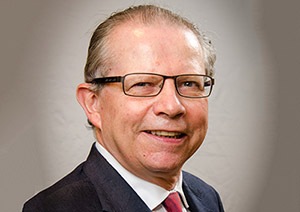 Getting to the gut of the matter
Analyzing how microbes can cause human diseases and beneficial microbes can help gastrointestinal injuries
Dr. Philip M. Sherman
Scientific Director, CIHR Institute of Nutrition, Metabolism and Diabetes
Hospital for Sick Children, University of Toronto
I am a prairie boy, born and raised in Edmonton, Alberta. I went to medical school at the University of Calgary and then moved to San Francisco to do my training in pediatrics. While in California, I was disturbed by the number of children who are admitted to the hospital with serious gastrointestinal problems and the lack of knowledge regarding the cause of their illnesses. This led to my training in pediatric gastroenterology and, ultimately, to a rewarding career as a physician-scientist at SickKids in Toronto.
In the past, I engaged in patient-based research, including work on Helicobacter pylori and inflammatory bowel diseases in children. My research now focuses on characterizing the interactive roles between gut bacteria and the host. My research team assesses how harmful microbes cause human diseases, such as colitis, and how beneficial microbes, called probiotics, can be used to manage gastrointestinal injury and alleviate stress-induced intestinal disorders like irritable bowel syndrome.
Further reading: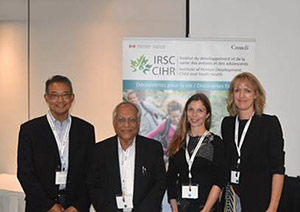 Fostering innovative care for obese pregnant women
Scientists examine ways to help obese women avoid pregnancy problems and give birth to healthy children
Drs. Barbra de Vrijer and Genevieve Eastabrook
Lawson Health Research Institute
At the Lawson Health Research Institute, with the help of co-investigators, Drs. Barbra de Vrijer and Genevieve Eastabrook are developing new tools to address needs of obese pregnant woman who face negative outcomes (e.g., preeclampsia, fetal growth restriction). This research targets the mother's cardiovascular and metabolic health and the effect of associated chronic stress on the placenta/fetus, using novel technologies such as magnetic resonance images, assessment of metabolic stressors (metabolomics), placental response to stress (autophagy) and maternal blood vessel stiffness (pulse wave analysis). Identifying changes in metabolism and inflammation during pregnancy will not only help pregnant woman avoid negative pregnancy outcomes, it may also help the health of their infants in the future. Modifications of metabolic plasticity, made between conception and 2 years of age, could prevent them from becoming obese and developing diabetes as well as cardiovascular disease.
Further reading: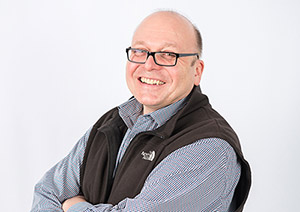 Toward a history of the modern brain
Researchers study Canada's neuroscience, psychiatry, and mental health contributions from Confederation to today
Dr. Frank W. Stahnisch
University of Calgary
The human brain is a fascinating organ for researchers. In a world full of communication and interaction, historical in-depth knowledge helps us better place ourselves and understand concepts of health, disease, and research. Canada's contributions to the neurosciences are both intriguing and complex – from those made by its early neurologists and psychiatrists to institutions such as the Montreal Neurological Institute and Calgary's Hotchkiss Brain Institute (HBI).
At the University of Calgary, Dr. Frank W. Stahnisch and a team of trainees and colleagues are studying fascinating examples of neurological therapy options, epilepsy and tumour surgeries, as well as the discovery of neuronal stem cells. By providing in-depth insights into the development and importance of neuroscience and public mental health research, we want to expandi our understanding of the modern brain, its place in society, and its overall shape.
Our rich history of scientific and economic knowledge sharing among countries, immigration patterns, and research training abroad represent a possibility for us to bring to light our research.
Because Canada has moved towards a knowledge-based society over these past 150 years, its neuroscience research has become a pivotal element of its healthcare system, research institutions, and even humanitiesat large.
Further reading: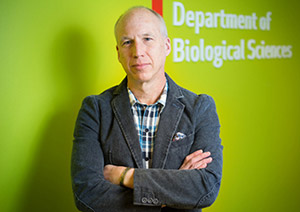 Why are some metals so toxic to bacteria? What makes them such powerful germ fighters?
Metals been used for their antimicrobial properties since antiquity: Today's researchers want to know why!
Dr. Raymond J. Turner
University of Calgary
The Turner Microbial Biochemistry Laboratory studies antimicrobial resistance in bacteria, particularly the interactions between microbes and metals. The progression of bacterial resistance to antibiotics has led us to an era that urgently requires alternative antimicrobial therapies.
Metal-based antimicrobials, which has been used for millennia, are increasingly seen as a solution. Yet to date, we still do not understand exactly how they work to kill bacteria. We are interested in a wide range of antimicrobial metals including copper, silver, selenium and others. Within this envelope we examine how metal-based antimicrobials are toxic to bacteria.
Key to this research is studying the bacteria in all forms of their growth: free swimming single species, microbes growing as surface adherent communities called biofilms, and exploring bacteria growing under different physiological conditions of carbon and energy sources. We have found that metal antimicrobials have very different efficacies depending on how the microbes grow.
Further reading: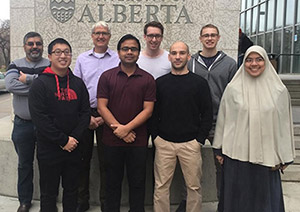 How do you mend a broken heart?
Understanding novel intracellular actions of a protein enzyme to fight heart disease
Dr. Richard (Rick) Schulz
University of Alberta
Following even successful initial treatment, a heart attack can eventually lead to heart failure.
In many heart diseases, the heart's ability to contract is impaired, triggered by increased oxidative stress (the impaired performance of cells caused by the presence of too many oxygen molecules in them).
This activates matrix metalloproteinases (MMPs), enzymes which cut other proteins found in cardiac muscle.
We discovered that MMPs have intracellular actions that cause contractile dysfunction in ischemic heart disease, such as heart attack, and in heart failure. By decreasing the severity of the initial damage during a heart attack, by inhibiting MMP-2, we hope to prevent heart failure.
Intracellular MMP-2 is a unique therapeutic target compared to the extracellular MMPs. Drugs that inhibit its activity should be effective in treating heart diseases with fewer side effects.
Our research will reveal the pathological and physiological roles of intracellular MMP-2 and we will translate this knowledge into effective new therapies for heart diseases.
Further reading: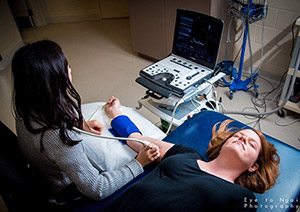 Vascular Dynamics Laboratory
If you're sitting right now, stand up and jump around!
Dr. Maureen MacDonald
McMaster University
If you're sitting right now, stand up and jump around! You may notice your heart rate rise as more blood pumps through the network of blood vessels to meet the demand of your body. The Vascular Dynamics Laboratory at McMaster University studies the human arteries to characterize their stiffness, thickness, and responsiveness to stresses like exercise and diseases.
By studying these properties, we can better understand how arteries improve with exercise training and how they may become impaired with different disease states. Under the guidance of Dr. Maureen MacDonald we study these mechanisms using ultrasound imaging in people with a range of different health characteristics (those with coronary artery disease, cerebral palsy, multiple sclerosis, and spinal cord injured individuals) and exercise capabilities amongst all age groups (young children, adolescents, adults, and older adults).
Further reading: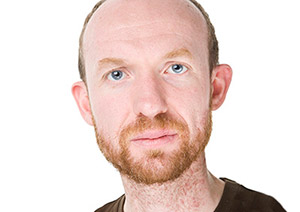 Vitamin A, Eh?
Working towards a better understanding of vitamin A's role in health and disease
Dr. Robin Clugston
University of Alberta
Although it was discovered over a century ago, we are still uncovering important ways in which vitamin A contributes to good health.
We all know that we need to consume vitamin A in our diets regularly to keep us healthy, but the first thing we admit in my laboratory is that there's still a lot we don't know about vitamin A.
Be it fundamental questions about how the body metabolizes vitamin A, or how defects in vitamin A actions can cause disease, it is our goal to answer these questions and improve the health of Canadians for the next 150 years, and beyond.
As a new Assistant Professor at the University of Alberta, I consider myself extremely lucky to be embarking on a career in health research. Not only do I get the opportunity to generate new scientific knowledge, but I also get to work with and train Canada's next generation of scientists, a privilege that drew me to this career in the first place.
Further reading: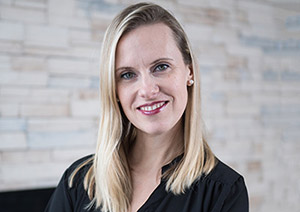 Putting research into action: The best job in the world
The first pediatric patient navigation service of its kind in New Brunswick helps children with complex health conditions access care
Ms. Jennifer Belyea
Navicare
In mid-2016, I was invited to be a Family Advisor for NaviCare/SoinsNavi. The brainchild of Drs. Rima Azar (Mount Allison University) and Shelley Doucet (University of New Brunswick); the centre is the first pediatric patient navigation service of its kind in our region. Understandably, I was very excited to be asked to help inform such an innovative centre. As a mother of two children who have complex health conditions (and a social worker) I am well aware of the barriers that families face.
In January 2017, I came on board as Program Coordinator, a perfect fit both personally and professionally. I hadn't realized how rewarding it would be to be part of a research team. There is a certain confidence that comes with offering a program so closely tied to strong research and a committed professional team. The evaluation component of our program ensures quality and accountability that not all patient programs can offer.
There is great fulfillment that comes with putting research into practice, and watching it come to life.
Further reading: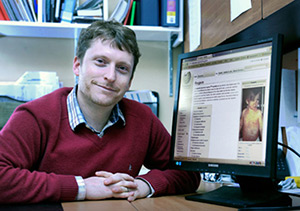 Meet WikiTrauma: A platform for health professionals to share knowledge
New knowledge platforms can be adapted to any health care improvement strategy in any context
Dr. Patrick Archambault
Centre de recherche de l'Hôtel-Dieu de Lévis
Dr. Patrick Archambault has been working at the Centre intégré de santé et de services sociaux Chaudière-Appalaches (CISSS CA) at Hôtel-Dieu de Lévis Hospital since 2008 as an emergency and critical-care physician, and clinician-researcher.
He has dedicated his research career to exploring wikis and other collaborative writing applications for knowledge translation in health care. He created WikiTrauma, a platform that allows knowledge tools to be shared among health professionals and he's leading three projects on shared decision making involving the creation of wiki-based patient decision aids.
In 2015, the CISSS CA was chosen by the Canadian Foundation for Healthcare Improvement to improve health care services for the elderly by adapting and implementing the Acute Care for Elders program into the services offered by the Hôtel-Dieu Hospital. In 2017, he received a four-year CIHR grant to improve the coordinated transition of elderly patients from hospitals to their homes as a model for a future system-wide scale-up.
The ultimate goal is to learn from this experience in order to produce a new knowledge platform that can be used to adapt any health care improvement strategy to any local context, and to develop interoperability standards for nationwide adoption of these tools.
Further reading: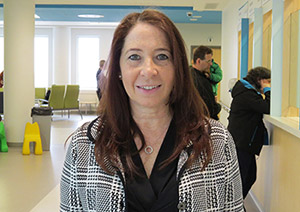 A brighter future for children with brain-based disabilities
CHILD-BRIGHT unites health care providers, policymakers, and researchers to develop new therapies and better services
Dr. Annette Majnemer
Research Institute of the McGill University Health Centre
I have always been inspired by the resilience and achievements of children with disabilities and their families. My research focuses on learning how to best support them on their journey.
About 850,000 Canadian children are living with brain-based developmental disabilities such as autism spectrum disorder, cerebral palsy and attention deficit. Many face lifelong challenges with mobility, language, learning, socialization, and/or self-care. To make a difference, we launched an innovative network that aims to improve life outcomes for these children and their families called CHILD-BRIGHT, with colleagues from SickKids and the BC Children's Hospital.
Working in partnership with patients, CHILD-BRIGHT allows health care providers, policymakers, health decision-makers, and researchers to focus on developing new therapies and better services to help these children.
With funding from the CIHR, under Canada's Strategy for Patient-Oriented Research, we are mobilizing this ambitious network, which reflects significant contributions and leadership in child health research across Canada.
Further reading: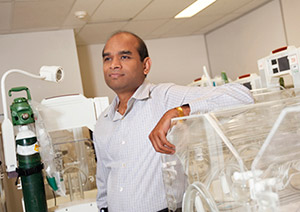 A decade of advancements in preterm infant care is reaping huge rewards
Tiny patients are enjoying brighter futures thanks to improved pregnancy and neonatal care
Dr. Prakesh S. Shah
Mount Sinai Hospital, University of Toronto
Babies that are born too early (before 29 weeks of gestation) are at higher risk of complications. My goal is to improve the care of these fragile newborns (neonates) using multidisciplinary collaboration and quality improvement efforts both in Canada and internationally.
As the Director of the International Network for Evaluation of Outcomes (iNEO) and the newly established Canadian Preterm Birth Network, I lead collaborative efforts to explore the reasons for preterm birth, to improve pregnancy care, and to provide the best possible starts to these newborns and families.
Over the last 10 years, our quality-improvement efforts have led to fewer infections and healthier eyes and lungs of extremely preterm infants. Going forward, our team of maternal and neonatal-care providers, parents, researchers and children's development experts will strive to enhance the long-term potential of children born at these early weeks of pregnancy.
Further reading: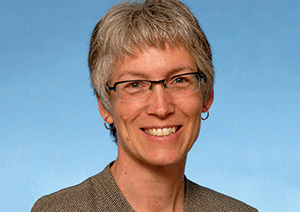 ENVISIONing a brighter future for Manitoba First Nations families
Strong family relationships and parental supports help create a nurturing home environment for Indigenous children
Dr. Marni Brownell
University of Manitoba
At the Manitoba Centre for Health Policy, we are partnering with Nanaandawewigamig (the First Nations Health and Social Secretariat of Manitoba) to study programs and policies that support the health and well-being of First Nations people in Manitoba. First Nations families sometimes face challenges in creating nurturing home environments for their children. Decades of trauma related to residential schools and the Sixties Scoop contribute to children growing up in poverty, social isolation, or in disrupted family structures.
Through our ENVISION project, we are studying home visiting programs, which aim to build on the strengths that parents and caregivers offer their families and improve children's healthy development within the family structure. Home visitors focus on strengthening family relationships and supporting parents by lessening their stress and enhancing their employment opportunities. They also connect families with health and social services in their communities. Our research is showing that home visiting programs make a real difference for Manitoba First Nations families.
Further reading: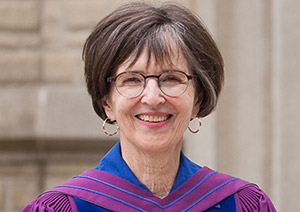 Uncovering the benefits of the Patient-Centred Clinical Method
Improved symptom resolution, better health outcomes, higher patient satisfaction and lower health care costs are all within reach
Dr. Moira Stewart
Western University
As a patient, I want my health care to help me get better and feel better. I want my information to be respected and I hope to feel empathy and understanding from the clinicians in order to boost my confidence during my struggle.
I have worked for three decades as a researcher with an interdisciplinary team at Western University to define and study a patient-centred clinical method which we have found leads to improved symptom resolution, better patient health outcomes, higher patient satisfaction and lower costs of health care. It simultaneously focuses on health, disease and the illness experience, the whole person in context, finding common ground and developing the patient-clinician relationship over time. Our work addresses not merely the concepts but also the tasks which we have shown can be taught, learned, measured and researched.
To this end, our research team has created measures and studied effects on patient, clinician and health system outcomes. This evidence applies to primary care practices, walk-in clinics, emergency departments, surgery and oncology units.
Further reading: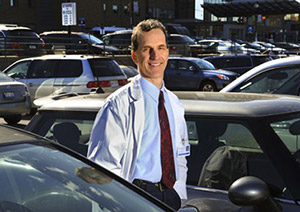 Learning from our mistakes to make our world healthier and safer
A rookie error led to this physician becoming an advocate for safer roads
Dr. Donald Redelmeier
Institute for Clinical Evaluative Sciences (ICES)
I was a young doctor starting out on my journey in medical practice when I inadvertently caused one of my first patients to become involved in a traffic accident. I was returning messages from my office and reached him on his cellphone. It was mid-conversation when he had a collision. Our talking had been distracting and had indirectly caused his collision
I though my experience was no coincidence and, in subsequent science, I discovered that talking on a cellphone led to a four-fold increased risk of a traffic crash for the average driver. This included motorists with years of experience driving. I published my work, subsequently met with the Minister of Transportation, and later helped enact laws against using a cellular telephone while driving.
This adverse event, occurring early in my career, is one of many examples in Canada where science helps us to learn from our mistakes and make our world safer.
Further reading: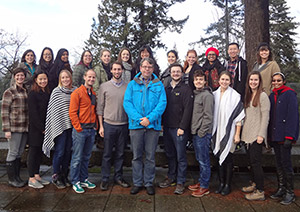 Exploring the lifelong impact of early-life adversity
The consequences of adversity during childhood can span a lifetime
Dr. Michael Kobor
University of British Columbia
Mounting evidence supports the formative effect of environmental exposures during childhood on development and health outcomes later in life.
More specifically, early-life adversity has been associated with a wide range of developmental outcomes and diseases, including obesity, heart disease, depression, and anxiety which may occur years or decades after the initial exposure.
Epigenetic mechanisms, including chemical modifications to the DNA sequence and changes to DNA packaging via alterations to histone proteins, are responsive to environmental factors, and can alter the accessibility and function of DNA without changing the DNA sequence itself. As such, they are important and responsive regulators of genome function and may serve as the molecular memory that connects early-life exposures to health outcomes later in life.
My lab takes advantage of yeast and rodent model systems as well as human cohort studies to uncover basic epigenetic mechanisms and determine how they correlate to human exposures and disease states.
Further reading: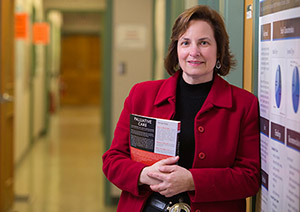 Reason is her compass but her passion is the gale
A career dedicated to improved end-of-life care for patients from vulnerable populations and their families
Dr. Kelli Stajduhar
University of Victoria
Twenty years ago, University of Victoria health researcher Dr. Kelli Stajduhar was a nurse during the peak of the AIDS crisis in B.C.
After leading a Rapid Assessment, Response and Evaluation (RARE) research project aimed at understanding and responding to an outbreak of HIV/AIDS among injection drug users in Victoria in 1999, Kelli discovered her passion for health research with marginalized populations and family caregivers. This passion has launched her into multiple research projects in the intervening years.
Kelli has worked in oncology, palliative care, and gerontology for almost 30 years as a nurse, educator, and researcher, focusing on vulnerable populations and end-of-life health needs for the dying and their families. She is currently lead investigator on B.C.'s iPANEL research project, bringing together nursing researchers, practitioners and administrators in order to integrate a palliative approach into the health care system.
Other current projects include an international research collaborative on family caregiving; evaluating the integration of a palliative approach in acute and residential care settings; and a Victoria-based study on access to end-of-life care for structurally vulnerable populations.
Further reading: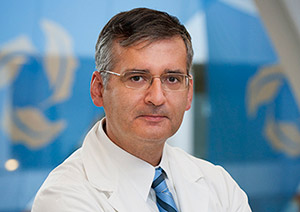 Pionnering research in Deep Brain Stimulation and Focused Ultrasound
Restoring brain function in neurologic and psychiatric conditions using ultrasound
Dr. Andres Lozano
University of Toronto
Andres Lozano is a neurosurgeon and scientist at the University Health Network and Chairman of Neurosurgery at the University of Toronto. His work is directed at restoring brain function in neurologic and psychiatric conditions.
He is best known for Deep Brain Stimulation (DBS) for the treatment of tremor, Parkinson's disease, dystonia, epilepsy, depression, anorexia and Alzheimer's disease. His team also studies focused ultrasound (FUS) a non-invasive form of neurosurgery.
Dr. Lozano has published over 500 manuscripts and is the most highly cited neurosurgeon in the world according to Thomson Reuters. He has held leadership positions in a number of learned societies and has trained more than 60 post-doctoral fellows from throughout the world. For his work, he has been made an Officer of the Order of Canada, has received the Order of Spain, and has been elected to Royal Society of Canada, among a number of other awards and recognitions.
Further reading: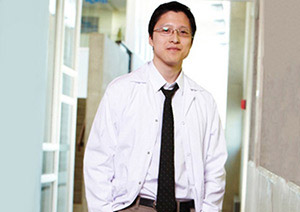 Lifesavers: Diagnosis driven by artificial intelligence (AI)
Powered by AI at a fraction of the cost, new imaging technology can catch subtle signs of disease
Dr. Alex Wong
University of Waterloo
Today, doctors need a lot of judgement in order to detect cancer and heart disease on MRI, CT, and ultrasound scans. My research lab has developed technology that can catch subtle signs of cancer and heart disease from medical images that might otherwise be missed.
We've introduced the first touch-free system to capture arterial and venous blood flow, which makes it easier to catch heart disease early. We've also pioneered a new form of lightfield microscope that captures images roughly 100 times larger than traditional microscopes.
Both are powered by artificial intelligence and cost a fraction of the price of conventional equipment, which could make cardiac clinics and pathology labs more affordable in smaller communities.
Two of my grandparents died from heart disease. I hope my research helps usher in a new age of preventative care that catches diseases like theirs sooner, allowing people to stay healthier and live long, fulfilling lives.
Further reading: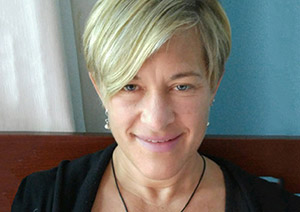 Rural citizens: Hospice care planners par excellence!
Understanding the evidence to demonstrate how community members are addressing their rural hospice care needs
Dr. Kyle Whitfield
University of Alberta
Many rural communities in Alberta – and across Canada – are leading the way in addressing the hospice care needs of their community. They are reflecting upon, planning for, implementing supports for and evaluating hospice care for members of their community that have a life limiting illness and for their family care givers.
With a PhD in Urban and Regional Planning and being a Registered Professional Planner I am curious about the factors that help and hinder rural communities as they plan for and provide care so that people can remain in their own homes and communities. My research is about citizen engagement and the capacity of citizens to be leaders, advocates and sometimes providers of health care.
One thing that we are learning is that governments are downloading care onto the shoulders of communities. The care that communities are planning for and providing is done voluntarily. Therefore, there is a clear need for a balance as volunteer burnout needs to be addressed at the rural community level.
Further reading: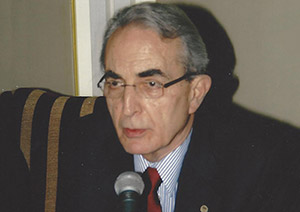 A career dedicated to hereditary disorders
Discovering how proper diagnosis, specific-population screening, genetic counselling, and prenatal diagnosis can reduce the incidence of inheriting mutated genes
Dr. Vazken M. Der Kaloustian
McGill University
While I was studying medicine in the 1960s in Lebanon, I realized that many diseases were due to environmental factors, like infections, but that many others were hereditary. The latter group attracted my attention.
As I come from a Mediterranean country where there are high rates of consanguineous marriages (when you marry a biologically related or blood relative) leading to disorders with autosomal recessive inheritance (inheriting two inherit two mutated genes), one from each parent, my attention focused on diseases like Thalassemia Major which could be prevented by the proper diagnosis, specific population screening projects, genetic counselling and prenatal diagnosis.
Later on, my attention shifted to congenital and hereditary disorders that produce various types of physical problems. One of them is the Clouston Hereditary Ectodermal Dysplasia. This condition is more common in certain families in the region of Huntingdon, Quebec.
With our collaborative studies, the mutated gene was identified and many affected persons were diagnosed to include, besides French-Canadians, persons of Indian, Scottish-Irish, African, Spanish, French and Malaysian origin. However, the high frequency in French-Canadian populations in Quebec suggested the presence of a founder effect.
Further reading: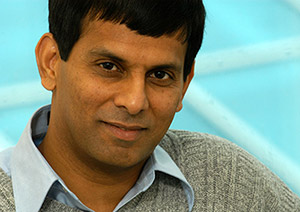 Obsession with a paradox
Inspired by researching a population that represents joy and hope
Dr. K.S. Joseph
University of British Columbia and the Children's and Women's Hospital of British Columbia
My research is focussed on improving the health of mothers and babies. One aspect of perinatology which is particularly fascinating deals with the unresolved paradoxes that have plagued the field for decades.
The most florid example is the paradox of intersecting perinatal mortality curves: death rates among low-birth weight babies of mothers who smoke are substantially lower than the neonatal death rates of low-birth weight babies whose mothers do not smoke.
The reverse is true at higher birth weights.
Various explanations have been offered to resolve the paradox, though there is no consensus on the preferred solution. Some perinatologists see this phenomenon as a clinically unimportant scientific curiosity, while others feel its resolution will provide scientific insights and advance perinatal and obstetric theory.
I live in the hope that my work will make a small contribution to the literature on the paradox of intersecting perinatal mortality curves.
Further reading: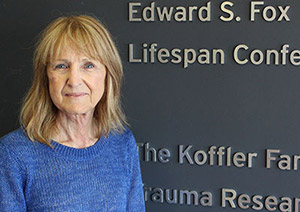 Removing barriers and promoting social reintegration
Improving our understanding of the symptoms of mild traumatic brain injury
Dr. Dawn Good
Brock University
Our lab explores challenges for building and maintaining relationships faced by people who have had concussions and other brain and head injuries. Damage to neuropsychological and physiological systems often affects the way people think and how they present themselves, which impacts interactions with others.
The physiological under-arousal and slowing of cognitive processes that can result from brain injury may reduce a person's ability to focus, notice or understand social cues, and/or respond with empathy. Decision-making processes may also be impaired or altered, which can result in increased risk-taking and sensation-seeking.
When others misinterpret or misunderstand what causes these behaviours, it leaves an individual with a mild traumatic brain injury at risk of being socially excluded. In our lab, we examine ways to manage physiological arousal effectively, comfortably, and sustainably in order to modify these outcomes and improve social success.
Further reading: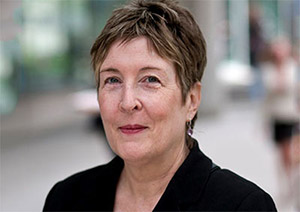 Closing gaps in care for survivors of gender-based violence
Research to innovate sexual assault and domestic violence treatment
Dr. Janice Du Mont
Women's College Research Institute
I pursued a career in research because I am passionate about ensuring survivors of gender-based violence get access to care that addresses their immediate needs and helps them recover from trauma in the longer term. My research has led to improvements in care for people who have been sexually or physically assaulted in Ontario, particularly with respect to HIV care, drugging, and the documentation of medical evidence. I am currently developing a curriculum to teach specialized health care providers how to assess and treat elder abuse, which is a growing public health concern as our population ages. I am also conducting a study on sexual assault services for transgender survivors, asking nurses at the Ontario Network of Sexual Assault / Domestic Violence Treatment Centres about their knowledge and skills with regard to caring for trans clients. The goal of this (and all of my research) is to close gaps in our approaches to caring for diverse survivors of violence, making our health care system more effective and accessible.
Further reading: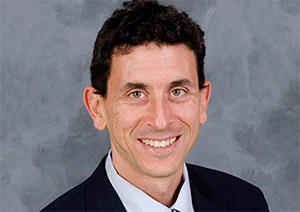 Caring for critically-ill infants
Investigating treatments to promote healthy brain development in newborns
Dr. Steve Miller
The Hospital for Sick Children
Each year in Canada, thousands of babies are born critically-ill, including babies born preterm and babies with congenital heart disease. These babies are at high-risk for brain injury, including cerebral palsy. My research team focuses on understanding the causes of brain injury in newborns. We aim to identify clinical care strategies that promote optimal brain development and outcomes for babies born critically-ill. By using magnetic resonance imaging (MRI) in babies born preterm or with congenital heart disease, we have identified patterns of brain growth and injury linked to specific aspects of their care. These patterns of brain growth and injury are also predictive of later child development. By combining our findings from MRI with health care data collected during the intensive care unit stay, we have also identified medications and practices that promote healthy brain development in preterm newborns and newborns with congenital heart disease.
Further reading: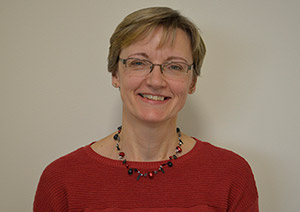 A good start in life
Early childhood development tool allows researchers to measure the health of young populations
Dr. Magdalena Janus
Offord Centre for Child Studies, McMaster University
How children develop during the early years has lifelong effects. Communities across Canada and around the world monitor children's development with the Early Development Instrument (EDI), a teacher-completed questionnaire measuring development in Physical Health and Well-Being, Social Competence, Emotional Maturity, Language and Cognitive Development, and Communication Skills and General Knowledge.
Because we collect data on all children in kindergarten, the EDI presents a snapshot of how populations of children are doing across schools, neighbourhoods, cities, provinces, and even countries. Using this information, we can explore what makes children's development better and in which neighbourhoods it is most likely to happen. Children who have low EDI scores are more likely to experience poorer outcomes later in life: academically, emotionally, and in relationships with peers. The whole population approach focusing on strengthening areas in which children are vulnerable allows schools, communities, and governments to make decisions on how to best support early development.
Further reading: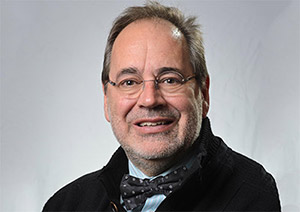 Living longer, living better
Promoting an interdisciplinary, team-based approach to research on aging
Dr. Yves Joanette
CIHR Institute of Aging
Centre de recherche – Institut universitaire de gériatrie de Montréal (CRIUGM)
Interdisciplinarity, interaction with knowledge users, and team work are characteristics that have defined my education and career in research and research administration, and continue to guide me today.
I first became interested in the brain as a young person. I recall visiting Expo '67 in Montreal and seeing an exhibit on science and the brain. The brain was described as a vast, unknown entity. I became interested in learning about and exploring this terra incognita.
I initially trained as a speech pathologist because speech and language are a uniquely human behaviour and are inextricably linked with the brain. I then pursued graduate training – and have since taught at the university level – in neurosciences, linguistics, psychology, and cognitive sciences. This training, combined with my interest in the effect of time – or aging – on communication, have led me down the path on which I find myself today.
I have always worked with knowledge users – primarily clinicians such as neurologists and speech pathologists. My research has led to the development and widespread use of clinical tools to diagnose speech disorders.
My research career has also led to roles as a senior university administrator, the head of Quebec's health research funding agency, the founder of an internationally recognized research centre in aging, and now my present role as the Scientific Director of CIHR's Institute of Aging.
It is a privilege to work with my team in Montreal and my colleagues at CIHR in Ottawa – otherwise known as "160" because of its address on Elgin Street – as well as our community of researchers, health professionals, patient groups, and partner organizations.
Together we're improving the health and wellness of older Canadians.
Further reading: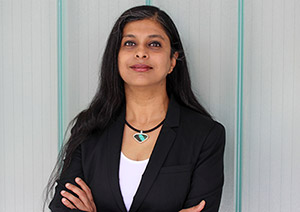 The answers within
Collaborative approaches to enhancing young people's mental health
Dr. Srividya Iyer
McGill University
In India's searing southern summers, a little girl, tired by the morning's play, would eagerly await naptime. To lull her to sleep, her grandma told the most mesmeric tales, some made up, others inspired by epics. Their flawed heroes and noble villains were plagued and propelled by passions that they had to reach within themselves to resolve. Those stories piqued the girl's interest in inner and collective struggles and strengths. That interest became a career in psychology.
That little girl now works to ensure that young Canadians have timely access to high-quality mental health care and enjoy well-being and social participation. Her work is advancing mental health services and research across Canada and beyond.
Although Dr. Iyer's current work is vastly more complex than her grandma's tales, she remains convinced that, as it was for their protagonists, the solutions that she and her team are seeking lie within the people they serve.
Further reading: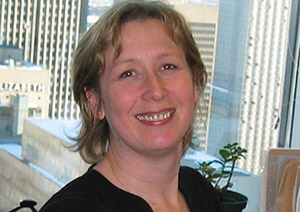 From parent to partner: My journey through the complex world of youth mental health
Building bridges of hope and communities of care with families/caregivers of youth with mental health concerns
Ms. Mary Anne Levasseur
Family Peer Support Coordinator, PEPP-Montreal
My journey began several years ago when my then-teenage son experienced the first signs of a serious mental health concern. Unfortunately, neither I nor anyone else recognized these signs. It was a very difficult time for my son and our family, until we found appropriate health care services.
Journeying with my son meant being not only his mom, but also caregiver/manager/advocate of all things health. Along the way, I met other families who were starting out on similar journeys. I decided I wanted to help. An opportunity with PEPP-Montreal researcher-clinicians resulted in the creation of a family peer support group. Six years later, we are families still helping families build bridges of hope. My interest in mental health and family peer support has led to being a patient-family research partner on several CIHR initiatives. I am also dedicated to building communities of care in other areas of family/caregiver support. My hope is that more patient/family/caregivers will partner with researchers to improve health care for all.
Further reading: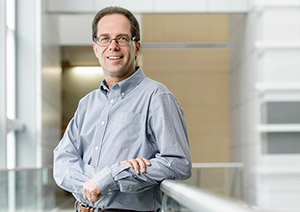 Leading the fight against glioblastoma
Canadian researcher tackling one of the most lethal forms of cancer
Dr. Samuel Weiss
CIHR Institute of Neurosciences, Mental Health and Addiction
University of Calgary
I was inspired to pursue a postgraduate program in biochemistry and, ultimately, in the chemistry of the brain, by my third-year undergraduate neurochemistry professors, who both had made seminal discoveries in the fundamental understanding of the brain.
Today, my lab is exploring the stem cell biology of human brain tumours with an eye towards developing new therapies for one of the most lethal and aggressive cancers: glioblastoma. In particular, we are studying the fundamental biology that contributes to both the initiation and recurrence of brain tumours and the genetic and metabolic changes that occur when they transform from primary to secondary tumours.
By studying how and why these tumours change, we hope to develop very targeted therapies that will explicitly kill or transform those cells that are the most lethal, with the ultimate goal of improving survival rates for this devastating disease.
Further reading: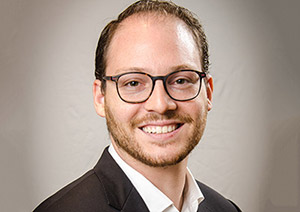 Regulating global risks: Addressing transnational health threats
Pursuing a scientific approach to tackling global health challenges
Dr. Steven Hoffman
CIHR Institute of Population and Public Health
Global Strategy Lab, York University
How do you regulate a global health threat like a pandemic? No single government has the resources or capabilities to protect their citizens from health risks that transcend national borders, but by researching global governance mechanisms, we can craft better approaches to minimize potential health threats.
My research is focused on solving global health challenges such as antimicrobial resistance, pandemics, substance use, and health misinformation. As our world becomes increasingly globalized, we are going to face ever greater threats that spread across borders.
In my role as Scientific Director at CIHR, I can bring forward a research agenda that collectively manages these global risks and promotes health equity. I hope that my efforts will protect people from transnational health threats, especially the most vulnerable among us.
Further reading: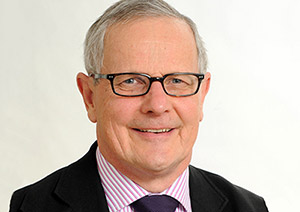 New gene therapy trial helps restore the sight of people with genetic eye disease
A brilliant 30-year career in vision science was sparked by a family reaching out for help
Dr. Ian M. MacDonald
University of Alberta
I work with a dedicated team of professionals engaged in translational research on heritable eye diseases.
My research interest started early with undergraduate studies in genetics, followed by a postgraduate degree, also in genetics. I really became focused when I was contacted by a family with a heritable retinal disorder called choroideremia who wanted to know if anyone was doing research on it. That initial point of contact started a 30-year career in vision science (funded by Medical Research Council of Canada and then the Canadian Institutes of Health Research) that charted a path from gene mapping to gene cloning and then gene therapy.
In the summer of 2017, the Alberta Ocular Gene Therapy Team successfully completed the first clinical (human) experiment of ocular gene therapy for choroideremia. Edmonton, University of Alberta and the Royal Alexandra Hospital gained international recognition and showed Canadians that we have a platform that will make human gene therapy clinical trials possible.
Further reading: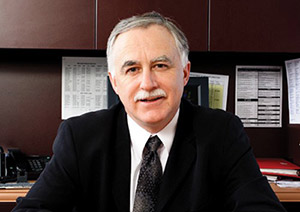 One researcher's quest to reduce unnecessary antibiotic use
Developing and applying health care innovations to enhance the quality of care and increase the safety of patients
Dr. John Conly
University of Calgary and Alberta Health Services
I am a physician-researcher who was trained in infectious diseases at the University of Calgary. I have always been intrigued by investigations and research.
My areas of interest include the broad area of antibiotic resistance, how to improve antibiotic prescribing, and what policies can be set to help reduce unnecessary use of antibiotics in both humans and animals.
In addition, the risk of developing infection in the health care setting, especially those due to antibiotic resistant microbes (germs), and how to use innovative approaches such as new technologies to prevent them is another area of active research.
A related research focus area is the development and application of new innovations in health care to enhance the overall quality and safety for patients.
Further reading: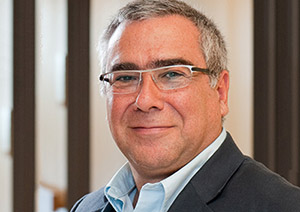 The medications that we take: The good, the bad and the ugly
Using the power of statistics to evaluate the risks and benefits of drugs commonly prescribed in the population
Dr. Samy Suissa
Lady Davis Research Institute, Jewish General Hospital
Millions of Canadians benefit from the medications they take every day, but thousands are harmed by these same drugs.
I lead the CNODES (Canadian Network for Observational Drug Effect Studies) initiative, a national network of over 100 scientists and research staff, funded by the CIHR, to conduct pan-Canadian studies on drug safety and effectiveness.
My research is in the area of pharmacoepidemiology, a science that uses cutting edge statistical methods to evaluate the risks and benefits of drugs commonly prescribed in the population. It exploits existing health care mega-databases on millions of patients generated by health insurance programs such as those from the Régie de l'assurance maladie du Québec (RAMQ) and from the Clinical Practice Research Datalink in the United Kingdom, to quickly answer questions of drug safety of public health interest.
This research has helped identify serious risks of drugs prescribed for asthma and Chronic Obstructive Pulmonary Disease (COPD), as well as for drugs used to treat diabetes, including the newer insulins, and many treatments for cardiovascular diseases.
Further reading: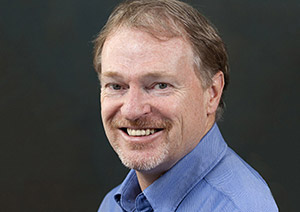 The role of gap junction proteins (connexins) in human health and disease
A solid foundation of knowledge allows researchers to explore a second family of channel forming proteins – pannexins
Dr. Dale W. Laird
University of Western Ontario
Our research program is engaged in examining the more than two dozen distinct human diseases linked to genes that encode the proteins (connexins) used in gap junctional intercellular communication. Mutations in 50% of the 21 connexin gene family members result in conditions ranging from developmental abnormalities that include hearing loss to life shortening organ failure.
We use a multidimensional approach involving organotypic cultures, genetically-modified mice, connexin-linked disease patient cells, and human stem cells to interrogate the scope of mechanisms that lead to disease in some tissues while other organs are spared. Once it is better understood how connexin gene mutations cause diseases and deformities that often intensify in aging, it is anticipated that these findings could be translated to pre-clinical studies and possible treatments of gap junction-linked diseases.
In recent years our studies have extended to the interrogation of a second family of channel forming proteins called pannexins.
Further reading: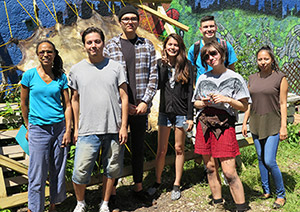 Urban gardening: An Indigenous approach to wellness
Do community gardens contribute to the individual and community health of Indigenous youth?
Dr. Kathy Moscou
Brandon University
I chose health research in order to work with communities to better understand factors contributing to health outcomes. In this community-based research we are working collaboratively with Indigenous organizations in Winnipeg and Brandon. We investigate what makes a neighbourhood healthy and how might community gardens contribute to the individual and community health of Indigenous youth? We use a Medicine Wheel framework to study the holistic health benefits of urban gardening. Indigenous youth design, install and maintain demonstration gardens; visually documenting culturally relevant indicators of health benefits.
Our research method uses photographs and storytelling (Photovoice). The research will expand knowledge of Indigenous approaches to wellness and build community research capacity.
Further reading: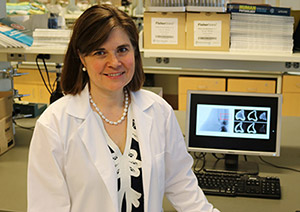 You can't under-estimate the value of a healthy, strong skeleton!
Preventing osteoporosis through early-diet intervention
Dr. Wendy Ward
Brock University
Most Canadians don't think about having a healthy and strong skeleton until they suffer a fracture because of osteoporosis, or in my case, if loved ones are affected.
A 'silent disease' that diminishes one's quality of life and leads to premature death, Osteoporosis is typically managed through drugs. My research team investigates whether foods or food components may be used to prevent, or at least to diminish the risk of osteoporosis and related fractures in later life.
We use well-characterized models that allow us to alter a mother's diet during pregnancy, as well as her offspring's diet early after birth, to set the stage for developing stronger, healthier bones that are less prone to fracture during aging. We study a variety of foods and their key components that may benefit bone health: examples include fish oil, flaxseed, soy, fruits and their corresponding fatty acids or bioactives. We use sophisticated, 3D imaging that provides insight into how strong a specific bone is.
Further reading: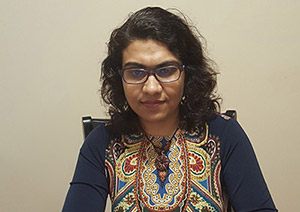 The right research for a bright future: Reducing the risk of preterm birth
Understanding the effect of an expectant mother's exposure to anxiety and depression during pregnancy
Ms. Kamala Adhikari Dahal
University of Calgary
Despite the efforts of clinical research and interventions to reduce the incidence of preterm birth globally, the rate has not been reduced. This brought my attention the need to investigate modifiable risk-factors for preterm birth, particularly the effect of women's exposure to multi-level social stressors, as well as to anxiety and depression during pregnancy.
Analyzing the data from the All Our Families and the Alberta Pregnancy Outcomes and Nutrition cohort studies, my research will inform policy-makers as to where, to whom, and for what to allocate resources particularly to prevent preterm birth.
This can guide policy-makers in designing the population-based interventions that target anxiety and depression reduction of vulnerable pregnant women. I was awarded the Vanier Canada Graduate Scholarship by CIHR to accomplish this research project. The Vanier Award coupled with the ideal PhD training-environment at the University of Calgary will enable me to accomplish this project and establish myself as a research-scientist.
Further reading: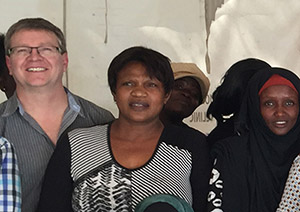 Using aspirin to prevent HIV infections
Investigating a simple and affordable way to prevent the spread of HIV
Dr. Keith Fowke
University of Manitoba
With over 1.5 million new HIV infections globally each year, novel prevention approaches are needed. HIV transmission requires a viable virus and a susceptible host cell. Most biomedical prevention approaches focus on containing HIV (condoms) or neutralizing it (HIV drugs, vaccines, microbicides). However, a prevention approach that has not been tried is to limit the number of susceptible HIV-target cells at the genital tract.
Inflammation brings activated immune cells (which are highly susceptible to HIV infection) to the genital tract, where they can meet HIV. Our studies of Kenyan sex workers, who are highly exposed to HIV yet remain uninfected, show that they have reduced inflammation, including fewer HIV target cells, at the genital tract. To reproduce this phenomenon, we gave Kenyan women a low daily dose of the anti-inflammatory drug aspirin for six weeks and observed a 35% reduction in genital tract HIV target cells.
Can we prevent HIV using safe, affordable anti-inflammatory drugs? Further studies will allow us to answer this question.
Further reading: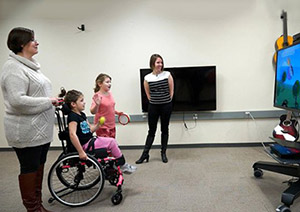 Helping children with disabilities to achieve their full potential
Virtual reality interventions to promote artistic expression and physical movement
Dr. Alexander MacIntosh
University of Toronto
Every child has the right to experience life in its fullness and to perform to their fullest potential. By creating virtual reality technologies for young people with disabilities, our goal is to help kids enjoy art, music and physical activities that are meaningful to them.
We conduct our research and co-create these virtual reality technologies by working closely with children, youth, and families. Together, we build mixed reality games, played with physical objects (such as musical instruments and toy building blocks) that help kids to work on their physical and occupational therapy goals in their own homes. We are also building interactive computer games controlled by customized gesture recognition programs, which allow children to practice reaching and grabbing movements. Through our research on interpreting movements, we can tailor supports to enhance the creative and functional potential of children and youth with disabilities.
Further reading: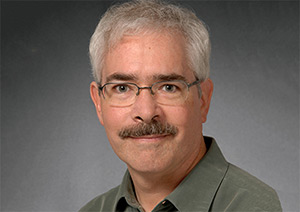 Saving lives through cleaner hospitals
Using UV rays to disinfect hospital rooms
Dr. William Anderson
University of Waterloo
People go to hospital to get better, not to get sick. Unfortunately, one in 10 Canadian patients pick up a new infection during their hospital stay.
That is something we are trying to change in my chemical engineering lab at Waterloo, as part of the Coalition for Healthcare Acquired Infection Reduction.
Recently, we tested a new ultraviolet disinfection system. The wall-mounted technology automatically turns on whenever the room is empty, generating UV rays that kill the microorganisms that make people sick.
When we installed these in a selection of bathrooms, utility rooms and equipment storage rooms at St. Mary's Hospital, in Kitchener, they significantly reduced the number of disease-causing bacteria on surfaces and in the air.
It is really satisfying to know that we are creating solutions that will save lives — and also put a dent in the $4 billion Canada spends each year to deal with health care acquired infections.
Further reading: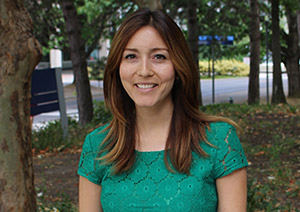 Eating well to keep cancer at bay
Investigating ways to encourage healthy eating in Canada
Dr. Rachel Murphy
University of British Columbia
Less than one in three Canadians eat the recommended daily serving of fruits and vegetables. Poor nutrition can have long-standing negative effects on health, contributing to as much as 30% of all cancer cases, in addition to other chronic diseases. My research aims to understand how nutrition and other healthy lifestyle behaviours can prevent cancer, and to develop solutions to encourage healthy eating.
My population health research has identified biological markers that may help to understand the mechanisms through which healthier dietary patterns affect cancer.
I am also studying programs that address healthy eating. This includes a school-based program to encourage healthy eating patterns early on, and a program that teaches food skills in communities to make healthy eating the easy choice.
Understanding the importance of nutrition is key to ensuring good health. Our research will provide relevant information and that could prevent many cancers from occurring.
Further reading: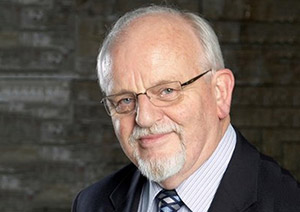 A physician's journey into epidemiology – Two countries, two cohorts
Using long-term data to improve asthma treatments
Dr. Malcolm Sears
McMaster University
I have had the opportunity to train and work in New Zealand, where the problem of increasing and worsening asthma is a significant challenge. Utilizing the Dunedin Multidisciplinary Health and Development birth cohort, we identified risk factors and tracked impaired lung function in individuals with persistent asthma, from childhood to adulthood.
Here in Canada, a partnership with AllerGen NCE and CIHR supported the Canadian Healthy Infant Longitudinal Development (CHILD) birth cohort. Over 40 investigators are using this cohort to investigate genetic, epigenetic, microbiome, environmental, infectious, psychosocial, hormonal and nutritional factors underlying asthma and allergy. The CHILD cohort, now 5-8 years old, provides a solid foundation for wide-ranging DOHaD studies. The New Zealand study is currently assessing their "children" as 45-year-olds, generating unique highly valuable data. We anticipate CHILD will similarly continue through childhood, adolescence, and into adulthood, employing new and emerging technologies resulting in exciting novel health discoveries.
Further reading: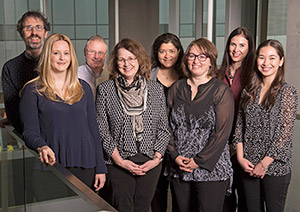 A dark cloud on the horizon
Just one puff of a cigarette can lead to lifelong addiction
Dr. Jennifer O'Loughlin
Centre de recherche CHUM
Although six million people are killed each year by cigarettes, a recent article in The Lancet suggests that the greatest harm is yet to come. One hundred million people died in the 20th century, but one billion people will die in this century if nothing is done to curb smoking.
Our team has followed 1,294 Grade Seven students in Montreal for the past 17 years to better understand the early origins of cigarette smoking. The most important finding to date is that nicotine dependence symptoms manifest very quickly after the first puff in some children, and this vulnerability places them at high risk of sustained adult smoking with all the concomitant health risks. We cannot pinpoint which children are most vulnerable, so the public health message is that even a puff can trigger the processes leading to lifelong addiction. In another project, we are identifying social disparities in school-based tobacco control programs. These data will inform the design of relevant and effective interventions to reduce smoking, especially in disadvantaged settings.
Further reading: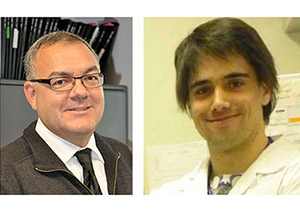 Prostate cancer: With research, there is hope
Protein mTOR associated with aggressiveness of cancer
Drs. Vincent Giguère and Étienne Audet-Walsh
Goodman Cancer Research Centre, McGill University
The protein mTOR was previously understood to be in the cytoplasm in most human cells. It was discovered that not only is mTOR found in the nucleus of prostate cancer cells, but that a strong correlation exists between mTOR nuclear content and the aggressiveness of the cancer. Healthy prostate cells show little evidence of mTOR in their nucleus, but its localization to the nucleus dramatically increases as the cancer progresses toward a poorer outcome. The more aggressive the cancer, the higher concentration and activity of nuclear mTOR. Accordingly, an mTOR-dependent gene signature has been successfully identified, which could help predict recurrence in prostate cancer patients.
Additionally, the research conducted by Drs. Giguère and Audet-Walsh demonstrates that the androgen receptor, the major driver of prostate cancer, works together with mTOR in the nucleus to exert its oncogenic effect on prostate cancer cells. The presence of mTOR allows for prostate cancer cells to reprogram their metabolism to sustain their rapid growth and proliferation.
These two researchers work at the Goodman Cancer Research Centre, in collaboration with Dr. Simone Chevalier at the McGill University Health Centre.
Further reading: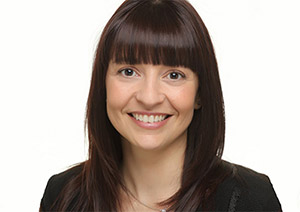 Helping those who help others
Strengthening caregiving for cancer patients
Dr. Sylvie Lambert
McGill University
High-quality cancer care in Canada relies on caregiving provided by partners or family members. In Canada, cancer is the second most common condition requiring caregiving. Despite this, caregivers remain a largely hidden workforce operating with minimal formal support, resulting in high anxiety and low quality of life. This is why Dr. Sylvie Lambert's research program focuses on developing and evaluating clinical interventions that provide the best available information and support to meet the needs of patients with cancer and their families. The interventions developed by Dr. Lambert's team try to minimize costs to ensure their sustainability. Such interventions include the use of online platforms, or approaches that are tailored to caregivers' specific needs.
Dr. Sylvie Lambert is an Assistant Professor at McGill University's Ingram School of Nursing, and Canada Research Chair (CRC) in Sustainable Self-Management Support for Patients with Cancer and Their Family Caregivers.
Further reading: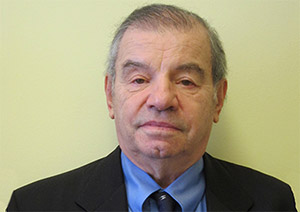 Advancing our understanding of type 2 diabetes
Groundbreaking research on insulin and cellular growth
Dr. Barry I. Posner
McGill University Health Centre
My research has focused on insulin and growth factor (GF) action emphasizing their relationship to the pathogenesis of type 2 diabetes mellitus (T2DM). We have identified hormone receptors in tissues not previously regarded as target tissues. We have also defined insulin and other peptide hormone receptors in the circumventricular organs of the CNS, providing the structural basis by which they influence CNS function. We were the first to show that insulin and GF cell surface receptor complexes are rapidly internalized into endosomes, from which cell signaling transpires (Signal Endosome Hypothesis). We identified the peroxovanadium (pV) compounds as potent insulin mimickers acting through the inhibition of phosphotyrosine phosphatases deactivating the IR. This led to studies defining various endosomal processes regulating IR and GF receptor functions, including regulation of pH and proteolysis. Our group was also the first to use a Genome Wide Association Study to identify genes associated with T2DM.
Further reading: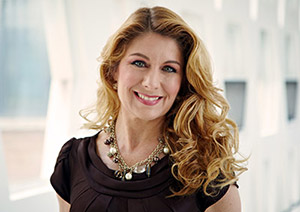 Healthy moms, healthy babies
Interventions to improve maternal mental health, breastfeeding, and postpartum conditions
Dr. Cindy-Lee Dennis
University of Toronto
My maxim is simple: "Healthy babies start with healthy moms." This belief has led me to focus my overall program of research on the rigorous evaluation of interventions to directly improve maternal health, which indirectly enhances infant outcomes.
My specific areas of research focus include: (1) improving breastfeeding outcomes; (2) detecting, preventing and treating perinatal depression and anxiety; (3) examining the health of immigrant mothers and infants; and (4) developing postpartum interventions that include fathers.
The Breastfeeding Self-Efficacy Scale I developed has become the most widely used breastfeeding measure in the world, providing me with numerous opportunities to collaborate with researchers internationally, from United Arab Emirates, to Brazil, to Turkey, and China.
I am currently the principal investigator of six large, multi-site studies and am a co-investigator on 20 other funded investigations. In addition, I recently received CIHR funding to lead a 10-year $17 million trial designed to determine whether a four-phase "preconception to early childhood" lifecourse intervention can (1) reduce child overweight and obese states, (2) improve cardiometabolic risk factors, (3) enhance child development and school readiness by the age of five , and (4) positively impact parental outcomes.
Further reading: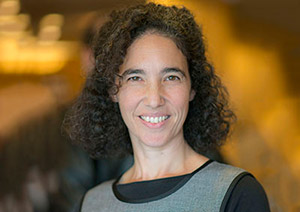 Helping people with developmental disabilities overcome barriers to achieve their best health
The big picture: Acquiring a new perspective on how best to treat the complex health needs of adults with developmental disabilities
Dr. Yona Lunsky
Centre for Addiction and Mental Health (CAMH) and Institute for Clinical Evaluative Sciences (ICES)
People with developmental disabilities often have complicated health needs, and they have trouble getting the right care. Often that's because providers lack the right knowledge to support them, because there isn't enough research being done about the needs of this group.
We're working to fill that gap by learning more about the health care needs of people with developmental disabilities and their families, to ensure that our health care system doesn't let them fall through the cracks. So part of our work has been to study all adults with developmental disabilities in Ontario to get the big picture on which parts of the health system are working, and which have the most problems.
Learning from the numbers and from people's stories, we're working together with patients, families, and health care staff to create tools that will help people with developmental disabilities achieve their best health.
Further reading: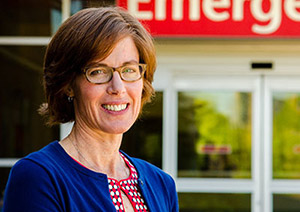 Choosing wisely: A high-value diagnostic approach to low-back pain
Clinical decision making tool helps emergency physicians select which patients require an x-ray for lower back pain
Dr. Jill Hayden
Dalhousie University
CIHR has funded Dr. Jill Hayden, a Dalhousie epidemiologist, and her team to develop a clinical decision tool to help emergency physicians determine which patients with low-back pain should be given x-rays.
"Nearly a third of patients who present to emergency with low-back pain are receiving diagnostic imaging," says Dr. Hayden. "Yet, fewer than 5% of patients have a serious low-back pathology."
"The evidence is clear that x-rays are not harmless," says Dr. Kirk Magee, research director in Dalhousie's Department of Emergency Medicine. "Apart from radiation, x-rays can lead to more invasive tests. Beyond patient safety, we have to consider responsible use of resources."
A team of skilled researchers and clinicians are collaborating in Nova Scotia and Ottawa, involving 4,000 patients over the five-year study. "The challenge is to identify which patients are at highest risk of a serious condition, while avoiding unnecessary x-rays for those at low risk."
Further reading: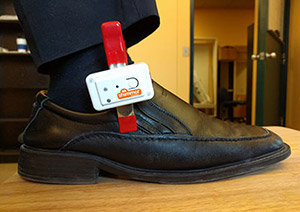 Heel2Toe: Gait training for seniors
A simple strategy to allow seniors to improve their gait and take good health in stride
Dr. Nancy Mayo
McGill University
Many seniors are unable to sustain walking at an intensity that promotes health and meets the Canadian Physical Activity Guidelines because of illness induced deconditioning, inattention, or ageing. Gait abnormalities can cascade into a slow, unstable, shuffling pattern that increases the amount of work demanded by walking, increasing fatigue, and the risk of falls, hip fracture, and even death.
Evidence shows that gait training is effective in improving gait pattern, but the effects abate once the training stops. Physiotherapists have been using verbal and visual cues to place the heel first when stepping. This simple strategy changes posture from stooped to upright and lengthens the stride.
But once verbal cueing ceases, patients revert to an inefficient foot-flat gait. Our team has developed a biofeedback device that provides real-time auditory feedback for each "good" step, in which the heel strikes first; Heel2Toe. This product applies to all health conditions that can produce gait vulnerability.
Further reading: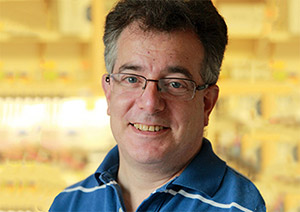 Memories: Are they really pressed between the pages of our mind?
While a definitive answer to how the brain stores memories remains elusive, researchers persist
Dr. Wayne Sossin
McGill University
I became interested in memory through computers. Understanding how memories are stored in computers is easy (we designed it), but understanding how brains store memories is a fascinating and unanswered question.
In molecular biology, a few pioneers answered the hardest problems of how life works by asking simple questions. This led me to study memory in a simple model system, where the connections between neurons (synapses) that stored memory had already been identified and I could ask a simple question: What caused the changes in these connections and how are those changes maintained?
Our answers have implications in many health areas including how to erase pathological memories after trauma and how to strengthen memory formation during aging and disease; but the fact remains that there is a fundamental biological mechanism for something as basic as memory that is still not understood. This is what motivates me every day.
Further reading: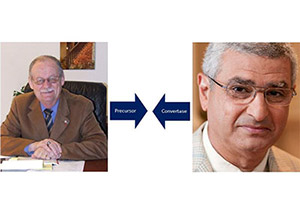 From the laboratory to bedside: the fascinating saga of the five decades of health research
The pioneering work of leading Canadian researchers reveals the existence of proteins involved in the body's key biological processes
Drs. Nabil G. Seidah and Michel Chrétien
Montreal Clinical Research Institution (IRCM)
Constituting a broad group of biochemically active molecules that are essential for cellular function, secretory proteins, such as hormones, enzymes, and receptors, proprotein convertases belong to a family of proteins that activate other proteins and are involved in many important biological processes.
In 1967, the pioneering work of Michel Chrétien and Donald Steiner independently revealed that such products derive from inactive precursors (pro-opiomelanocortin (POMC) and pro-Insulin) following cleavage at pairs of basic residues by specific proteases (proprotein convertases; PCSKs).
This precursor/product model was later found to be applicable to most processed secretory proteins in the brain and periphery.
It took 40 years for the Medical Research Council/Canadian Institutes of Health Research funded teams, successively led by Drs Chrétien and Seidah, before the 9-membered family of PCSKs was completely discovered and their functions validated in health and disease states.
The last member PCSK9 is a huge success story of our team, as its inhibition is used worldwide to treat hypercholesterolemia. The implications of other PCSKs in illnesses such as cancer/metastasis, neurodegeneration and other pathologies are actively been pursued.
Further reading: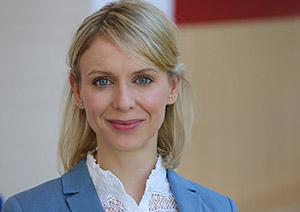 Helping schools to better meet the mental health needs of students
Researchers are hard at work evaluating the real-world effectiveness of school-based mental health interventions
Dr. Karen Patte
Brock University
My main research focus is the promotion of youth mental health, and the prevention and early identification of mental illness. Schools represent an opportune setting for these efforts, given that almost all young Canadians attend for an average of 25 hours a week.
In conducting our research, school officials have consistently told us that mental health is their top prevention priority, and yet, the majority of schools report unmet student mental health needs. Schools require support in addressing youth mental health, but the evidence on how to effectively and safely intervene remains limited.
With the pressure to act, there has been an expansion of mental health-related programs running in schools; however, the majority of these have not been evaluated and/or are not evidence-based. In response, our team developed and tested tools to evaluate the real-word effectiveness of school-based mental health interventions.
We will be implementing these tools in more than 80 secondary schools, as part of the ongoing COMPASS study. The project is designed to continually improve school programs, policies, and resources for the advancement of youth mental health.
Further reading: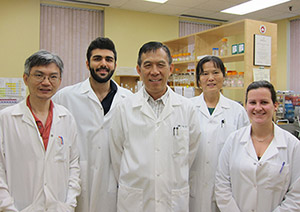 From left to right: Gaofeng Dong (postdoc fellow); Hasan Salim (dentistry student); Yung-Hua Li (PI); Xiao-Lin Tian (technician and lab manager) and Kayla Cyr (dentistry student)
Bacteria-busters!
Oral microbiologists are hard at work developing new strategies to prevent tooth decay
Dr. Yung-Hua Li
Dalhousie University
Tooth decay is one of the most common diseases in humans, affecting nearly all populations during their lifespans. Although tooth decay is not life threatening, diagnosing, treating and re-treating tooth decay is a major financial burden to the public health system worldwide.
Tooth decay is caused by bacteria living in the mouth. One bacterium, Streptococcus mutans, is considered to be the primary cariogenic pathogen because it is highly effective in forming dental plaque, metabolizing sugar, and producing acids that attack tooth surfaces. This bacterium is also capable of adapting to the host's defense mechanisms, allowing it to survive better in the oral cavity.
In this project, we are investigating how this bacterium adapts to the host defense mechanisms. The knowledge obtained from the research will allow us to develop new strategies for the prevention of tooth decay.
Further reading: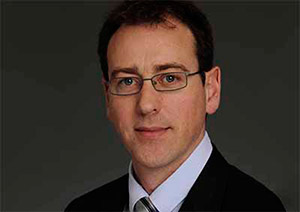 Drug addictions in Canada: Rising to the myriad of challenges
Overcoming drug addiction with advances in treatment and new therapeutic strategies
Dr. Bernard Le Foll
Centre for Addictions and Mental Health (CAMH)
Drug addiction is a major challenge in Canada. Alcohol and tobacco are producing the largest impact, but we are also facing an opioid crisis and the rise of cannabis use. As an addiction physician, I am coordinating the care in Addiction Medicine at the Centre for Addiction and Mental Health in Toronto in order to allow patients access to the latest developments in Addiction Care.
We are also studying the processes underlying addiction with the goal of developing novel treatment strategies in the laboratory. This has been a fruitful approach that has led to the discovery of several possible new therapeutic strategies. Notably we have identified that modulating the function of some receptors and/or brain areas could allow decreasing motivation to take drugs and prevent relapse.
We are now studying some of those novel approaches in clinical population with the goal to develop novel therapies.
Further reading: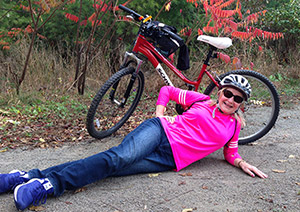 Breast cancer survivor turned author
Health research patient experience translates into a new career path
Ms. Martina Wood
Breast Cancer Survivor and Patient Advocate, Mississauga
Diagnosed in 2014 with stage 2 breast cancer, I wanted to do whatever I could.
When asked to choose between treatments, I didn't have the knowledge to make a good decision. That started my deep dive, researching medical journals and conferences, and consulting with my pathologist and an oncology nurse friend.
The research I gathered was "ahead of the curve" – such as new guidelines, not yet standard of care due to an implementation lag (still ongoing). Using St. Gallen 2015 conference notes, I developed a matrix to help identify one's subtype, and decision charts, to see one's options (lumpectomy or mastectomy? etcetera) and factors considered for a treatment recommendation.
I wrote a book to share this valuable, easy to read research with other women: Smart Decisions about Breast Cancer – choices, risks, living well, preventing recurrence, published in October 2015 and still extremely relevant.
I'm happy that my work helps more women make smart decisions.
Further reading: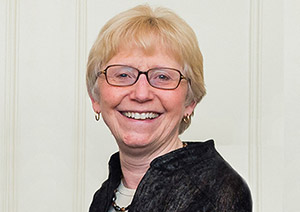 Recognizing the power of effective communications in patient care and outcomes
Shaping a positive patient experience with carefully developed competent communication skills
Dr. Sally Thorne
University of British Columbia
Sally Thorne's research program uncovers patient perspectives' on the human impact of the manner in which we conceptualize and deliver care for chronic conditions including cancer.
In particular, she has focused her efforts on the relational aspects of care delivery, including communication between health care professionals and recipients of their care as a critically important factor to shaping health outcomes.
When we recognize how powerful communication can be in shaping patient experience, especially in the context of these complex health conditions, we inevitably seek insights into how to enhance the quality of the communicative environment within which all patients receive care.
The need for solidly grounded, clinically meaningful and practical, useable knowledge in this field is expanding exponentially and is what continues to drive this program of research.
Increasingly complex communications are called for given developments such as a palliative approach to care – across the full spectrum of chronic and life-limiting illnesses, legal instruments such as advance directives, and the advent of medical assistance in dying.
Further reading: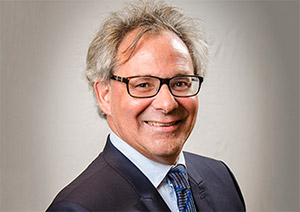 Rearranging genes to fight bacteria
Studying how rearranging genes through genomics could lead to the development of more effective antibacterial drugs
Dr. Marc Ouellette
Scientific Director, CIHR Institute of Infection and Immunity
Centre Hospitalier de l'Université Laval (CHUL)
As an undergraduate student in biology at University of Ottawa, I was flabbergasted by the mechanisms of antigenic variation in African trypanosomes. The extent of how DNA rearrangements in trypanosomes can control gene expression was simply mind-blowing and, as a result, DNA became the focus of my scientific career. As a PhD student at Laval University, I studied how they are associated with antibiotic resistance in bacteria. I then went to Amsterdam as a postdoctoral fellow to study antigenic variation in trypanosomes. While carrying out that work, I became intrigued with how related parasites (Leishmania) rearranged even more DNA to resist drugs. All of my work regarding gene rearrangements in bacteria and parasites led to drug resistance studies! I came back to Canada in 1990 so that I could work at Laval University. I have focused on how antimicrobial resistance is currently a world public health issue and how genomic work could be helpful in providing tools and targets to deal with it.
Further reading: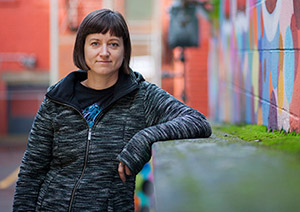 Helping people who are substance users to shape their health care
Understanding how marginalized population experiences barriers to primary health care
Dr. Karen Urbanoski
University of Victoria
Primary health care delivered with understanding and compassion for people who use drugs is the focus of a new patient-oriented research study co-led by Karen Urbanoski, a researcher with the University of Victoria's Centre for Addictions Research BC (CARBC) and the School of Public Health and Social Policy.
Health researchers from CARBC are partnering with service providers, policy-makers and substance-users to determine how this marginalized population experiences barriers to primary health care. "Part of the project's role is to help physicians understand what it's like for this group of people to seek health care," says Dr. Urbanoski, the Canada Research Chair in Substance Use, Addictions and Health Services Research. "It's really challenging, whether they're drug users or face other disadvantages such as poverty, homelessness, violence, racism, colonialism. We see this work as the kind of thing that can be turned into training, and to help develop a model for safe primary care."
Further reading: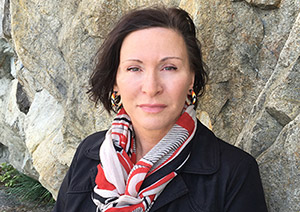 Tackling health disparities faced by Indigenous communities with inclusive research
Acknowledges the strength and value of Indigenous knowledge and cultural traditions can be healing for participants
Dr. Charlotte Loppie
University of Victoria
Charlotte Loppie has dedicated her career to making Indigenous community engagement central to the research process. As a professor with the University of Victoria's School of Public Health and Social Policy and director of the university's Centre for Indigenous Research and Community-Led Engagement, Dr. Loppie conducts research that is "consistently proposed and directed by Indigenous communities or collectives that represent full, equal and active partners in all aspects of the research process."
She's currently partnering on Visioning Health II, a research study that builds on the earlier work of Doris Peltier (Canadian Aboriginal AIDS Network) and Tracey Prentice with HIV-positive Indigenous women, which found that research conducted with particular attention paid to Indigenous knowledge, cultural traditions and strengths, can be healing for participants.
The current study is being conducted in partnership with HIV-positive Indigenous women in eight regions across Canada to explore the impact of this process on women's health.
Further reading: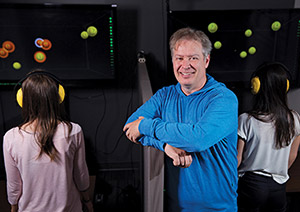 The invisible injury: Raising awareness of concussions
Uncovering the mystery surrounding concussion remains a priority for health professionals
Dr. Brian Christie
University of Victoria
Research into the mystery of concussions remains a priority for health professionals trying to understand a complex condition, according to University of Victoria brain researcher, Dr. Brian Christie. A major focus for Dr. Christie and his team is understanding the biological mechanisms that contribute to learning potential and the ability to recover from neuropathology in both hereditary and acquired brain injury.
His clinical lab focuses on how to better assess and treat brain injury and dementia in clinical populations. Together, these research efforts have benefited thousands of athletes on Vancouver Island, through education and by exposing them to cutting edge technologies for brain injury treatment and recovery.
"There's enormous interest in brain injury, and we're fortunate to have attracted significant community engagement," says Dr. Christie. "Data from new assessment tools will empower doctors, parents, players and coaches to make better decisions about treatment and safe strategies for a patient to return to play."
Further reading: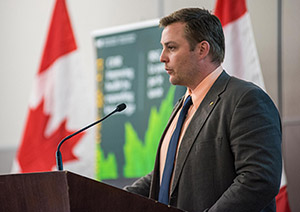 COMPASS: Guiding new directions in the advancement of youth health
A national research-to-practice asset helps to effectively guide and improve youth-focused policies and programs
Dr. Scott Leatherdale
University of Waterloo
With the support of CIHR, I created the COMPASS system as a national research-to-practice asset in order to help more effectively guide and continually improve the success and impact of youth-focused prevention policy and programming.
As a learning system, COMPASS has been purposefully designed to:
strengthen our ability to plan, act, evaluate and adapt strategies to advance youth health in multiple prevention domains;
engage researchers in a cost-effective yet robust data system designed to capitalize on natural experiments as a means for generating practice-based evidence as 'real-world' interventions are mounted in different contexts and jurisdictions over time;
enable local, provincial, and national health and education stakeholders to plan, tailor, and evaluate multiple ongoing programs and policies using robust and timely data;
strengthen our ability to understand and address health inequities among high-risk groups of youth;
expand our ability to understand how different social and physical environments shape youth health trajectories or impact the outcomes of different interventions over time; and,
foster more evidence-based primary prevention action and decision making by engaging knowledge users in the research process.
Further reading: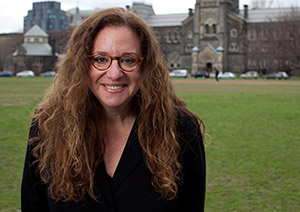 It's not about nature versus nurture: Both make us who we are
The delicate balance between genes and their environment nutures an organism's ability to adapt and thrive in its surroundings
Dr. Marla Sokolowski
University of Toronto
An organism's ability to adapt and thrive in its surroundings relies on a delicate balance between genes and their environment. Gene-by-environment interactions are emerging as key contributors to human health, with an increase in scientific studies reporting gene variants that enhance or dampen the effects of environmental exposures that lead to disease states.
Fruit flies are an ideal model system to study this relationship, given that their genotype and environments can be faithfully manipulated and their organ systems studied directly. My lab studies a well-characterized paradigm, wherein two naturally occurring alleles of the foraging (for) gene underscore differences in complex phenotypes including foraging behavior, metabolism, stress resistance and learning and memory in relation to food availability.
Importantly, the for gene is conserved from fly to humans, and has been shown to modulate behavior and metabolism across species. Using our expertise in behaviour, genetics, molecular biology, epigenetics, neurobiology, evolution and ecology, we hope to further elucidate the significance of gene-by-environment interactions and uncover pathways through which the environment an individual experiences become biologically embedded.
Further reading: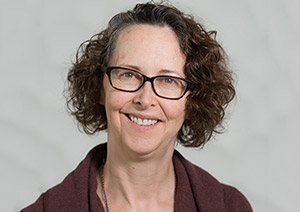 Occupational health risks of the sharing economy
Free falling: Established regulatory structures for employment and occupational health standards don't apply
Dr. Ellen MacEachen
University of Waterloo
The health risks posed by the growth of the 'sharing economy' marketplace in Canada are unknown. A key challenge is that this work falls outside of established regulatory structures for employment and occupational health standards. Regulators are struggling to develop programs and policies, and efforts have been inconsistent and scattered. Taking the case of UberX ride sharing, we are conducting a developmental evaluation of occupational health risk and regulation opportunities in UberX work. This study uses qualitative research methods to examine how key Uber and related parties appraise and navigate workplace risks, passenger safety risk, and envisage appropriate regulation for a changing health risk landscape. The study will develop knowledge on ride-sharing risks, how they differ for men and women, and their mechanisms. In consultation with key stakeholders, we will identify promising regulatory options for occupational health policy.
Further reading: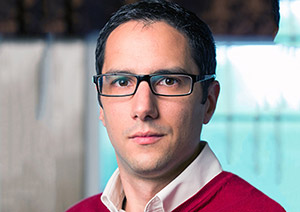 Unraveling the mystery surrounding physical and mental illness co-occurring in children
Identifying at-risk children to inform interventions that will prevent or reduce the incidence of early multimorbidity
Dr. Mark Ferro
University of Waterloo
Multimorbidity (co-occurrence of physical and mental illness) affects approximately 10 per cent of children. Because physical and mental illnesses are chronic in nature, the consequences of multimorbidity extend throughout life. Despite evidence that physical illness increases risk for mental illness, the mechanisms underlying this phenomenon are not well understood. Dr. Ferro investigates the role of biological and psychosocial factors in the development of childhood multimorbidity. His research is showing that the risk for mental illness is remarkably consistent across children with different physical illnesses suggesting an inherent risk among these children, regardless of the type of physical illness. By understanding the extent to which this risk is driven by biological mechanisms such as systemic inflammation, psychosocial experiences such as changes in the family environment, or a combination of these two processes, Dr. Ferro's work helps identify at-risk children; ultimately informing interventions to prevent and reduce the incidence of multimorbidity early in life.
Further reading: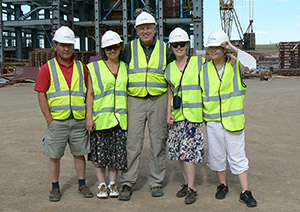 Mitigating the community health impacts of mining
Supporting developing countries efforts to integrate health impact assessment tools into mining licensure policies
Dr. Craig Janes
University of Waterloo
For many countries, the wealth promised by mining metal and oil and gas affords potential opportunities for economic and social development. But mining also has a significant impact on the health of communities living in or near mining sites.
These impacts go well beyond the pollution and degradation of air, soil and water, and include the often complex challenges associated with such things as population influx and stresses on housing and essential public health infrastructure.
Our international partnership team has focused on developing more robust means to manage these impacts, focusing initially on Mongolia, a country where Canadian mining interests are dominant. Over the past five years, with CIHR support, we have supported successful Mongolian efforts to integrate health impact assessment tools into their mining licensure policies. Recently we have begun to extend these efforts to two countries in Africa where Canadian interests also dominate: Zambia and Tanzania.
Further reading: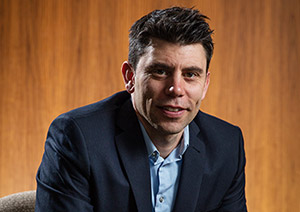 Gathering evidence for stronger tobacco control
As addictive and harmful as they were 50 years ago, cigarettes kill more than 6,000,000 smokers annually
Dr. David Hammond
University of Waterloo
Tobacco remains the leading cause of premature death in the world — killing more than 6 million people each year. Despite the known health risks, cigarettes are just as addictive and harmful as they were 50 years ago. Working with governments around the world, Dr. David Hammond is tackling the global tobacco epidemic through stronger control laws and new prevention measures.
His research on the effects of plain packaging, low-nicotine cigarettes and youth consumption of tobacco products provides decision makers with the best evidence needed in order to tighten legislation and to develop new policies to protect the health of populations. He is also studying policies to reduce sugar intake in the Canadian population.
Further reading: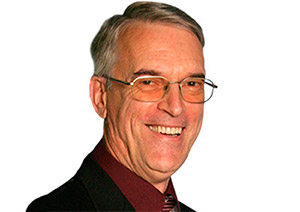 CRISPR/Cas9: New DNA technology offers ray of hope
Hereditary diseases, including Duchenne Muscular Dystrophy, could become a thing of the past thanks to gene-correction technology
Dr. Jacques P. Tremblay
CHU de Québec-Université Laval Research Center
My research team is using a new technology, CRISPR/Cas9, to develop therapies for hereditary diseases. This technique permits the modification of the human genome by inducing a cut in the DNA at exactly the selected site by using a Cas9 nuclease and a single guide RNA (sgRNA), which hybridizes with a unique 20 nucleotide sequence in the human genome.
We have found the CRISPR/Cas9 technique useful to remove an elongated GAA trinucleotide (DNA-triplets) repeat by cutting before and after this repeat. The removal of the repeat permits to increase the expression of the frataxin protein and would thus be therapeutic.
Duchenne Muscular Dystrophy is due to point mutations or deletions that change the reading frame of the dystrophin gene. These mutations result in the absence of the dystrophin protein under the muscle fibre membrane resulting in frequent damage to the fibres and progressive muscle weakness.
Using the CRISPR/Cas9 technology, we have been able to remove an additional part of the dystrophin gene in order to restore the normal reading frame of the dystrophin gene and the expression of the dystrophin protein. The restoration of this protein should prevent the development of the muscle weakness. The CRISPR/Cas9 technique may eventually be used to correct the genes responsible for thousands of hereditary diseases affecting millions of patients.
Further reading: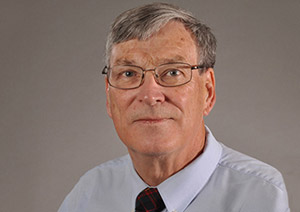 Front-line family physician transfers real-life experience into research
How well medical knowledge is applied in practice makes a difference in the lives of patients
Dr. James A. Dickinson
University of Calgary
I am a family physician and became a researcher because many recommendations about how we should treat our patients did not fit the reality of what we see at the front line. So, I started to work on different subjects, mostly asking how well we apply medical knowledge in practice.
Recently, I began working on prevention guidelines, which mostly aim to stop every case of disease, but ignores the harms that overdoing prevention may cause. My colleagues and I use epidemiological approaches to measure these harms. Then we seek to change policies and provide information that balances the potential for benefit against the likely harms. This assists physicians in their discussions with patients about whether purported preventive procedures are good for them, and enables better choices to be made about screening tests: when to start, when to stop, and how often they should be done.
Further reading: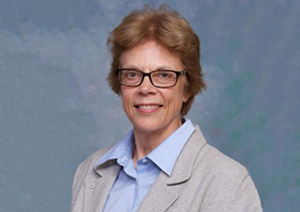 Poverty devastates health and life outcomes: It's a fact!
A bold partnership with physicians, educators, governments, and community agencies helps Manitobans access benefits and improve their lives
Dr. Noralou Roos
University of Manitoba
As a founding director of the Manitoba Centre for Health Policy, I research links between social determinants and population-level health. Research clearly demonstrates: poverty devastates health and life outcomes. Growing up in poverty leads to less education, underemployment, illness and early death. We have compiled evidence-based research to persuade health care professionals to diagnose and treat patients' poverty. The Get Your Benefits initiative provides information and patient pamphlets to physicians/health care professionals to convince them to ask every patient a specific set of questions about their income and access to their entitled benefits. For example, filing taxes is one of the most powerful ways of increasing income/defeating poverty: in 2016, $21 million was returned to 9,100 Manitobans earning less than $40,000/year after they filed taxes. This initiative is a bold partnership with physicians, educators, federal/provincial governments and community agencies to help Manitobans access their benefits and improve their lives.
Further reading: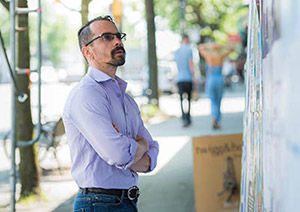 Access to quality dental care is far from universal
Giving voice to those for whom quality dental care is out of reach and inspiring compassion in future dental professionals
Dr. Mario A. Brondani
University of British Columbia
We may take going to the dentist for granted. After volunteering at a nursing home near my office more than 20 years ago and being appalled by the conditions of some residents' mouths, I decided to investigate access oral health care to those who cannot afford or do not feel welcomed in a dental office.
I like to engage my graduate students and focus my research efforts into unrevealing the broader aspects of dental public health, from policy and advocacy to geriatric dentistry in nursing homes, from issues of stigma faced by some members of our society to qualitative health research – giving a voice to my participants.
By also being involved in ways to better educate future dental professionals, I foster evidence-based knowledge and compassion so that my students can reach out to the underserved; their dental education has to go beyond the walls of the clinic so that we can move closer towards understanding and ensuring that the pathway to good oral health care is optimally delivered.
Further reading: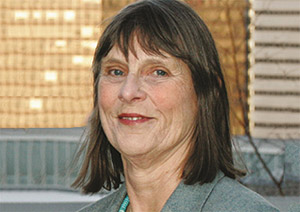 Looking back with pride
A retrospective look at one health researcher's career
Dr. Margaret Lock
McGill University
Trained initially in biochemistry and bacteriology, I first became involved in health-related research while doing a PhD in medical anthropology at University of California, Berkeley. My early research was based primarily in Japan and dealt with life-cycle transitions, and brain death and organ transplants.
I have taught in both the medical and arts faculties at McGill University for over 40 years. From 2002 to 2006 I was a member of a team that received a CIHR Operating Grant. Our project was called: Transfer of Bioscience Knowledge: Gene-Based Vulnerability in Psychiatry. I used this funding to track public uptake of and responses to genetic testing for susceptibility genes.
I am now retired and currently working on genomics and epigenetics, with emphasis on new insights into human development, health and illness.
Further reading: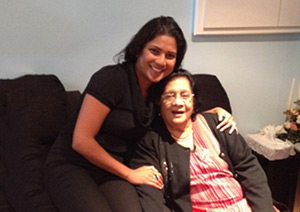 A degenerative disease of the joints, osteoarthritis affects 50% of people over 65
A devoted granddaughter witnessed the decline of her grandmother due to osteoarthritis and dedicated her career to finding a solution
Dr. S. Amanda Ali
University Health Network
Osteoarthritis is a degenerative disease of the joints, affecting 50% of people over age 65, including my grandmother. Having personally witnessed this disease compromise her function and quality of life, I dedicated my research career to identifying new treatments and improving care.
There is no cure for osteoarthritis, but there are several treatment strategies that can be used to reduce symptoms and prevent progression of the disease. Osteoarthritis can result from a variety of risk factors, including age, sex, body mass index, injury, genetics, and others. The ability to classify patients based on their particular risk factors may improve our ability to tailor their treatment such that it is most effective for the individual.
This is the goal of the Kapoor lab, to identify markers in the blood that may be used to classify osteoarthritis patients based on their risk factors, and ultimately improve care.
Further reading: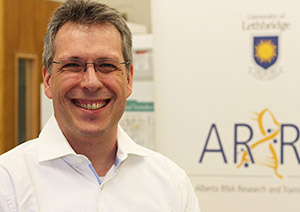 Battling antibiotic resistance by finding targets for new antibiotics
Designing the next generation antibiotics to better enable us to combat antibiotic resistance
Dr. Hans-Joachim Wieden
University of Lethbridge
The rise of antibiotic-resistant infections is recognized by the World Health Organization (WHO) as a threat to modern medicine and to public health. The WHO Global Action Plan calls for research and the development of new antibiotics. More than 50% of current antibiotics target the bacterial ribosome, the cellular machine essential for translation of genetic information into functional proteins.
Therefore, a detailed understanding of the processes involved is critical for identifying new antimicrobial strategies and to overcome existing and arising microbial resistance. On this background, our research targets the functional cycle of the bacterial ribosome and how antibiotics can selectively interfere and inhibit key properties. By identifying novel inhibition points and molecular requirements essential to the function of the bacterial ribosome, it will be possible to identify compounds that selectively target these processes. Our research will provide the framework for the rational design of next generation antibiotics, enabling us to fight antibiotic resistance.
Further reading: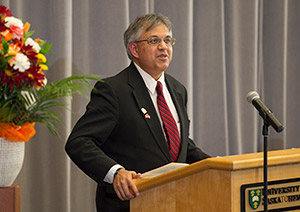 Every year, 250 million people worldwide contract a parasitic infection from a small, airborne insect
Developing countries situated in tropical regions have a big problem on their hands: Tiny sandflies that carry a deadly parasitic infection – leishmaniasis
Dr. Kishor Wasan
University of Saskatchewan
Open sores, mucosal ulcers, swollen livers, fever—even death: all from the bite of one tiny sandfly. It's no small issue. In developing countries in tropical regions, more than two million people are infected every year (and over 250 million people worldwide) with leishmaniasis, a parasitic infection that's transmitted by infected female sandflies. Even in developed countries, these kinds of parasitic infections are leading contributors of death among immunocompromised people (e.g. patients with cancer or AIDS).
Enter Dr. Kishor Wasan, professor and dean at the University of Saskatchewan and adjunct professor and distinguished university scholar at the University of British Columbia (UBC). He has worked long and hard to develop an orally administered form of Amphotericin B that would remain stable in tropical conditions.
Vancouver company, iCo Therapeutics Inc., has now partnered with UBC to advance Dr. Wasan's formulation of Amphotericin B for the treatment of leishmaniasis and other fungal infections. Current work sees the formulation being developed so that it can be taken orally without serious side effects. Oral dosing offers a significant improvement over the current treatment, which is expensive, highly toxic, and can only be administered by injection. An advancement like this makes the technology ideal for application in the developing world. UBC's commercialization agreement with iCo ensures that development of this Amphotericin B formulation will support our global access objectives.
Further reading: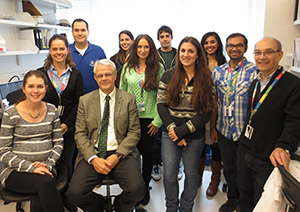 Dr. James T. Rutka, and his brain tumour team, in the lab at Sick Kids Hospital Research Institute.
From the laboratory bench to the patient's bedside: One researcher's dream for a cure
Translating discovery science into tangible results to improve the quality of life of patients with lethal brain tumours
Dr. James Rutka
Sick Kids Hospital Research Institute and University of Toronto
I decided to go into health research because, as a neurosurgeon at the University of Toronto, I knew we had little effective therapy for brain tumour patients. My laboratory is dedicated to increasing our understanding of the molecular mechanisms underlying brain cancer growth and invasion.
Brain tumours are among the most deadly and devastating cancers and we need new treatment strategies to help patients diagnosed with this disease. We are investigating ways to shut off or slow down the main "molecular motors" that drive brain tumour cells to spread throughout the brain. I have focused on a major signaling pathway which is primarily responsible for this phenomenon –the Rho-GTPase signaling pathway.
Using novel drugs and compounds against this pathway, including conjugated gold nanoparticles, I am increasing the delivery of promising chemotherapeutics to the zone of invasion of brain tumours using magnetic resonance guided focused ultrasound (MRgFUS).
MRgFUS has the unique ability to cross the blood brain barrier and to provide high concentrations of drugs to targeted areas within and surrounding a brain tumour. The main types of brain tumour my lab is focusing on with this treatment strategy are glioblastoma and diffuse intrinsic pontine glioma. These are brain cancers for which we have no reliable or effective therapy.
My long-term goal is to be able to translate the discovery science from my research lab into tangible, human clinical trials that will improve the overall survival and quality of life of patients harbouring these lethal tumours. I should like to truly thank the CIHR Institute of Cancer for its generous support for my research program at Sick Kids Hospital, over many years.
Further reading: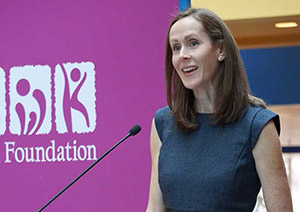 More children and youth are in distress than ever before: Exploring the complex web of contributing factors
Early intervention: Partnering with patients and families to improve child and adolescent mental health outcomes
Dr. Leslie Anne Campbell
Dalhousie University
Dr. Leslie Anne Campbell's program of research supports the improvement of child and adolescent mental health outcomes at the IWK Health Centre in Halifax, Nova Scotia. In recent years, Canadian children and youth have been presenting to emergency departments for mental health and behavioural concerns at steadily increasing rates, in contrast to stable rates for other conditions.
Our current projects aim to understand reasons for this trend.
Through linking existing information and working with communities to fill in gaps in information, Dr. Campbell and her team are able to explore complex protective and risk factors for increasing numbers of young patients presenting to the emergency department. We are partnering with youth and families, using patient engagement strategies, to better understand and incorporate their perspectives in her research directions to ensure we are asking the right questions in the right way.
Our work aims to guide policy and planning, while providing insight about making care more timely, effective, and patient-centered.
Further reading: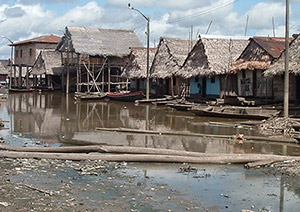 A rural community in a worm-endemic area
Why worm infections matter!
A worm infection can affect one's health over an entire lifespan
Dr. Theresa W. Gyorkos
McGill University
Research on worm infections is probably not on your radar at all. As Canadians, we rarely come into contact with worms. But worm infections can, and do, cause disease. Preschool children, school-age children, and girls and women of reproductive age living in over 100 endemic countries around the globe, are at continual risk of being infected and of suffering health consequences from worm infections.
Depending on the worm load and the age at which worms are acquired, worm infections can have a small or a large effect on one's health over an entire lifespan! Worms have been the focus of my team's international research program since the 1990s, and many of our research projects have been funded by CIHR.
Much of this research has contributed to informing health policy aimed at reducing worm-attributable morbidity. Most recently, we have partnered with the World Health Organization to explore new strategies to reduce the worm burden in girls and women of reproductive age.
Further reading: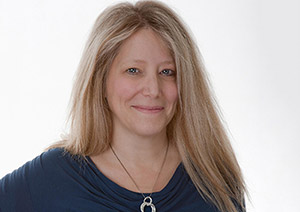 Using our body's internal clock, circadian rhythm, to better treat cardiovascular disease
Translating circadian biology to benefit treatment of patients with heart disease
Dr. Tami A. Martino
University of Guelph
The research being conducted in my laboratory at the University of Guelph (UGuelph) is aimed at understanding how we can apply circadian biology to benefit treatment of patients with cardiovascular disease. Specifically, heart disease has reached epidemic proportions and affects an estimated 1 in 3 adults in Canada. Our studies investigate circadian biology and heart health in both males and females.
The goal of our CIHR funded research is to translate circadian biology (our day and night sleep, physiology, and molecular biology) to clinical medicine, and specifically to develop new treatments for heart attacks.
Based on the knowledge derived from our research, we may be able to develop new treatments for a heart attack that can be given alongside conventional therapies, which will reduce heart scarring (infarct expansion) and improve patient outcomes.
We also created the Centre for Cardiovascular Investigations at UGuelph, with the goal of advancing Canadian cardiovascular health care innovation and training the next generation of scientists and clinicians.
Further reading: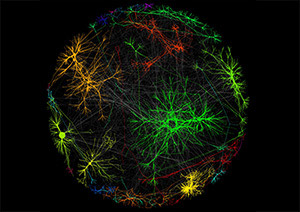 Drafting a blueprint of how our body works
Computer-based analysis compiles a treasure trove of information on the complex cellular network
Dr. Gary Bader
University of Toronto
The human genome project has unveiled a large number of parts, but scientists don't fully understand how these parts fit together. Revealing and understanding this information is important, as biomolecules interact inside us and arrange themselves into intricate networks and pathways that control all aspects of a cell's function.
Diseases arise if this network is broken in specific ways. Understanding exactly how this complicated network functions has the potential to improve diagnosis, prognosis and therapy and reduce the cost of medical care in Canada and the world. My lab develops computer-based analysis methods to tie all of the information that we know about our cells into a blueprint of how our body works. Our methods have led to the discovery of biological systems underlying autism and the first potential targeted therapy for a childhood brain cancer.
Further reading: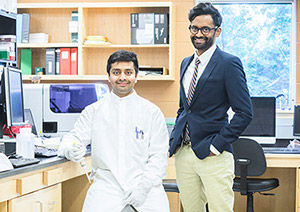 United by a common passion
Today's high-impact team science will go a long way to solving the global health issues of tomorrow
Mr. Thilina Bandara
University of Saskatchewan
Today's global health problems are wicked in nature - vast, interconnected and complex – involving the intersection between humans, animals and the environment. As a result, tomorrow's public health leaders will require the skills to work across intellectual and institutional boundaries.
With the guidance of academic mentors from across campus, PhD Candidates Thilina Bandara (Community Health and Epidemiology) and Arinjay Banerjee (Veterinary Microbiology) are working to contribute to science of interdisciplinary training. Alumni of the Integrated Training Program in Infectious Disease, Food Safety and Public Policy, Bandara and Banerjee are continuing to develop interdisciplinary science workshops, collaborate with international colleagues to understand current public health crises, and to foster their own capacities to conduct high-impact team science to solve the global health issues of tomorrow.
Further reading: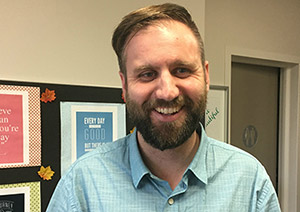 Eating disorders do not discriminate by gender
Engaging and supporting men who are struggling with an eating disorder
Dr. Brad A. MacNeil
Kingston Health Sciences Center, Hotel Dieu Hospital
There is a need for innovative methods for engaging men with eating disorders in specialized assessment and treatment. In 2012, our lab founded the Male Assessment and Treatment Track, or MATT, which isthe only outpatient service in Canada to provide specialized assessment and treatment designated for men struggling with eating disorders.
Men have an opportunity to receive individual cognitive behaviour therapy-enhanced and information on support and recovery-based resources. The MATT project also represents a therapeutic platform for men to discuss issues related to stigma, isolation, and their unique experiences. Significantly more male referrals (250%) were received and more men engaged in assessment and treatment after the instatement of the MATT.
We continue to examine factors associated with men's engagement in assessment and treatment for an eating disorder, their unique experiences of the illness, and their satisfaction with services received.
Further reading: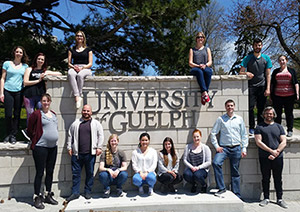 Forget about cats! Curiosity may be killing the cancer cell
A fascination with how cells adapt to changes in their environment led to a career as a health researcher
Dr. Jim Uniacke
University of Guelph
Since high school, I have been fascinated with how cells adapt to changes in their environment by making adjustments to the types of proteins that they make. I was passionate about researching aspects of human health in order to make a measurable impact on our society.
This is when I began investigating the influence of low oxygen (hypoxia) on the protein synthesis machinery of human cells.
Cancer cells living within tumours experience chronic hypoxia and this drives the spread of the disease and its resistance to therapy. Understanding how cancer cells adapt to hypoxia through changes in their protein synthesis machinery will allow us to uncover a new understanding of tumour progression and identify new therapeutic targets to prevent tumour progression.
Further reading:

Midwifery integration
Mothers and their newborns will benefit from having access to better, inter-professional collaboration among their care givers
Dr. Kellie Thiessen
University of Manitoba
Increasing, access to integrated midwifery services in today's health care system requires midwives to be actively engaged in the research process, knowledge dissemination and clinical practice. Dr. Thiessen, a Clinician Scientist Trainee with the Canadian Child Health Clinician Scientist Program (CCHCSP), is leading an inter-professional team of experts to create data-driven strategies that will inform policies to improve perinatal outcomes and optimize the integration of midwifery services in primary health care reform initiatives.
Currently, her team is investigating outcomes and costs in Manitoba associated with hospital and out of hospital births, by provider type. The overall goal of her research program is to identify barriers and design interventions that will inform strategies and policies to improve delivery of maternity-care health services that best utilize midwives. The anticipated results will be an overall improvement in both perinatal and system level outcomes in the Canadian context.
I would like to gratefully acknowledge my research team: Dr. Nathan Nickel, Dr. Julia Witt, Dr. Margaret Morris, Ms. Kristine Robinson, Ms. Margaret Haworth-Brockman, Dr. Ivy Lynn Bourgeault , Ms. Shelley Derksen, Ms. Trina Arnold and Mr. Alex Peden.
Further reading: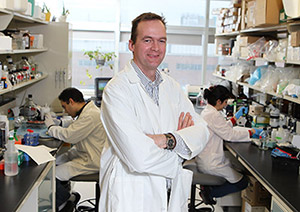 Harnessing the power of epigenetics to save little lives
This researcher wants to eliminate the need for pediatric surgery to repair congenital anomalies by modulating abnormal development before birth
Dr. Richard Keijzer
University of Manitoba
Every 10 minutes, somewhere in the world a baby is born with a hole in their diaphragm and abnormal lung development – this is called congenital diaphragmatic hernia (CDH). As a pediatric surgeon, I operate on these babies and repair the diaphragmatic defect after birth. Unfortunately, CDH babies experience severe breathing difficulties due to their abnormal lung development, and every hour, one of these CDH babies dies due to the problems arising from their abnormal lung development.
In our laboratory, we study the abnormal lung development in CDH. We have discovered that certain small gene regulators - called microRNAs - play a significant role in the abnormal lung development associated with CDH. We are currently studying if we can use these microRNAs as a prenatal therapy. Our overall goal is to improve outcomes in CDH babies by modulating the abnormal lung development before babies with this devastating disease are even born.
Further reading: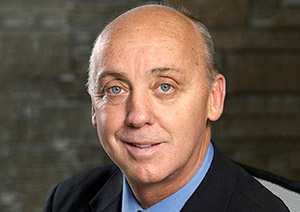 A natural problem-solver meets the challenges of common medications head-on
A delicate balancing act between the needs of patients who suffering and responsible pain management
Dr. John Wallace
University of Calgary
I have always enjoyed solving problems. Since becoming a medical researcher, I have tried to solve problems caused by some of the most common medicines used in our society. Drugs like aspirin, naproxen, and ibuprofen can reduce the pain associated with arthritis; but, unfortunately, they can also cause bleeding in the stomach and small intestine that can be life-threatening.
In recent years, we have all heard, on almost a daily basis, of the problems associated with opioid addiction. Opioids are powerful painkillers that can alleviate the severe pain that people experience after certain injuries, surgery, or associated with cancer. What we need are powerful pain-killers that are not addictive and that do not cause the gastrointestinal ulcers and bleeding associated with aspirin-like drugs. This is where my research is focused. Using a naturally produced substance that prevents gastrointestinal injury, we have made a new and powerful, non-addictive painkiller.
Further reading: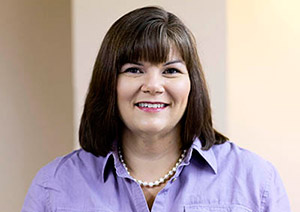 It all adds up to a challenging and rewarding career
Being a woman in STEM (Science, Technology, Engineering, and Mathematics) is filled with challenges and opportunities
Dr. Rhonda Rosychuk
University of Alberta
A high-school teacher recognized my math talent and recommended a career in the insurance industry as an actuary. After taking courses during my undergraduate degree in pure mathematics, I realized that actuarial science was not for me and I started taking some statistics classes. I really connected with the material and loved the important health applications. After degrees in statistics and a work experience in a cancer agency, I became a biostatistician and health scholar working at the interface of health research and statistical methods development at the University of Alberta.
There have been many challenges and opportunities to being a woman in STEM (Science, Technology, Engineering, and Mathematics) in a clinical department. Great relationships with medical and statistical colleagues make my job rewarding. Much of my work has focused on large administrative datasets of emergency department (ED) visits. I try to use different sources and types of data to answer questions about the timing of ED visits.
Further reading: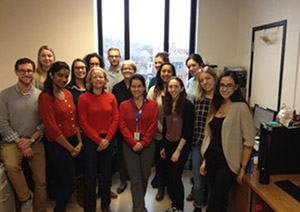 Meet the CIHR Fertility Health Research Team
This multidisciplinary team of researchers and clinicians aims to identify and support the needs of men and women with fertility concerns
Dr. Phyllis Zelkowitz
McGill University, Lady Davis Institute, Jewish General Hospital
More than a 250,000 couples in Canada have difficulty conceiving a child. In the past 30 years, there have been many advances in the medical treatment of infertility, using different methods of assisted reproductive technologies (ART). As the ability to treat infertility has improved, there has also been a greater awareness of the emotional consequences of infertility. On an individual level, there can feelings of anger, frustration, anxiety, and depression; the stress associated with infertility and its treatment can also take a toll on the couple's relationship and may affect patients' willingness to continue with treatment.
While research has often focused on the impact of infertility and its treatment on women, the experience of infertile men has received far less research attention. Men may feel excluded from the fertility-treatment process, since even in cases of male factor infertility, the female partner must undergo the medical tests and procedures. The perceived need to be stoical in support of their partner may lead men to suppress their own feelings of distress.
Dr. Phyllis Zelkowitz leads a multidisciplinary team of researchers and clinicians that aims to identify and address the information and support needs of men and women with fertility concerns. The goal is to develop evidence-based and patient-centred mobile health applications that will provide up-to-date information and peer support for fertility patients and men with fertility concerns due to cancer. "Knowledge about reproductive health reduces the stigma associated with infertility and empowers people to take charge of their health," Dr. Zelkowitz says. "We hope that our work contributes to the development, implementation, and uptake of fertility health interventions, which may benefit patients by improving their overall quality of life".
Further reading: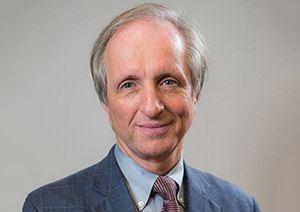 Type 2 diabetes: A fascinating research puzzle
Devoted to solving the mystery surrounding diabetes prevention and the serious diseases it causes
Dr. Hertzel C. Gerstein
McMaster University
Type 2 diabetes it is a fascinating puzzle that has grown from a problem that affected less than 1 in 20 Canadian adults in 1980, to one that affects more than 1 in 10 adults in 2017. For reasons that are not well understood, Type 2 diabetes exerts a serious toll on quality of life, damages almost every organ, reduces life expectancy, and has a huge and growing economic impact on our society. That is why I have devoted my career to discovering how to prevent diabetes and the serious diseases that it causes; improve the lives of people with diabetes and their families; and put the disease into remission. This is being done by designing, getting funding for, and leading national and international studies of various therapies in tens of thousands of people worldwide, and by establishing productive working relationships with research organizations, industry, doctors, and research scientists.
Further reading: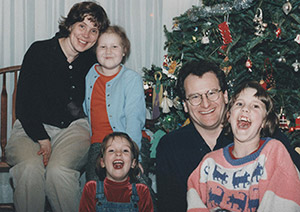 Participating in research helped me grieve
One mother's personal healing journey became the catalyst for improved bereavement services
Mrs. Valerie McDonald
Toronto
When my 9-year old daughter, Natalie, died of cancer, Sick Kids didn't provide consistent bereavement services. However, I found some unexpected support when I joined a study of bereaved parents led by a team of Hematology/Oncology psychologists and social workers. On the six-month anniversary of Natalie's death, I spent two hours talking with the investigator about my child, my feelings, my concerns about my other children, and about the ways I wished the hospital had supported my family.
The experience was very cathartic and proved to be a turning point in my transition to a "new normal" way of living. The resulting study, along with subsequent research by the same team, led to the formation of a Bereavement Care Task Force in 2009. Today, the hospital has a robust program of flexible services designed to support all bereaved families, a program in which I now volunteer.
Further reading: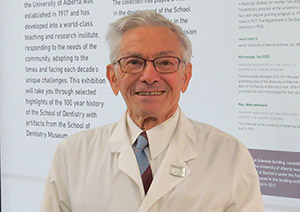 Face-to-face: Gaining insights into the genes that determine our facial features
Genetic architecture helps researchers understand the origin and genetic basis of the complex traits that create our uniqueness
Dr. G.H. Sperber
University of Alberta
"How are we made? We try to understand the origin and genetic basis of the complex traits that create us. The development and evolution of physical and even behavioural traits are genetic at their cores. The creation of the face that is so significant in our identification and mating success is based on the development of the underlying craniofacial skull. By studying the genetic mutations or gene variations that lead to dysmorphology, or altered normal development, we can gain insights into the genes that signal our facial development.
The new possibilities of genetic "engineering" that allows for the manipulation of gene expressions might lead to future preventive measures for known heredity diseases or syndromes.
We are living through the most exciting times of exploration and ethically fraught implications."
My background in anatomy, embryology, palaeoanthropology and dentistry drove my curiosity into investigating the origins of our existence. The never-ending challenge of ever-expanding insights maintains my inquisitiveness.
Further reading: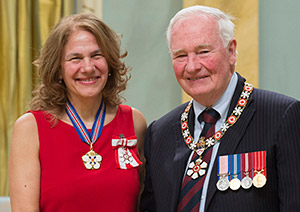 Photo: Courtesy of Dr. Baylis with The Governor General of Canada, Rideau Hall.
Making the powerful care in order to make the world a better place
Bioethics researchers working at the intersection of policy and practice have national and international impact
Dr. Françoise Baylis
Dalhousie University
I chose bioethics research as a career because I wanted to make the world a better place. A little idealistic, but true, nonetheless. More specifically, I wanted to protect and promote the interests of women.
As I learned about feminist bioethics, my focus expanded to include all people who experience oppression. I graduated in 1989 with a PhD in Philosophy with a specialization in bioethics. Bioethics was not yet a burgeoning field. My thesis was on the ethics of ex utero research on spare IVF human embryos.
Since then, I have focused my ethics research on assisted human reproduction, research in pregnant women, embryo research, stem cell research, human nuclear genome transfer (so-called mitochondrial replacement), and genome editing. This work, at the intersection of policy and practice, has national and international reach. My overarching aim is and always has been "to make the powerful care".
Further reading: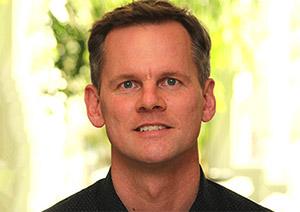 A synergy between fundamental and applied science is central to the advancement of knowledge
Uncovering how millions and millions of molecules work together to build cells, tissues and whole organisms is quite simply, amazing!
Dr. Tony Harris
University of Toronto
How millions and millions of molecules work together to build cells, tissues and whole organisms is amazing. Understanding these mechanisms allows treatment of disease and advancement of bio- and nano-technology. My CIHR- and NSERC-funded team of undergraduates, graduate students and scientific staff pursues how molecules organize the surface cellular layer of the fruit fly embryo, a layer similar to our skin and the lining of our organs. The fruit fly is the most powerful experimental animal for manipulating molecules using genetics and for viewing molecular complexes with microscopy. We determine a molecule's function by removing it and examining the response of other molecules, whole cells and tissues. Remarkably, the same molecules that organize fruit flies also organize us. This experimental animal allows an acceleration of discovery unattainable from human studies alone. Synergy between fundamental and applied science is central to the advancement of knowledge and its use in everyday life.
Further reading: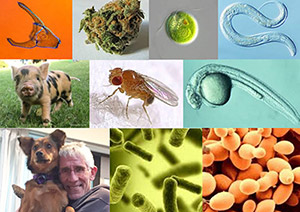 It is an exciting time to be working in the life sciences
Baker's yeast allows research in drug-gene interactions to rise to new heights
Dr. Corey Nislow
University of British Columbia
Theo Dobhzhansky said "Nothing in biology makes sense except in the light of evolution." This credo has guided my research with sea urchins, frogs, algae, flies, worms, mini pigs and people. Evolution is our connection. We arose from a common ancestor and have each solved the challenge of adapting to our environment. Our lab uses baker's yeast to understand human drugs – because, despite being separated from yeast by a billion years of evolution, we share half of our genes with it. And while they do not have brains – yeast have helped to understand how depression medications work. In fact, they are experts at using drugs for communication in the same way that our nerves cells interact.
More recently, we have explored new environments. On the one hand, sending yeast to the International Space Station in order to understand microgravity and radiation, and on the other hand, reaching out to community pharmacies to use our knowledge of drug-gene interactions in order to tackle the challenge of personalizing drug treatment.
Both outer space and the pharmacy demands precision logistics to translate lab research into practice. But the combination of new technologies with big data make these transitions possible.
It is an exciting time to be working in the life sciences.
Further reading: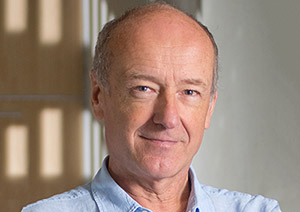 A powerful single-cell sequencing technique reveals elusive answers to questions about genes
Exploring new frontiers in stem cell biology, DNA repair and human genomic diversity with "Strand-seq"
Dr. Peter M. Lansdorp
University of British Columbia
My research is focused on the role of genome instability in aging and cancer. Recently, we developed a powerful single cell sequencing technique, called Strand-seq, to explore new frontiers in stem cell biology, DNA repair and human genomic diversity. We are using Strand-seq to answer some basic questions:
What are the molecular mechanisms that regulate stem cell self-renewal and differentiation?
To study gene expression in relation to DNA replication we will combine analysis of transcripts and DNA template strands in the same cell.
What are the molecular mechanisms involved in DNA repair?
By mapping sister chromatid exchange events, structural rearrangements and loss of heterozygosity in single cells, we have a unique approach to study DNA repair events.
What does a "personalized genome" look like?
By generating complete haplotypes, that include polymorphic inversions, we are generating unprecedented precise information about individual genomes for a wide range of studies.
Further reading: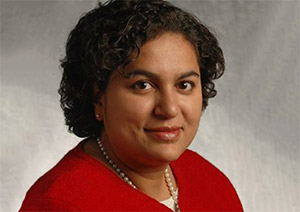 Listening to patients has been an enlightening journey
One health researcher shares their passion for improving clinical research methods that drives their efforts to help people
Dr. Sunita Vohra
University of Alberta
I became a physician because I wanted to help people; I became a scientist because I wanted to help improve how we deliver care.
My passion is to improve clinical research methods – what better ways are there to study if treatments are safe or effective? My research is most often based on questions asked by patients about issues that affect their health. Listening to patients has been an enlightening journey.
Most Canadians mix conventional, complementary, and traditional approaches to support their health; they need reliable information to inform their decisions. My research focuses on developing high-quality evidence about whether or not therapies are safe, effective, for whom, and why (or why not).
Healthcare must not only be evidence-based, it must be respectful of patients' preferences, values, and goals. My research helps to close this gap so that we may provide care that is both evidence-based and patient-centred.
Further reading: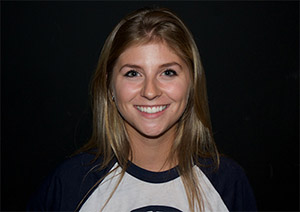 How I am contributing to Canadian health research
A personal account of one researcher's desire to make a difference in the lives of people living with Duchenne Muscular Dystrophy
Ms. Shannon Thompson
University of Ottawa
I am a master's student in the Neural Regeneration Lab at the University of Ottawa and here is how I am contributing to Canadian health research:
Duchenne Muscular Dystrophy (DMD) is a devastating disease affecting 1:3500 males, characterized by progressive muscle wasting, loss of mobility, and a reduced life expectancy. DMD is caused by mutations in the DMD gene resulting in loss of the full-length dystrophin protein found in skeletal muscle, as well as in the brain.
Dystrophin has a role establishing cell polarity in satellite cells, the stem cells of muscle, which divide asymmetrically to both replenish the satellite cell pool and produce committed progenitor cells which go on to repair muscle tissue. In the absence of dystrophin, cell polarity is not established, disrupting asymmetric cell division. One-third of DMD patients suffer from non-progressive cognitive impairments, particularly deficits in learning and memory.
My aim is to determine whether a loss of dystrophin in the brain also disrupts the asymmetric cell division of neural stem cells, and to determine if this is responsible for the intellectual impairments associated with DMD.
Further reading: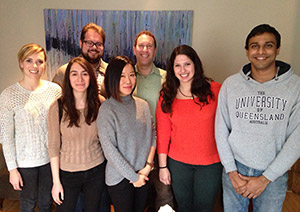 The study of individual differences in pain perception
Affecting almost 25% of Canadians, pain is the number one human health problem in terms of prevalence and economic burden
Dr. Jeffrey S. Mogil
McGill University
Pain is the number one human health problem in terms of both prevalence and economic burden to society, affecting almost one-quarter of Canadians, and is the primary reason that people seek medical care. But it is extremely variable. In some instances and in some people, noxious stimuli are not reported as causing pain, whereas others can experience excruciating pain from a light touching of the skin.
Some people are highly sensitive to pain relief from placebos, while others are insensitive to even high doses of opiates. Most people recover completely from infections or traumatic accidents, but some unlucky ones develop chronic pain syndromes that can last for years.
We study these individual differences in pain perception, from the genetic underpinnings all the way to modulation by social factors like empathy. Our studies occur in both mice and people, and are finding major differences in pain processing mechanisms between males and females.
Further reading: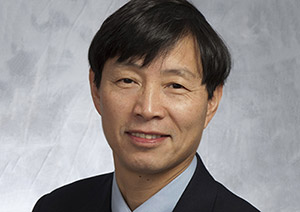 A breath of fresh air!
Technological advancements create a unique opportunity to treat lung genetic diseases like Cystic Fibrosis
Dr. Jim Hu
Hospital for Sick Children, University of Toronto
Current molecular biology and genetics technologies give us unprecedented means to identify the genetic mutations that cause diseases, to develop diagnostic methods, and to understand disease mechanisms. Research advancements have also enhanced the development of gene-based therapies for genetic lung diseases, such as cystic fibrosis (CF).
Gene therapy works by replacing a gene carrying a disease-causing mutation with a healthy, functioning copy of the gene and has several advantages over conventional drug treatments or surgery. Most importantly, it fixes the cause of a disease, not just the symptoms. Gene therapy is designed as a non-invasive treatment for infrequent use, thus reducing the drug and treatment burden on patients and improving their quality of life.
Ultimately, gene therapy treatments will also be more cost-effective, reducing the financial burden on our health care system. Moreover, some drugs are only effective for certain gene mutations. By using a gene therapy approach, a single treatment would be able to help all patients with different mutations in the same disease-associated gene.
My group has previously demonstrated that genes can be efficiently delivered to the lungs of mice, rabbits, and pigs. These technological advancements create a unique opportunity to treat lung genetic diseases like CF, by replacing disease-associated genes in the lung stem cells, which we are now directly targeting for long-term therapeutic gene expression. Discoveries made from our research will represent a major step forward in treating patients with genetic diseases of the lung, efficiently and cost-effectively.
Further reading: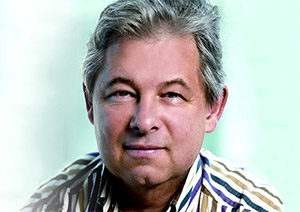 Inspired by the first transgenic mouse, this genetic engineer looks back on the early days of his career
From "Joe jobs" to developing cutting-edge bioprocesses for generating bone, cartilage and heart tissue from stem cells
Dr. Derrick Rancourt
University of Calgary
I was inspired by the first transgenic mouse and planned to become a genetic engineer. Like budding artists of Renaissance Florence who paid their dues by collecting eggs or banging on stone to make the paint, my first "joe job" was to prepare an enzyme extract from my own feces. Part of the Ames mutagenicity assay, "fecalase" simulated the conversion of pro-mutagens in the gut. This research experience provided me with an important career entrée. I was keen to pay my dues as a novice and boy did I pay. Whenever it was time to make a fresh batch, my former boss would snicker and hand me a box of oatmeal cookies to enhance enzyme activity. Jokes aside, my first academic mentor helped introduce me to research and to get my first genetic engineering position. It was through his kindness and my sacrifice that I am a genetic engineer today.
Further reading: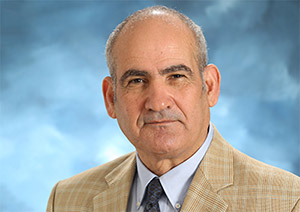 Designing, formulating and developing the next generation of drug and vaccine delivery systems
A special focus on the site-specific targeting, controlled release, and drug resistance, are among the exciting new research avenues being pursued
Dr. Abdelwahab Omri
Laurentian University
My research program is centered on the design, formulation, development and characterization of drug and vaccine delivery systems; particularly those based on liposomes. A special focus on the site-specific targeting, controlled release, drug resistance, pharmacokinetic, pharmacodynamic, metabolism and toxicity of free and liposome-encapsulated biological active agents.
Research interests:
Liposomal delivery of antisense oligonucleotides. Effect on P-glycoprotein function in multidrug resistant cells in vitro and in vivo studies. Cationic liposome formulations are used to promote the penetration of antisense oligonucleotides into the cell membrane and protect them from enzymatic degradation (nucleases).
Liposomal delivery of antimicrobial agents towards resistant bacterial pathogens: pulmonary and systemic infections. Construction of liposomes with high encapsulation efficiency, favourable antimicrobial release profile and enhanced bactericidal activity, to overcome the problem of bacterial resistance caused by low permeability of the bacterial cell envelope and by production of antimicrobial-inactivating enzymes.
Liposomal formulations of drugs and vaccine for oral delivery. Liposomes are used to protect the encapsulated agents from the harsh gastrointestinal milieu (low pH, phospholipases, and bile salts) and to enhance their absorption to the systemic circulation and to increase the efficacy of these agents while minimizing their frequency of administration. Special liposomal formulation will be prepared, characterized and assayed for their efficacy in vitro and in animal models.
Further reading: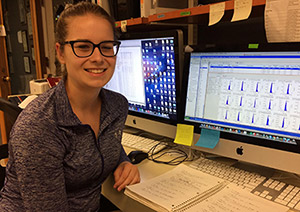 Patients with Alzheimer's disease exhibit a decrease in Omega-3,-6,-9 unsaturated fatty acids
Exploring whether the consumption of certain foods could prevent the development of this neurodegenerative disease
Ms. Valerie Desjardins
University of Ottawa
As a member of the Bennett Laboratory, I study the abundance of lipids (fats) in genetically modified mice that mimic the symptoms of Alzheimer's disease. Alzheimer's disease is characterized by deteriorating cognitive functions due to amyloid (a waxy, translucent substance) plaques, the main component of which are amyloid beta peptides. I look for lipid increase or decrease in these mice and whether a change in diet (rich or poor in these lipids) will prevent the devastating advancements of neural function loss in the mouse model.
My contribution to this project is to quantify the lipids using in silico (computer simulation) techniques to compare healthy and symptomatic mice, as well as compare normal and enriched diets.
Have you ever noticed how some foods are fortified with omega 3 fats, like eggs or margarine? In fact, Alzheimer's patients exhibit a decrease in omega-3,-6,-9 unsaturated fatty acids and we are researching if the consumption of these foods could prevent the development of this neurodegenerative disease.
Further reading: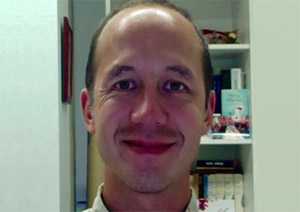 The evolution of antibiotic resistance in disease causing bacteria
Developing novel strategies for slowing, or even reversing, the evolution of resistance
Dr. Alex Wong
Carleton University
My lab studies the evolution of antibiotic resistance in pathogenic bacteria. I find this work particularly interesting because it applies the rich body of knowledge in molecular evolution to a serious public health challenge. We use a variety of approaches, including genetic screens, experimental evolution, and comparative genomics, to understand how resistance arises and persists, and to identify novel vulnerabilities in resistant cells.
Ultimately, we are interested in strategies for slowing, or even reversing, the evolution of resistance, whether through public health measures or through the development of new drugs.
Further reading: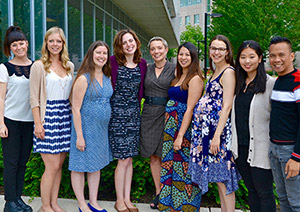 Working to develop genetics-informed, nutrition-based strategies to protect mental health
How psychiatric genetic counseling can empower people to protect their own mental health and that of their family members
Dr. Jehannine Austin
University of British Columbia
I never planned to be a researcher but, I ended up working in mental health research because I wanted to find new ways to help families like my own.
I completed a PhD in psychiatric genetics and trained as a genetic counselor. This provided me with the skills that I need to take the complexity of what we know about how genetics contributes to psychiatric disorders and be able to translate it in ways that families living with these conditions can meaningfully use to help protect their own mental health.
My team is working to use what we know about the genetics of psychiatric disorders to help people who live with these conditions, as well as their families. To do this, we are conducting research in different areas. We are working to develop genetics-informed, nutrition-based strategies to protect mental health, and are generating new knowledge about how psychiatric genetic counseling can empower people to protect their mental health.
Further reading:

A 'one-size-fits-all' approach to nutrition and medication does not always fit
Studying diet and genetics to treat and prevent cardiometabolic and immune mediated disease
Dr. Leah Cahill
Dalhousie University
I am a new principal investigator who has recently started a research group to examine the influence of nutrition, genetics, and their interactions with each other on cardiometabolic and immune-mediated diseases. In order to do this, I use epidemiological and clinical patient-oriented research methods. The costs of cardiometabolic disease (e.g. heart disease and type 2 diabetes) and immune mediated conditions (e.g. Crohn's disease and hematopoietic disorders) are staggering, both in terms of healthcare expenditures and quality of life.
Our work aims to identify optimal eating practices and the biological pathways, proteins, and microbiota that are important for the treatment and prevention of these diseases, researching at both the patient and population levels. A 'one-size-fits-all' approach to nutrition and medication does not always apply, and sometimes a more personalized, patient-oriented approach is necessary.
My ultimate goal is for our research results to inform guidelines that reduce risks of cardiometabolic and immune mediated diseases.
Further reading: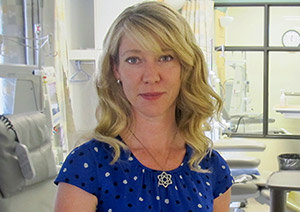 Living well without dialysis
Tailor-made combinations of structures, processes and techniques address the unique needs of kidney patients
Dr. Sara Davison
University of Alberta
Dialysis is the default treatment for most patients living with end-stage kidney disease. However, frail patients, especially those with other health problems, may not benefit from dialysis. In fact, dialysis may worsen their survival rate and quality of life. In September 2016, Dr. Sara Davison and her team, the Kidney Supportive Care Research Group (KSCRG), launched an innovative pilot, Conservative Kidney Management (CKM) Pathway, across Alberta to provide integrated care to patients unlikely to benefit from dialysis and who had chosen a conservative approach to care.
The pathway focuses on slowing the decline in kidney function while actively managing symptoms and preserving functional status and quality of life. It involves tailor-made combinations of structures, processes and techniques to address unique patient needs and system-community circumstances. The KSCRG is currently evaluating the Pathway, including an on-line interactive patient decision aid. The overall vision of the KSCRG is to reduce suffering and help patients enjoy life while living with advanced chronic kidney disease.
Further reading: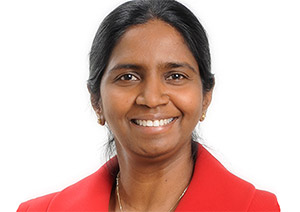 Preventing falls among seniors – finding balance in Saskatchewan
Simple and proven home exercise program helps seniors avoid potentially life-altering falls
Dr. Shanthi Johnson
University of Regina
Falls are not an inevitable part of aging, although they are common, complex, and costly. My collaborative research, conducted in partnership with the Regina Qu'Appelle and Sun Country Health Regions, focused on a simple and proven home exercise program helps seniors, including those in the rural setting, remain independent in their homes. Senior home-care clients who were doing in-home exercises, taught be experts and regularly monitored through the home care network, showed significant improvement physical function associated with reducing falls. The home-support exercise program, developed by the Canadian Centre for Activity and Aging, involves ten simple progressive exercises, each carefully designed to increase functional capacity and prevent falls in seniors. The exercises can be done in the home, without special equipment, or large spaces. Falls, poor balance, and the fear of falling can be devastating to seniors and regular exercise is a first line of defense.
Further reading: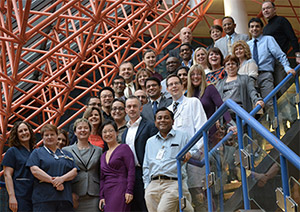 Advances in stroke treatment prove that there's more than one way to bust a blood clot!
Dramatically improving stroke patients' outcomes thanks to better diagnosis and treatment options research
Dr. Michael D. Hill
University of Calgary
Our group in Calgary is working to improve stroke care for victims of all types of stroke. We have become clinician-researchers because the cycle of good quality care, clinical quality improvement and clinical research keeps improving patient outcomes. This integration of clinical research and care drives us and the field forward. We are conducting clinical trials in stroke diagnosis (with imaging) and stroke treatment. We completed the ESCAPE trial, which demonstrated that treating patients with endovascular thrombectomy, meaning an intra-arterial intervention (over and above best standard of medical care) resulted in dramatically better outcomes from major ischemic stroke.
We are now working on novel thrombolytic stroke treatments in minor stroke (TEMPO-2 trial) and a new drug called NA-1 in conjunction with endovascular stroke treatment for major stroke (ESCAPE-NA1 trial).
Further reading: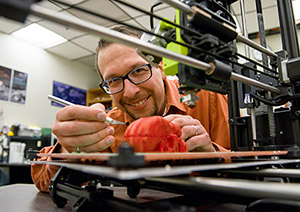 Birth medicine: 3D modeling of how babies are born
Using 3D printing to create soft robots that mimic the cervix during labour
Dr. James Andrew Smith
York University
I'm a biomedical robotics researcher at York University and started modeling how babies are born during my wife's first pregnancy. The more we met with our midwives, the more questions I had about how we measure the health of a pregnancy and how we predict birth outcomes. To understand the process for myself, I teamed up with midwives from Ryerson University and a researcher in Gynecology and Obstetrics from McMaster University in order to create new models of the uterus and the cervix. Using measurements from post-hysterectomy uteruses and computer models we examine how cervixes get soft and then efface and dilate during labour to let the baby leave the uterus. We use the latest developments in 3D printing to create soft robots that mimic the cervix during labour. In the future we plan to use this process to create custom models for training obstetricians and midwives attending high-risk births.
Further reading: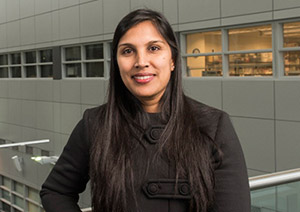 Harnessing the power of the body's healing mechanism
Investigators discover a protein with healing properties that may help overcome diseases like multiple sclerosis
Dr. Shalina Ousman
University of Calgary
It is thrilling to be the first person on our planet to make a discovery that advances knowledge or contribute to a new therapy. My lab studies multiple sclerosis (MS) and peripheral nerve injury. The rationale for our work is that whenever our bodies sustain an injury such as a bruise, our bodies mount a healing mechanism. That likely happens in all diseases, so our questions are, what are these endogenous (meaning growing or occurring from within) protective mechanism, why are they unable to overcome the disease or injury and, can we harness their healing properties to overcome the disease?
Excitingly, one of our MS discoveries showing that a small heat shock protein called alphaB-crystallin is protective in a model of MS, has been shown to be possibly successful in Phase 1 and Phase 2a trials in MS patients.
Further reading: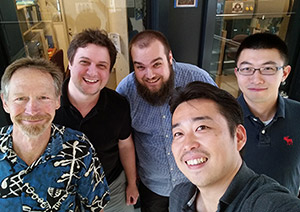 Currently without a cure, Fragile X Syndrome and Dravet Syndrome are genetic disorders presenting with autism spectrum disorders and epilepsy
Canadian research advances in genetic research may be applicable to the development of therapies for other neurodevelopmental conditions
Dr. David R. Hampson
University of Toronto
Fragile X Syndrome and Dravet Syndrome are genetic disorders presenting with autism spectrum disorders and epilepsy, and currently have no cure. Dr. David R. Hampson and his team at the University of Toronto are utilizing viral vector-mediated gene therapy as a potential novel biological therapeutic treatment. Evaluation of the efficacy of these treatments on animal behaviour and neurobiology has shown amelioration of symptoms in a mouse model of Fragile X Syndrome.
The team is seeking further improvements in vector design and drug delivery for potentially treating human Fragile X. They expect that knowledge gleaned from their work on Fragile X will be extended to the generation and testing of vectors for use in Dravet Syndrome. One major advantage of viral vector-mediated gene therapy is that a single administration of the biological therapeutic drug could translate into long-term improvement or correction. It is also anticipated that advances in this research may be applicable to the development of gene therapy for other neurodevelopmental conditions.
Further reading: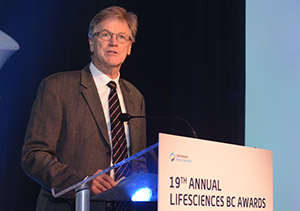 Combatting sepsis, a potentially life-threatening complication of infection that can trigger organ failure
Researchers are using the body's natural clearance mechanism to accelerate the elimination of life threatening toxins
Dr. Jim Russell
Centre for Heart Lung Innovation at St. Paul's Hospital
Sepsis kills more people than heart attacks. Imagine a cold or the flu, but ten times worse. And then your organs start to fail, your heart, lungs, kidneys and eventually the brain. Even with antibiotics a third of sepsis patients die.
At the Centre for Heart Lung Innovation, Dr. Jim Russell and his team are figuring out how sepsis causes organ failure and how to improve survival rates.
The team members were the first to discover that PCSK9 inhibitors, used to lower cholesterol in cardiovascular disease, are effective in sepsis. Now, they are developing a PCSK9 inhibitor to use alongside antibiotics in order to increase the chance of treatment success by using the body's natural clearance mechanism to accelerate the excretion of the bacterial endotoxins that cause organ failure.
Dr. Russell was the recipient of the 2017 Aubrey J. Tingle Prize in recognition of his contribution to the fields of critical care, severe infection and clinical trial design in British Columbia and globally.
Further reading: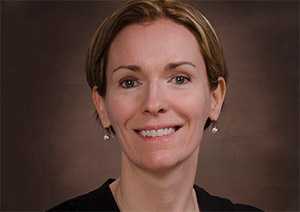 Improving strategies for health professionals
New prospective studies indicate improved outcomes for pregnancies in women with rheumatic diseases
Dr. Evelyne Vinet
McGill University
The overarching goal of my research is to improve reproductive outcomes in women with rheumatic diseases and their offspring. I created the world's largest cohort of children born to women with systemic lupus erythematosus (SLE) and with this unique resource demonstrated that SLE offspring had more than a 2-fold increase in the risk of autism spectrum disorders and congenital heart disease compared to children from the general population, pioneering a completely new horizon for future studies of maternal autoimmunity and risk of adverse health outcomes.
I am conducting a focus group study assessing the clinical and psychosocial needs, barriers, and facilitators to pregnancy counselling in women with rheumatoid arthritis and SLE in order to improve strategies for health professionals counselling pregnant women with rheumatic disease.
I am also building the Lupus prEGnAnCY (LEGACY) cohort, a large, multi-centre, international prospective cohort of SLE pregnancies, to evaluate adverse pregnancy outcomes, their predictors, and potential preventive therapies.
Further reading: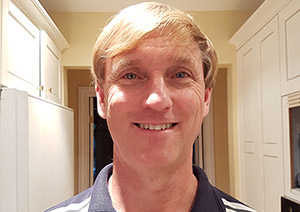 A health research trifecta!
Three seminal discoveries, all with a unique focus on three areas of pain research
Dr. Terence J. Coderre
McGill University
Three pain research focuses; three seminal discoveries.
Firstly, I have identified the molecule responsible for maintaining memory traces in pain neurons. I showed protein kinase M-zeta (PKMζ) produces pain hypersensitivity by sustaining the potentiation of pain neurons, and inhibiting PKMζ reduces pain by erasing these neural memories traces. Secondly, I established that pain hypersensitivity depends on actions of a neurotransmitter at newly discovered receptors within the nucleus of pain neurons.
I revealed that persistent pain leads to increases in a type of nuclear metabotropic glutamate receptor 5, and that blocking these nuclear receptors more effectively reduces pain than inhibiting cell surface receptors.
Thirdly, I have determined that microvascular injury is essential for neuropathic pain and complex regional pain syndrome (CRPS). I revealed that injuries causing neuropathic pain and CRPS produce microvascular damage that reduces the oxygen supply to muscle and nerves, and the resulting pain can be alleviated by improving microvascular function.
Further reading: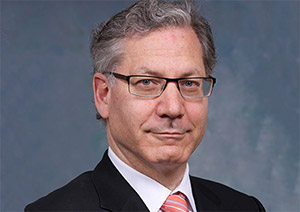 The quest to find better ways to assess and treat people with inflammatory bowel disease (IBD)
Leaders in population-based research, this team's translational research is exploring the causes, outcomes and treatments of IBD
Dr. Charles Bernstein
University of Manitoba
The University of Manitoba Inflammatory Bowel Disease (IBD) Clinical and Research Centre, led by Dr. Charles Bernstein, focuses on translational research exploring the causes, outcomes and treatments of IBD and the commonalities with other chronic immune diseases.
With a special interest in stress, anxiety, and depression as they relate to quality of life and the course of the disease, the team includes a wide range of health professionals who are committed to improving the life of persons who live with chronic health conditions. We have been leaders in population-based research describing the high incidence rate of IBD in Canada and considering the impact of the disease on everyday life.
Manitoba offers unique opportunities to understand the use of health services across the province for patients who are diagnosed with IBD, including their use of medications. We recently established that problems with depression and anxiety often predate the diagnosis of IBD by years, suggesting that common biologic mechanisms may be involved in these conditions.
Our current research focuses on a wide range of topics including the diet of people with IBD, the impact of other health problems, and the information that people need to manage their own health. There has been great interest recently in the microbiome, the micro-organisms (such as bacteria) in our body, and especially in our gut, that may influence healthy and unhealthy functioning. We hope that a greater understanding of the functioning of the microbiome and the immune system will lead to more effective ways to assess and treat people with inflammatory bowel disease.
Further reading: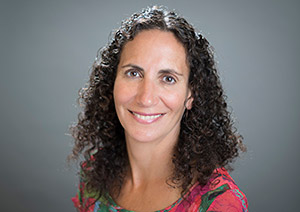 Physiotherapists are "unsung heroes"
Studying exercise to help patients maximize physical function
Dr. Dina Brooks
University of Toronto
Physiotherapists are "unsung heroes". Our role is to bring patients to their highest level of physical function.
I am a proud to be a physiotherapist. My research focusses on the best way to maximize people's abilities, using therapeutic exercise as the intervention of choice. I am specifically interested in individuals living with chronic lung disease and cardiovascular disease like emphysema, stroke and cardiac disease.
Our group examines the best way to exercise (aerobic, strength, or balance), the best mode of exercise (e.g. cycling, treadmill), intensity (intermittent or continuous) and frequency (1, 2 or 5 times a week) that will maximize function and increase the ability to take part in important and meaningful activities for individuals living with one disease or multiple diseases.
Further reading: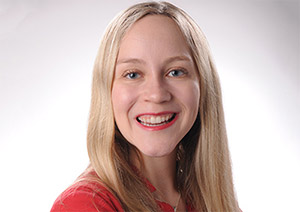 The pathway to a health research career begins at home
Parental influence on their children's career choice ensures a bright future for the next generation of health researchers
Ms. Ashley Ross
University of Waterloo
My mother inspired me to dedicate my career to health research. As a child, she instilled in me the importance of both maintaining one's health and helping others, while my father was a strong advocate for obtaining a background in science and mathematics. This September, I will be starting my PhD at the Ontario Veterinary College within the University of Guelph. We will be using oncolytic viruses paired with photodynamic therapy to find a cure for cancers situated in deep tissue, such as brain and breast cancer. We are trying to improve the health outcomes of patients with difficult to access tumours by activating the body's own immune system to fight the cancer. The body's immune system is already designed to kill cancer; the goal of my project is to enhance immunogenic cell death so that the tumour can no longer evade the immune system. We will be starting our research in mouse models, with the ultimate goal of finding a cure for human cancers which has minimal side effects.
Further reading: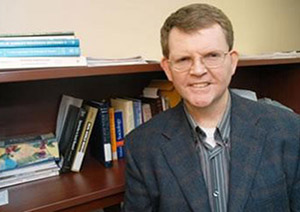 From patient to professor: Paying it forward
This former Toronto Sick Kids' patient is dedicated to broadening his students' perspectives on their role in reducing health disparities by better understanding the social determinants of health
Dr. Kevin Willison
Lakehead University
I began my formal journey into health care services research after completing a PhD at the Faculty of Public Health Sciences (University of Toronto). As a child, I spent long periods of time at Sick Children's Hospital in Toronto. It was there that I was introduced to the world of health care. Since then, my keen interest in both the health and social sciences continues, fueled by the experience I gained serving in research administration at Mt. Sinai Hospital (Toronto), teaching post-secondary students at such locations as the Michener Institute of Applied Health Sciences, and more recently, as an Adjunct Professor with Queen's University and Lakehead University. Although there have been varied struggles, I have nonetheless gained something valuable — an interest to teach and address social determinants of health.
Further reading: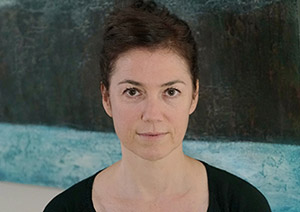 Improving end-of-life care in Canada
Dr. Isabelle Marcoux
University of Ottawa
If one thing is certain, it's that sooner or later, we are all going to die. Yet, there is a persistent unease when talking about the end, which can result in a lack of preparation for this important stage of life. What are a person's wishes in terms of end-of-life care? Do they have access to the care and services to which they are entitled? How will decisions be made and who will make them?
Dr. Isabelle Marcoux, in collaboration with other researchers and national organizations, is currently leading the first Canada-wide investigation into end-of-life medical practices. The study will identify the prevalence of certain medical practices before death (e.g., abstaining from and stopping treatment, relief of pain and other symptoms, palliative sedation and medical assistance in dying) and reveal the underlying decision-making process. A clearer picture of the clinical realities of end-of-life care in Canada will help us identify avenues to improve the care and services offered to end-of-life patients and their loved ones.
Further reading: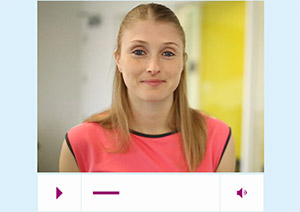 Nurse 2.0: TAVIE™ Traitement, Assistance Virtuelle Infirmière et Enseignement (Treatment, Virtual Nurse Assistance and Teaching)
The next generation of nurses are virtual thanks to the TAVIE™ computer platform
Ms. José Côté
University of Montreal
The roots of the nursing profession are in providing care and support for people who are sick, destitute and stigmatized.
In an age when technological advances make it possible to provide care in real time, we have developed a concept that enables virtual nursing interventions through a computer platform called TAVIE™, which stands for Traitement Assistance Virtuelle Infirmière et Enseignement in French (treatment, virtual nurse assistance and teaching). It consists of web-based interventions that are led by a virtual nurse and offer personalized educational support. The first application we developed was VIH-TAVIE, which helped people living with HIV manage their treatments.
About ten other applications have been designed to help a variety of patients who are living with chronic illnesses deal with their health challenges. TAVIE™ virtual nursing interventions help update care services and complement current health services and clinical monitoring.
Further reading: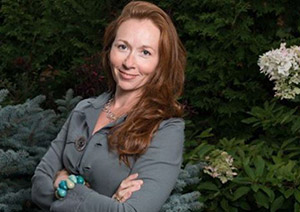 Promising practices, policies and principles that better support aging and care
Meeting the needs of Canada's diverse populations by studying international models of care work and aging in community and long-term care settings
Dr. Tamara Daly
York University Centre for Aging Research and Education
Aging involves important opportunities and challenges for individuals, families, and our society as a whole. Dr. Tamara Daly's research explores how to achieve health equity for diverse seniors and their care providers. As an Associate Professor, CIHR Research Chair in Gender, Work and Health, and Director of YU-CARE, Dr. Daly's projects examine how the social and economic roles of women and men, and their tasks in everyday life, shape experiences of work and care. Leading national and international research teams, Dr. Daly investigates how relationships—and the conditions in which they take place—affect health and care outcomes. Connecting care organizations, community groups and policy partners, her research uncovers outcomes associated with models of care work and aging in community and long-term care settings. Her international studies reveal promising practices, policies and principles from around the world to better support aging and care in ways that meet the needs of Canada's diverse populations.
Further reading: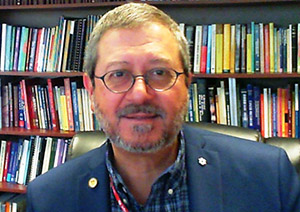 Time flies when you're making a difference
Three decades of research generating knowledge that has translated into health benefits for Canadians
Dr. Eduardo L. Franco
McGill University
Trying to find if a virus can cause cancer and then producing the evidence base for preventing human papillomavirus (HPV)-associated cancers with vaccines, microbicides, or improved early detection via molecular approaches, has made the last 30 years of my life pass by very quickly. CIHR is partially to blame. It (and its predecessor, the Medical Research Council) has been an essential partner to our cancer epidemiology unit these past three decades. We feel privileged to have received the CIHR funding which enabled us to generate much of the knowledge that is now translated into health benefits for Canadians, such as HPV vaccination and better cervical cancer screening. Whether as a direct funder to our research or via scholarships to the more than 100 graduate students and postdoctoral fellows that we have had since we began our research pursuits, CIHR has helped us to keep our eye on the prize while training the next generation of Canadian biomedical scientists.
Further reading: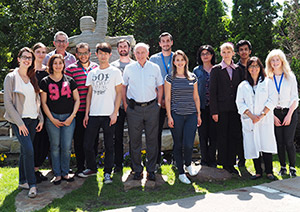 Uncovering the role of endothelin-1 in atherosclerosis and aortic aneurysms
Contributing to our understanding of the biology and effects of anti-hypertensive therapy
Dr. Ernesto L. Schiffrin
Sir Mortimer B. Davis-Jewish General Hospital and McGill University
As a physician-scientist investigating mechanisms and treatment of hypertension, the number one cause of burden of disease worldwide, I studied vessels biopsied from hypertensive, diabetic and chronic kidney disease patients' subcutaneous tissue to understand their biology and the effects of anti-hypertensive therapy. Along with my team, we showed that endothelin-1 is involved in experimental hypertension and increases in arteries of severely hypertensive patients. Our mouse that was producing human endothelin-1 in endothelium had a vascular injury, and once it was crossed with apoE knockout mice, proved endothelin-1's role in atherosclerosis and aortic aneurysms.
Now, we generated an inducible human endothelin-1 mouse that exhibits hypertension and kidney injury, leading to use of endothelin antagonists in resistant hypertension. After demonstrating participation of innate immunity and T regulatory lymphocytes in experimental hypertension, we showed the hypertensive role of gamma/delta T lymphocytes, and have as well-investigated microRNAs in the arteries and blood of hypertensive mice and humans, in order to find novel biomarkers and therapies.
Further reading: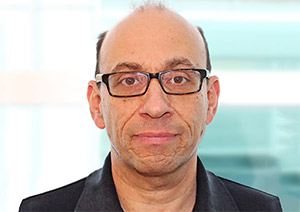 This psychiatric rehabilitation researcher is proud to be part of the solution
Developing better community supports for people who are living with serious mental illness such as schizophrenia
Dr. Abraham (Rami) Rudnick
Thunder Bay Regional Health Sciences Centre
I was first introduced to psychiatric rehabilitation during my psychiatry residency, when I experienced first-hand the need to better support people in the community who were living with serious and other complex mental illness such as schizophrenia.
Psychiatric rehabilitation is a set of recovery-oriented, evidence-informed practices that allows people living with serious and other complex mental illness to acquire and maintain adaptive skills and supports so that they may enjoy success and a higher quality of life in their environment of choice.
Since my residency, I have led and collaborated on psychiatric rehabilitation research.
This includes:
studying the adaptive coping abilities of people with schizophrenia;
integrating supported college education with supported employment to help many people with mental illness move on to more meaningful and gainful work;
developing psychiatric leisure rehabilitation, such as horseback riding, that enhances opportunities to experience joy for people living with schizophrenia;
stand-up comedy training to enhance the self-esteem of people with living mental illness;
and, psychiatric rehabilitation education for various stakeholders; among other initiatives.
Recently, I have been involved in research and development related to the use of smart technology (hardwired and mobile) for, by and with people who have mental illness, in order to facilitate their independent functioning and connectivity with formal and informal caregivers.
More psychiatric rehabilitation research is needed and I hope to continue to be part of that for a long time.
Further reading: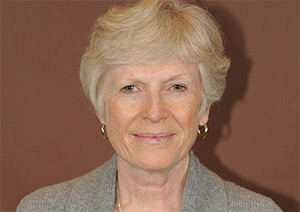 Thinking outside of the box: Reimagining long-term residential care
Fresh eyes and a new perspective: Shifting the focus to what works and seeking out promising practices in long-term residential care that work
Dr. Pat Armstrong
York University
Frustrated by the bad press and the lack of attention directed toward ways of making life worth living in nursing homes, 25 researchers and 60 students set about reimaging long-term residential care.
Our interdisciplinary team includes an economist and an architect, a cultural theorist and a gerontologist, an epidemiologist, a philosopher, a political scientist, historians, social workers, sociologists, and health policy folks, as well as four physicians, two nurses and students from many other disciplines.
Some had worked in this field for a long time, while others brought with them fresh eyes. In teams of twelve we studied 27 homes in six different countries. In our constant, collective reflections on what we saw and what we heard from our observations and interviews, we learned how much we had been trained to look for what does not work rather than for promising practices. But now, we have produced a host of literature identifying ideas to reimagine care that are worth sharing.
Pat Armstrong, PI, "Reimagining Long-Term Residential Care: An International Study of Promising Practices", funded by SSHRC and "Healthy Aging in Residential Places", funded in Canada by CIHR.
Further reading: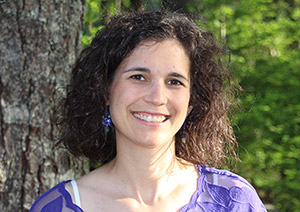 Talking about sexual health and well-being
Dr. Natalie Rosen
Dalhousie University
A mutually satisfying sexual relationship profoundly shapes life satisfaction, health, and well-being. Yet, over 50% of individuals report being dissatisfied with their sex life. Our aim at the Couples and Sexual Health Laboratory is to enhance understanding of how couples cope with sexual problems such as pain during sex and declines in sexual interest after having a baby. Through our nationally funded studies, we have identified several aspects of how couples interact with each other—such as their patterns of communication and motivations for having sex—that affect not only their sexual functioning, but also their psychological and relationship well-being. Together with collaborators at the University of Montreal, we developed the first empirically-based psychological treatment for couples in which the woman experiences pain during sex, and have plans to translate our findings from other sexual problems into similar interventions that can be shared widely to promote the sexual well-being of Canadians and beyond.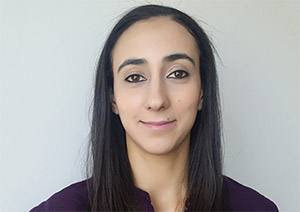 Mapping and understanding the genome of breast cancer
Dr. Samah El Ghamrasni
Princess Margaret Cancer Centre (Toronto)
The human genome consists of coding regions, or sequences coding for specific proteins as well as non-coding regions. As a postdoctoral fellow in the laboratory of Dr. Trevor Pugh, I am studying the effect of alterations within non-coding regions of the genome that can affect gene expression. Breast cancer is considered the second-leading cause of cancer-related death in Canadian women. Several studies have yielded thousands of mutations in breast cancer; however, the functional relevance of mutations outside protein coding regions remains unknown. Therefore, there is a need to identify additional drivers of cancer development. I am currently mapping the non-coding regions of breast tumours and analyzing mutations within these regions that can affect the gene expression program. The identification of such mutations will allow a better understanding of the molecular mechanism behind the development and the progression of breast cancer leading to better therapeutic strategies for cancer patients.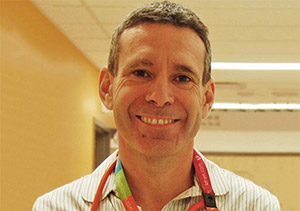 A safe way to test if a child is allergic to antibiotics
Dr. Moshe Ben-Shoshan
Montreal Children's Hospital, McGill University Health Centre
Up to 10% of children develop rashes while on antibiotics. The majority of these children are labelled as "allergic to penicillins" (or implicated drug) without further evaluation. The LAACTAM study (β-LActam and other Antibiotics allergy in Children: Tests, assessment and Management) was designed to assess the prevalence of antibiotic allergies among children referred to the allergy clinic at the Montreal Children's Hospital. Our work demonstrates that in this population history and currently standardized skin tests are less useful in predicting amoxicillin allergy. We exemplify that a supervised gradual administration of amoxicillin (oral challenge) is a useful and safe way to assess these children. Findings from this study have been published in JAMA Pediatrics in 2016 and this publication was named one of the top 10 most important articles in pediatrics by the New England Journal of Medicine Journal Watch.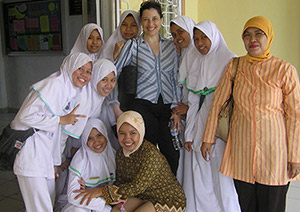 Helping frontline health workers assess a patient's vulnerabilities
Dr. Anne Andermann
McGill University
After completing medical training in family medicine and public health, I worked on research capacity strengthening at the World Health Organization in Geneva where I was a main contributing author of the World Health Report 2008 on increasing universal access to primary health care. Upon returning to Canada, I founded a research collaboration that aims to help frontline health workers address the underlying social causes of poor health through a combination of direct patient care, referral and advocacy for larger social change. Our research has identified concrete actions that frontline health workers can use to tackle social determinants in clinical practice. Our research has also shown that health workers who know how to ask about social challenges are more likely to report having helped their patients address these complex issues. The CLEAR toolkit is a clinical decision aid available free online in over a dozen languages.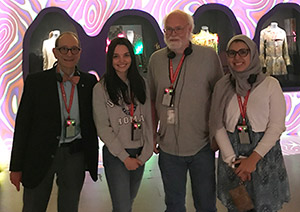 Taking pleasure in mentoring the next generation of health research leaders
Dr. David Rosenblatt (principal investigator)
Ms. Camilah Maria Arbabian (undergraduate student)
Dr. David Watkins (research associate)
Ms. Lina Sobhi Abdrabo (graduate student)
McGill University
Exposure to brilliant professors at McGill University taught me how studying patients with rare genetic diseases can lead both to scientific discovery and to knowledge that can help in diagnosis and treatment. Over a career of more than forty years, my students and I have shown how vitamin B12 is handled by human cells and how blockages in the metabolic pathway cause genetic disease. As a result of this, Canada is recognized as a leader in this area of research; there are only two reference laboratories in the world for these illnesses-one in Zurich, Switzerland and one in Montreal. One of the pleasures of doing research in an academic setting is the exposure to the best and brightest students who have gone on to careers in science and medicine. To be able to provide mentorship and knowledge to the next generation of leaders rivals discovery in importance to Canada.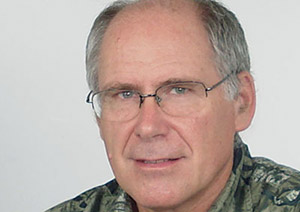 Fighting the most common fatal genetic disease affecting Canadian children and young people
Dr. John Hanrahan
McGill University
I have always been interested in biology and decided to pursue a career in research while working as an undergraduate summer student. I greatly enjoyed my zoology PhD project at UBC and switched into health research during my postdoctoral training at Yale. Since then I have worked at McGill on basic and applied aspects of the genetic disease cystic fibrosis (CF). My goals are to: 1) understand how salt is transported by airway epithelial cells, 2) determine the roles of chloride and bicarbonate in lung host defense, and 3) develop new therapeutics which can help people with CF. Together with a collaborator I cofounded the spin-off company Traffick Therapeutics, Inc. and obtained venture capital investment. Our company then developed drug candidates which significantly improved the effectiveness of currently available CF drugs in pre-clinical studies. Those molecules are now being developed further by a large pharmaceutical company and I hope they will lead to a clinically-approved combination drug. We have also established a biobank of lung cells from people with CF and other respiratory diseases lungs and are now studying their responses to air pollution.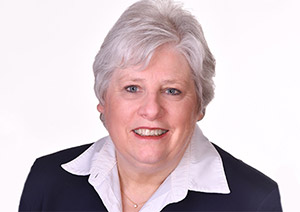 Bringing hope to patients with colorectal cancer
Dr. Nicole Beauchemin
McGill University
My interest in health research was stimulated by my mother's devotion to her profession as a nurse: she was always looking for answers to why diseases occur. My laboratory has been working on the development and progression of colorectal cancer (CRC) and the identification of novel biomarkers and therapeutic targets. I was responsible for characterization of one of the best biomarkers for CRC, namely CarcinoEmbryonic Antigen (CEA). Following this work , we identified an important family of related proteins, one of which (CEACAM1) is conserved throughout all species and assumes several important functions in the normal setting such as immune recognition and tolerance, insulin resistance and lipid metabolism and differentiation of epithelial cells. CEACAM1 expression decreases in most early cancers but often gets re-expressed very abundantly as the cancer progresses to the metastatic state. Using mouse models and human tissue samples, we have investigated how decreasing CEACAM1 expression as an immune checkpoint inhibitor via specific antibodies can participate in activation of the immune system. The mouse models we have generated have made possible the development of novel therapeutic tools. We have also identified cohorts of human patients likely to benefit from these therapies. We believe that CIHR funding of our research has made it possible to undertake clinical trials within the next 18 months.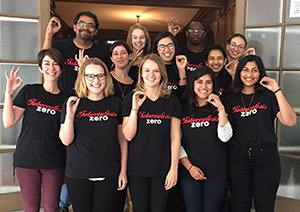 Confronting a global killer
Dr. Madhukar Pai
McGill University
Tuberculosis (TB) is one of the greatest threats to human health and the most important infectious killer: a third of the world's population is infected, nearly 1.8 million die each year, and four million patients are still not diagnosed and treated appropriately. The Pai Global TB Research Group at McGill University & Research Institute of the McGill University Health Centre is focused on improving TB diagnosis and care, from diagnostics evaluation to policy, and country-level implementation of tools and policies, for vulnerable populations ranging from the Inuit in Nunavut to slum dwellers in Mumbai. Our goal is to use translational epidemiology and implementation science, so that products, knowledge and policies can translate into saved lives and, ultimately, population level impact. We are proud to be part of the McGill International TB Centre, a world leader in the interdisciplinary study of TB. Follow us on Twitter: @tb_pai @paimadhu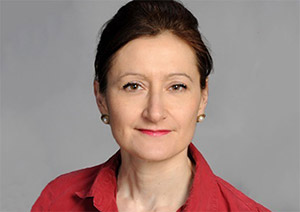 Improving our knowledge of rheumatic diseases
Dr. Sasha Bernatsky
McGill University Health Centre Research Institute
The potential links between cancer and rheumatic diseases is indeed fascinating. Funded by the Canadian Institutes of Health Research and NIH, leading an international team of over 30 researchers, I confirmed an altered cancer profile in systemic lupus (SLE) versus the general population. I am now pursuing novel objectives to assess if specific autoantibodies correlate with lung cancer, not only in SLE, but in the general population.
A second research interest is the possible association between air pollution and autoimmune rheumatic diseases. Pollution can enter the body through airways, triggering inflammatory responses. My team has shown associations between road-traffic density and SLE onset in Montreal, found links between pollution levels and SLE activity, and suggested industrial emissions as triggers of autoimmunity. Key areas that remain unknown are what types of pollution exposure might be most important, for both risk of antibody development and rheumatic disease risk.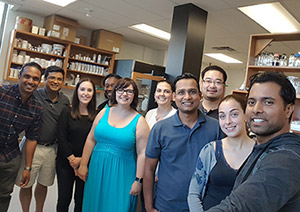 Fending off super-bugs
Dr. Ayush Kumar
University of Manitoba
My laboratory works on understanding the molecular mechanisms of antibiotic resistance in bacterial pathogens. Antibiotic resistance is arguably one of the biggest challenges to human health that we face today. This is because, unless this problem is addressed immediately, we could soon be faced with a situation similar to the pre-antibiotic era where even minor infections were lethal. We also study the processes that lead to cross-resistance between household antimicrobial products, such as antimicrobial soap, and antibiotics. Our work shows that the use of antimicrobial products can select for bacteria that are less susceptible to clinically-relevant antibiotics. Lastly, my laboratory also studies the prevalence of antibiotic resistance in drinking- water samples from First Nation communities in Manitoba. Overall, we hope that our work in these areas will lead to knowledge that not only helps in finding new antibiotics, but also in slowing down the process by which bacteria become resistant to antibiotics.
Further reading: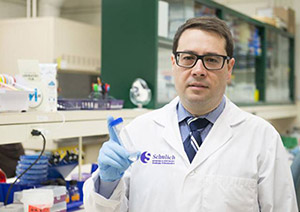 Deciphering the secrets of saliva
Dr. Walter L. Siqueira
Western University
Dr. Siqueira's research team focus on the biology and biochemistry of saliva – a critically important area of oral health research. The initial stage of bacterial colonization of teeth is the binding of salivary components, which form a "pellicle" to which bacteria subsequently adhere and can potentially generate diseases as dental caries and periodontal disease, the two most common chronic diseases in the Canadian population. Dr. Siqueira's research employs cutting-edge proteomics approaches to address this very early stage in these diseases' pathogenesis. His program, unique in Canada and one of only a few in the world, also addresses other areas of salivary research, such as the development of non-invasive salivary diagnostic tests for oral and systemic diseases such as Zika infection. His studies are highly translational, involving both clinical research in human subjects and advanced mass spectrometry approaches for developing of synthetic protein/peptides to use in toothpaste/mouthwash to inhibit oral diseases.
Further reading: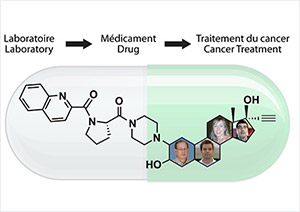 From the molecule to the market: developing cancer treatments
Dr. Donald Poirier
Centre de recherche de CHU de Québec (Québec City)
After completing my studies in organic chemistry, I wanted to apply my knowledge for the preparation of small molecules and I specialized in medicinal chemistry. I then started a research program at CHU de Québec-Université Laval, which focused on the development of therapeutic agents. From the accomplishments of which I am proud, I will mention 1) the training of highly qualified personnel, 2) the development of effective tools for the preparation in solution or on solid support of steroidal derivatives and 3) the design of selective anticancer agents and several inhibitors of steroid hormone biosynthesis. Among the bioactive molecules resulting from this research, two stand out for having gone through all the stages of drug development (design, chemical synthesis, in vitro, in vivo and preclinical biological evaluations). The first is a new family of aminosteroids for treating various cancers, some of them with poor prognosis, and the second on is the first irreversible non-estrogenic steroidal inhibitor of 17β-HSD1 enzyme for treating breast cancer and endometriosis. For these two molecules, we are looking for a partner for the realization of clinical trials, the last stage of the development before the approval and marketing of a drug.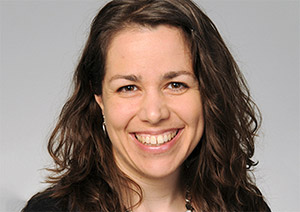 Social participation: better fostering active aging
Dr. Mélanie Levasseur
Université de Sherbrooke
Social participation is critical to promoting health in older adults but is restricted for approximately half of older Canadians. Social participation involves social and leisure activities, e.g., doing physical exercises, visiting friends and volunteering – activities that meet fundamental needs for interaction and self-accomplishment. Although roughly targeted by community organizations, health professionals and municipalities, few effective social participation interventions really reach vulnerable populations and are implemented in Canada. Studies funded by the Canadian Institutes of Health Research demonstrated the feasibility and positive impacts of three promising and complementary interventions helping, respectively, community organizations, health professionals, and municipalities target health and social participation. These interventions are: Personalized citizen assistance for social participation (individual intervention with volunteers), Lifestyle Redesign® (group intervention with occupational therapists) and age-friendly communities (population intervention on policies, services and structures). Since disabilities can be prevented or delayed, this research program points to one of the most promising avenues to live longer and better.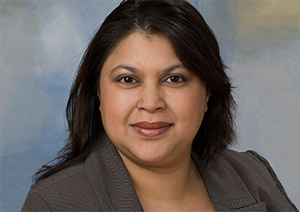 Looking at the whole picture: personalizing therapies for patients with chronic disease
Dr. Neeloffer Mookherjee
University of Manitoba
Because every person's immune system is wired differently, patients don't always respond to standard therapies of care. Using one type of therapy to address the needs of everyone is challenging, but understanding how genes and proteins behave in the body will make it easier to tailor therapies to help a person's health needs. Instead of studying one gene at a time, Dr. Neeloffer Mookherjee and her lab look at whole cells or organisms to understand inflammatory diseases like rheumatoid arthritis and asthma. Chronic diseases have public health implications, and in many cases standard therapies can compromise a patient's normal ability to fight infections. By examining a small group of molecules called cationic host defense peptides (HDPs), her team is exploring ways to control inflammation from chronic diseases without compromising a person's ability to fight infections. Exploring ways to tailor therapies for asthma and arthritis is paving the way for better patient-oriented care.
Further reading: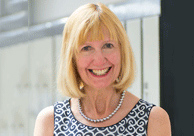 Helping young patients find their voices
Dr. Roberta L. Woodgate
College of Nursing, University of Manitoba
The voices of young people have been largely silenced in health research, based on the premise that they are vulnerable and in need of protection. Dr. Roberta L. Woodgate of the College of Nursing, University of Manitoba, embraces a human rights-based approach to amplify the voices of young people (children and youth) and their families affected by ill-health. This includes young people and their families across a wide range of health conditions: mental illnesses, complex care needs and conditions, and chronic illnesses such as hemophilia and cancer. She has developed unique data collection and knowledge translation strategies to ensure that the best available evidence flowing from research is in the hands of those who influence the health of young people, including parents, families, healthcare professionals, decision makers, and young people. Such a comprehensive approach to sharing her research works to inform healthcare delivery, promote uptake, generate public dialogue, and address health-related stigma. Her work enables better coordination and integration of health and other systems, ultimately improving health outcomes for children in Canada.
Further reading: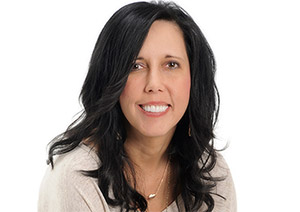 A humble servant to the Indigenous communities she serves
Dr. Carrie Bourassa
Scientific Director of the CIHR Institute of Aboriginal Peoples' Health
Health Sciences North Research Institute (Sudbury)
I am Ts'iotaat Kutx Ayanaha s'eek (Morning Star Bear). I am Bear Clan, proud Anishnahbae Metis from Treaty 4 Territory. I am humbled to be a servant to the community – that's what I am. I am an Indigenous community-based health researcher and I take direction from communities. Relevant and impactful Indigenous health research requires engagement with Indigenous communities and accommodation of Indigenous knowledge, languages, methodologies and protocols. Morning Star Lodge, funded by Canada Foundation for Innovation (CFI), based in Regina, Saskatchewan, is guided by Elders, ceremony, and directed by Indigenous communities. The lab employs a reciprocal learning and holistic education model that includes Indigenous research methodologies; ownership, control, access and possession; and community-based research; as well as understanding the concepts of reciprocity, respect, relevance, responsibility, holism, and the processes of community control, capacity building, collaboration, cultural responsiveness and community engagement. These labs are original and innovative, in that they employ a mentorship model and provide support and training to undergraduate and graduate students as well as the creation of a community lab. We are opening another CFI-funded lab in Sudbury this fall – the Cultural Safety Evaluation, Training and Research Lab – a sister lab to Morning Star Lodge.
Further reading: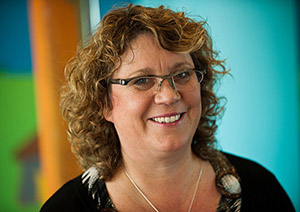 "Better Nights, Better Days" and "Teacher Help": Harnessing the potential of e-Health
Developing evidence-based care interventions to improve the health and well-being of Canadian children
Dr. Penny Corkum
Dalhousie University
There are many barriers to the uptake and adherence of evidence-based interventions for children's mental health problems. eHealth interventions have the potential to increase access to evidence-based care in a timely, efficient, and cost-effective manner.
Dr. Corkum and trainees in the Corkum LABS (Learning, Attention, Behaviour, and Sleep), along with many amazing co-investigators, collaborators, and partners have been developing, evaluating, and working to sustain two "families" of eHealth interventions. The first is an eHealth intervention called Better Nights, Better Days, which is for parents of children with insomnia. This program is currently being evaluated through a randomized controlled trial (RCT) with more than 500 Canadian English and French speaking parents enrolled. Next, we will be tailoring this program for parents of children with neurodevelopmental disorders.
The second eHealth program is called Teacher Help, which aims to provide classroom teachers with the knowledge and skills needed to deliver effective programs for children with neurodevelopmental disorders. This program will be evaluated through a national RCT starting in October 2017.
Our next step is to develop an integrated intervention so that parents, teachers, and health care providers are providing coordinated and evidence-based care to improve the health and well-being of Canadian children.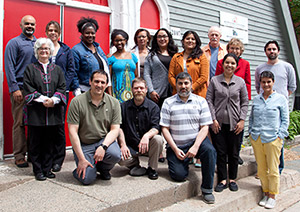 What do a paramedic, community health nurse, police officer, shelter worker and immigrant physician have in common?
They are all passionate about solving community health problems and making a difference by empowering communities
Heather Rushton
MicroResearch Nova Scotia, IWK Health Centre (Halifax)
Imagine a paramedic, a community health nurse, a policeman, a shelter worker, and an immigrant physician are introduced for the first time and are challenged to find a community health problem that they are all passionate about solving.
This is MicroResearch NS – a novel project involving community members learning to tackle the health problems they experience every day.
The MicroResearch concept was developed in Africa, by Drs. Noni MacDonald and Bob Bortolussi of Dalhousie University. Now in Nova Scotia, MicroResearch teaches community members how to solve local health problems through measures that fit local culture, context and resources to bring about improved health in Nova Scotia communities.
MicroResearch NS has examined issues ranging from addressing the immediate needs of suicidal youth following hospital discharge, to soft drink consumption in the Paqtnkek First Nations reserve, to what alcohol-addicted homeless men want to improve their lives.
The MicroResearch NS program can and is making a difference, empowering communities through their own research.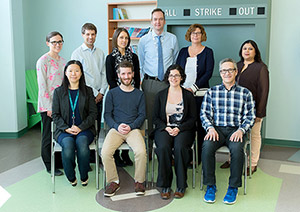 A diversity of perspectives, interventions and approaches converge to create solutions
Devoted to reducing the burden of chronic disease in Manitoba, the DEVOTION team is accelerating discovery research
Dr. Jon McGavock and Dr. Andrew Halayko
Developmental Origins of Diseases in Children Network, Children's Hospital Research Institute of Manitoba
DEVOTION (The Developmental Origins of Chronic Diseases in Children) Network is a team of more than 60 researchers, community partners, and policy makers who share a common vision: to improve maternal and child health and reduce the burden of chronic diseases in Manitoba.
The DEVOTION network is organized into four distinct pillars of research (clinical research, policy, population health and basic science), and solutions are found within a diversity of perspectives, interventions and approaches.
At the core of the DEVOTION Network is the voice of our community partners, including an Indigenous advisory council, that guides decision making and our approach to working with indigenous communities across Manitoba.
Whether our research is focused on promoting breastfeeding for preventing type 2 diabetes, identifying unique markers of lung disease, or promoting early oral childhood health, the DEVOTION Network has created a pipeline for taking discoveries in early childhood research and directing findings in practice/policy to benefit Canadians sooner.
Further reading:
Paediatric Respiratory Reviews: "Diabetes in pregnancy and lung health in offspring: developmental origins of respiratory disease."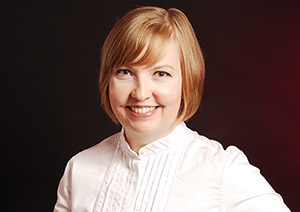 Supporting nurses: Supporting safe health care
The largest group of healthcare professionals in Canada, nurses rise to the challenges facing healthcare systems on a daily basis
Jennifer Jackson
King's College London (UK)
I am a Registered Nurse studying resilience and nursing work and completing my PhD at King's College London, in the United Kingdom, which has been a very valuable experience.
We have lots of challenges in the Canadian healthcare system, and we can learn from other countries that are also facing similar issues. In my research, I am learning how nurses adapt their work safely to pressures within healthcare systems.
Nurses are the largest group of healthcare professionals in Canada, and when we support nursing practice, we support safe healthcare. While we want to have the best possible working conditions for nurses and all staff, it is often a reality that we are short-staffed, or have limited budgets.
By understanding how to adapt work in less than ideal situations, we can support safe care for patients across Canada.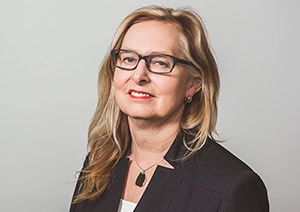 Celebrating 7 years of SyMBIOTA (Synergy in Microbiota) research
Studying the link between the formation of our complex ecosystem of gut microbes during infancy and our future health
Dr. Anita Kozyrskyj
University of Alberta
With gratitude to the women, their babies and families who participated in the CHILD birth cohort, to Malcolm Sears and his team who created it, and to funding from CIHR, AllerGen NCE and the CIHR Microbiome Initiative, Anita Kozyrskyj (University of Alberta) and James Scott (University of Toronto) are celebrating 7 years of SyMBIOTA (Synergy in Microbiota) research.
SyMBIOTA's goal is to study medical and societal interventions that shape the formation of our complex ecosystem of gut microbes during infancy and our future health.
To this end, the SyMBIOTA team has contributed evidence on cesarean delivery and antibiotic treatment (honoured by the CMAJ Bruce Squires award; translated in the Microbirth documentary, textbooks and online course), and recently, on household pets (#1 microbiome BMC paper; reported in Nature, Reuters, TIME and may consumer magazines) and indoor cleaning products. All of these infant exposures have been linked to food allergy, asthma or obesity.
Further reading: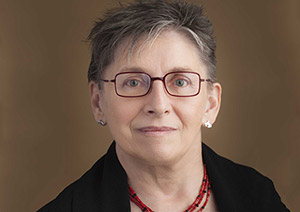 Patient partners: Real people contributing to real research
Giving voice to the concerns of patients and caregivers around the decision making table
Annette McKinnon
Toronto
The first time I was involved in research I was helping Twitter friends on a project about eHealth Ethics. I was thrilled to find out that their project was "real" research. They named me as a co-author for my contributions.
Since then, I have been involved in research as a patient partner on research teams, a presenter at conferences, as a grant reviewer, and as a Patient and Community Engagement Research (PaCER) graduate whose team produced a research paper.
With an informed view of the way research is done I realize the amount of work and organization that is involved. It has also confirmed my belief in the value of the patient/caregiver voice.
Patients and the public own the health care system; when there are decisions to be made at any level, we should be at the table.
I hope this will become a standard in every research project and decision.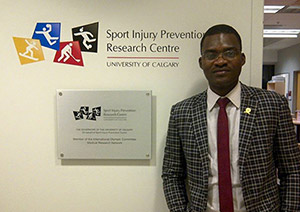 An ounce of prevention is better than a pound of cure
Informing the prevention of sport-related injuries in youth and young adults
Oluwatoyosi Owoeye
University of Calgary
I am postdoctoral fellow at the Sport Injury Prevention Research Centre with the Faculty of Kinesiology at the University of Calgary. I have combined expertise in sport physiotherapy and sport injury epidemiology. The motivation for my research endeavours is in my strong belief that "an ounce of prevention is better than a pound of cure."
My research focuses on the generation and implementation of knowledge that informs the prevention of sport-related injuries and its consequences in youth and young adults. My current research involves understanding the aetiology (the investigation or attribution of the cause or reason for something) of ankle sprain injuries and its consequences, such as post-traumatic osteoarthritis. In addition, I am researching how to develop injury countermeasures for youth playing basketball and soccer, including strategies for preventing common overuse injuries.
I am also involved in implementation research relating to how sport injury prevention evidence is best translated to practice for the greatest public health impact possible.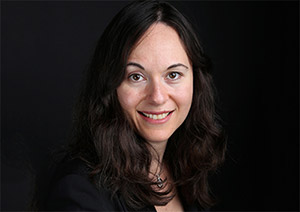 Finding ways to help Canadian moms cope with depression
Reducing the negative effects on families caused by mothers grappling with mental illness
Dr. Simone Vigod
Women's College Hospital (Toronto)
Mental illness affects 1 in 5 pregnant and postpartum Canadian women, and can have long-standing negative effects on maternal, child and family well-being. My research aims to identify and understand health care outcomes and access disparities in this area, and to find solutions to address them.
My population health research found rising pregnancy rates among women with serious mental illness and is informing ways to ensure optimal maternal and child health outcomes in this group. My population health and clinical research identified barriers in access to care for perinatal depression and anxiety.
We are now testing a suite of online services to address these barriers. This includes online psychotherapy and an electronic patient decision tool to help women decide about antidepressant use in pregnancy. We have enrolled hundreds of women in these online research studies from across Canada in a short period of time – demonstrating the urgent need to broadly disseminate those that prove effective.
Further reading: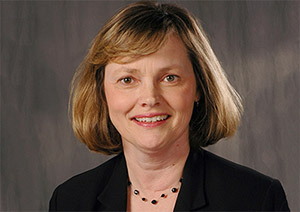 Wanted: Aspiring detectives to pursue careers in health research
The saga of one super sleuth who is making a difference
Donna Martin
University of Manitoba
Growing up, I aspired to be a detective – investigating and searching for the truth. This aspiration transposed into my role as a nurse researcher. My passion for health equity and social justice informs my research and helps shine light on health issues facing marginalized populations.
Currently, I am co-principal investigator in a 3-year community-driven project based on the 2011 human-made flooding of Little Saskatchewan First Nation in Manitoba. We are documenting youth and Elders' health outcomes and making recommendations for future policies. Community members' physical health has been impacted by mould, overcrowding, lack of recreation, destroyed infrastructure and livelihoods; their mental health has been impacted by separation from family and loss of community.
Community members, in the aftermath of forced relocation, have demonstrated immense strength and resiliency despite all odds. Our findings will inform future policies regarding water control, health and social services, and disaster management as well as facilitate community development.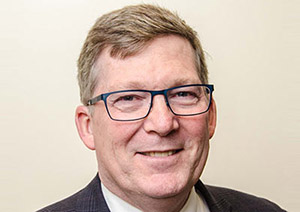 Helping patients with evidence
A career dedicated to identifying the gaps in emergency care
Dr. Brian H. Rowe
Scientific Director, CIHR Institute of Circulatory and Respiratory Health
Clinician and Researcher at the University of Alberta
I come from a family committed to publically funded health care and research, so medical training was an appealing career for me. I first completed an undergraduate Biology degree at Queen's University and Medical School at the University of Ottawa. I trained in Family and Emergency Medicine at the University of Ottawa so that I could both understand patterns of diseases and apply best evidence into practice. As an emergency physician, I encounter many patients with cardio-respiratory conditions (e.g., asthma, heart failure, COPD, pneumonia, angina, atrial fibrillation, etc.) and injuries (e.g., falls, car crashes, assaults, etc.). Managing these patients in an emergency situation provides the opportunity to identify gaps in care and these areas have occupied my research interest for my entire career. After obtaining graduate training in Clinical Epidemiology from McMaster University, I worked in Northern Ontario teaching, conducting evidence syntheses, a clinical trial involving patients with asthma and exploring ways to prevent injuries. Since my move to the University of Alberta in 1997 I have been given the unique opportunity to expand my program of research and continue to practice clinical medicine. Our Clinical, Health Services and Public Health research results have direct relevance to patients/families as well as clinicians and policy makers. The unique value of patient-oriented research is the way it can improve care, patient outcomes and efficiency within the health care system.
Further reading: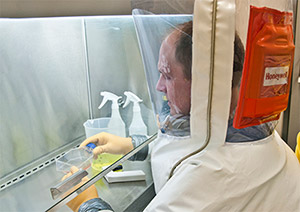 Passion: The genesis of genius
Following a passion for viruses down the road to discovery
Dr. Jason Kindrachuk
University of Manitoba
As a student at the University of Saskatchewan, I was captivated by media and literary accounts of Ebola virus outbreaks, including "The Hot Zone.. I was able to follow my passion for emerging/re-emerging viruses at the National Institutes of Health in Washington, working within high-containment laboratories.
In 2014, when the devastating Ebola virus epidemic took hold of Western Africa, I felt compelled to offer assistance with outbreak response efforts and participated in diagnostic support efforts in Liberia. Now in Winnipeg, my research focuses on improving our understanding of how molecular events within cells relate to disease severity and poor clinical outcomes for viruses, including Ebola and influenza.
As many of these viruses disproportionally effect developing nations, my research also focuses on building collaborations with researchers and trainees from these nations to increase our preparedness for future viral outbreaks.
Ultimately, our research will provide a better understanding of disease pathogenesis, improve patient care and facilitate the discovery of new therapeutics or treatment strategies.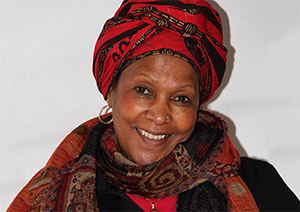 I have a dream
Helping Indigenous communities heal from intergenerational trauma and substance abuse
Dr. Teresa Naseba Marsh
Northern Ontario School of Medicine, Laurentian and Lakehead Universities
During my PhD, I embarked upon a project that would benefit Indigenous communities and help with healing from intergenerational trauma (IGT) and substance use (SUD).
My interest in the field of IGT and SUD came about as a result of my lived experiences in South Africa during colonization, oppression and the apartheid era.
I dreamt about the healing that could come, and realized that it is possible if we all join hands and continue to build healthy communities and familial connections.
The purpose of this study is to explore whether the blending of Aboriginal traditional healing practices and a mainstream treatment model, Seeking Safety, resulted in a reduction of IGT symptoms and SUD. A mixed-methods design was used to evaluate the impact of a 13-week Indigenous Healing and Seeking Safety implementation project with 17 participants completing the study and all demonstrating improvement in the all the symptoms of IGT and SUD.
My hope is to continue to do this work and to teach Indigenous clinicians how to use the new treatment model.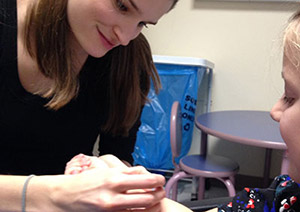 My journey as a health researcher: A time for reflection and celebration
Canadian researchers' contribution to world health is something we can all be proud of!
Ms. Aimée Dubeau
The Hospital for Sick Children
I am excited at the opportunity to reflect on my health research journey for Canada 150.
My research journey started as a Waterloo co-op student when I was placed with Statistics Canada to work on the Residential Care Facilities Survey. From there, my next placement was with Human Resources and Skills Development Canada where I worked in disability research. This sparked my interest in clinical research and the people and stories behind the statistics. I worked for the Toronto Rehabilitation Institute conducting stroke recovery research, followed by a fun summer at Health Canada doing research on the environment and air pollution, as experienced by cyclists. When I graduated, I had a diverse range of research skills and started working as a research assistant with the Canadian Healthy Infant Longitudinal Development (CHILD) Study, which I now coordinate.
My story is a great example of the variety of different kinds of research Canada contributes to.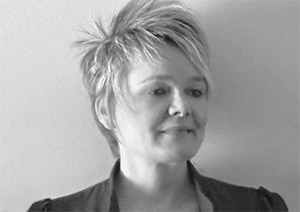 The heart sees what is invisible to the eye
Engaging in mental health research to remove the cloak of invisibility and shed light on mental illnesses
Terry-Lee Marttinen
Sault Ste. Marie, Ontario
I have an invisible disability.
I first became involved in health research after a family member was diagnosed with early psychosis, at a specialized youth psychiatric research program. I participated in caregiver-focused studies and sat on the Early Psychosis Intervention Ontario Network policy task group at the Centre for Addiction and Mental Health (CAMH) for several years.
Engaging in mental health research and policy development led me to study the social dimensions of schizophrenia, informed by emerging viral genetics. I integrated youth and family perspectives, social research, and human endogenous retrovirus (HERV-W) science to create a gene-environment model of inflammatory schizophrenia while conducting my Honours thesis work at Algoma University in 2012.
In 2014, interdisciplinary medical history research at Oxford Brookes University (OBU) linked malnutrition, associated with gendered racial discrimination, to co-interacting HERV-W and common viruses, implicated in genomic change and schizophrenia. I hope to return to OBU to conduct intersectoral psychiatric genetic PhD research.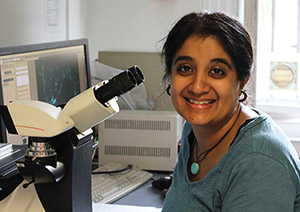 Food for thought
Exploring how nutrition can promote healthy brain aging
Dr. Nafisa M. Jadavji
Carleton University
Vascular cognitive impairment (VCI) is the second leading cause of dementia after Alzheimer's disease. The clinical presentation of VCI varies and there are no treatments for VCI since the actual pathology remains unknown. Nutrition is a risk factor for VCI, specifically high levels of homocysteine, a common amino acid in blood. B vitamins, such as folic acid, can reduce levels of homocysteine.
My research program focuses on how nutrition affects the brain. Our results suggest that it is not elevated levels of homocysteine making the brain more vulnerable to VCI, but rather, a deficiency in folic acid. In the cell, folic acid is involved in essential functions that help the cell survival.
Reduced levels of folic acid may be changing the cells in the brain, making them more vulnerable to damage. More research is required to understand how nutrition can be used to promote healthy brain aging.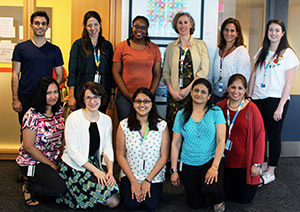 Championing child-friendly health policies: Giving children a voice
Tough TASK masters: Informing decisions on children's health care services with the best-in-class evidence
Dr. Wendy Ungar
The Hospital for Sick Children
Why do health care costs keep rising? How can we continue to afford it? Is all of the new technology increasingly used in patient care actually making us healthier? With a focus on genomics, these are some of the questions that Dr. Wendy Ungar and her team at Technology Assessment at Sick Kids (TASK) address in her research investigating the cost-effectiveness of technologies, treatments, and services for children.
As important as examining the cost-effectiveness of new technologies is, developing the appropriate tools and methods to ensure that this research can be done well while working with children is an equally important part of TASK's mandate.
With funding from CIHR and others, Dr. Ungar and her team are ensuring that the best-quality evidence is used to inform funding decision for children's health care.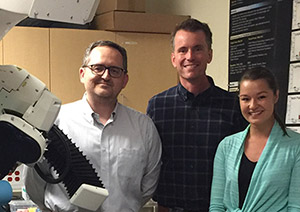 New hope for youth coping with depression
Pioneering the use of brain stimulation to fight depression in youth
Dr. Frank P. MacMaster
University of Calgary
One in nine Canadians aged 15 to 24 suffers from depression—this is the highest rate of depression in any age group. Depression has negative impacts at home, at school, with friends and with family, and the impacts can be felt for decades. Unfortunately, front line treatments only work in about half of youth, leaving many ill and vulnerable to suicide—the second leading cause of death in this age group.
Depression threatens their very lives.
Our lab has pioneered the use of brain stimulation to fight depression in youth. This treatment offers new hope for those who are suffering. Our work has also helped to spearhead the effort to bring brain stimulation to Alberta as a clinical service.
From a study participant: "…brain stimulation truly saved my life, it scares me to think of what I may have done if I hadn't had the opportunity to participate."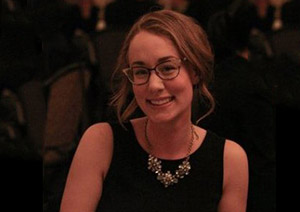 The role of health research on the pathway to reconciliation
The strength and resiliency of Indigenous people is an inspiration for us all
Ms. Kaela Anne Schill
Ki-Low-Na Friendship Society, Kelowna, B.C.
I am working on my Master of Science thesis project with the Ki-Low-Na Friendship Society. Our project explores the knowledge and experience of mental wellness among Urban Indigenous adults aged 55 and over.
Through sharing circles and interviews, participants are leading us to an understanding about the barriers to mental wellness, including historical and contemporary colonial policy, social inequity, intergenerational trauma, and systemic and individual racism. They have also emphasized the strength and resiliency of the community as they fight to achieve mental wellness for themselves despite these barriers.
As a non-Indigenous researcher working with an Indigenous population, Canada 150 poses an opportunity to critically reflect on my role in research, and the role of research in reconciliation. It is a reminder to be conscious of the oppression and violence perpetrated against Indigenous peoples in the name of research, to use my research to advocate for the correction of this historical injustice, and to encourage other health researchers and professionals to do the same.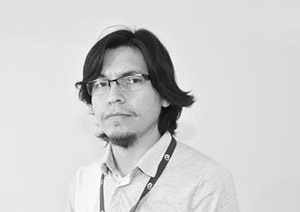 Transforming a parent's heartbreak into action
Devoting a career to giving other parents of seriously ill children the gift of extra time
Dr. Emilio Alarcon
University of Ottawa Heart Institute
For most of his life, my son has faced medical conditions, including cancer. As a parent, this experience made me realize the urgent need for better technologies and devices in the clinic, so I decided to pursue an academic career in Canada, in order to give back to others the gift of extra time that I have had with my son.
My research team is currently developing new materials for treating chronically infected and non-healing wounds, which will improve the quality of life and reduce the amputation rate for the many patients living with diabetic foot ulcers. We are also working on new technologies for the functional and rapid repair of damaged tissue, including the heart, skin, and cornea. My team is also investigating how nanomaterials can be combined with natural polymers to produce new materials with better properties for regenerative medicine.
We always have patients and families in mind; and we continuously aim to provide practical and clinically usable technologies for our country.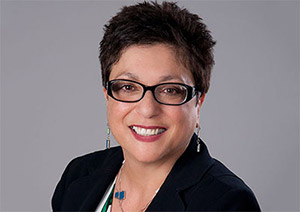 Patient Navigator
Facilitating the integration of primary care and community services
Dr. Simone Dahrouge
University of Ottawa and Bruyère Research Institute
We are interested in understanding how primary healthcare services can be organized to improve the quality and equity of care delivery.
Our current project, Access to Community Resources (ARC), aims to enhance equitable access to community health and social resources that can help individuals achieve their health goals. These services, such as falls prevention, smoking cessation and health self-management for persons with chronic conditions are under-utilized because many people face barriers to access. These barriers include challenges navigating the system, transportation restrictions, language barriers, or other limitations related to their social context.
ARC is introducing a Patient Navigator in family practices to facilitate the integration of primary care and community services. The Patient Navigator will assist patients referred to these services by their primary care provider to overcome barriers to access and reach the resources they require. It will also support information continuity across the two sectors.
We anticipate that patient navigation will reduce unmet health needs.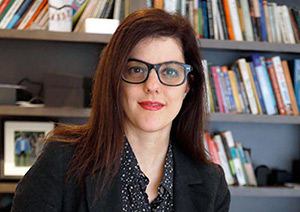 How child maltreatment hurts us all
Why it shouldn't hurt to be a child: Being mistreated can have lifelong consequences
Dr. Tracie O. Afifi
University of Manitoba
Child maltreatment is a major public health problem associated with mental and physical health impairment in childhood, adolescence, and extending throughout the lifespan. However, preventing child maltreatment remains a difficult task. The effectiveness of many existing prevention programs is largely unknown and prevention programs for some child maltreatment types are not well developed.
Dr. Afifi is currently collecting and analyzing new data to better understand child maltreatment within a Canadian context and how it relates to health and health services. Her work is focused on identifying protective factors associated with a decreased likelihood of child maltreatment and an increased likelihood of improved health outcomes following child maltreatment. She is applying this knowledge to develop and evaluate new evidence-based intervention strategies to determine effectiveness in preventing child maltreatment and its associated effects. Dr. Afifi's vision is to prevent child maltreatment and thereby change a child's trajectory, improve health, and strengthen families.
Further reading: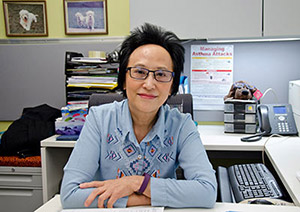 OASIS: A made-in-Ontario asthma monitoring system with big aspirations
A breath of fresh air: The Ontario Asthma Surveillance Information System (OASIS) studies the impact of air pollution and climate on disease
Dr. Teresa To
The Hospital for Sick Children Research Institute, University of Toronto
My team, based at The Hospital for Sick Children, pioneered a population-based asthma registry called OASIS (Ontario Asthma Surveillance Information System). Established in 2003, OASIS follows over 2 million Ontarians with physician-diagnosed asthma and reports that 1 in 4 children are affected by asthma and 1 in 3 persons will develop asthma in their lifetime.
Today, OASIS is one of the most promising prototypes for the development of a national asthma monitoring system, providing asthma statistics including incidence, prevalence, mortality and health services use.
Our team also combines multiple population databases to study the impact of air pollution and climate on disease progression such as asthma to Chronic Obstructive Pulmonary Disease. With this research, we aim to identify geographical regions and populations at risk (such as immigrants, lower socioeconomic groups) to target community-based interventions designed to reduce disease morbidity and to improve health outcomes and quality of life.
Further Reading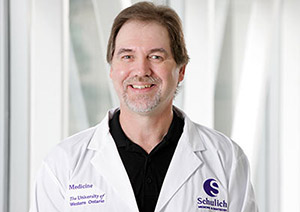 And baby makes three: Researchers helping couples with fertility problems to conceive
Defining the stages of human development helps the success rate of fertility clinic physicians working with couples eager to become parents
Dr. Andrew J. Watson
University of Western Ontario
Our research is focused on defining the mechanisms controlling the earliest stages of development, from fertilization, to uterine implantation, and early pregnancy. We use animal models and translate our discoveries to the human context, in order to assist the clinician's ability to apply more effective ways of helping couples with fertility problems to conceive. Research has demonstrated that the very beginning of a human's development cycle has a major impact on not only whether pregnancy will occur, but also on the health of the fetus, newborn, child, and even on the susceptibility to disease later on in life. It is vitally important to ensure that safe and efficient methods are applied in fertility clinics to ensure that the assistance provided to couples with fertility challenges not only allows them to start their family, but also ensures that their family will enjoy the best health possible throughout their lifetime.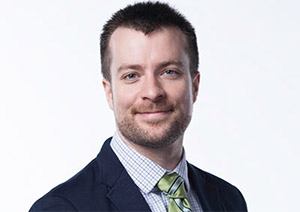 When your heart skips a beat
Atrial Fibrillation is one of the most common forms of abnormal heart rhythm and a major cause of stroke
Dr. William McIntyre
McMaster University
Atrial fibrillation (AF) is the most common heart rhythm problem and is a major risk factor for a disabling stroke. In many patients, AF comes and goes which makes it difficult to catch and diagnose. AF is often detected for the first time after surgery. When this happens, there are two possibilities. AF could be a normal response to stress that will go away when the patient recovers. On the other hand, AF detected after surgery could also mean that the patient is at risk for stroke and might benefit from medication to lower their risk.
Our group is giving portable heart rhythm monitors to patients who have had brief episodes of AF after surgery and comparing them to patients who had surgery but did not have AF. Our goal is to develop a strategy to identify which patients truly have AF and can benefit from stroke prevention medications.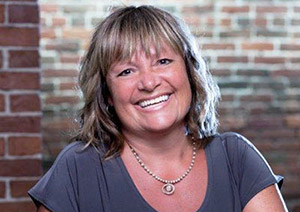 Becoming the change we wish to see in the world
One researcher's personal journey to improve maternal and newborn health outcomes
Dr. Erna Snelgrove-Clarke
Dalhousie University
I chose health research because I want to see change. I want to support a more consistent use of best evidence to improve maternal newborn outcomes. We need to work collaboratively, using best practices to strategize for change. We can create a climate and a context for best practice when we value health, research evidence, patient voice, and clinician expertise.
Despite the availability of research evidence, a variety of health practices are inconsistent. Patients see differences in provider practices such as listening to the baby's heartbeat during labour, managing the second stage of labour when a mom is ready or getting ready to push, and breastfeeding support.
Why do patients see these differences? Many factors influence the use of best evidence; the evidence itself, clinicians, context, and the inclusion of the patient in decision-making. Bringing these factors together for consistent application of evidence is challenging, exciting, and essential for improving health outcomes.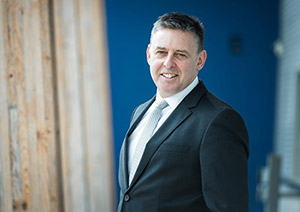 Men's health: Out of the shadows into the spotlight
Creating safe spaces and gender-sensitized programs to advance the health of men and their families
Dr. John Oliffe
University of British Columbia
In 2003, Dr. John Oliffe founded the Men's Health Research program with the goal of emphasizing the positive elements of multi-faceted, culturally diverse masculinities, such as helping others, leadership, empathy and accountability. Along with his dedicated research team, which is based out of the University of British Columbia's School of Nursing, the program has grown to include a suite of empirically informed, innovative interventions, and has championed knowledge translation activities that focus on a variety of men's health issues. This includes health promotion and e-health interventions around men's depression and suicide, psychosocial prostate cancer care, and smoking cessation.
By applying strength-based approaches to affirm and leverage positive masculinities, the Men's Health Research program offers safe spaces and gender-sensitized programs to advance the health of men and their families.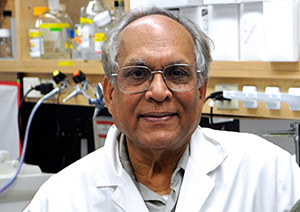 A career devoted to understanding the placenta: A key element in the fetal life-support system
Over the course of a career spanning four decades, Dr. Peeyush Lala has shed light on "The Fascinating Story of the Placenta"
Dr. Peeyush K. Lala
University of Western Ontario
My research during the last four decades has led to a fascinating story about "placenta," the organ that nourishes a fetus by exchanging oxygen and nutrients from the maternal arterial blood. This research has helped to resolve the dual paradox of "placenta as an alien graft in the mother's uterus, which remains protected from maternal immune attack" and "placenta as a highly invasive tumour-like structure, which unlike tumours, does not destroy the uterus."
The culmination of forty years of research led to the discovery of mechanisms that allow for the development of placental cancers, a novel immunotherapy of certain cancers, and the discovery of a novel predictive blood biomarker of "preeclampsia," a serious pregnancy-associated maternal disease of placental origin.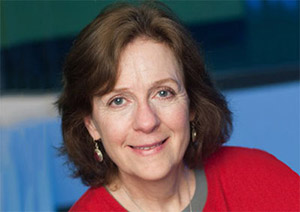 Advocating for "hands on" approaches to cancer prevention
Researchers working to make the possibility of preventing cancer a reality
Dr. Carolyn Gotay
University of British Columbia
Cancer is one of the greatest health threats faced by our country today. About one in two of us will be diagnosed with cancer in our lifetime. This year, more than 80,000 Canadians will lose their lives to cancer. We know that about half of cancer cases could be prevented through lifestyle changes – that is to say; not smoking, maintaining a healthy body weight, keeping physically active, eating better, drinking within guidelines (if at all), and getting enough sleep. Our research at the Centre of Excellence in Cancer Prevention has shown that a variety of strategies can lead to positive changes to reduce cancer risk: "new technologies" incorporating computer-generated, tailored messages; "hands on" approaches such as cooking classes for prostate cancer patients and their spouses; and a personal touch, like an individual sleep coach. Much of cancer is preventable, and our research works toward making that possibility a reality.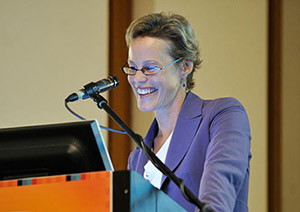 Protecting the mind and body against cancer with yoga and meditation
Improving the physical and emotional well-being of cancer patients and survivors
Dr. Linda E. Carlson
University of Calgary
I began working in supportive cancer care 20 years ago. As a clinical psychologist working in the area of psychosocial oncology I wanted to help people cope with debilitating symptoms and side-effects that so often linger well beyond treatment, like fatigue, pain, sleep problems, anxiety, stress, depression and fears of cancer recurrence.
My team and I developed a program combining training in mindfulness meditation and yoga, and conducted a series of nationally funded studies showing benefit for patients, including improved mood, stress reduction, better quality of life, improved sleep, and even changes to their stress hormones, immune function and DNA structure. We were the first in the world to report the scientific benefits of meditation in cancer care, and since that time, programs offering similar services have sprung up all around the world.
Mindfulness: A key for personal and collective evolution, a Tedx Talk with Linda E. Carlson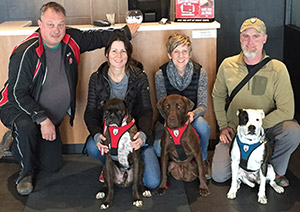 Free to be me, unconditionally
Working with dogs and horses to help people struggling with addiction on their road to recovery
Dr. Colleen Anne Dell
University of Saskatchewan
Our team is working alongside canine companions and helpful horses to better understand the human-animal bond and its impact on wellness within the addictions field. It is well established that connection is important for healing from addictions, but this can be very difficult for people who have been judged and stigmatized because of their disease. In an attempt to overcome this, our team works with clients, individuals in residential treatment programs, prisons and methadone clinics, along with their animal helpers.
As one client simply stated "The therapy dog makes me feel comfortable, so I can just be me." When this happens, it opens up a unique opportunity for a therapeutic connection within a health care system that has been designed to help, but is known to also isolate. Our CIHR-funded team is honoured to be able to contribute to this unique understanding, alongside our various community and academic partners.
You can follow our adventures on Facebook at Anna-Belle & Subie's Adventures.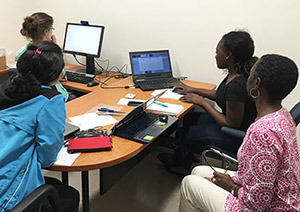 Demystifying health, empowering patients
Dr. Holly Witteman
Laval University
Our group designs, builds, and tests ways to help people make decisions about their health. We want to help people make health decisions that are informed by the best available medical evidence and align with what matters to the person or people affected by the decision. This can be hard to do for lots of reasons, including complicated statistics, decisions that are emotionally difficult, and short clinical visits. Electronic decision support tools can help if they are well-designed and easy to access and use. To build such tools, we work with patients, doctors, nurses, and others to refine ideas. We do iterative design and usability testing in our lab, then user experience testing in clinics and people's homes, and online randomized controlled trials to make sure tools are helpful. We will make these tools available to people across Canada in different ways, including in patient portals to electronic health records.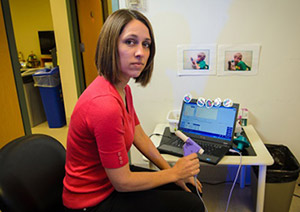 The protective power of breast milk
Dr. Meghan Azad
University of Manitoba
My lab studies the early-life determinants of lifelong health. Our current research is focused on the role of maternal nutrition and infant feeding in the development and prevention of chronic disease. Our results from the Canadian Healthy Infant Longitudinal Development (CHILD) Study show that breastfeeding is associated with reduced risks of asthma and obesity in early childhood. To understand how this works, we are analyzing breast milk to measure nutrients, immune factors, microbes, and hormones – and studying their impact on the developing infant gut microbiome (the community of microorganisms living in infants' intestines). This research will guide new strategies for health promotion and disease prevention, help optimize nutrition guidelines for mothers and babies, and inform related policies to support maternal-child health.
Further reading: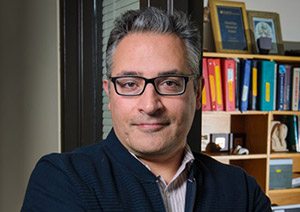 When our DNA mutates, cancer can be the result
Dr. Mani Larijani
Memorial University of Newfoundland
Dr. Larijani researches processes that mutate the DNA of our genes. In health, these processes change specific genes in immune cells to make them better at fighting infections. Unfortunately, these processes often mutate bystander genes. When this happens, it causes and exacerbates cancer by mutating cancer cells so they become aggressive and resistant to treatment. Dr. Larijani's work has several aims: first, to visualize what these DNA-mutating processes look like at the very instant of causing cancer; second, to distinguish how they operate in healthy versus cancer cells; third, to determine how they impact immune response. Dr. Larijani's lab recently made a paradigm-changing discovery that has attracted international attention. They found that DNA-mutating processes constantly transition between two different forms: a dangerous cancer-causing version, and an inactive harmless state. Based on this, Dr. Larijani is designing a new type of cancer drug, and improving how the immune system recognizes cancer.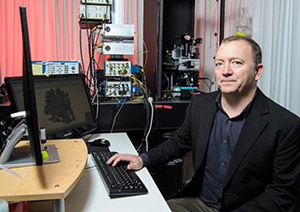 A window on the circuitry of the brain
Dr. Kurt Haas
University of British Columbia
My lab in the Djavad Mowafaghian Centre for Brain Health at the University of British Columbia is highly innovative in our approach to science. We develop techniques for controlling gene expression in individual brain cells, and we design and build super-fast microscopes capable of capturing the dynamic 3D activity and growth of neurons in the developing brains of animals when they are awake. We use these techniques to answer fundamental questions of how functional brain circuits form and encode information, as well as to understand how these events go wrong to produce disease. I am particularly interested in the origins of autism and epilepsy. For autism, my lab is identifying underlying gene mutations and determining precisely how they alter brain circuit structure and function. We expect our findings will be the basis for efforts to develop therapeutics to prevent or treat this disorder.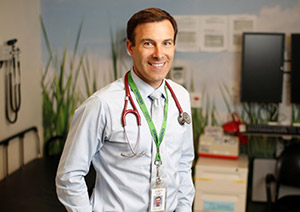 Helping young brains recover from concussion
Dr. Roger Zemek
Children's Hospital of Eastern Ontario (CHEO) Research Institute
Visits for pediatric concussion have quadrupled over the past decade. While most children recover within a few weeks, 30% of children experience ongoing symptoms that can affect quality of life. Dr. Roger Zemek and his research team at the Children's Hospital of Eastern Ontario (CHEO) led a study across nine emergency departments of the Pediatric Emergency Research Canada (PERC) Network that studied over 3000 children with concussion. We can now better predict which children have higher risk for persistent post-concussive symptoms. We also learned that children who return to physical activity sooner have a lower risk of ongoing symptoms than those who rested more. Both of these studies were published in the highly-esteemed Journal of American Medical Association (JAMA) in 2016. His team is now studying when is the best timing and type of physical activity following concussion to improve recovery. Ultimately, this evidence will help physicians design individualized, evidence-informed treatment plans for this common brain injury.
Further reading: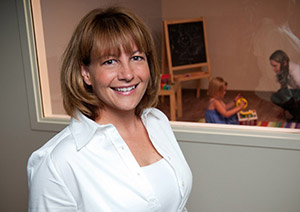 The far-reaching effects of bullying
Dr. Tracy Vaillancourt
University of Ottawa
Violence destroys individuals, communities, religions, and national economies. It creates physical and mental health problems and impacts productivity. Dr. Vaillancourt's program of research documents the causes, developmental course, and consequences of violence, with a focus on bullying. For far too long, bullying has been considered by many to be a normal part of childhood; but research on the long-term effects of bullying discredits this myth, documenting that the negative impact of bullying is enduring and far-reaching. Dr. Vaillancourt is currently examining the influence of bullying on mental health by following a large cohort of Canadians from childhood to adulthood. Her research is showing that, for many, poor outcomes are the result of being abused by peers and not a precipitator of poor treatment. These results highlight an urgent need to prioritize the reduction of bullying as a way of improving mental health.
Further reading: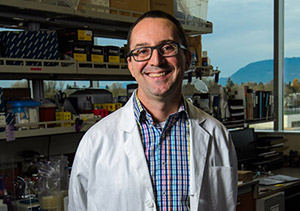 Why some kids get asthma and others don't
Dr. Stuart Turvey
University of British Columbia
Lungs are for life, and we don't think about them much. Yet even small babies and children can have serious lung diseases, like asthma. In Canada, about 1 in 3 people has asthma and it often starts in childhood. Asthma has no cure. Even if they feel fine, people with asthma still have the disease and it can flare up at any time. It isn't clear why only some people get asthma, but we think it is probably due to a combination of environmental and genetic (inherited) factors. Dr. Stuart Turvey, in partnership with many clinicians and researchers across Canada, co-leads the Canadian Healthy Infant Longitudinal Development (CHILD) study. The CHILD Study−a nationwide birth cohort study involving almost 3,500 Canadian infants and their families−explores how genetics and early childhood environmental exposures impact the development of asthma, allergies and other chronic diseases. Through this research we are creating better tools to predict who will get asthma and we are finding new ways to prevent asthma from developing in the first place.
Further reading: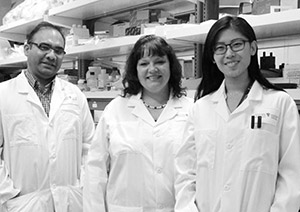 Developing a molecule to help people with allergies breathe easier
Dr. Christine McCusker
Montreal Children's Hospital
With the start of pollen season, 20 per cent of Canadians are reminded that with spring comes allergies. Eight per cent of people have potentially fatal food allergies and 15-20 per cent of the population has asthma and needs medication to be able to breath without difficulty. Yet treatment of these diseases has not changed a lot in at least 20 years and we have no cures. My research has looked at how allergies develop and how to effectively and safely change our body's immune response to allergens. We have progressed the development of a novel therapeutic molecule, STAT6-IP, that effectively blocks asthma symptoms, such as airway tightening and swelling, in animal models. Using STAT6-IP as a vaccine in animals we have also prevented hay-fever and seasonal asthma caused by ragweed. STAT6-IP treatment of blood cells from peanut allergic donors also shows promise as a therapy for food allergy as STAT6-IP appears to stop the activity of the allergic cells and promote non-allergic responses in human cells. This work has made great strides in developing a human therapy that would alleviate some of the most debilitating allergic diseases known to man and, for the first time, shows the promise of a "cure" for asthma, nasal and food allergies.
Further reading: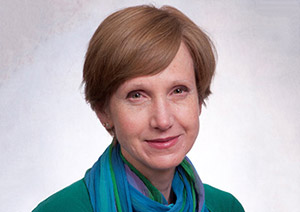 Extending the lives of people with cystic fibrosis
Dr. Christine Bear
Hospital for Sick Children (SickKids)
Our lab is focused on the study of cystic fibrosis (CF). Collaborating with clinical and basic science groups across SickKids and the University Health Network of Toronto, we are working to better understand the mutations in CFTR (the cystic fibrosis transmembrane conductance regulator, a protein that serves as a passageway that allows for the movement of salt and water in and out of organs, including the lungs) and the mechanism of action behind CF therapeutics. We are currently developing platforms for personalized medicine in CF. From CFTR protein in isolation to stem-cell derived cultures, our assays allow us to further enhance our understanding of the disease at the molecular level. We are also interested in examining secondary therapeutic targets, such as genetic modifiers that may affect CF disease. Using these tools, we can move closer towards the development of patient-specific therapeutics that may one day be employed as viable CF treatments.
Further reading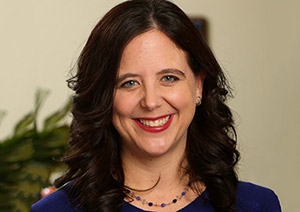 #ItDoesn'tHaveToHurt
Dr. Christine Chambers
Dalhousie University
All children have pain and parents are generally unaware of how they can help. Despite the fact that Canada is a world leader in children's pain research, many children do not receive the pain care they deserve. Dr. Christine Chambers and her research team are working with parents to improve pain management for Canadian children and their families. They have developed an innovative science-media partnership with Erica Ehm's YummyMummyClub.ca (YMC) that allows them to reach and engage with over 6 million Canadian parents per month about research on children's pain management in a social media initiative called #ItDoesntHaveToHurt. Capitalizing on YMC's expertise in creating compelling, integrated, multi-platform digital content and their network of parent influencers, #ItDoesntHaveToHurt engages parents and shares content about children's pain through blog posts, YouTube videos, Twitter parties, Facebook polls, and Instagram images. Over the last year, #ItDoesntHaveToHurt generated >130 million content views worldwide and, on several occasions, became a trending topic on social media.
Further reading:
Date modified: