In Memoriam: Dr. Frank Plummer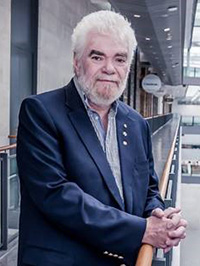 Photo courtesy of: Brooke Wedlock for the University of Manitoba
The Canadian Institutes of Health Research (CIHR) is saddened to learn of the passing of Dr. Frank Plummer.
Dr. Plummer was the former Scientific Director of Canada's National Microbiology Laboratory, where he helped lead the response to the SARS, influenza, and H1N1 epidemics, as well as the development of the Ebola vaccine that was used in response to the outbreak in West Africa.
In addition to those significant accomplishments, Dr. Plummer will also be remembered for his ground-breaking HIV research in Kenya, where he discovered a subset of women who had a natural immunity to the disease. His discovery provided a path to the development of the HIV vaccine and drugs, which have saved countless lives and improved quality of life for people living with HIV. In addition, his research profoundly shaped HIV public health policy in Canada and throughout the world.
In recognition of his contributions to science and medicine, Dr. Plummer was named an Officer of the Order of Canada, in 2006, and received the Flavelle Medal from the Royal Society of Canada, in 2018.
On behalf of all of us at CIHR, we offer our sincere condolences to Dr. Plummer's family, friends, and colleagues.
Date modified: