Dr. Eric Racine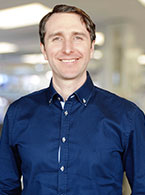 Affiliation
Director of the Pragmatic Health Ethics Research Unit and
Full Research Professor at the IRCM (Institut de recherches cliniques de Montréal)
Committee membership
Standing Committee on Ethics
Biography
Dr. Eric Racine is the Director of the Pragmatic Health Ethics Research Unit and Full Research Professor at the IRCM (Institut de recherches cliniques de Montréal). He also holds other academic appointments at the University of Montreal (Medicine, Bioethics) and McGill University (Neurology and Neurosurgery, Biomedical Ethics). He completed his undergraduate studies at the University of Ottawa (philosophy and political science, summa cum laude), followed by a master's degree in philosophy and a doctorate in applied human sciences (bioethics option) at the Université de Montréal. His postdoctoral training was realized at the Stanford Center for Biomedical Ethics. Inspired by philosophical pragmatism, his research aims to bring to the forefront the lived experience of ethically problematic situations by patients and stakeholders and then to resolve them collaboratively through deliberative and evidence-informed processes.
Dr. Racine is pioneering the development of pragmatic health ethics theory, methodology, and practice in areas such as transition care for youth with chronic health conditions, the development of the artificial pancreas, and decision-making for people with substance use disorders. He is a prolific author of books, peer reviewed papers, chapters, and columns published in leading bioethics, basic science, social science, and medical journals. He has delivered 165+ talks and guest lectures to researchers, policy-makers, the general public, and public officials in over 20 countries and his research unit is a hub for the training of international fellows and graduate students, public conferences as well as specialized workshops and seminars. He is a recipient of the Marcel-Piché Prize and a Research Scholars emeritus award of the Fonds de recherche du Québec – Santé (FRQ-S). His students have won a great number of prestigious prizes and competitive awards.
Dr. Eric Racine has served as a member of the advisory board of the Institute for Neurosciences, Mental Health and Addiction of the Canadian Institutes of Health Research and is currently a board member of the FRQ-S as well as its Ethics and Scientific Integrity Committee. He is also a board member of the Quebec Network for Suicide, Mood Disorders and Related Disorders and of the International Neuroethics Society. Dr. Racine has been a visiting fellow at the Brocher Foundation in Geneva (Switzerland), the International Institute of Biomedical Ethics at Uppsala University (Sweden), and the Center for Advanced Studies at the University of Munich (Germany). His research is supported by grants and awards from notably the Canadian Institutes of Health Research, Fonds de recherche du Québec – Santé, and the Social Sciences and Humanities Research Council of Canada.
Date modified: