Fighting Ebola through use of data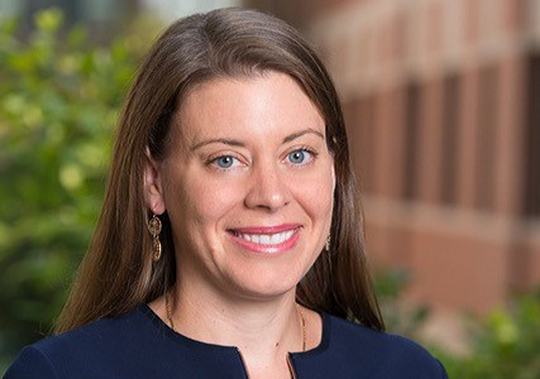 December 3, 2019
Since August 2018, Ebola has infected over 3,000 residents in the Democratic Republic of Congo (DRC) and claimed over 2,000 lives. According to the World Health Organization, when surviving residents were asked why they did not seek medical help at clinics, many responded that there was a lack of information regarding the impact of the disease, as well as a feeling of fear related to the treatment.
Through the Rapid Research Fund for Ebola Virus Disease Outbreaks, CIHR, the Social Sciences and Humanities Research Council, and the International Development Research Centre are supporting Dr. Karen Grépin, from Wilfrid Laurier University, and her efforts to determine why some residents choose to not access health services during Ebola outbreaks.
"When the 2015 Ebola outbreak occurred in Liberia, we learned that many people stopped going to clinics for regular health services during that outbreak," said Dr. Grépin. "Sadly, many people died because their preventable conditions were not treated."
In 2018, Dr. Grépin's international interdisciplinary research team once again examined how many people sought health services at clinics when two Ebola outbreaks occurred in the DRC's Équateur and Kivu provinces.
"During the outbreak in Équateur, we analyzed information that is recorded in the DRC's Health Management Information system – data that is often dismissed by researchers because it can be missing points when it's digitized," noted Dr. Grépin. "We also gained qualitative data by having a team of researchers interview health workers, health system planners, and others who are involved during these crises. Importantly, we asked them about their patient data needs during such outbreaks and what they thought was missing."
Dr. Grépin discovered that when the DRC government introduced a free health care policy in affected and neighboring areas of Équateur during the Ebola outbreak, the use of health services increased.
"We were surprised to see that the use of health services by residents nearly doubled compared to pre-Ebola outbreak trends," said Dr. Grépin. "As a result, since the most recent Ebola outbreak started in North Kivu and surrounding areas in 2018, we have been examining the impact of that government policy on those residents as well."
It is expected that Dr. Grépin's research will demonstrate how administrative data can allow DRC government officials to tally the number of patients who visit clinics for cases involving everything from malaria to child delivery. This would likely help the DRC (as well as other countries) to determine whether new policies and practices could benefit the health of residents during emergency situations.
Dr. Steven J. Hoffman, Scientific Director of the CIHR Institute of Population and Public Health, stressed the importance of outbreak response research and international research teams that work across disciplines, in the fight against Ebola and other infectious diseases.
"Understanding how outbreaks affect the wider health system is key to improving response efforts," said Dr. Hoffman. "Dr. Grépin's project, which involves a Canadian-Congolese research team, is helping us develop an understanding of how routine health information can improve response efforts to the current Ebola crisis. It will also help international practitioners and policymakers improve health systems and develop response plans for residents when facing global health threats. That is tremendous progress."
Date modified: