Trainees in Canada are Building Awareness of SGBA in Health Research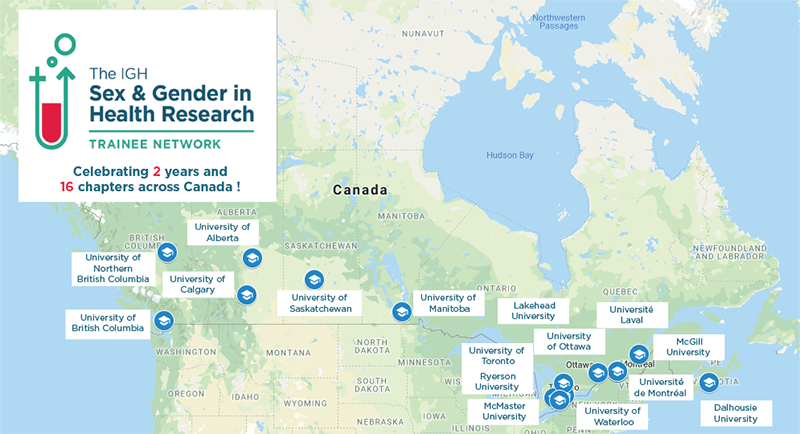 Long description

The IGH Sex and Gender in Health Research Trainee Network is Celebrating 2 years and 16 chapters across Canada! This image shows a map of Canada with the 16 chapters:

University of British Columbia
University of Northern British Columbia
University of Calgary
University of Alberta
University of Saskatchewan
University of Manitoba
McMaster University
University of Waterloo
University of Toronto
Ryerson University
Lakehead University
University of Ottawa
Université de Montréal
McGill University
Université Laval
Dalhousie University
In June 2016, three PhD students studying in different parts of the country found common ground when listening to a presentation from the CIHR Institute of Gender and Health (IGH) Assistant Director. While also pursuing three very different subjects (health informatics, pathobiology and nursing), the concept of sex- and gender-based analysis (SGBA) all struck a chord for their areas of research. Together, Carla Hilario, Janessa Griffith and Michael Sugiyama, were inspired to spread the word among other trainees about the benefits of incorporating sex and gender considerations into research.
Carla, Janessa and Michael put together a survey and asked other trainees in their Departments what they were looking for in a network. In May 2017, when IGH hosted the annual Organization for the Study of Sex Differences (OSSD) Conference in Montréal, trainees from across Canada came together and launched the IGH Sex and Gender in Health Research Trainee Network. It became the only pan-Canadian Network dedicated to increasing awareness, knowledge and research capacity in SGBA among health research trainees.
Now, over two years since the official launch of the Network, it has grown to include chapters at 16 academic institutions across Canada. Each chapter has a trainee lead and a senior mentor who can provide guidance in SGBA. Trainees communicate through email, Twitter and Facebook, in addition to trainee leads meeting virtually three times a year to share updates from their chapters. With assistance from IGH, Master's, PhD and Postdoctoral trainees, host meet-ups throughout the year. They invite Sex and Gender Champions to speak with students; they organize journal clubs, facilitate webinars and collaborate on research publications.
Through the network activities, the next generation of leaders in health research have proven themselves to be creative, energetic, forward thinking and ready to delve into emerging methods of research, including SGBA. Join us to celebrate 2 years of trainee leadership in SGBA by participating in a webinar on November 12 at 3-4pm EDT. A French webinar will follow from 4-5pm EDT. The webinar will provide an opportunity to learn more about the Network, the basics of SGBA and hear from trainees about recent activities they have pursued within the Network. Register now to attend the webinar or check out our website to learn more about the IGH Trainee Network.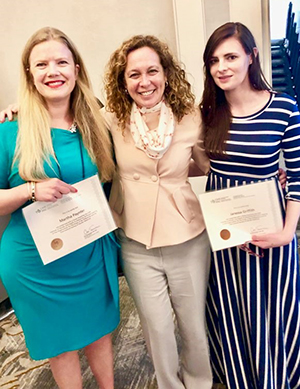 "The trainees involved in the Network continually step outside the boundaries of traditional learning environments to build safe, open spaces for discussion about sex and gender science. My thanks go out to these trainees and their mentors for putting Canada on the map as tomorrow's leaders in this field!"
"The CIHR-IGH trainee network has given me the opportunity to meet like-minded young scientists who appreciate the importance of studying sex and gender in generating high quality health research that is equally applicable to all Canadians."
Date modified: