Creating healthy cities
Canadian researchers pitch their ideas to a Dragons' Den-style panel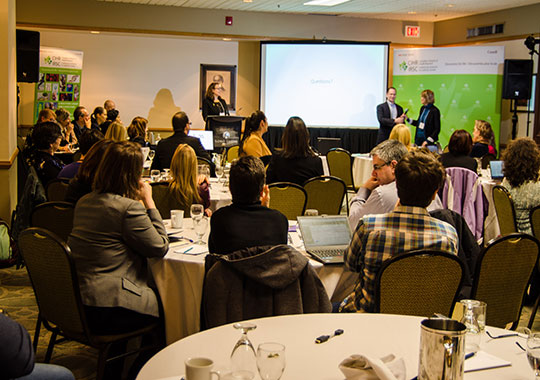 January 24, 2019
One of the biggest challenges often faced by researchers is implementing their findings in real-world settings.
In an effort to address this issue and advance science at the implementation stage, the CIHR Institute of Population and Public Health (CIHR-IPPH) devised a new and innovative way to support research in the area of healthy living environments.
With the UN estimating that 68% of the world's population will be living in cities by 2050, it is important to ensure that the urban environments where we live and work are safe and healthy. At the same time, it is also essential that we advance the interdisciplinary research that best implements these new ideas.
"Cities have the potential to improve health," said Dr. Steven J. Hoffman, Scientific Director of CIHR-IPPH. "However, in order to achieve positive health outcomes, we need researchers to help us identify not just whether an intervention will work, but also in what contexts – for whom, how, and why."
As part of its Healthy Cities Research Initiative, CIHR hosted the first Healthy Cities Ideas Pitch event from December 3-4, 2018, in Ottawa. This was a Dragons' Den-style event where six judges, representing leaders and implementation science partners from various sectors, assessed the city-transforming ideas of 15 research teams that were previously funded by CIHR. The top three teams will each receive a $100,000 catalyst grant to further support the development of their ideas.
Each team was given five minutes to describe their work and pitch an intervention that could be implemented to improve health and health equity in cities across Canada. The pitches were followed by 20 minutes of questions from judges (the "dragons"), as well as from audience members.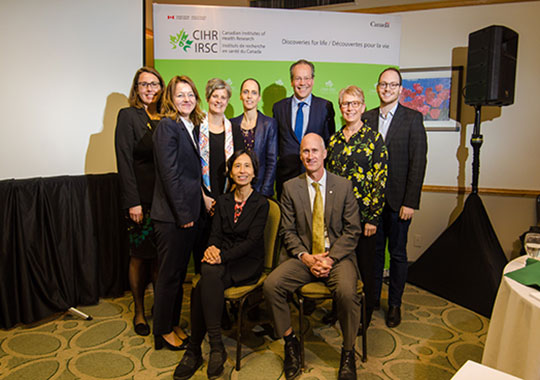 This event offered a new way to assess and review research, with recommendations from the judges representing 50% of the final decisions, and the remaining 50% determined through CIHR's regular peer-review process.
The Healthy Cities Ideas Pitch was well-received by attendees and its innovative format challenged the ways that researchers typically present their work.
"I think forcing academics to get their message across in five minutes is a challenge," said Dr. Patricia Collins, a participant from Queen's University. "And I think it's one that we all need to work on. We're thinking not so much about the nitty gritty details, but rather, what does this actually mean? How is this going to help us?"
The diverse panel of judges ­– chaired by Dr. Olimpia Pantelimon, Senior Planning Advisor for Alberta Municipal Affairs, Government of Alberta ­– brought a wealth of expertise from both the public and private sectors, and was able to pose practical questions that the researchers may not have considered.
"My role as the only elected official on the panel is to look at the implementation side of things – and to bring a reality check," said Lisa Helps, Mayor of Victoria. "I also have an academic background, so it's very helpful to bridge worlds like this. It was very good of CIHR to invite a mayor!"
"I think the diversity of the judges is important," said Dr. Theresa Tam, Canada's Chief Public Health Officer. "So I'm very happy to bring the public health policy angle to this analysis."
The event was also designed as a networking opportunity for the CIHR-funded teams, providing plenty of free time to connect with fellow researchers as well as with policymakers in the areas of health, housing, transportation, infrastructure, and urban planning.
"This event provided a great opportunity to hear others' ideas," said Dr. Yan Kestens, a researcher from the University of Montreal. "Learning about what others are doing in this field – and with a little more detail than merely reading their abstract on the CIHR funding page – gives us a better sense of the scope of their projects, and also provides us with the opportunity to eventually collaborate together."
Given the positive response, it is expected that CIHR may host similar events in the future. The winners of the Healthy Cities Ideas Pitch will be announced in January 2019.
Date modified: