#ItDoesntHaveToHurt: Making a difference for children
Science-media partnership harnesses social media to connect with parents and mobilize evidence on children's pain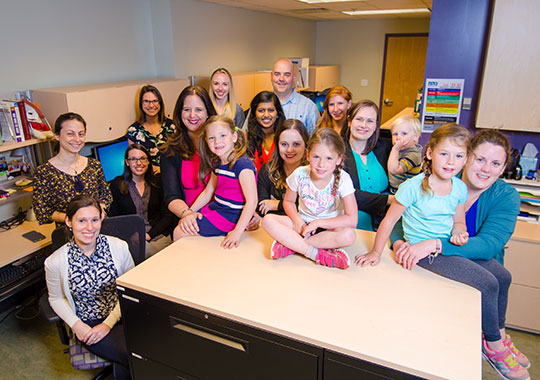 November 19, 2018
No parent wants to see their child in pain.
Whether it's a broken arm, an operation, or the prick of a needle, dealing with pain can be stressful for parents who want to do whatever they can to ease their child's discomfort.
But often parents don't know how to comfort their child and sometimes what feels like the natural thing to do can make things worse.
Dr. Christine Chambers has more than two decades of experience as a researcher working in the field of children's pain. It was only when she became a mom did she realize that her children weren't always receiving evidence-based pain care.
So, five years ago, Christine, who's a clinical psychologist and professor at Dalhousie University and the IWK Health Centre in Halifax, and the mother of four children, aged 7 to 12, decided to do something about closing the gap between research and patient care.
Christine and her team created a short YouTube video to give parents strategies to manage the pain when their child receives a vaccination. Despite the fact that proven strategies exist, only 5% of children receive any type of pain relief for common needle procedures.
The video told parents not to say things like, "It will be okay" or "It will be over soon", which can make a child feel worse. Instead, parents are advised to use topical anesthetics to numb the skin before the needle, to distract the child with games or by singing songs, and to blow bubbles to encourage the child to take deep breaths.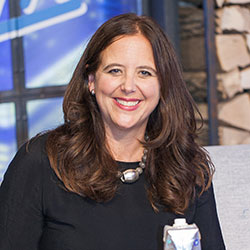 Once the video was finished, Christine wanted to find a fast and efficient way to get the information into the hands of the people who needed it. As a mom herself, she quickly realized that most parents look for guidance online and that child-related health information on parenting blogs and websites is often not evidence-based.
"There are limits to how many people I can reach on my own," she says, so she started to look for partners who could help her bring the information to a wider audience.
Dr. Chambers reached out to Erica Ehm, the CEO of digital marketing agency Ehm & Co., the parent company of YMC.ca, through Twitter. YMC.ca is Canada's largest independently owned digital platform for moms. It soon became clear that the YMC.ca audience was exactly the one that Christine wanted to reach, and a partnership was born.
With a grant from the Canadian Institutes of Health Research (CIHR), Christine and Erica embarked on an innovative partnership that combined evidence-based information about managing children's pain with the savvy writing skills of YMC's content creators to create the initiative "#ItDoesntHaveToHurt".
The initiative connected internationally recognized researchers with communication experts and a group of parent partners. The researchers provided the knowledge, and the YMC content creators turned that knowledge into compelling, easy-to-follow blog posts and videos on their website. In addition, the initiative included Twitter parties, Instagram images, and Facebook polls to engage parents and share evidence-based information.
"Sometimes it takes a visionary like Christine to put the pieces together," says Erica. "She's very passionate, thinks outside the box, and is open to connecting with people to share the story.  
Isabel Jordan, Chair of the Board of Directors for the Rare Disease Foundation and mom to two kids, is a parent partner. One of her children has a rare disease and must cope with both chronic pain and the pain that comes with medical procedures. 
"As a parent, I had trouble finding information to make it better," says Isabel. She was happy to see the collaboration between researchers and parents. "There is tremendous power in going to the community that needs the information and asking them what they want and how they want to receive it."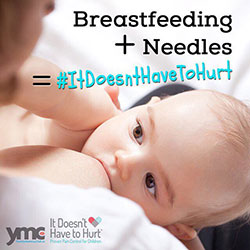 The initiative has become a viral sensation on social media and has received national and international media coverage, including stories in the Globe and Mail and the New York Times.
The content created has travelled the globe and has met with an enthusiastic response by parents. The original YouTube video now has over 230,000 views. Survey data shows a significant increase in parent awareness and adoption of the practices. For instance, the number of parents using topical anesthetic cream grew from 18% to 63% after watching the YouTube video. In the larger #ItDoesntHaveToHurt initiative, a 12-month period of digital content generated over 130 million views.
The initiative has won several major awards, including the American Pain Society's Jeffrey Lawson Award for Advocacy in Children's Pain Relief, the Canadian Pain Society & Canadian Pain Coalition's Pain Awareness Award, and the 2018 Merck Patients First Award for Excellence and Innovation in Patient-Centred Care. Another video Easing Your Baby's Pain won first prize in the 2016 IHDCYH Talks video competition.
These days Christine finds herself making presentations to other researchers on her innovative approach to knowledge translation. In September she delivered a keynote presentation at the 2018 World Congress on Pain in Boston, the largest and most prestigious global meeting on pain research, treatment and education.
Christine and her team are also seeking feedback from parents on their resources through surveys and interviews. "We've learned that there isn't just a science to effective knowledge translation, there's an art to it too, and so much of it is based on relationship building and influencer engagement," she says.
"We've also learned just how hard it is to evaluate impact of KT interventions like this in traditional ways." These finding have changed her perspective on data, research and evaluation.
Reflecting on huge of work that was involved in creating and sustaining the initiative, Christine says that health researchers must be realistic about what they accomplish on their own. They need partnerships with organizations in different sectors and partnerships need to be developed early on. ItDoesntHaveToHurt is a great example how partnerships can be developed with industry (i.e., YummyMummyClub.ca), non-government organizations, and patient groups.
Beyond the research metrics, Christine finds it gratifying when she meets people at a meeting or social occasion who when they find out she studies child pain management ask if she's heard of "It Doesn't Have To Hurt." To which she just smiles in acknowledgement.
Above all, she finds it most gratifying when she hears from parents about how resources have helped them and their children. To her that's a sign that the messages have been received and acted on – and that her team's science is making a difference in the real world.
That's what really counts.
Date modified: