Drs. Charu Kaushic and Steven J. Hoffman on antimicrobial research in light of World Antibiotic Awareness Week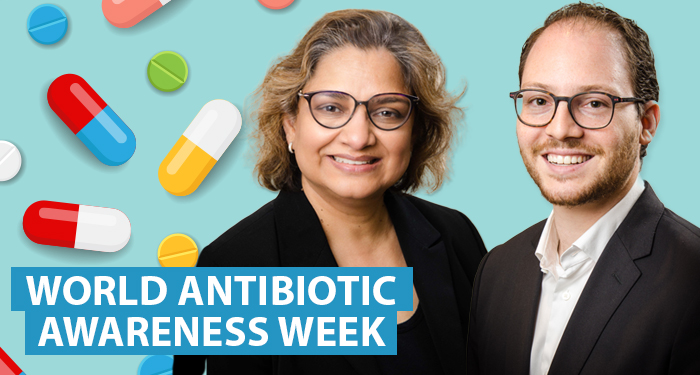 Dr. Charu Kaushic, Scientific Director, CIHR Institute of Infection and Immunity and Dr. Steven J. Hoffman, Scientific Director, CIHR Institute of Population & Public Health
November 12-18 is World Antibiotic Awareness Week 2018. CIHR joins this global campaign aimed at encouraging the responsible use of antibiotics.
To mark World Antibiotic Awareness Week, we asked CIHR Scientific Directors – Drs. Charu Kaushic and Steven J. Hoffman – to explain the importance of supporting innovation and research in the fight against antimicrobial resistance (AMR), and highlight CIHR's AMR related activities.
Why is World Antibiotic Awareness Week important to Canadians?
Dr. Kaushic: World Antibiotic Awareness Week aims to increase our awareness that overuse or misuse of antibiotics puts us all at risk. Taking antibiotics when it is unnecessary can accelerate the spread of AMR, which occurs when micro-organisms like bacteria and viruses evolve so that treatments become less effective, or sometimes stop working altogether. The impacts of AMR in both people and animals are enormous on their health and the healthcare system. For example, when someone becomes infected with antibiotic resistant bacteria, they may require extended hospital stays, more follow-up doctor visits, and expensive care and if treatment is not successful, ultimately it may lead to death. The threat is so serious that in 2015, WHO endorsed a global action plan to tackle antimicrobial resistance.
Dr. Hoffman: According to one estimate, by 2050, AMR could be responsible for 10 million annual deaths worldwide, overtaking diabetes and cancer combined.Footnote 1 CIHR recognizes that AMR is a growing public health issue and a threat to the prevention and control of infectious diseases. That's why we need the most innovative research to tackle this problem and ensure people will be able to count on continued effectiveness of life-saving antibiotics when they are needed.
What is CIHR doing to fight AMR?
Dr. Kaushic: CIHR is working with national and international stakeholders to coordinate research efforts to achieve long-term reductions of AMR. Over the last five years, we have invested over $107 million in AMR research. This research aims to address different aspects of this global health issue and offers solutions to tackle it, such as understanding the mechanisms of resistance, discovery and design of new antimicrobials, vaccine development, diagnostics, surveillance and alternative therapies. CIHR recently announced a $2.025M funding opportunity towards improving the rational use of antibiotics and improve clinical management of infections through clinically relevant Point-Of-Care Diagnostics technologies.  Furthermore, Canada is playing a key role in the AMR Research landscape through the Joint Programming Initiative on Antimicrobial Resistance (JPIAMR), a collaboration of 28 countries. CIHR is also leading the development of the JPIAMR Virtual Research Institution, a network of networks that supports an unprecedented level of knowledge exchange, research coordination, and sharing of resources to expedite progress towards reducing the global burden of AMR. To date, CIHR has participated in seven international joint calls, one of which was recently awarded $3.2M towards better understanding of prevention, control and intervention strategies for AMR infections. Under the JPIAMR consortium, CIHR has invested a total of $13.6 million to fund the Canadian component of over 20 multinational research teams.   
Dr. Hoffman: Domestically, CIHR continues to work with partners to implement the Federal Framework on AMR, which includes surveillance, stewardship, and innovation – where CIHR has a lead role. In addition, the Pan-Canadian Framework on AMR launched in September 2017, outlines a coordinated effort to fight AMR from all levels of government and across sectors, including public health, healthcare, animal health, agriculture, industry, and academia. Earlier this year, the Minister of Health announced an investment of $300,000 to support research on the global governance of AMR and related infectious diseases. These CIHR-funded projects foster collaboration across the range of social sciences currently studying the arrangements, systems and institutions working to prevent, detect and manage AMR, so that key players in Canada and internationally can be better connected and work together collaboratively to tackle this important health threat. We have since announced a funding opportunity to create a CIHR Network for Global Governance Research on Infectious Diseases – letters of intent are currently in peer-review.
How can Canadians support AMR research efforts and make a difference?
Dr. Kaushic: We encourage Canadians to learn more about the serious issue of AMR by reading about this topic on WHO and Government of Canada websites.  Everyone can be part of the solution and help provide evidence to policy makers and health professionals, so that Canada is a global leader on the right use of antibiotics in healthcare settings. We encourage Canadians to share CIHR research widely with their networks to improve people's knowledge of AMR prevention, the latest discoveries, and alternatives to antibiotics. In coming months, CIHR-III will be highlighting new research and our investments in AMR research; we therefore invite you to follow us by subscribing to our mailing list.
Dr. Hoffman: If we truly want to address AMR, Canadians have to recognize the One Health approach: that we are connected to the health of animals and the environment. Because many of the same microbes infect animals and humans who share the same ecosystems, we have to look at all sectors to mitigate AMR. There are many challenges associated with AMR and the best advice I can give is to seek advice from qualified health professionals before taking antibiotics. Personally, I only eat meat that was raised without antibiotics – which is something Canadians can consider. Ultimately addressing AMR depends on more knowledge about this phenomenon and ways of mitigating it. We, at CIHR, are working hard to do our part on behalf of Canadians and people around the world.
Date modified: