On the path to a cure
Message from Dr. Stephen Robbins
Innovative therapies and new collaborations have made it an exciting time to be a cancer researcher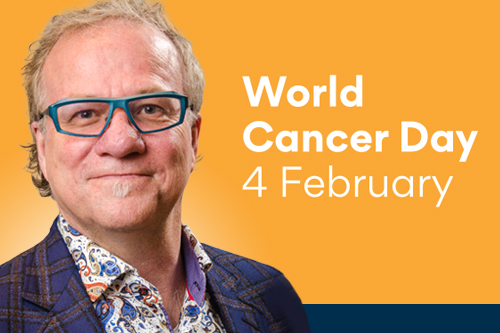 "Early detection of cancer saves lives! When most cancers are diagnosed at early stage (I and II) 80% of patients survive for at least 10 years whereas survival rates decrease to approximately 25% when diagnosed at later stages (III and IV)."
Around 30 years ago, researchers began to explore whether they could harness the power of our own immune systems to fight cancer, and early studies in this area suggested that it might indeed be possible. 
For many years thereafter, researchers tried unsuccessfully to make it work, until they discovered that cancer cells put up a screen – a barricade that effectively prevents immune cells from finding the cancer cells.
"It almost makes them invisible – it's like a cloak, if you will," said Dr. Stephen Robbins, Scientific Director of the CIHR Institute of Cancer Research. "So in order to get the immune therapies to work, you must first remove the cloak. This allows your immune system to see the cancer cells, recognize them as foreign, and determine that 'This shouldn't be in my body anymore – let's get rid of it!'"
It is this challenge that has now captivated the interest of cancer researchers around the world. Specifically, they are investigating how to remove the shield and, once it is removed, how to make the body's T-cells (blood cells that play a central roll in immunity) kill the cancer cells.
"These immune therapies have really revolutionized the way we think about cancer patient outcomes," noted Dr. Robbins. "We're now seeing some patients staying cancer-free, when in the past, these same patients would have been considered to be in the late stages of their disease. So that's really exciting!"
In addition to these promising results, using these innovative therapies also provides the advantage of making the body immune to cancer. So if a patient has a recurrence of the cancer, the immune cells will again recognize the intruder and eliminate the disease.
"Another major achievement – and one in which Canadian researchers are at the forefront – has been the discovery that there are some common viruses (oncolytic viruses) that have the capacity to kill cancer cells," added Dr. Robbins. "Now we have the immune therapies and the oncolytic therapies coming together and showing great promise. I've often remarked that Canada has some of the top cancer researchers and some of the top researchers working on the basic science of immunology, so this is a great example of how areas of strength are now coming together to address the complex problem of cancer."
"Unfortunately, not all patients respond to these therapies and there remains work to be done to transform this promising innovation into a universal cure. So the major question that drives us in the research community is: how do we get to the point where all of our patients are responding to these therapies? That's exactly what people are working on right now."
While cancer remains a significant health threat, the advances in cancer research – in Canada and throughout the world – provide hope that we will one day find a cure. "Canada has a history of producing stars in the field of cancer research," said Dr. Robbins. "From John Dick, to John Bell, to Tak Mak, to Pam Ohashi, and many more. Canadians are making some amazing contributions to this field and it's considered a real strength in Canada. It makes me very optimistic about the future!"
Date modified: