INMD Connections - June 2018
Inside this issue
---
Message from Norman Rosenblum, INMD Scientific Director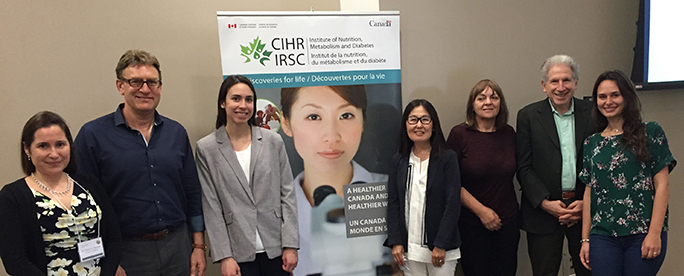 Canadian Lipoprotein Conference
Congratulations to Robin Duncan (Univ. Waterloo) and Marica Bakovic (Univ. Guelph), organizers of the 43rd Annual Canadian Lipoprotein Conference (CLC), held in Toronto June 7-10, 2018. The annual CLC brings together basic and clinician scientists from Canadian research institutions to present their recent, unpublished findings in the field of lipid and lipoprotein metabolism. INMD was pleased to provide support for a symposium entitled, Dyslipidemia and the Treatment of Insulin Resistance, featuring Dr. Gary Lewis (University Health Network, Toronto General Hospital Research Institute) and Dr. Minna Woo, Canada Research Chair in Signal Transduction in Diabetes Pathogenesis (University Health Network, Univ. Toronto) who presented the Physician Scientist Award Lectureship. This session also featured trainees Lais Perazza (Laval Univ.) and Nadya Morrow (Western Univ.). Also of note, Dr. Edward A. Fisher, MD, MPH, PhD, Leon H. Charney Professor of Cardiovascular Medicine, Professor, Departments of Medicine, Pediatrics and Cell Biology, NYU School of Medicine, presented the 2018 Rubenstein Lectureship. Congratulations to all!
Canadian Microbiome Initiative 2 (CMI2) Research Core Strengthening Workshop
On June 6-7, 2018, CIHR held the Canadian Microbiome Initiative 2 (CMI2) Research Core Strengthening Workshop in Montreal. The purpose of this workshop was to bring letter of intent applicants and potential partners together to facilitate partnerships and the development of the best possible CMI2 Research Core. Dr. Rob Knight (Univ. California, San Diego) provided an inspiring keynote on the Future of Microbiome Research and Dr. Lita Proctor, Program Director of the Human Microbiome Project at the U.S. National Institutes of Health, provided an international perspective on the field of microbiome research. Research leaders of large, related initiatives, Drs. Paul Moayyedi (McMaster Univ.), Padmaja Subbarao (Sick Kids), and Alain Stintzi (Ottawa Univ.) provided perspectives on the value-add of a Canadian Microbiome Research Core. Dr. Catharine Whiteside (Diabetes Action Canada) and Mr. David Hartell (Canadian National Transplant Research Program) provided insights on strategies for building successful partnerships, the importance of creating a business plan for sustainability, and knowledge translation. We were also delighted to hear perspectives from partners spanning across health charities, government research funders and industry. We wish to thank all those who attended and contributed to the success of this workshop!
Norman Rosenblum, MD, FRCPC
Scientific Director, CIHR-INMD
---
Researcher Profile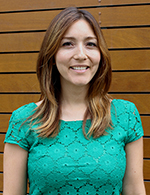 Rachel Murphy, PhD, University of British Columbia
2018 CIHR-INMD/Canadian Nutrition Society (CNS) New Investigator
Dr. Murphy holds a PhD in Nutrition and Metabolism from the University of Alberta. Following this she pursued a Post-Doctoral Fellowship in chronic disease epidemiology at the National Institute on Aging, National Institutes of Health supported by a CIHR Banting Fellowship. In 2014 she was a Scientific Leader at DSM Nutrition in NJ. She was recruited to the Centre of Excellence in Cancer Prevention, School of Population and Public Health, University of British Columbia in 2015 where she is an Assistant Professor. She is also an Affiliated Scientist at the BC Cancer Agency and an Associate Member in the Human Nutrition Program at UBC.
Dr. Murphy's research program aims to advance the understanding of relationships between diet, body weight and chronic disease, particularly cancer and translate findings into practice. Her research uses a population-based approach and innovative methodologies to study metabolic pathways underlying relationships. Her work has been recognized by the Canadian Cancer Society Research Institute Career Development Awards in 2016, which supports researchers whose work has the potential for high impact, as well as a 2018 CIHR-INMD/CNS New Investigator Award. Congratulations, Rachel!
---
CIHR Pre-Announcements / Funding Opportunities
Pre-Announcement: Canadian Microbiome Initiative 2 (CMI2) Research Teams
INMD, and the Institutes of Genetics, Infection and Immunity, and Gender and Health, in collaboration with the Institutes of Aging, Cancer Research, Human Development, Child and Youth Health and Neurosciences, Mental Health and Addiction, are pleased to announce the upcoming launch of the Research Teams as part of the CMI2. The anticipated launch date of this funding opportunity is Summer 2018.
Pre-Announcement: Human Immunology Research Teams
INMD, in collaboration with the Institutes of Infection and Immunity, Gender and Health, and Musculoskeletal Health and Arthritis are pleased to pre-announce the launch of the Human Immunology Research Teams. The aim of the Research Teams is to improve knowledge on the human immune system, as it relates to autoimmune disease and sex-related mechanisms to better understand health and disease, and to develop novel therapies against autoimmune diseases.
Food Security and Climate Change in the Canadian North Initiative
CIHR is pleased to pre-announce the launch of Development and Engagement Grants and Team Grants in Food Security and Climate Change in the Canadian North. Please visit the CIHR website for more details.
Global Alliance for Chronic Diseases
CIHR and IDRC, in partnership with members of the Global Alliance for Chronic Diseases (GACD), are announcing the launch of a call focused on scaling-up evidence-based interventions at the population level for the prevention or detection and management of hypertension and/or diabetes in low- and middle-income countries and/or in vulnerable populations in high income countries. Details are available on the GACD website and ResearchNet.
Team Grant: Pathways Implementation Research Teams – Component 3
The Pathways Implementation Research Teams Component 3 Funding Opportunity supports the overall goal of the Pathways to Health Equity for Aboriginal Peoples (Pathways) Initiative, which is to develop a better understanding of how to design and implement equitable reach, access and sustainability of population health interventions that will improve Indigenous health and health equity. For more information, visit ResearchNet.
---
Update on Ethics at CIHR
CIHR is pleased to release the second Ethics Performance Measurement Report (April 2016 – March 2017). Framed by CIHR's Ethics Action Plan, the report details CIHR's performance against the metrics set out in the Ethics Performance Measurement Strategy. Please visit the CIHR website to read the report to learn more about CIHR's ongoing efforts to meet its commitments under the Ethics Action Plan.
---
Feedback on the INMD Newsletter
INMD welcomes researchers, partners and other stakeholders to share news stories that relate to areas of our mandate. If you have interesting research results or developments, are organizing a conference or workshop, or wish to report on a past event, we would like to feature them in our newsletter or other communication materials.
Have a comment? Please share it with us! You can also write to subscribe or unsubscribe to our Newsletter. Simply send us an
e-mail at: inmd.comms@sickkids.ca
---
Date modified: