Clinician-Investigator Teams in Obstetrics and Maternal-Fetal Medicine
The Clinician-Investigator Teams in Obstetrics and Maternal-Fetal Medicine is providing practicing clinicians who have limited protected time to undertake research, with the resources they need to establish teams to increase their capacity to do research. The Society of Obstetricians and Gynaecologists of Canada (SOGC) is a knowledge translation and networking partner on this research initiative.
The five funded research teams cover a broad cross-section of research within the maternal-fetal medicine spectrum, each of which are addressing the following specific objectives:
Support a new generation of clinicians in obstetrics and maternal-fetal medicine to conduct  research using a team-based and collaborative model;
Create a research environment for clinicians in obstetrics and maternal-fetal medicine that supports collaboration and partnership among clinicians, researchers, and support staff with complementary expertise;
Stimulate innovative ways to support practicing clinicians in obstetrics and maternal-fetal medicine to  undertake research through local and national collaborations with other teams and their partners;
Establish a strong mentorship model that will support the development of the current and future generations of researchers in obstetrics and maternal-fetal medicine;
Advance research and knowledge in obstetrics and maternal-fetal medicine; and
Enable clinicians in obstetrics and maternal-fetal medicine to access the support and develop the track record that will allow them to leverage additional funds from other sources.
Read full list of awardees and their project abstracts.
---
DOH-Net: The Diabetes, Obesity and Hypertension in Pregnancy Research Network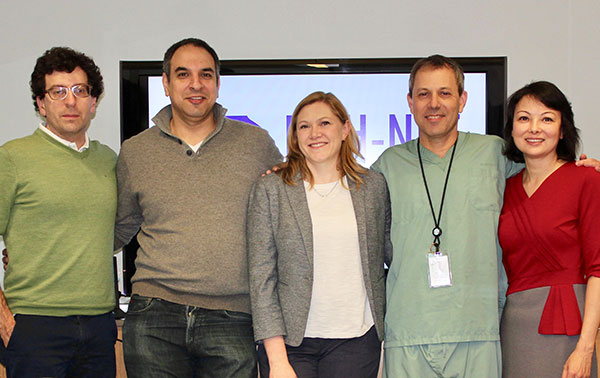 Drs. Howard Berger, Nir Melamed, and Beth Murray-Davis, St. Michael's Hospital, Toronto, ON, Sunnybrook Research Institute, Toronto, ON and McMaster University, Hamilton, ON
The rising incidence of non-communicable diseases, especially diabetes mellitus, obesity and hypertension (DOH), is one of the greatest challenges to global health. The unique aspect of DOH in pregnancy is its impact on short- and long-term maternal and infant health. Unfortunately, there is a paucity of information regarding the optimal management of pregnancies complicated by DOH.
The Diabetes, Obesity and Hypertension in Pregnancy Research Network (DOH-Net) is multi-disciplinary research program of obstetrical, midwifery and maternal-fetal medicine specialists that aims to fill this gap by completing high-quality research, knowledge translation and standardization of care projects that focus on DOH in pregnancy.
Findings from our most recent studies include:
Within Ontario, more than 1 in 6 pregnancies are affected by obesity, and 1 in 100 pregnancies by pre-pregnancy diabetes or hypertension. Rising maternal age and parity are associated with a greater prevalence of DOH.
Combinations of DOH significantly magnify the risk of preterm birth, especially provider-initiated preterm birth, and preterm birth with altered fetal growth or preeclampsia.
Induction of labour at 38 or 39 weeks for women with chronic hypertension may prevent severe hypertensive complications without increasing the risk of cesarean delivery.
Induction of labour at 38 weeks for women with pre-existing diabetes is associated with a higher risk of NICU admission, jaundice requiring phototherapy and newborn hypoglycemia compared to expectant management.
More than half of women in Ontario gain weight in excess of what is recommended, regardless of whether they see a family doctor, midwife or obstetrician, and this is associated with abnormal fetal growth and cesarean delivery.
Women with twins are at increased risk of gestational diabetes mellitus (GDM). However, GDM in twins is not associated with the same hypertensive complications and certain neonatal morbidities that affect singleton pregnancies.
Website: Doh-net.ca
Twitter: @dryosefb, @BMurrayDavis, @DrSDMcDonald, @MacMidwifery, @StMikesHospital, @Sunnybrook
---
Montreal Emerging Research Team in Maternal Fetal Medicine (MERe)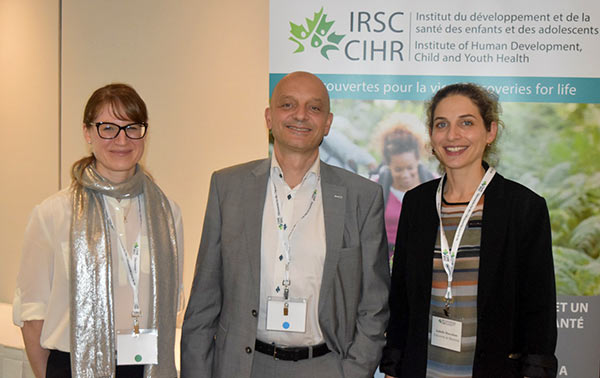 Drs. Isabelle Boucoiran, Ariane Godbout, Catherine Taillefer, and Sandrine Wavrant, Université de Montréal, Montréal, QC
We wish to enhance the capacity of the hospitals of the Université de Montréal (UdeM) network to offer help and hope to women and their future children, by improving health care services from conception to the neonatal period. Our overall objective is to develop an integrated research platform in order (1) to support the research projects of young maternal fetal medicine (MFM) clinicians; (2) to bring together young MFM clinicians and local fundamental research teams to develop research programs that can be rapidly integrated in the clinic; and 3) to build local/national collaborations and partnerships to rapidly transfer the knowledge developed at the provincial and national level.
---
Collaborative Obesity in Pregnancy Research Group: Supporting a Team to Investigate Placental Adaptations to Obesity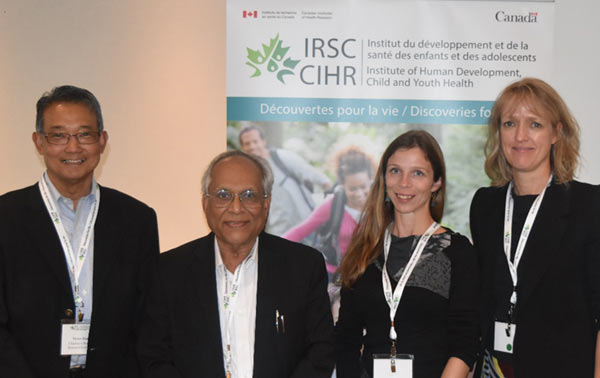 Drs. Barbra de Vrijer and Genevieve Eastabrook, University of Western Ontario, London, ON
In London Ontario, 45% of births are by overweight or obese mothers. This poses significant diagnostic challenges for obstetrical providers, especially when it comes to risk assessment and prevention of placenta-related diseases such as stillbirth, fetal growth restriction and preeclampsia. Through our Collaborative Obesity in Pregnancy Research Team we propose to develop new clinical tools to predict and diagnose obesity-related chronic inflammation, cardiovascular and metabolic stress that is believed to underlie these pregnancy complications.
Using novel technologies such as metabolomics, pulse wave analysis to assess vascular stiffness and MRI to investigate fetal adipose tissue development, our team is establishing a strong research line in cardiometabolic health in pregnancy.
Publications:
Website: Pregnancy Research Group
Twitter: @westernuPRG
---
Clinician Scientist Team on Prematurity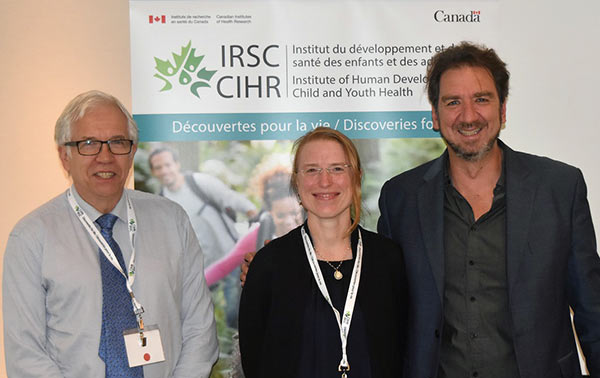 Drs. Jean Charles Pasquier, Haim Abenhaim, and Anne-Marie Côté, Université de Sherbrooke, Sherbrooke, QC
We want to better understand the causes of prematurity, and to offer tailored treatments to patients, to prevent preterm delivery and the sometimes serious consequences for the newborn. Our three main projects include: 1) a treatment approach (pessary and progesterone) to prevent premature labor, 2) evaluation of a urine test (podocin) to predict preeclampsia, and 3) validation of a method to better classify the different causes of preterm birth and assess their impact on the health of the newborn.
---
RIGHT CARE in the RIGHT PLACE at the RIGHT TIME: Maternity Care Provision in Women Who Conceive using Assisted Reproductive Technologies or are Obese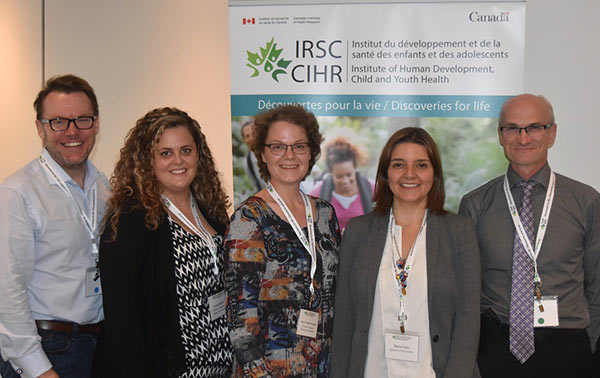 Drs. Laura Gaudet and Maria Vélez, Ottawa Hospital Research Institute, Ottawa, ON and Queen's University, Kingston, ON
Through our research we are aiming to identify knowledge and evidence gaps in maternity care for pregnant women who are obese or pregnant via assisted reproductive technologies (ART), to develop a care map and screening tools to triage these women to the most appropriate maternity care providers, and to evaluate the short, medium and long-term clinical and economic outcomes of using these screening tools.
There is not a lot of research in this area. We are excited about what we have been able to do thus far. We have completed four systematic reviews to determine the predictors of adverse pregnancy outcomes in obese pregnant women or women pregnant via ART, which has aided us in developing ideal care plans for low-risk and high-risk women. One of which is currently available at doi: 10.1186/s12978-019-0667-z. More details:  We currently are completing a Delphi consensus study to determine the 6 -10 most important risk factors predicting adverse pregnancy outcomes that will be used to develop a tool to triage women to the most appropriate maternity care provision model.  We look forward to testing the tool in a pilot randomized control trial in the next two years.
Website: http://omni.ohri.ca/
Twitter: @DrLauraGaudet
---
Date modified: