Statement from Dr. Carrie Bourassa – Aboriginal History Month & National Aboriginal Day
June 21, 2017
Transcript

As the new Scientific Director of the Institute of Aboriginal Peoples' Health, I am very proud and happy to be able to say Happy National Aboriginal Day.

Miigwetch
June is a month of celebration for Canadians.
It marks National Aboriginal History Month, a time when we celebrate the resilience of Aboriginal people in Canada, and recognize the many historical contributions that Indigenous people have made to building our nation. This month, we also come together to celebrate the rich and diverse cultures of the Indigenous peoples of Canada on June 21st, National Aboriginal Day.
In my role as Scientific Director of the Institute of Aboriginal Peoples' Health, I am eager to continue to highlight the work of our health researchers, both established and emerging.
Their many and varied achievements have become a source of great pride for all Canadians. Joined by their non-Indigenous counterparts, they are combining forces to build a bright future for all Canadians – together.
Traditionally, Indigenous health care was entrusted to a team of community healers including midwives, herbalists, and the all-important shaman, not unlike the multi-disciplinary health care teams of our times. Much of this rich body of knowledge survives to this day; knowledge that is enjoying a revival as we embrace the wisdom and benefits of Two-Eyed Seeing. The successful conveyance of hard-earned knowledge from one generation to the next was and remains a core Indigenous value.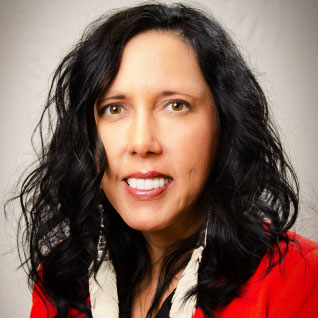 I am proud to be able to help continue this rich tradition through CIHR's support of New Investigators and build the capacity of Indigenous health researchers.
One small pebble can create a thousand ripples.
By pairing emerging Indigenous health researchers with more established researchers and partners, at the critical early stage of their independent academic careers, we are becoming catalysts for positive change. The ripples that we are creating today supporting young Indigenous investigators will be felt for years to come.
As we look back and acknowledge the tremendous contributions that Indigenous peoples have brought to Canada, I would encourage Canadians from coast-to-coast-to-coast to look to the horizon, for at CIHR, we believe that the best is yet to come.
Dr. Carrie Bourassa
Scientific Director
CIHR's Institute of Aboriginal Peoples' Health

Transcript

My spirit name is Morning Star Bear.

My English name would be Carrie Bourassa.

I am in this position of privilege where I serve communities and communities have the answers, believe me, they do.

But we are not really listening to them. 

And I think that in this new position as Scientific Director, it is my ethical responsibility, it is my ethical duty to create space for communities to have their voice heard.

Because I truly believe that we are going to close the gap in Indigenous health, a gap that hasn't changed in 150 years, where we are still dealing with extremely high infant mortality rates, and high suicide rates, and we could go on and on and on.

But we have incredible resilience, an incredible strength and assets in our communities and that is the space that I have to help to create here at IAPH.
Transcript

Hello, my name is Nadine Caron.

I am a physician and surgeon working up in northern British Columbia over in Western Canada.

I was the first female First Nations student to graduate from UBC's School of Medicine. I then went on to be the first female First Nations general surgeon in Canada.

What's most important about that message is pure evidence that no matter who you are, in Canada, whatever your background is, that you can pursue the dreams that you have and know that you can accomplish them. 

I have a message for Indigenous scholars out there, whatever stage of your career that you are at.

Whether you are in high school, thinking of pursuing post-secondary institution education, whether you are already in university or college and wondering what career path to take, or whether you have already decided on that career path and are wondering whether there are people out there that support you and believe in you as much as you believe in yourself. 

You can do it!

You can be an Indigenous scholar. You can do research. You can be a clinician, you can be an academic.

You can do whatever you chose to do.

I think that on National Aboriginal Day, this is the day to celebrate the potential that Indigenous scholars have in Canada and what Indigenous scholars have already done.
Date modified: