Me too: Theoren Fleury Talks Mental Health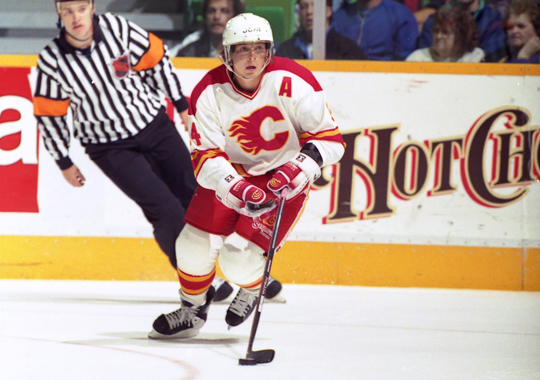 Former NHL superstar Theoren Fleury speaks with CIHR about mental health, trauma, and the importance of mental health research for all Canadians
March 27, 2017
Former NHL All-Star, Stanley Cup Winner and Olympic Gold Medallist Theoren Fleury is definitely a hockey legend. Away from the spotlight, Theoren suffered from trauma, abuse, mental health issues and the inability to talk about his struggles.
Theoren recently spoke with the Canadian Institutes of Health Research to discuss his history with mental health issues, how he overcame his addiction and past traumas, and the way his work has created a community for survivors. In this video, Theoren shows that anyone, even stars, can be impacted by trauma and mental illness. He also stresses the importance of conversation around mental health and how it can help break stigma.
Me too: Theoren Fleury Talks Mental Health
Transcript

Mr. Theoren Fleury: Both of my parents experienced childhood trauma in their life and it manifested itself in their own coping mechanisms.

Mr. Theoren Fleury
Former National Hockey League Player (NHL)

Mr. Theoren Fleury: My mom was a prescription pill addict; and my dad was an alcoholic. So, for me, growing up in that environment was very chaotic. Having that experience with my parents, and then going through the sexual abuse that happened to me as an adolescent, was just sort of piling on and I quickly came up with my own coping strategies to deal with the emotional pain and scars that were left behind from those two experiences. I got heavily involved in alcohol and drug addiction and gambling and food and all of the things that we tend to gravitate towards to help numb the pain of those experiences.

But as we know, our addictions never get better. Our coping mechanisms never get better and eventually, we're left with a choice and a decision. For me, I reached that point almost 12 and a half years ago. I had a fully-loaded pistol in my mouth, ready to pull the trigger. I don't think it was that I wanted to die, but I was completely exhausted from living in this emotional pain and suffering that I had endured most of my life. I tried absolutely everything I could try on the planet and nothing was relieving me of that.

I made a decision that day to live and to change my life.

Text slide: HOCKEY

Mr. Theoren Fleury: Early on in my life, I discovered hockey. Hockey sort of became my happy place; the place that provided me with everything that I wasn't getting at home. When I stepped into the arena, I got respect. I got love. I got all of those things, things that I was missing. And I was really good at the sport. So I spent pretty much every waking hour either at the rink or playing road hockey.

I read a book by a guy named Malcolm Gladwell called "The Outliers" and there's a chapter in the book where he basically says, "If we want to be the elite of the elite of the elite in whatever field we choose, we've got to put in 10,000 hours of practice." And, you know, I read that chapter, closed the book and sort of reflected on my life. I realized that from the time I started playing hockey at the age of 5, until I was 15 when I left home to pursue a professional hockey career that I had put in those 10,000 hours of practice. Because when I wasn't at school, what was I doing? Skating, shooting, passing; skating, shooting, passing; skating, shooting; over and over and over and over again.

And in my sport, if you have to think about where you need to be on the ice, you're obviously going to be in big trouble. So what I did, without even realizing it, was I had put in those 10,000 hours in that timeframe, and when I stepped onto the ice, I never had to think. When I became a professional, that really set me apart from everybody else that was trying to play. Yeah, I put in all that time. I put all that energy into playing and I absolutely loved it that every time I stepped on the ice, it was pure magic. It was something that I absolutely loved to do and it gave my mind a new focus and a new direction.

Text slide: THE BOOK

Mr. Theoren Fleury: So I was at the first book signing in Toronto -- and I had very little – or no expectations really on this book. I didn't think anybody was going to read this book. But I showed up at this book signing in Toronto, at the biggest Indigo-Chapters store in Canada, and I was amazed to see that 400 people had showed-up. I'm like: "This is weird. This is strange."

So, I started signing books and out of the corner of my eye, I spot a guy in line. He's got my book clutched against his chest and his face is buried into his chest, he's staring at the floor and he's walking really slowly. So I start keeping an eye on him as he makes his way through the line. He gets to the front of the line, puts the book on the table, looks me in the eye and says, "Me too."

And at that moment, all of this anxiety that I had, all of this stuff that I had been carrying…

You know, I had no idea what the rest of my life was going to look like, but that guy gave me purpose by saying those two words and I haven't stopped since.

Since that first "Me too" we have had over 600,000 people, either directly or indirectly, say those same words "Me too". It's truly been incredible and amazing, and it's been cool too. I'm always in awe of people's courage and their vulnerability as they find their own voice and start to tell their own story. It is amazing what happens after they get this off their chest. Their posture changes. Their eyes become brighter. The aura around them changes.

To me, that is the key to all of this. Overcoming mental health issues, and abuse issues, and bullying issues, and of all these things is that the conversation has been here (Mr. Fleury points downwards, indicating the bottom) and really, the conversation needs to get to here (Mr. Fleury points upwards indicating the top).

Somebody said it very, very well to me one time. They said, "Nobody's immune to trauma. We've all experienced trauma in our life. And it's trauma that is the string which binds us all together as human beings." I remember thinking there's never been a truer statement, in my experience, because of what I see on a daily basis when I'm out speaking or travelling or doing whatever.

To me, it's just peer-to-peer counselling, creating an environment where somebody feels safe enough to be able to tell their story.

Text slide: STIGMA

Mr. Theoren Fleury: What we fight with every single day is stigma. We're convinced that it's not okay to ask for help. That it means you're weak. Well, actually, it means the opposite. When we reach out and ask for help, it's the most courageous act we can give to ourselves as human beings. This has been my experience.

You know, I was able to find the courage and to find the strength to tell my story in a very vulnerable way, which then allowed other people to find that courage and that strength. My telling of my own story let them tell their own story.

And I think that's where the research needs to start.

It's by creating safe communities where we are talking about anything and everything, right? Because there's so much shame attached to trauma, mental health and addictions that we've got to remove past that shame to heal. And when we remove the shame, that's when we're going to see progress.

Text slide: Theoren Fleury with Dr. Stephen Robbins, Scientific Director, CIHR Institute of Cancer Research

Credits: Photos courtesy of Calgary Flames Hockey Club.

We wish to thank Mr. Theoren Fleury, the CIHR Institute of Cancer Research (CIHR-ICR) and Dr. Stephen Robbins, Scientific Director.
Associated Links
Date modified: