Update from College Chairs to the Research Community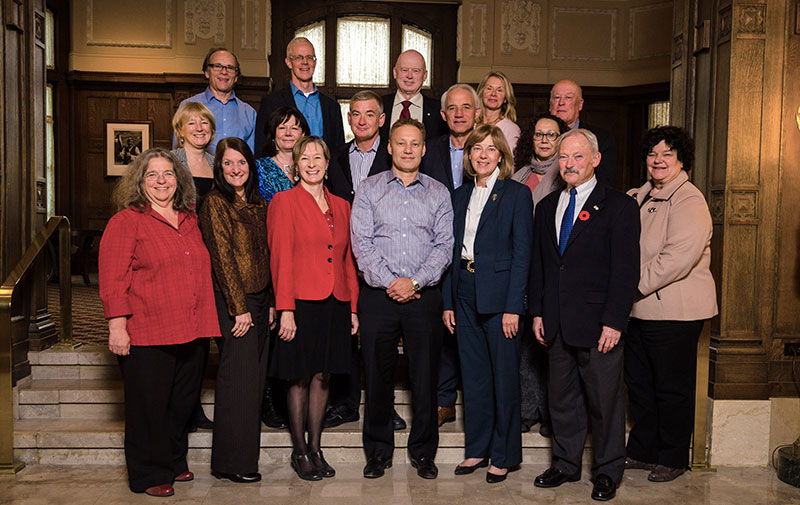 As many of you are aware, the goal of the College of Reviewers is to establish a pool of world-class health research peer reviewers and make sure they are well equipped to deliver quality reviews. Our role as Chairs of the College of Reviewers is to make it happen – to attract and retain outstanding peer reviewers so we can build the College and create a truly valuable resource for Canada.
It goes without saying that we have a big mission in front of us. The research community has expressed many concerns about the peer review process and those concerns were emphatically conveyed by the College Chairs at our October 2016 and January 2017 meetings. We would like to assure you that CIHR and the College Chairs are taking your concerns very seriously. Our meetings have provided us with the opportunity to talk about the implementation of the recommendations of the Peer Review Working Group and the progress being made. We also took the opportunity to reflect on the Peer Review Expert Panel questions in advance of the session with the panel in late January.
Matching applications to reviewers is a vital step in the peer review process. CIHR is currently working on refining the expertise descriptors available in the Reviewer Profile and applications. These descriptors are used to assist in matching reviewers to applications. In addition to feedback received from reviewers and applicants, CIHR is seeking advice from the Project Grant Competition Chairs and Scientific Officers on how the matching process and expertise descriptors can be strengthened and what needs to be improved for the upcoming competitions. We are looking forward to our continued work with CIHR staff and Competition Chairs to strengthen the matching process for all funding programs.
We spent a large part of the January meeting focused on how to move forward from the current peer review challenges and what needs to be accomplished in order to open a successful College of Reviewers to ultimately provide reviews we can all be confident with. To support the work involved, the College Chairs have established a series of committees to provide guidance and direction across the immediate areas of focus for the College. The work of these committees will be the basis for the discussion and recommendations at our next meeting, taking place in March.   
We wish to thank all our peers for their feedback, comments and support in building this vital national resource. We encourage you to continue the ongoing discussions you are already engaged in with the College Chairs.  In addition, we invite feedback specifically related to our immediate areas of focus, which are outlined in the table below.
Paul Kubes
Executive Chair
College of Reviewers
Jane Rylett
Vice Executive Chair
College of Reviewers
Immediate Areas of Focus:
To ensure that there is a readily available pool of qualified reviewers to meet current peer reviewing demands and that there are visible added benefits, the College Chairs are focusing on the following areas for their upcoming meeting in March:
Area of Focus
Underway
Immediate Next Steps

Ensure review quality through robust quality assurance approaches

An interim review quality assurance process has been implemented for the Fall 2016 Project Grant competition, where Competition Chairs and SOs, with support from Early Career Investigators, will be reviewing all reviews within their cluster for quality.

Evaluate the impact of this interim review quality process to inform the development of review quality assurance approaches across all competitions

Update expertise descriptors to strengthen the matching of reviewers to applications

Overseeing the revisions being made to the Areas of Science in collaboration with the Project Grant: Fall 2016 Competition Chairs and Scientific Officers

Update Areas of Science descriptors prior to the next Project Grant competition

Define membership criteria and recruitment approaches

Defining selection criteria for College membership and an enrollment process. The Reference Group on Appropriate Review of Indigenous Health Research has been working on defining the selection criteria for Indigenous health reviewers.

Develop a nomination process to provide interested members with the process and means to self-identify

Define roles, responsibilities and expectations of College members that will incentivize and recognize contributions

Working to define expectations around term, workload, performance management, review quality, learning requirements, and progression within the College that will incentivize participation.

We are looking to use carrots not sticks to get people to want to participate in review in Canada.

Defining the College Member roles and responsibilities

Define membership types and progression within the College

Identify incentives that would attract and retain members

Develop an observer program for early career investigators

CIHR launched a pilot observer program for early career investigators to participate in the peer review process for the current Project Grant competition.

Evaluate the impact of this pilot process to inform the development of an observer program  as part of a broader mentorship program
Date modified: