IMHA On The Move! – November/December 2016
Table of contents
A message from the Scientific Director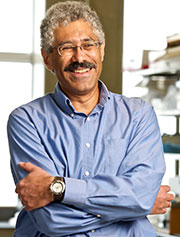 Greetings!
In this newsletter I would like to focus attention on the outcomes of the Canadian Pain Research Summit co-hosted by CIHR – IMHA along with the CIHR Institutes of Aboriginal Peoples' Health (IAPH), Cancer Research (ICR), Gender and Health (IGH), and Neurosciences, Mental Health and Addiction (INMHA). Additionally, I would like to shine a spotlight on Myalgic Encephalomyelitis / Chronic Fatigue Syndrome and IMHA's commitment to advancing research capacity on this topic.
At the Summit, held September 18 to 20 in Toronto, the Summit's Scientific Steering Committee gathered together stakeholders representing pain researchers, clinicians and patients from across Canada. We ensured representation from Canada's First Nations and were honoured with contributions from elders, healers, researchers, clinicians, patients and patient advocates from Indigenous communities. The objectives of the Summit were to: identify opportunities to enhance the impact, coordination, and infrastructure of pain research across Canada; inform the development of an evidence-based Canadian Pain Research Agenda; and encourage the development of new collaborations and initiatives. Many voices spoke and were heard at the Summit. The Summit Scientific Steering Committee synthesized the ideas, priorities, and implementation considerations put forward, and reflected critically on where further strategic investment from a funder like CIHR would have the greatest impact. On behalf of the other co-hosting Institutes, I would like to extend deepest thanks to everyone who took the time to contribute to this important discussion.
Another recently-held meeting of significance was CIHR – IMHA's Research Ambassador meeting held in conjunction with our long-standing partner organization, the Arthritis Alliance of Canada's Annual Meeting at which we also hosted a workshop on Patient Engagement. More details on our new roster of Research Ambassadors will be included in our next Newsletter. I would like to extend a warm welcome to our new RAs and hope they will be able to contribute a strong patient voice to CIHR – IMHA's activities in the future.
Ever involved in our stakeholder community, CIHR – IMHA staff members attended several significant meetings this fall, including the World Pain Congress (September 26-30, 2016; Yokohama Japan), Community-Based Primary Healthcare (October 24-26, 2016; Ottawa), the 12th International Association for Chronic Fatigue Syndrome/ Myalgic Encephalomyelitis (IACFS/ME) Research and Clinical Conference on Emerging Science and Clinical Care (October 27-30, 2016; Fort Lauderdale, USA), the Canadian Association of Psoriasis Patients Meeting with Psoriatic Research Students (November 5, 2016; Toronto), and the Canadian Institute of Military and Veteran Health Research Forum (November 21-23, 2016; Vancouver).
With regards to Myalgic Encephalomyelitis/Chronic Fatigue Syndrome (ME/CFS), CIHR – IMHA is committed to supporting high-calibre research that will contribute to the evidence base and develop capacity in this field. ME/CFS is a chronic, complex, multisystem illness. Preliminary research has linked it with disturbances in energy metabolism, immunology, brain and nervous system functioning, cardiovascular functioning, epigenetics, and the microbiome. More research is needed to determine the underlying pathology of ME/CFS, advance understandings of its relationship with overlapping conditions such as Fibromyalgia, and establish effective treatments. An estimated 800,000 Canadians are affected by ME/CFS, Fibromyalgia, or both. The National Institutes of Health (NIH) in the United States and the Stafford Fox Medical Research Foundation in Australia are ramping up investment in biomarker discovery, diagnostic testing, and patient subgrouping for ME/CFS. You will see in this newsletter that CIHR-IMHA recently launched a series of Catalyst Grants, with two dedicated to ME/CFS. These grants are intended to serve as seed money to support research activities that represent a first step towards the pursuit of more comprehensive funding opportunities. We are also seeking to engage in partnerships with other funding agencies to advance the ME/CFS research agenda. This is a fascinating area of research in which investigators from many disciplines have the potential to make groundbreaking contributions.
Finally, this December, CIHR – IMHA was pleased to host in Winnipeg, the inaugural meeting for the new Institute Advisory Board for Chronic Conditions. We look forward to tapping in to the new IAB's wealth of knowledge and experience to support our work going forward.
I appreciate hearing from our stakeholder community members. Please send any questions or comments to IMHA@umanitoba.ca, and please also follow me on Twitter @HaniElgabalawy.
Sincerely,
Hani El-Gabalawy MD FRCPC, FCAHS
Scientific Director
CIHR Institute of Musculoskeletal Health and Arthritis
Funding Opportunities and News
CIHR – IMHA Funding Opportunities
For a full listing of CIHR funding opportunities, please visit the ResearchNet website. For all inquiries please contact: CIHR Contact Centre; Telephone: 613-954-1968; Toll Free: 1-888-603-4178; Email: support-soutien@cihr-irsc.gc.ca.
Catalyst Grant: Musculoskeletal Health and Arthritis
Application Deadline: January 10, 2017
This Catalyst Grant is being offered to support the development of new, high priority research projects in the CIHR-Institute of Musculoskeletal Health and Arthritis (CIHR-IMHA) mandated areas of arthritis, bone, musculoskeletal rehabilitation, muscle, oral health, skin, and in the cross-disciplinary area of myalgic encephalomyelitis/chronic fatigue syndrome (ME/CFS). It is expected that this investment will enable researchers to generate preliminary data, validate methodology or tools, and/or explore novel research ideas towards enhancing the success of subsequent applications to the CIHR investigator-initiated and institute-specific initiatives in areas of strategic interest to CIHR-IMHA. The total amount available for this funding opportunity is $1,200,000 enough to fund approximately 12 catalyst grants. The maximum amount per grant is $100,000 for up to 1 year.
Undergraduate: Summer Studentship Award Institute Community Support (2017)
Application Deadline: January 17, 2017
The purpose of this funding opportunity is to provide undergraduate and health professional students with opportunities to undertake health research projects with established investigators in an environment that provides strong mentorship. $150,000 is available to fund applications relevant to the targeted research areas of the Institute of Musculoskeletal Health and Arthritis (IMHA).The maximum stipend amount per award is $5,000 for four months. An additional 25 percent (at minimum) above the stipend contribution (i.e. $1,250 or more) must be secured from other sources by the supervisor(s), such as university funds, CIHR and/or NSERC grants, or any other research funds.
Operating Grant: Sugar & Health
Application Deadline: January 17, 2017
Pre-Announcement: New Investigators in Maternal, Reproductive, Child and Youth Health
Launch date: December, 2016
IHDCYH in collaboration with the Institute of Aboriginal Peoples' Health (IAPH); Institute of Cancer Research (ICR); Institute of Circulatory and Respiratory Health (ICRH); Institute of Musculoskeletal Health and Arthritis (IMHA); Institute of Neurosciences, Mental Health and Addictions (INMHA); and Institute of Nutrition, Metabolism and Diabetes (INMD) is pleased to pre-announce a funding opportunity to support New Investigators in Maternal, Reproductive, Child and Youth Health.
Applicants must be within 5 years of their first academic or independent research appointment and have at least 50% protected time for research. The program will fund research across the four CIHR pillars that has the potential to have a significant impact on maternal, reproductive, child and youth health outcomes according to relevant research areas identified by the participating CIHR institutes. Ultimately, the program aims to strengthen Canada's capacity and knowledge to respond to challenges and needs by providing important early career development support to researchers in these fields.
More information about this funding opportunity will be available on ResearchNet later this month.
Other Awards
AAC Research Awards Program
Awards include 1) an Early Career Researcher / Early Career Faculty Member/Investigator award; and 2) a Patient Representative award.
Important Deadlines
Notice of Intent: December 21, 2016
Full Applications: January 3, 2017
CIHR news
Peer review
CIHR commits to Project Grant changes based on research community recommendations
CIHR is implementing changes to the Project Grant peer review process. The changes will reflect the recommendations of the Peer Review Working Group and discussions from the July 13 Working Meeting participants. CIHR is also implementing a new and distinct iterative peer review process for Indigenous health research applications, which is being designed with members of the Indigenous health research community.
Clarification on reviewer eligibility for the Project Grant competition
Contrary to information recently circulated, applicants who meet the peer reviewer criteria are eligible to be reviewers. As per the Peer Review Working Group recommendations endorsed by CIHR, they just cannot participate in the cluster of applications containing their own application.
Matching applications to reviewers
An important step in the peer review process is matching the right applications to the right reviewers. For the Project Grant: Fall 2016 competition, CIHR is embarking on a new matching process for the Conflict and Ability to Review step. In a podcast, CIHR Associate Vice-President Jeff Latimer provides an overview of how the matching is done and what reviewers can expect from the process. Listen to the podcast.
Do you provide fair and unbiased reviews?
Unconscious bias affects our judgment without us realizing it—and this can influence the review of a grant. Due to unconscious bias, peer reviewers may rate an application differently based on the gender, age, language, culture or even the affiliated institution of an applicant. To help identify potential sources of unconscious bias and mitigate them, CIHR has developed a learning module. The full module is now available online and is mandatory for peer reviewers. Test yourself! Try the 19-minute Unconscious Bias in Peer Review training module now.
Peer review timelines for the Foundation Grant: 2016-2017 and Project Grant: Fall 2016 competitions
Timelines for the Foundation Grant: 2016-2017 and Project Grant: Fall 2016 review processes are now available on the CIHR website.
Policy & Programs
TCPS 2 (2014) - Proposed Revisions for Public Consultation
The Panel on Research Ethics is seeking public comment on proposed revisions to the 2nd edition of the Tri-Council Policy Statement: Ethical Conduct for Research Involving Humans – TCPS 2 (2014). Written comments will be accepted until January 31, 2017.
Tri-Agency Research Training Award Holder's Guide now available
Recipients of research training awards by the three federal granting agencies — the Canadian Institutes of Health Research (CIHR), the Natural Sciences and Engineering Research Council of Canada (NSERC), and the Social Sciences and Humanities Research Council of Canada (SSHRC) — can now refer to a new harmonized Tri-Agency Research Training Award Holder's Guide. The guide, which is effective immediately, supersedes previous training award holder's policy documents. Learn more about the new guide.
SPOR Summit 2016
CIHR hosted the Strategy for Patient-Oriented Research Summit 2016 from October 25 to 27 in Ottawa. The second SPOR Summit, brought together leaders and partners from all core elements of the SPOR including SPOR Networks, SUPPORT Units, patients, policy makers, clinicians, funders, and researchers to share their experiences in building new kinds of partnerships and transformational research approaches. This year's theme focused on Health Innovation: Working Together on Shared Health Priorities. Read more.
New agreement with European Research Council to provide research opportunities for CRCs and Banting fellows in Europe
The Canada Research Chairs Programs Steering Committee is pleased to announce that the European Commission and the Canadian Tri-agency Institutional Programs Secretariat (TIPS) have partnered to provide research opportunities in Europe for Canada Research Chairholders (CRC) and Banting Fellows. This arrangement will allow them to pursue collaborations with European researchers already supported through EU-funded European Research Council grants. This initiative is intended to enable the collaboration of European researchers and CRCs through a single, long-term visit (up to 12 months) or through multiple short-term visits (e.g., for joint research projects) of CRCs in Europe. It is an exciting opportunity for Canada Research Chairholders to formalize collaborations with their European counterparts to advance their mutual research objectives. Read more.
CIHR Summer Program in Aging
CIHR Institute of Aging is collaborating with Concordia University's PERFORM Centre on an innovative training event. This unique, interactive training program will run from May 15-19, 2017 and will be held in Montreal, Quebec. Graduate students and post-doctoral fellows working in, or interested in learning about, research related to the area of physical activity and aging are encouraged to apply. Read More.
CIHR takes concrete steps to strengthen Indigenous health research in Canada
Speaking at the National Forum on the 20th Anniversary of the Royal Commission on Aboriginal Peoples, the President of the Canadian Institutes of Health Research (CIHR), Dr. Alain Beaudet, announced new steps the agency is taking to strengthen its relationship with First Nations, Inuit and Métis Peoples and, ultimately, improve Indigenous health outcomes in Canada. CIHR announced that it is increasing its investments in Indigenous health research to a minimum of 4.6 per cent of its annual budget – approximately $46 million per year. This amount is proportional to Canada's Indigenous population (First Nations, Inuit and Métis Peoples make up approximately 4.6 per cent of the Canadian population). Increased funding is just one way that CIHR is re-engaging in a dialogue with First Nations, Inuit and Métis Peoples. Read more about the announcement.
Elder-Youth Dialogue on Indigenous Health Priorities
Call for Elder-Youth pairs
The CIHR Institute of Aboriginal Peoples' Health (IAPH) strives to advance the research agenda to improve the health of First Nations, Inuit, and Métis Peoples in Canada. To further this goal, IAPH is seeking applications for Elder-youth pairs to participate in a dialogue on priority areas of Indigenous health and wellness. The purpose of this dialogue is to inform the IAPH Operational Plan, and to ensure that the voices of Elders and youths are privileged when considering IAPH's future directions.
Who can apply?
Youth must be between the ages of 16-30, and demonstrate a past experience and/or a strong interest in Indigenous health and wellness. They must have a close working and/or mentored relationship with the Elder and/or Traditional Knowledge Holder they plan to attend with. Knowledge and experience in community-based projects and experience working with Indigenous communities or organizations in health and wellness will be considered an asset. Knowledge and experience working with Indigenous communities or organizations in areas of health and wellness will be considered an asset. Elder-Youth pairs are to submit one application. For more information, please email taylor_fleming@sfu.ca or joanne_nelson@sfu.ca.
Application deadline
The application will be due January 13, 2017. All applications should be submitted to both Taylor Fleming (taylor_fleming@sfu.ca) and Joanne Nelson (joanne_nelson@sfu.ca). Applicants will be notified of the decision by January 27, 2017. The Dialogue will be in Ottawa on Algonquin Territory for 2 days the week of March 13-17, 2017.
FOCUS: The Canadian Pain Research Summit
Research in pain has been a matter of serious concern at CIHR for some time. In 2014, CIHR – IMHA hosted a priority-setting workshop on chronic pain and fatigue. In 2015, CIHR – IMHA together with CIHR – ICR, CIHR – IGH, and CIHR – INMHA formed a Scientific Steering Committee (SSC) to assess the Canadian pain research landscape, engage stakeholders in establishing a research agenda, and build momentum for new commitments and synergies. Additionally, CIHR – IMHA launched a James Lind Alliance Priority Setting Partnership for Adult Fibromyalgia.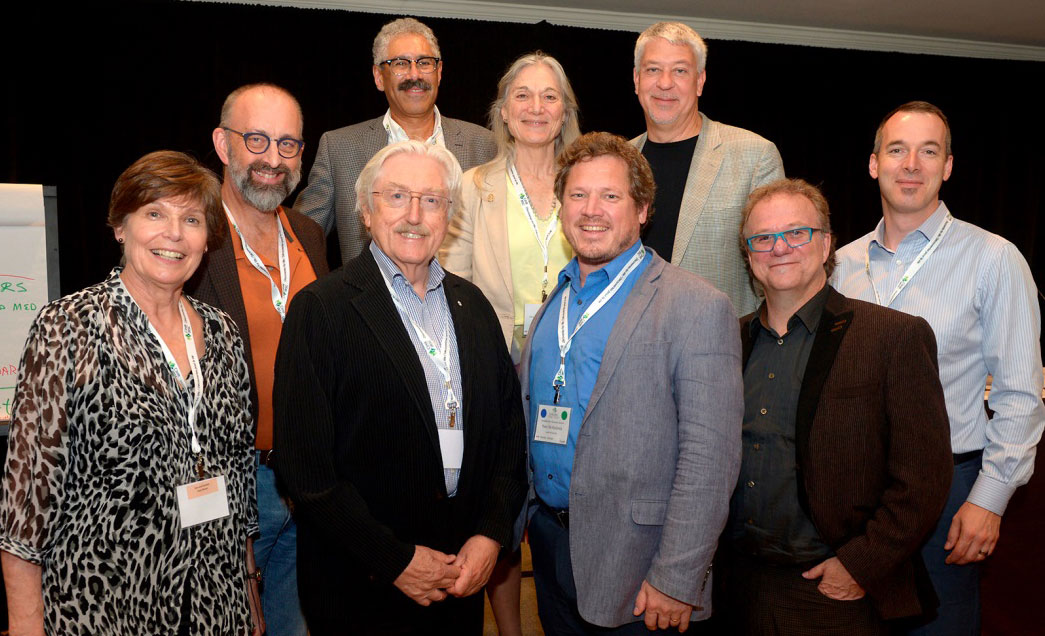 Pain Summit Scientific Steering Committee (Back Row L – R): Dr. Norm Buckley (SPOR Chronic Pain Network), Dr. Hani El-Gabalawy (CIHR – IMHA), Dr. Gillian Einstein(on behalf of Dr. Cara Tannenbaum for CIHR – IGH), Dr. Mike Salter (SickKids), Dr. Mark Pitcher (NIH); (Front Row L – R): Dorothy Strachan (Strachan-Tomlinson), Dr. Anthony Phillips (CIHR – INMHA), Dr. Yves De Koninck (CRIUSMQ), Dr. Stephen Robbins (CIHR – ICR). Absent: Dr. Malcolm King (CIHR – IAPH) and Dr. Linda Porter (NIH).
In March 2016, and not long after the SSC began its scan of the pain research landscape, an exciting new development occurred: a Chronic Pain SPOR Network was launched. Dr. Norman Buckley, the Network's lead investigator, joined the SSC to help identify opportunities to maximize synergies and minimize duplication of effort between the SPOR Network and any future initiatives in pain research. CIHR – IAPH also joined the SSC. The work of the committee culminated in the Canadian Pain Research Summit, which was held in September, 2016. The Summit brought together more than 120 researchers and stakeholders to identify opportunities to enhance the impact, coordination, and infrastructure of pain research across Canada.
Throughout the Summit the SSC reviewed and synthesized the priorities and implementation considerations put forward by participants. The following short-list of priorities and themes was generated:
Priority 1: Stimulate the translation of recent advances in basic pain research into novel targets for new diagnostics and therapeutics. Key themes:
Measurement
Phenotyping
Sex Differences
Pharmacological and Non-pharmacologic Methods
Priority 2: Advance personalized pain medicine that is informed by relevant biological, psychological, behavioural, and social factors. Key themes:
Fragmentation of Care
Pain Across the Lifespan
Indigeneity
Sex and Gender in Access to Care and Response to Treatment
Informed by Summit deliberations, as well as consultation with other supporting Institutes, CIHR-IMHA took the lead in developing a proposal to access CIHR's Roadmap Accelerator Fund for a multi-institute initiative on pain. The proposed initiative is focused on accelerating the development of more effective therapeutics that are better targeted to specific types of pain and/or clinical phenotypes. This includes accelerating the identification of new targets and clinically relevant models, repurposing existing agents, and supporting pre and early clinical research on promising targets in appropriate patient populations.
Results of the RAF proposal review process are expected in the New Year. Please address any questions regarding the Canadian Pain Research Summit and this RAF proposal to:
Nicole Mardis
Project Officer, CIHR – IMHA
Nicole.mardis@umanitoba.ca
Chronic pain: do patients get the care and treatment they deserve?
By Karen Palmer, Joshua Tepper & Sachin Pendharkar
First published in HealthyDebate online magazine, October 27, 2016
Lynn Cooper compares the feeling of chronic pain to a blisteringly bad sunburn that simply won't heal.
"Remember how you could barely put clothing over where you had that sunburn?" asks Cooper, the president of the Canadian Pain Coalition. "Imagine that pain never going away. That's what it's like for someone who has neuropathic nerve pain that is burning and relentless."
Cooper knows first-hand the fear, frustration and loneliness a diagnosis of chronic pain can bring: she has suffered severe pain since being hurt in a workplace injury nearly 30 years ago. (Continued).
IMHA Community News
CIHR-IMHA On the Move! strives to connect its community of stakeholders by sharing news. Please send your community's news to the Institute Communications Project Officer.
About Face
The AboutFace R.I.D.E for Smiles season raised approximately $20,000 for AboutFace with teams totaling 65 riders from Toronto, Winnipeg and Muskoka. The organization that supports Canadians living with facial differences also held its First Annual Light Up the Night Fashion Show and Gala on October 28 in Brampton, Ontario.
Arthritis Alliance of Canada
The AAC held its 4th Annual Meeting October 27–28 in Montreal, Quebec. With a theme of "Translating Arthritis: Knowledge to Action for Canadians", the AAC presented workshops including Models of Care for Inflammatory Arthritis, Osteoarthritis, Building a National Strategy to Overcome Arthritis, Patient Engagement in Research and Patient Oriented Research. PowerPoint Presentations and a video of Welcome Remarks from Yves Robillard are available on the AAC Website.
Arthritis Consumer Experts (ACE)
In a recent Joint Health newsletter, ACE shared the latest research news from this year's American College of Rheumatology annual meeting (ACR) in Washington, DC. At a clinical symposium at the ACR conference entitled Rheumatic Diseases in Native Americans: What Can We Learn, How Can We Help, attendees heard how the unique responses of aboriginal populations to arthritis have lessons for the rest of the arthritis community. Presenters highlighted the need for rheumatologists to work within the tribal healthcare system or to participate in outreach clinics. Presenters also stressed the need for more academic research into arthritis among aboriginal people and to consider tailoring arthritis therapies based upon racial and ethnic backgrounds as opposed to assuming that everybody with a certain type of arthritis has the same diagnosis, prognosis and outcomes - another call for "personalized medicine".
Canadian Arthritis Patient Alliance (CAPA)
CAPA has produced a video on a new type of medication called Biosimilars which are now on the market in Canada and internationally. Available in English and French, the video is intended to help individuals living with arthritis to understand the difference between biologic and biosimilar drugs. CAPA invites patients to examine the video and ask their health care professionals about the medications they take.
Canadian Skin Patient Alliance (CSPA)
Canadian Skin Patients Alliance (CSPA) recently had a strategic plan meeting focusing on advocacy, education and support. CSPA works with the common drug review and Canadian Agency for Drugs and Technologies in Health (CADTH), furthering education and advocacy. Information on Subsequent Entry Biologics is available on the CSPA website.

Canadian Association of Psoriasis Patients (CAPP)
The Canadian Association of Psoriasis Patients (CAPP) held a competition over the summer for students to create knowledge translation videos to educate about their research on skin conditions. CIHR – IMHA partnered with CAPP to fund the awards and the winners have been chosen. Read about the students and their videos on the CAPP website.
Institute of Work and Health (IWH)
Highlights of a systematic review on What workplace programs help prevent upper extremity musculoskeletal disorders are available on the IWH website. Information about the IWH knowledge transfer and exchange programs is also available on the website.
Network for Canadian Oral Health Research (NCOHR)
The NCOHR Executive Committee is pleased to announce Dr. Alain Moreau is appointed Director of the Network for Canadian Oral Health Research (NCOHR) for a three-year term commencing effective October 1st, 2016. Read the full announcement.
Meetings of Interest
2017 CRA Annual Scientific Meeting & AHPA Annual Meeting
February 8 – 11, 2017 Ottawa, ON
Global Summit on the Physical Activity of Children: Active Living Research Conference
February 26 - March 1, 2017 Clearwater Beach, Florida
American Association of Orthopaedic Surgeons Annual Meeting
March 14-18, 2017  San Diego, California
Orthopaedic Research Society Annual Meeting
March 19 – 22, 2017  San Diego, California
World Congress on Osteoporosis, Osteoarthritis and Musculoskeletal Diseases 2017
March 23 – 26, 2017 Florence, Italy
12th International Congress on Systemic Lupus Erythematosus LUPUS 2017
March 26 – 29, 2017 Melbourne, Australia
Date modified: