Message from the Scientific Director: Recognizing Erica Di Ruggiero's extraordinary service to CIHR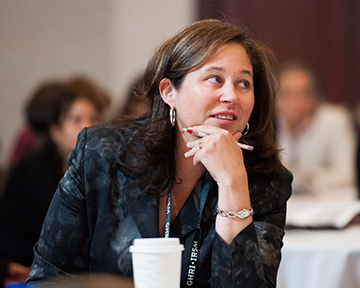 Dear colleagues,
At its November 24, 2016 meeting, CIHR's Science Council unanimously passed a motion formally acknowledging Erica Di Ruggiero for her 16 years of service to CIHR. Science Council expressed its sincere appreciation and gratitude to Erica for her outstanding accomplishments, contributions and leadership throughout her time with CIHR and specifically with the Institute of Population and Public Health (IPPH).
In her farewell address to CIHR this past summer, Nancy Edwards, my predecessor as IPPH Scientific Director, singled Erica out for her years of tremendous work and support for the Institute as its Deputy Scientific Director. John Frank, IPPH's inaugural Scientific Director, reflected that "I have watched Erica become one of CIHR's key staff, providing that organization with faultless 'institutional memory,' as well as widely appreciated wisdom, and an encyclopedic knowledge of the Canadian public health community."
Both Nancy and John have publicly acknowledged the key role that Erica has played in IPPH-led initiatives that had significant influence on policy and practice. These include championing the fields of public health intervention research, global health, and health equity, helping standardize master's of public health programs across Canada's schools of public health, and stewarding CIHR funding programs on chronic disease prevention and control, the Innovating for Maternal and Child Health program, the Tri-Council climate change initiative, and CIHR's Community-Based Primary Health Care and Environments and Health signature initiatives.
My own experience working with Erica confirms the glowing words that everyone has for her. Erica helped me enormously throughout my transition to the IPPH Scientific Director role, helping me navigate CIHR's internal administration and connecting me with external stakeholders from across Canada and around the world. She helped ensure that no projects were left unattended and advised on priorities.
Erica will now take up an exciting new position as Director of the Office of Global Public Health Education and Training at the University of Toronto's Dalla Lana School of Public Health. In this role, Erica will work to maximize the school's global impact on population health and health systems, create and maintain global health experiences for students, and develop global health programming opportunities, among other duties. I can't imagine anyone more suited to this position, and I look forward to our paths crossing again in the small and exciting world of population and public health. The Dalla Lana School is certainly very lucky to have her!
On behalf of CIHR and the IPPH team, I want to thank Erica for her many contributions. On a more personal note, I would like to thank her for all she done to help me get settled into my new role as IPPH Scientific Director. The official commendation unanimously approved by CIHR's Science Council is shared below.
Best,
Steven
Steven J. Hoffman JD PhD LLD
Scientific Director, CIHR Institute of Population & Public Health
Director, Global Strategy Lab, and
Associate Professor of Law, University of Ottawa
---
Commendation of Dr. Erica Di Ruggiero:
Science Council expresses its sincere appreciation and gratitude to Dr. Erica Di Ruggiero for her outstanding accomplishments, contributions and leadership throughout her sixteen years with the Canadian Institutes of Health Research and specifically its Institute of Population and Public Health. Science Council thanks Dr. Di Ruggiero for promoting health equity, supporting scalable solutions, championing global health, and providing institutional memory as the agency's informal archivist. The high level of commitment and dedication demonstrated by Dr. Di Ruggiero to advancing health research in Canada is exactly the level to which Science Council hopes everyone working for the agency will aspire.
Date modified: