Dr. Nadine Caron – Aboriginal mentor and capacity builder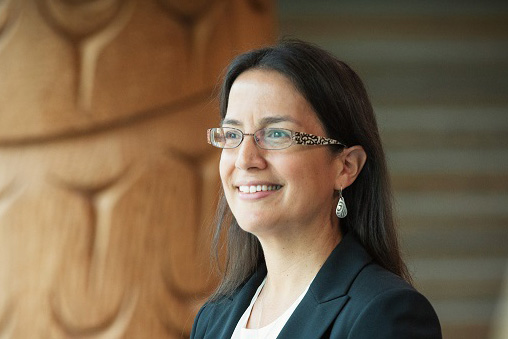 Balancing Western medicine with respect for Indigenous knowledge and inspiring our next generation of Aboriginal leaders
Originally posted on June 21, 2016
A member of CIHR's Governing Council, Dr. Nadine Caron, an Ojibway woman from Kamloops, British Columbia, is the first Indigenous woman to graduate with an MD from the University of British Columbia (UBC). She went on to earn a Master of Public Health from Harvard University during her general surgery residency at UBC and then completed her Endocrine Surgical Oncology fellowship at the University of California (San Francisco).
Acutely aware that there was very little representation of northern and Indigenous populations in health care policy-making, Dr. Caron has been working diligently, through her research and advocacy work, to influence Canadian health policy in order to better meet the needs of marginalized populations, including Aboriginal, northern and rural residents.
Dr. Caron's research interests focus on ensuring equitable access for all Canadians to health care services and medical educational facilities, regardless of where they live.
For many years now, she has given voice not only to Aboriginal people, but to northern residents and rural populations as well, bringing their unique perspectives to the forefront. By sensitizing decision-makers to their specific needs, the design, implementation and evaluation of surgical care in British Columbia is becoming more equitable.
In fact, the impact of Dr. Caron's work can be felt across Canada.
In particular, her research pinpoints clear disparities between services offered to people living in large, urban centres compared to people living in Aboriginal, rural, remote, or northern communities. This has led to gap analyses that are informing positive change in policies and practices.
For instance, through her work as a surgeon, Dr. Caron recognized that the information used to guide decisions on treatment options came mostly from large metropolitan areas, geared toward patients often with completely different realities than those in the North. A lack of data was identified as a contributing factor, so she set out to change that.
Common obstacles that impede access to the full spectrum of health services due to geographic location include:
a lack of state-of-the-art diagnostic tools;
connectivity issues resulting from insufficient broadband Internet access; essential in order for telehealth innovations;
limited treatment options to operative care (including pre-operative investigations and post-operative care) that often necessitates long-distance travel, temporary accommodation away from family and social networks, with little or no supports in place; and,
a lack of cultural humility and cultural safety in health care arenas.
Dr. Caron embodies Two-Eyed Seeing, a First Nation philosophy which encourages recognizing the worth of and valuing the gift of multiple perspectives as a way for different cultures to compare and contrast, to learn and to share from one another. This ability makes her a recognized pathfinder. She has also worked tirelessly to build UBC into the learning centre of choice for the next generation of Aboriginal doctors, surgeons, nurses, dentists, and other health care professionals, supporting mentorship programs for Indigenous students.
By respecting traditional Indigenous knowledge and advocating for the space that Indigenous wisdom and understanding must be given, she has become a bridge between Western medicine and Traditional healing; permitting the free flow of ideas.
"In the future, Indigenous people can be leaders in health, not just in Indigenous health, but in health overall. They can demonstrate changes in health and wellness, and work to better address diabetes, cancer, and mental health, to name just a few."
Dr. Caron continues to seek out ways to empower Indigenous people to assume a more active role in their own health care destiny and travels regularly to British Columbia's remote communities for various volunteer public speaking engagements. Over the years, she has become a powerful role model who is inspiring First Nations youth to seize every opportunity that they have to further their education and to follow the trail that she has blazed.
Opening doors and closing gaps has become second nature to Dr. Caron who continues to be a woman of many firsts, recently becoming the first Indigenous woman to achieve tenure at UBC's Faculty of Medicine.
Associated links
Dr. Nadine Caron's biography:
Date modified: