Preterm Birth Initiative – Improving outcomes for premature babies
Overview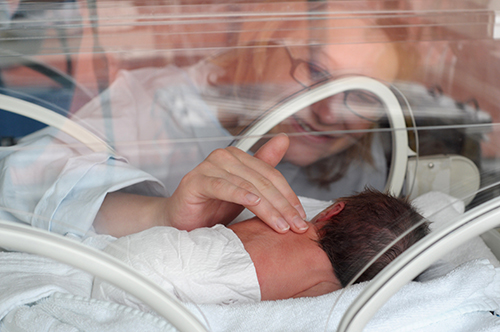 Preterm birth accounts for nearly two thirds of infant deaths in Canada and is associated with increased morbidity throughout the life course and subsequent adult-onset chronic disease. In addition to these health effects, preterm birth has social and financial impacts on the affected individuals and their families, and places additional costs on society in terms of healthcare and education.
Preterm births in Canada have increased by 20% during the past two decades, to 7.8% in 2012. Canada is a significant funder of research in this field; however, the cause of 70% of preterm births remains unknown. Recognizing that major opportunities exist for developing innovative approaches to the understanding, prevention, and treatment of preterm birth, IHDCYH launched the Preterm Birth Initiative as part of its Healthy Developmental Trajectories priority area.
IHDCYH's Preterm Birth Initiative addresses priorities identified during a consensus workshop of Canadian and international leaders in the field of preterm birth held in September, 2015. Specifically, there is a need for new and innovative ideas in preterm birth research, improvements to care and patient outcomes, improvements to the perinatal health system, better data linkage and access, and a national strategy for preterm birth prevention.
IHDCYH's Preterm Birth Initiative aims to better understand how to care for premature babies, to strengthen health care services for high risk pregnancies and premature babies in all regions of the country, and to stimulate new avenues of research in preterm birth.
The Preterm Birth Initiative is supporting three separate efforts:
Preterm Birth Network: A new pan-Canadian preterm birth collaborative research network led by Dr. Prakeshkumar Shah at Sinai Health System in Toronto that is working to improve health outcomes for premature babies;
Perinatal Health Care System Improvement: A research team led by Dr. K.S. Joseph at the University of British Columbia and the BC Children's Hospital that is focusing on improving the system of perinatal care for all mothers and their babies including those born prematurely; and
Catalyzing Innovation in Preterm Birth Research: Six research projects focused on catalyzing research that will investigate new ways to predict and prevent preterm birth and improve health outcomes for premature babies.
Preterm Birth Network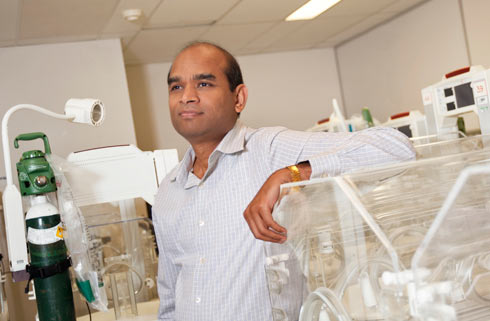 Improving Outcomes for Preterm Infants and their Families: A Canadian Collaborative Network
Dr. Prakeshkumar Shah
Sinai Health System, Toronto, ON
The Improving Outcomes for Preterm Infants and their Families: A Canadian Collaborative Network led by Dr. Prakeshkumar Shah at Toronto's Sinai Health System will bring together researchers, doctors, nurses, and families from coast-to-coast to improve the delivery of care and consequently the outcomes of preterm birth. The network will conduct research across the continuum of care for extremely preterm infants. Over the next 5 years, the network aims to increase the rate of preterm infant survival without complications by 30%. Read more
---
Perinatal Health Care System Improvement
A systems approach for enhancing perinatal care regionalization
Dr. K.S. Joseph
University of British Columbia, Vancouver, BC
Overall, Canadians benefit from excellent perinatal health care. However, the regionalization of care throughout Canada results in significant variability in maternal and infant outcomes, perinatal care practices, and health care system performance between provinces and territories.
A systems approach for enhancing perinatal care regionalization led by Dr. K.S. Joseph at the University of British Columba and the BC Children's Hospital will analyze the perinatal health care system in Canada to determine the impact of regionalization on hospital services, emergency transport, access to care, and health outcomes from mothers and babies. The results will be used to formulate and implement recommendations for optimizing care in collaboration with provincial and territorial health ministries and perinatal care programs. Read more
---
Catalyzing Innovation in Preterm Birth Research
Together these six projects will advance our knowledge and understanding of the causes and mechanisms of preterm birth and guide new approaches to prevent preterm birth and improve health outcomes for premature babies.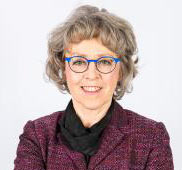 Alberta Family Integrated Care (FICare) for preterm babies and families: Enhancing practice and improving outcomes
Dr. Karen Benzies
University of Calgary, Calgary, AB
Alberta has the highest preterm birth rate of the Canadian provinces (8.7%). The majority (80%) of preterm babies are admitted to a Level II neonatal intensive care unit (NICU); highly technological environments where parents may have limited involvement in the care of their baby. Alberta Family Integrated Care©™ (FICare) is a psycho-educational intervention that aims to integrate and involve parents in the NICU by sequentially build their knowledge, skill, and confidence so they are well-prepared to care for their preterm baby before discharge. Alberta FICare©™ was tested in 10 NICUs across and recruitment in the study was completed July 26, 2018. Results are currently being analyzed.
The aim of this novel health services study is to assess the longer-term outcomes and costs to 18 months corrected age (CA), of Alberta FICare©™. Since November 2017 we have recruited 193 participants, and enrolment will continue until Spring 2020.
If Alberta FICare©™ improves outcomes for preterm babies and their parents, we will implement it in all Level II NICUs in Alberta. This project aligns with Alberta Health Services Priorities and Health and Business Plan, and is a strategic priority of the Maternal, Newborn, Youth and Child Strategic Clinical Network.
Publications:
Benzies, K. M., Shah, V., Aziz, K., Lodha, A., Misfeldt, R. (2018). The health care system is making 'too much noise' to provide family-centred care in neonatal intensive care units: Perspectives of health care providers and hospital administrators. Intensive and Critical Care Nursing, 50: 44 – 53.
Benzies, K. M., Shah, V., Aziz, K., Isaranuwatchai, W., Palacio-Derflingher, L., Scotland, J., Larocque, J., Mrklas, K., Naugler, C., Suter, E., Stelfox, H. T., Chari, R., Lodha, A., & Alberta FICare Level II NICU Study Team. (2017). Family Integrated Care (FICare) in Level II Neonatal Intensive Care Units: Study protocol for a cluster randomized controlled trial. BMC Trials, 18, 467.
Benzies, K. M. (2016). Relational communications strategies to support family-centered neonatal intensive care. Journal of Perinatal and Neonatal Nursing, 30(3), 233-236.
Graduate Student Publications:
Brockway, M. Benzies, K. M., Carr, E., & Aziz, K. (2018). Breastfeeding self-efficacy and breastmilk feeding for moderate and late preterm infants in the Family Integrated Care trial: A mixed methods protocol. International Breastfeeding Journal, 13: 29.
Brockway, M., Benzies, K. M., & Hayden, A. (2017). Interventions to improve breastfeeding self-efficacy and resultant breastfeeding rates: A systematic review and meta-analysis. Journal of Human Lactation, 33(3), 486 – 499.
Website: Alberta FICare©™
Twitter: @AlbertaFICare
---
Biostatistical methods for estimating the cumulative impact of environmental contaminant exposures on preterm birth
Dr. Lawrence McCandless
Faculty of Health Sciences, Simon Fraser University, Burnaby, BC
The causes of many preterm births are unknown. A growing body of research points to the role of environmental pollution and toxic chemicals as a possible cause of adverse pregnancy outcomes, including preterm birth. The interest in environmental health has arisen in tandem with new birth cohort studies in Canada and beyond which collect biomarkers of chemical exposures in pregnant women. However, analyzing biomarkers presents extraordinary scientific challenges including collinearity, multiplicity of results, and low statistical power. New biostatistical techniques may hold the key to better understanding the health impacts of environmental chemical exposures.
This project will leverage expertise from a multidisciplinary team of epidemiologists and biostatisticians to examine the effects of toxic environmental chemicals on preterm birth. Additionally, we will disseminate new knowledge about biostatistical methods for environmental and reproductive health researchers.
Since 2016 our team has published several scientific papers illustrating novel biostatistical methods for measuring uncertainty in biomarker studies. Additionally, we have published a review of the statistical challenges of analyzing biomarkers in perinatal epidemiology. This exciting research will support Canada's leadership in perinatal epidemiology research to better understand the role of environmental pollution in preterm birth.
Website: Curriculum Vitae, Lawrence McCandless SFU
Twitter: @LCMcCandless
---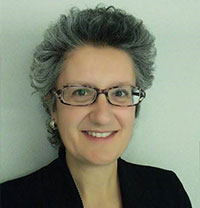 Control of respiration in the newborn period
Dr. Silvia Pagliardini
Department of Physiology, University of Alberta, Calgary, AB
Newborn preterm infants often display irregular breathing during sleep. If not properly managed, respiratory disturbances can be life-threatening or cause life-long health consequences (poor weight gain, neurocognitive and cardiorespiratory disturbances).
Our CIHR Catalyst Grant on preterm health aimed to investigate how active expiration (forcefully breathing out) and recruitment of expiratory muscles contribute to breathing during sleep in both animal models and human infants.
We have characterized breathing and sleep characteristics in the rodent neonatal period and demonstrated the presence of expiratory muscles recruitment across sleep states in early life. This occurrence was associated with stable breathing and improved ventilation. We are now investigating the involvement of expiration across sleep states by manipulation the neuronal networks involved in expiration in control and animal models of sleep disorder breathing to test the hypothesis that enhancement of expiratory activity ameliorates breathing.
We are also investigating occurrence of expiration and its correlation with markers of improved respiratory function across sleep cycles in term and preterm infants and in patients affected by sleep disordered breathing.
This work will build the foundation to develop new approaches to treat sleep disordered breathing in infants that focus on potentiation of forced expiration to reduce consequences of respiratory disturbances occurring early in life.
Websites:
---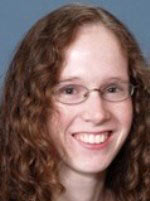 Pioneering members of the infant microbiome
Dr. Katherine Ryan
University of British Columbia, Vancouver, BC
Humans are populated by an enormous number of microorganisms, called the "microbiome." The microbiome can play a critical role in helping to digest food and prevent infection. Interestingly, infants and adults have very different microbiomes, due in part to the different diets between the two generations. For instance, bacteria that commonly populate the infant gut have developed the ability to survive by digesting unique carbohydrates present only in human breast milk, the major diet for infants, giving these bacteria a selective advantage over other gut bacteria that cannot digest such carbohydrates. Recent research suggests that these infant-associated bacteria can also protect babies from diseases. In this grant, we will employ approaches from biochemistry, microbiology, and chemistry to understand these unique infant-associated bacteria.
---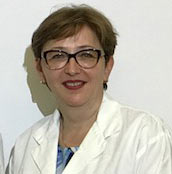 Can MRI predict preterm delivery in women at risk?
Understanding the cervical structure of pregnant uterus to reduce risk of preterm birth
Dr. Oksana Shynlova
Sinai Health System, Toronto, ON
Pregnancy is one of the most intimate physiological interactions between mother and child. However, every tenth pregnancy in the world ends preterm with the delivery of an underdeveloped infant. We study how the gatekeeper of pregnancy - the uterine cervix - softens and dilates prematurely, facilitating the delivery process. Cervical incompetency or early dilation is thought to lead to preterm birth (PTB). Our research aims to improve understanding of cervix physiology during pregnancy via various techniques, including Magnetic Resonance Imaging, histological staining, and gene expression analysis. Using mouse models of normal gestation and labor, and two models of preterm labor (infectious and idiopathic), we assessed morphological changes of the murine cervix by examination of its cellular (muscle), and extracellular components (collagen content, and water-retaining molecule, hyaluronic acid). We discovered that mouse cervix exhibits significant regional differences between the top and bottom (similar to human's cervix), where the top (uterine) part of the cervix may possess a sphincter-like property that prevents premature delivery of a fetus, but this feature gets lost as pregnancy advances and during PTB. We suggest that the use of cervical MRI may help to predict PTB in high-risk patients and may introduce new therapeutic strategies to improve cervical integrity in a pregnant woman.
---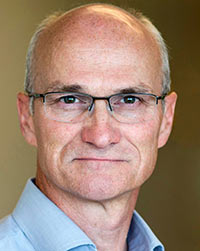 Development of therapeutics for prevention and treatment of pre-eclampsia: One of the leading causes of preterm birth in Canada
Dr. Graeme Smith
Kingston General Hospital and Queen's University, Kingston, ON
Pre-eclampsia is a condition that develops during pregnancy and is marked by problems with blood vessels and blood pressure, which can cause significant problems for the mother and baby. The goal of our project is to develop novel approaches to prevent and treat pre-eclampsia by increasing external exposure to CO during pregnancy or increasing the body's production of carbon monoxide (CO). Working in mouse models of pre-eclampsia and in pregnant and non-pregnant women, we have shown that inhaled CO increases dilation of blood vessels, which improves blood flow. We then went on to look for molecules that can be used to increase CO production in the body, and particularly the placenta blood vessels, instead of using inhaled CO. We have completed some exploratory studies in animal models showing that some molecules that could potentially become dietary supplements increase CO production. Our next step is to further explore whether these molecules could be used for prevention and/or clinical treatment of pre-eclampsia.
Publications:
Twitter: @MaternalHC
---
Read full list of awardees and their project abstracts
News
May
Preterm Birth Initiative funding announced
IHDCYH is pleased to share the news that on May 12, 2017 the Honourable Jane Philpott, Minister of Health announced an investment of $6.45 million in preterm birth and perinatal health care research. This funding will support a pan-Canadian preterm birth network grant, a team grant in national perinatal health care system improvement, and six catalyst grants in preterm birth research; all major components of our Preterm Birth Initiative. For the preterm birth network, this funding will be matched by $4.25 million of in-kind support from partnering health care institutions across Canada.
For information about the CIHR Institute of Human Development, Child and Youth Health Preterm Birth Initiative, please contact:
Date modified: