Working towards a future where HIV and AIDS cease to exist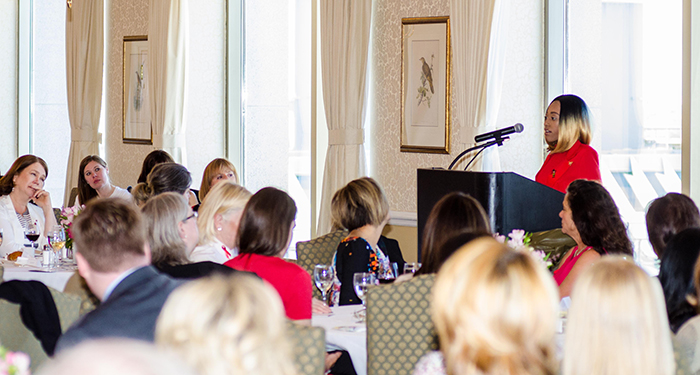 Muluba addresses the attendees at the CANFAR Can You Do Lunch? fundraising luncheon on May 10.
On May 10, 22-year-old Muluba Habanyama stood up in front of a crowd of over 100 people, including the Minister of Health, in Ottawa's swanky Rideau Club and delivered a simple but powerful message: I'm alive because of you.
Muluba is the national youth ambassador for the Canadian Foundation for AIDS Research (CANFAR), and on that day she had been invited to address the sold-out crowd at CANFAR's Can You Do Lunch? fundraising and networking event.
"It was unforgettable. I think it will take me a couple of weeks to process it all," said Muluba by phone from Winnipeg, where she was attending the Canadian Association for HIV Research annual conference.
Muluba was diagnosed as HIV-positive when she was two years old and lost her parents to complications from HIV/AIDS when she was young. At the CANFAR luncheon, Muluba shared her story: of graduating from high school and becoming an orphan at the same time, of falling into a depression, turning down offers of help from her sister and doctor and even throwing away her HIV medication until, 78 lbs. and severely ill, she collapsed and was admitted to hospital for a month.
"I'm not the same person I was then," she says. Alone in her hospital room, Muluba decided she wanted to live, took control of her physical and mental health and graduated from college with a journalism diploma. In 2015, she took the courageous step of disclosing her HIV-positive status in a YouTube video. "I like to go big or go home," she explains. In the fall, Muluba will start her master's in journalism at Ryerson University.
As CANFAR's national youth ambassador, Muluba visits schools and speaks to students in order to raise awareness about HIV/AIDS and advocate on behalf of people living with the virus. "There is still so much stigma. That's what scared me the most about coming out publicly and disclosing my status. And I still get messages from other HIV-positive people who are scared out of their minds about coming out."
"Muluba, and the important work she is doing with our valued partner, CANFAR, is truly inspirational," says Dr. Marc Ouellette, Scientific Director of the CIHR Institute of Infection and Immunity, which manages CIHR's HIV/AIDS research program. "She has been incredibly courageous in confronting the stigma people living with HIV/AIDS continue to experience."
Despite the stigma that still exists, there is room for optimism: people with HIV are living longer and there are fewer reported new infections today than there were even a few years ago.
"There is every reason to be hopeful," says Christopher Bunting, CEO of CANFAR. "We have so much brain power in this country, so many dedicated researchers and community groups. I think with this kind of strength we can reach the 90-90-90 target if we invest in the HIV/AIDS research infrastructure and collaborate to work towards a common objective," he says, referring to the UNAIDS target of ensuring that, by 2020, 90 per cent of HIV-positive people know their status, 90 per cent of people with HIV receive antiretroviral therapy (ART), and that 90 per cent of people on ART experience a suppression of the virus.
Christopher and Muluba agree that there are lots of bright spots, from the dedicated teams of CIHR- and CANFAR-funded researchers in Montreal working as part of the Canadian HIV Cure Enterprise, to advances in preventing mother-to-child transmission of HIV. But they also agree that there is more work to be done, particularly around pre-exposure prophylaxis, which describes a pair of medicines people at very high risk for HIV can take on a daily basis to lower their chances of getting infected. "In 2016, there shouldn't be any new infections," says Muluba.
With the International AIDS Society's biannual conference, AIDS 2016, due to get underway in Durban, South Africa, in July, both see the meeting, the largest gathering of its kind in the world, as an opportunity to advocate for better prevention, continue to work towards a cure, empower people living with HIV and call for greater compassion and education. For Christopher Bunting, the CEO of CANFAR, now is a time for increased collaboration and distribution of funds: "there is lots of room for optimism, but none for complacency."
Related Links
Date modified: