A new way of looking at infant pain
How infants respond to pain could point to future cognitive development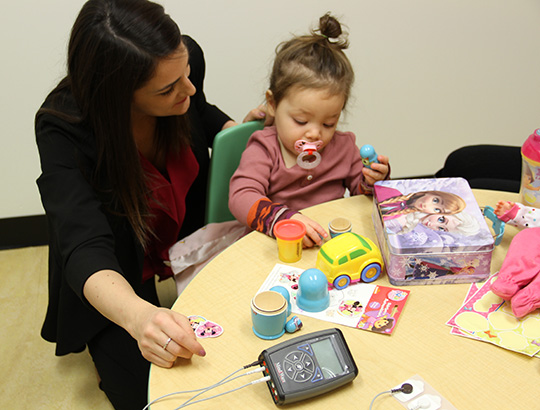 Jordana Waxman and Scarlett Halberstadt, York University
Photo courtesy of York University.
Seeing their child in pain is a particularly difficult experience for parents. We know that visiting the doctor can be distressing for an infant, especially when that visit requires a needle injection. Naturally, parents want to make it hurt less. But what do we really know about managing infant pain?
Treating infants for pain in a medical setting is actually a relatively recent phenomenon. Skepticism that infants experienced pain characterized much of 20th century research, with infant surgery routinely conducted with minimal or no anesthetic at all. And now that the old myth that infants do not experience pain has been dispelled, we are left with a large new area of research with room for growth and exploration.
Behavioural responses to pain, such as facial expressions and grimacing, have been well documented in children, but physiological responses, including heart rate, are not fully understood. Jordana Waxman, a student pursuing her PhD in clinical developmental psychology, will address this research gap. She is one of the doctoral students selected for the Canada Graduate Scholarship to honour Nelson Mandela, which will support her studies at York University on how pain-related distress and child-caregiver interactions in primary care settings can be used to predict infant mental health and cognitive development in the second year of life. Under the supervision of Dr. Rebecca Pillai Riddell, an expert in the field of infant pain, Waxman will take a novel approach to infant pain research by not only incorporating both behavioural and physiological indicators of pain, but also exploring how infant pain responses relate to mental health outcomes.
Canada Graduate Scholarships to Honour Nelson Mandela
CIHR and the Social Sciences and Humanities Research Council (SSHRC) selected Canada Graduate Scholarship recipients whose works align with the research areas championed by Nelson Mandela, including children's health. Jordana Waxman was selected and awarded $105,000 over three years to continue her research at York University's Opportunities to Understand Childhood Hurt (OUCH) Lab.
"I am very honoured and grateful that CIHR recognized me as a student conducting research in child health, an area that Nelson Mandela championed and tirelessly supported."
Setting the standards for measuring infant pain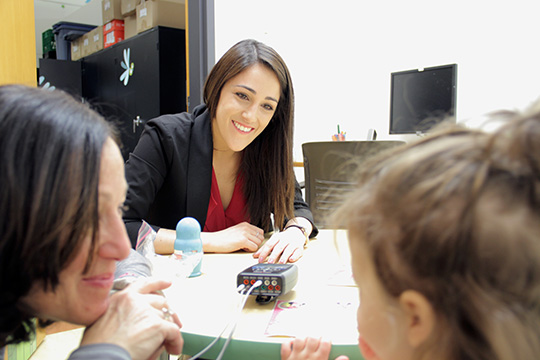 Jordana Waxman, York University
Photo courtesy of York University.
For her master's thesis, Waxman conducted a systematic review of existing research on physiological responses to painful procedures and discovered that there are presently no methodological standards for how physiological pain responses are measured in healthy infants outside of the first year of life. What is the expected heart rate of a healthy infant undergoing a painful procedure? Could a standard measurement help predict future health in infants whose heart rates deviate from the standard?
Waxman will focus her research on infants at their 12-, 18- and 24-month vaccinations. The first part of her study will look at how infants respond to pain, both behaviourally and physiologically, using brand new technology that aligns both types of data.
Next, in the OUCH lab, her team will examine how these findings relate to cognitive development and broad infant mental health indicators such as negative affect regulation, temperament, language and motor development at the end of the second year of life. Her team will simultaneously examine how caregiver and infant interactions within the primary care setting can predict broad infant mental health outcomes.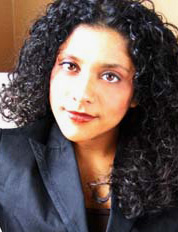 Dr. Rebecca Pillai Riddell
York University
Photo courtesy of Dr. Rebecca Pillai Riddell
Dr. Rebecca Pillai Riddell, Associate Professor at York University and Adjunct Associate Professor at the University of Toronto, founded the Opportunities to Understand Childhood Hurt (OUCH) Lab at York University. Launched in 2004, this internationally-recognized lab focuses on understanding how caregivers and children interact within the context of pain. Equipped with state-of-the-art technology and populated by 20-25 student trainees and a multidisciplinary team of professionals and researchers, the OUCH Cohort is the largest cohort in the world that follows healthy infants during painful experiences.
"We have become well-known for our studies of parent and infant interactions in painful settings and we are very grateful that CIHR's support has made this possible."
Families in the community are happy to participate in research at Dr. Pillai Riddell's lab. "The people in the OUCH Lab are all very nice and I was glad we could help out," says Brenda Halberstadt, grandmother of Scarlett Halberstadt, a participant in the study. "All in all, Scarlett was very good and it was a great experience for both of us."
By gaining a better understanding of how infant pain relates to mental health, this research can help clinicians detect developmental complications and intervene more efficiently. With the support of Waxman's Canada Graduate Scholarship from CIHR, the OUCH Lab will continue its efforts to improve pain management among infants in honour of Nelson Mandela's legacy.
Associated links
Date modified: