CIHR Team in Child and Youth Injury Prevention
Principal Investigators: Drs. Ian Pike; Pamela A. Fuselli; Mariana J. Brussoni; Carolyn A. Emery; Brent E. Hagel; Alison Macpherson; Barbara A. Morrongiello; William Pickett, Nadine C. Schuurman; Natalie L. Yanchar
University of British Columbia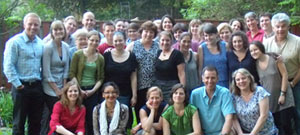 We've all heard it—and we've probably all said it—before: Accidents happen. They're unfortunate, they can be devastating when someone gets hurt, and they're a fact of life. Or are they?
"Accidents don't need to happen," says Dr. Ian Pike, Associate Professor in the Department of Pediatrics at the University of British Columbia and co-leader of the CIHR Team in Child and Youth Injury Prevention (CYIP Team). "The tragedy is that the vast majority of injury events are actually predictable and preventable."
Yet, unintentional injury is still the leading cause of death for Canadian children and youth, and it is also one of the leading causes of hospitalization for Canadians aged 5-19 years. Non-fatal injuries can also have a significant impact on quality of life for young people, as the effects can range from reduced physical activity to serious, life-long challenges.
"Injury represents so much lost potential," explains Dr. Pike. "And the impact can be seen in terms of disability, not only death."
Fortunately, the CYIP Team is working to change all of that. With a multi-disciplinary team boasting expertise in everything from medicine to geo-spatial analysis, their comprehensive approaches to studying injuries (and their prevention) are already having a positive impact.
Take, for example, the novel virtual reality system (created by team member Dr. Barbara Morrongiello from the University of Guelph) that is being used to develop guidelines for child pedestrian safety. With this fully immersive 3-D virtual reality system—which includes scenarios based on vehicle-related pedestrian injury "hot spots" in Vancouver, Toronto and Montreal—the team tested street-crossing decisions in children aged 6-11, who were recruited for the study. The data from these tests shows where and how children are likely to be struck by cars, which is valuable information for neighbourhood planning and speed limits. The team is also developing training programs to teach children safe street crossing strategies that could be administered through schools.
The CIHR Team is addressing sport and recreation injuries, as well. It's no secret that hockey players and snowboarders can get injured, but there are a number of ways to mitigate the risks. Based on the work of Dr. Carolyn Emery, a team member from the University of Calgary, an incredible policy shift has taken place in organized hockey: in September 2013, Hockey Canada banned body-checking in PeeWee hockey (ages 12 and under). Instead of "learning how to take a hit" at a young age, Dr. Emery's research showed that kids were simply getting injured. In fact, this ban is expected to prevent over 5,000 injuries and 1,500 concussions per season. There is good news for snowboarders, too: research from Dr. Brent Hagel, another team member from the University of Calgary, is making terrain parks safer. Snowboarding is a popular winter sport among Canadian youth, and resulting injuries have the potential to be catastrophic. By identifying the apparatuses in terrain parks that pose the highest risk for injury, Dr. Hagel is able to advise ski resorts and terrain parks on the best ways to design a safe environment—without eliminating the fun.
"We believe that kids should be active, healthy and safe," says Dr. Alison Macpherson, Associate Professor in the School of Kinesiology & Health Science at York University and the other co-leader of the CYIP Team. "We're not saying that people shouldn't be playing hockey or on terrain parks. We're saying that there should be policies in place to make it safe to do so."
Those policies, regardless of whether they're for sports or traffic or schools, need to be based on solid research evidence and injury surveillance in order to have the desired impact. To help decision-makers develop policies that effectively contribute to injury prevention across the country, the CYIP Team has developed the Child and Youth Injury Indicators Dashboard and Web Portal. These unique web-based tools have been designed to present injury data in a useable, accessible way for researchers and policy makers alike. The first of its kind in Canada, the Dashboard also lets stakeholders assess and monitor the impact of policies over time, both locally and by comparing across jurisdictions.
Recognizing that Indigenous communities may have specific needs of their own, Team Executive Committee member Dr. Rose-Alma McDonald led a partnership with the Ahkwesahsne Mohawk Board of Education to conduct an analysis of injury reports on school grounds from 2011 to 2013. The Board of Education wanted to develop an injury surveillance system for their schools, and the CYIP Team wanted to help them build the capacity in the community to do so. The community has worked hard to make the schools safe places, and this partnership helped them build a system that enables them to maintain that safety—or address problem areas as they arise.
The success of the CYIP Team's work has spread to the next generation of health researchers, as well. Over the last five years, team members have mentored over 40 trainees and developed the injury trainee network. With this mentorship and collaborations across jurisdictions and disciplines, the CYIP Team is changing the injury prevention landscape in Canada for the better.
Date modified: