CIHR Team on Interpersonal Traumas
Principal Investigator: Dr. Martine Hébert
Université de Québec à Montreal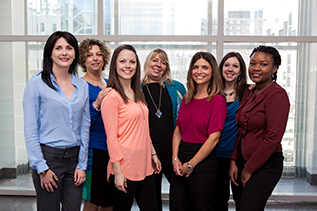 Ah, young love. In the movies, it's all about high school dances and first kisses and romance. But what happens when real life simply doesn't match the big screen?
The reality is that, in North America, 7-45% of youth aged 13-20 have been victims of at least one episode of dating violence. In order to get a handle on the problem and develop effective prevention strategies, young people need to be asked about their experiences.
"There were no representative surveys of teen dating violence and re-victimization in Quebec," explains Dr. Martine Hébert, professor in the Department of Sexology at the Université du Québec à Montréal. "But teens are very willing to participate," she adds. While her team had originally hoped to recruit 3,000 students (ages 14-18) for the survey, they ended up with more than 8,000 respondents—or approximately 99% of the teens who were approached from 34 secondary schools in the province.
The teens were asked about their dating experiences, including dating violence, so that Dr. Hébert and her team could document the prevalence and consequences of dating violence amongst teens, as well as factors that contribute to re-victimization. Recognizing that some youth are more vulnerable to violence than others, the team specifically reached out to two sub-groups of teens—LGBTQ youth and victims of child sexual abuse—and asked extra questions, with the hope that their responses would help shape better support services.
Not surprisingly, the team found that dating violence is associated with negative health consequences, particularly in terms of mental health (psychological distress, suicidal ideation, and lower self-esteem). The prevalence of the violence, however, was eye-opening: 58% of youths in couples sustained at least one form of psychological, physical or sexual violence in the previous year. Plus, although girls are more likely to experience violence, boys were less likely to see themselves as able to seek help if they needed it.
The results for LGBTQ youth and victims of child sexual abuse were also revealing. "Sexual minority youth are more likely to experience violence," notes Dr. Hébert, "and there are extra risk factors associated with disclosing that violence. Telling someone about the violence, after all, means disclosing your sexual orientation."
Although the numbers sound bleak, the survey results also highlighted critical elements to help teens find resilience, which the research team defined as "a person's ability to overcome a major difficulty using their own personal strengths and support from their social environment." For example, although teens who experienced sexual abuse as a child reported double the rate of dating violence, both peer and maternal support emerged as important protective factors that actually reduced the teen's risk of being victimized by a romantic partner. This is exactly the type of information that can be used to improve family support programs.
Plus, the research team wanted to know about the good—not just the bad.
"We asked the teens about their worst experience with dating, as well as the three things that they would say describe their best relationship," explains Dr. Hébert, noting that the questions were open-ended, so teens could describe whatever they felt. Many described a desire for love, trust, and happiness. "The interesting thing is that break-ups were consistently described as being the worst, not the violence," she adds.
So, what does this mean for designing dating violence prevention programs for teens?
"We need to talk about love before we talk about violence," says Dr. Hébert. "We need to talk to them about romance and how to negotiate a healthy relationship."
To support these discussions, the research team designed youth-friendly fact sheets for four topics: 1) Romantic relationships, 2) Sexual activities between youth, 3) Dating violence, and 4) Vulnerability, support and resilience. The fact sheets outline some of the key highlights of the survey results—showing teens that they are not alone in whatever they are experiencing—and they are also useful for the two activities that the team designed for teachers and youth workers.
In addition, Dr. Hébert and her team were consulted for the development of Quebec's new Sex Education curriculum, which was recently released. The survey data was also valuable for the provincial Government Action Plan Concerning Sexual Violence. This Action Plan was up for renewal in 2014, so, to date, Dr. Hébert and her team have shared their material with the Ministry of Justice, the Ministry of Education and the Ministry of Health and Social Services. They have also worked with two community-based organizations that were dealing with the prevention of dating violence and the support services for those who had experienced violence.
"These two organizations were doing wonderful things, but they weren't working together," explains Dr. Hébert. "Our study illustrates how they can work together to optimize resources and have an even greater impact."
Date modified: