CIHR Team in Prevention of Fall-Related Injuries in Older Adults through Bioengineering
Principal Investigator: Dr. Stephen N. Robinovitch
Simon Fraser University (Burnaby, BC)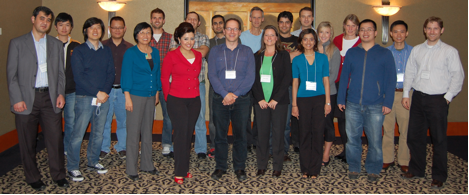 Falls are the leading cause of injury and injury-related death in older adults. Hip fractures are particularly devastating, as approximately 20% of hip fracture patients die within one year and 50% do not return to their pre-fracture level of independence. Sustaining a fall-related injury is easier than it sounds, too: it takes only about one-twentieth of the energy produced by a fall to fracture the hip, or cause a severe brain injury!
Dr. Robinovitch, the lead researcher for the Technology for Injury Prevention in Seniors (TIPS) program at Simon Fraser University's Burnaby campus, is working to develop innovative technologies to prevent hip fractures and fall-related brain injuries in older adults.
Using video cameras in long-term care centers, cutting-edge wearable sensors and customized data analysis routines, Dr. Robinovitch and his team have painted a clearer picture of the mechanics of falling. They have shown that falls are just as likely to occur during standing as during walking, most often due to excessive trunk sway or incorrect weight shifting. One-third of falls result in impact to the head, despite attempts to arrest the fall with outstretched hands. He believes that exercise programs should target "safe landing" responses as well as balance and agility.
To reduce injury, TIPS designed a new type of wearable hip padding, which is low cost, disposable, and adheres directly to the skin. Targeting the acute care setting, the team hopes this will improve patient adherence and care provider commitment to using hip protectors. They also took a more global approach to the issue: if you can't change behaviour, change the environment. The team examined the infrastructure of long-term care facilities, as well—especially the floors.
Working with industry partners, the TIPS team designed and is currently testing the clinical effectiveness (through a clinical trial) of what they call "compliant" flooring. The 25 mm thick sublayer (placed beneath vinyl) resembles the rubber tiles used in playgrounds in absorbing energy and reducing force during a fall, therefore lowering the risk of injury. The key is to find the right balance between cushioning and sturdiness, as compliant flooring should not interfere with walking or moving equipment such as wheelchairs and beds.
The new flooring has been installed in 75 bedrooms of a partnering long-term facility. So, where there was once hard-surface materials such as linoleum and tile, there is now rubber flooring that may protect the residents from serious fall-related injury. To better understand the difference that the flooring makes, the team will collect data over four years (until 2017) on injury rates and related health-care costs from falls in the compliant flooring versus control bedrooms. Two obvious advantages of the study are that the residents don't have to change their routines (or remember to wear hip padding, for example) and that this intervention has the potential to reduce the frequency of serious fall-related injuries among all residents. Best of all, it's simple.
Date modified: