CIHR Team in Traumatic Brain Injury and Violence: Reducing the risks, improving the outcomes
Principal Investigator: Dr. Michael D. Cusimano
St. Michael's Hospital (Toronto, ON)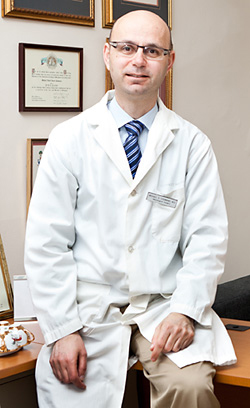 Traumatic Brain Injury (TBI) accounts for 50% or more of all trauma deaths, and an estimated 2% of the population live with lifelong disabilities resulting from TBI. There appears to be a direct link between TBI and violence, which itself is a major issue for Canadians.
To address this issue and find ways to reduce the risk of TBI, the CIHR Team in Traumatic Brain Injury and Violence (CIHR Team) initiated research in five areas:
identifying and characterizing high risk populations vulnerable to violence and TBI;
studying the relationship between alcohol, cannabis, violence and TBI;
examining TBI and violence in the homeless;
examining TBI in sport; and
examining cultural factors that propagate the problem.
The goal of the CIHR Team in Traumatic Brain Injury and Violence is to undertake a coordinated and comprehensive program of research based on the hypothesis that vulnerable populations carry the mutual burden of violence and brain injury for which there are shared, modifiable risk factors.
"Our research program seeks to improve the understanding of TBI and its link to violence on both a macro- and micro-level," explains Dr. Michael Cusimano, scientist in the Li Ka Shing Knowledge Institute of St. Michael's Hospital and leader of the CIHR Team. "TBI is an important yet neglected mechanism by which violence is perpetuated across groups and generations in society. Our program of research consists of a multi-project framework drawing on expertise of a variety of researchers and clinicians, and involves a range of research methods including neuropsychological testing and interviews, advanced neuroimaging, ecological analyses, and KT activities examining the social causes and effects of TBI and violence."
Date modified: