Preventing little bullies from growing up into big bullies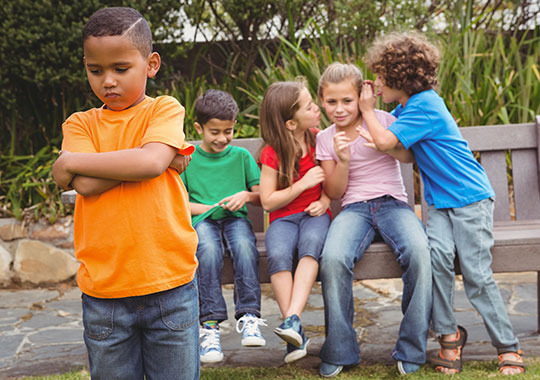 From the schoolyard to the workplace to cyberspace: Bullying is more prevalent than ever
February 24, 2016
Bullying – the term conjures up images of overbearing, school-aged children relentlessly intimidating other children. However, bullying is not limited to the school yard.
Bullies are everywhere, hiding on television screens, in schools and workplaces, at the neighbourhood playground or at the local shopping mall.
Anywhere people gather, so do bullies. They especially love to lurk in popular social media hangouts, hiding in the cyber-shadows and attacking their prey anonymously.
Just like their targets, bullies come in all shapes, sizes and ages. Their weapons of choice are aggression, intimidation, isolation and shame. Humiliating, dominating, harassing, isolating, threatening, or controlling someone are all hallmarks of a bully's behaviour.
Bullies prey on the vulnerabilities of others. Over time, their behaviour erodes a victim's sense of security.
No one wins in the long run, as research shows that bullying can trigger long-term mental health problems in the bully, witnesses and the victim, making this societal problem a serious one.
The term "bullying" once referred only to physical actions such as hitting, kicking and punching. However, the definition of bullying has evolved over time. Research has revealed that other types of non-physical behaviour like verbal bullying and social exclusion can produce similarly damaging effects on others.
Source: Public Safety Canada
The bully's behaviour may be unintentional or intentional, direct or indirect, but the results are unmistakeable.
According to CIHR-funded researcher, Dr. Wendy Craig, a psychology professor at Queen's University and Scientific Co-Director of PREVNet (Promoting Relationships and Eliminating Violence Network), these actions cause distress not only to the person being bullied, but also to witnesses who see the consequences of a bully's abuse of power.
Along with her colleagues at PREVNet and the Bully Lab, Dr. Craig has dedicated her career to the elimination of bullying and in the processes increased our understanding the risk associated with bullying and the role that families, schools and individuals play in building healthy social relationships.
Schooling bullies in kindness
Dr. Craig's work in the Bully Lab is collaborative one.  She believes that parents and educators have a role to play in teaching values like kindness and consideration to children. By providing a positive behavioural model, parents and educators can help to change the negative mindsets and attitudes that contribute to bullying behaviour.
In the school environment, research shows that kindness can be a catalyst for a caring, accepting atmosphere that enables students to perform better in the classroom. Promoting kindness is one of the best ways to improve the quality of life of children and teens. The result is that bullies and their victims can develop a more positive outlook and go on to live happier, more productive lives.
According to statistics provided by the Canadian Red Cross, 89% of teachers in Canadian schools claim that bullying was one of their greatest concerns.
CIHR funded researchers like Dr. Catherine Taylor and Dr. Tracey Peters, both from the University of Manitoba, Dr. Elizabeth Saewyc from the University of British Columbia, Dr. Wendy Craig from Queen's University and Dr. Line Chamberland from Université de Quebec à Montreal, among others, are studying the importance of inclusiveness and safety in schools across Canada as well as the impacts of bullying on vulnerable youth.
To be continued…
Are you interested in learning more about this subject? Why not bookmark our website?
In the weeks to come, CIHR's Health Research in Action will feature articles on some of Canada's leading researchers on bullying.
Associated links
Date modified: