High-tech underwear brings big relief, big savings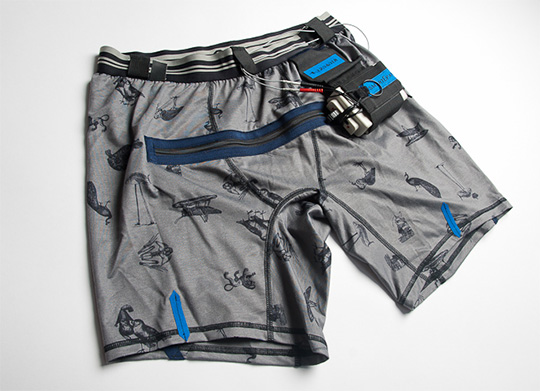 Innovative new medical device prevents pressure ulcers
January 27, 2016
Bedsores – sometimes called pressure sores or pressure ulcers – are very painful.
These injuries are caused when a person is unable to change position, such as when a patient lies in a hospital bed for long period of time, unable to move. People confined to wheelchairs are also susceptible to them.
In addition to being painful, bedsores can lead to complications such as sepsis (bacteria entering the bloodstream), cellulitis (infection of the skin), bone and joint infections, and even cancer. Bedsores can also be deadly. The actor Christopher Reeve (Superman) passed away from complications related to a bedsore.
Unsatisfied with existing approaches to preventing bedsores, Dr. Vivian Mushahwar of the University of Alberta was determined to find a way to stop this unnecessary suffering.
Supported with a grant from the Canadian Institutes of Health Research (CIHR), Dr. Mushahwar and her team of researchers developed an innovative solution: electric underwear! Their creation, called Smart-e-Pants, is an undergarment that fires gentle electrical pulses at the skin. These pulses help to keep the body moving, thus alleviating the constant pressure that produces bedsores.
"Smart-e-Pants uses electrical stimulation to produce brief contractions in muscles that are compressed for prolonged periods of time, such as the muscles of the buttocks and lower back, while sitting or lying down," said Dr. Mushahwar. "These contractions, which are repeated every few minutes, mimic the natural fidgeting movements that people with healthy nervous systems perform subconsciously to alleviate discomfort while sitting or sleeping."
Smart-e-Pants has been a big hit with patients, nurses, and doctors. It has also caught the attention of research investors. With the $500,000 grant received from CIHR, Dr. Mushahwar has been able to leverage over $1,000,000 of additional funding from Alberta Innovates – Health Solutions and the Spinal Cord Injury Treatment Centre Society (SCITCS) in Alberta.
Why so much interest in this innovation? While bedsores may seem like a relatively minor injury, hospitals and health system administrators know all too well how difficult and expensive it is to treat them. "The treatment of pressure ulcers is a long, arduous process," said Dr. Mushahwar. "In the United States, the cost of treating hospital-acquired pressure ulcers is over $11 billion per year. In Canada, the cost of treating all pressure ulcers is estimated to be $3.5 billion per year."
"The current techniques used by clinicians are just not successful in preventing the formation of pressure ulcers," added Dr. Mushahwar. "With Smart-e-Pants, we have found a way to prevent them. This intervention is well received by patients and has the potential to fill an important gap in current clinical practice."
Dr. Mushahwar and her team have completed a Phase I clinical trial to test the safety, feasibility, and acceptability of Smart-e-Pants. The system was tested with 68 patients across the continuum of care (from intensive care unit to home care) and was a resounding success. The trial found that the undergarment was:
Safe: there were no adverse effects;
Feasible: the application and removal of the undergarment fit within the regular daily routines for cleaning, bowel and bladder management, and dressing; and
Acceptable: both patients and caregivers were pleased with the system and wanted to use it in the future.
While this first trial did not focus on the effectiveness of the underwear, as it turns out, none of the study participants developed a pressure ulcer. Plans are now underway to move Smart-e-Pants to Phase II clinical trials, where the device will be tested for its effectiveness in the health care system.
At the same time, Dr. Mushahwar has launched a spin-off company, called Prev Biotech, Inc., to commercialize Smart-e-Pants, so it will be ready for sale once the necessary clinical trials are completed.
If the Phase II trials prove that the device is indeed effective, the potential cost savings for our health care system will be staggering.
"The primary cost for pressure ulcers is driven by the moderate and severe ulcers, which Smart-e-Pants is designed to prevent," noted Dr. Mushahwar. "If we assume that Smart-e-Pants will prevent 50% of those pressure ulcers (and the percentage will be higher if the undergarment is prescribed and used in a timely manner), half of the national costs for treating pressure ulcers could be saved. In the USA, that means annual savings of over $5.5 billion. In Canada, it means annual savings of over $1.5 billion."
Associated links
Date modified: