The Bhagirath Singh Early Career Award in Infection and Immunity 2015 Recipient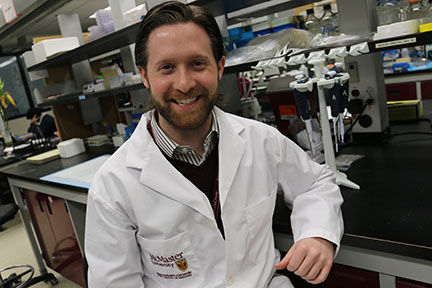 Dr. Matthew Miller
Assistant Professor
Department of Biochemistry and Biomedical Sciences
McMaster University
Hamilton, Ontario
Dr. Matthew Miller, Ph. D., Assistant Professor at McMaster University is the 2015 winner of the Bhagirath Singh Early Career Award in Infection and Immunity. Dr. Miller's application "Understanding the generation and protective functions of broadly-neutralizing humoral immune responses against influenza A virus" was ranked the highest among all new investigators in the field of infection and immunity in the March 2015 Open Operating Grant Program competition.
Dr. Miller's research interests
The recent discovery of broadly-neutralizing antibodies that bind to the stalk domain of hemagglutinin has raised the hope that development of a "universal" influenza virus vaccine may be within reach. While many studies have addressed how these antibodies function in isolation, little is known about the way that broadly-neutralizing antibodies are generated and function in the context of the polyclonal responses that are naturally elicited by vaccination and infection. Dr. Miller hopes that his studies will define the mechanisms that govern the generation and function of broadly-neutralizing antibodies in the context of the polyclonal response to infection and vaccination. The knowledge gained from these studies will be used to advance the development of "universal" influenza virus vaccines and therapeutics which have the potential to substantially reduce the global burden of influenza-related illnesses.
Date modified: