Showcasing a Canadian success story: The Ebola vaccine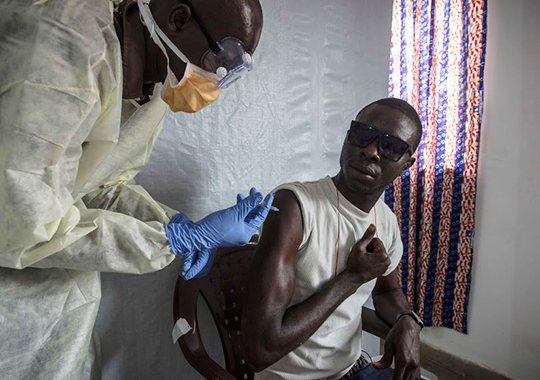 Canada's role in the global fight to stop the Ebola outbreak
November 26, 2015
In 2013-2014, the world watched in shock as West Africa experienced the most widespread Ebola epidemic in history.
The outbreak began in Guinea then spread to neighbouring countries Liberia and Sierra Leone. As we remember all too vividly, the virus killed both young and old, taking children from their parents, while leaving other children orphaned. As the disease progressed, medical services became overwhelmed as they ran out of supplies and lost staff to illness and death.
Taking action
The Government of Canada, its Health Portfolio agencies, and experts in vaccine-related research recognized that urgent action was needed. "The Ebola crisis presented the world with an urgent scientific challenge," said Dr. Alain Beaudet, President of the Canadian Institutes of Health Research (CIHR). "Without effective vaccines or treatments and without coordination of efforts, it would be virtually impossible to halt the advance of the pandemic, much less reverse it."
"We were facing a huge public health emergency with devastating human impact in West Africa," recalled Dr. Marc Ouellette, Scientific Director of the CIHR Institute of Infection and Immunity.  "Everyone at CIHR was moving as fast as possible while ensuring the integrity of the scientific process."
Fortunately, Canada had long been conducting research on Ebola.  Researchers at the Public Health Agency of Canada (PHAC) National Microbiology Laboratory, in Winnipeg, had developed an experimental vaccine called the Vesicular Stomatitis Virus-Ebola Virus vaccine – known as VSV-EBOV.
"Our team of scientists, having witnessed first-hand the effect of Ebola as they studied the virus and the outbreaks it caused, were compelled to put in the work to develop the vaccine," said Dr. Matthew Gilmour, Scientific Director General at the National Microbiology Laboratory. 
While great progress had been made on the experimental vaccine, it had yet to be tested on humans.  With the virus quickly spreading, the time to test the vaccine had arrived. 
The clinical trial
CIHR joined forces with PHAC and the Canadian Immunization Research Network (CIRN), located in Halifax, to conduct a Phase I clinical trial of the vaccine, on local residents.  "CIRN has an excellent reputation and features an emergency rapid response infrastructure," said Dr. Ouellette.  "This facilitates the fast application, peer review, approval, and funding of clinical trials."
The first step for CIRN was to ask healthy volunteers to participate.  The public response was extraordinary.
"We were overwhelmed with people wanting to be in this study," said Dr. Scott Halperin, a Dalhousie University researcher who led the VSV-EBOV clinical trial.  "Typically, a Phase I trial takes several weeks to fill, and we had 40 slots available for this trial.  Within an hour of my first radio interview announcing we were going to do this study, 80 people called us to volunteer – double the number of applicants we needed!"
Those volunteers would make medical research history by helping to complete the fastest Phase I vaccine study recruitment ever held in Canada.  "It was extraordinary," said Dr. Halperin.  "There was a strong sense that the volunteers really wanted to contribute to stopping the Ebola outbreak in West Africa."
The study involved 40 participants, aged 18-65, comprising a representative sample of the Halifax community.  Thirty participants received the Ebola vaccine, while the other ten received a placebo.  The trial also tested three different quantities of the vaccine on the volunteers, to help researchers identify an ideal dose.
"This was the first test of Canada's rapid response clinical trials research system," added Dr. Halperin.  "It worked very well and will be available for other public health crises that require vaccine testing in the future."
A worldwide collaboration
The Phase I interim results demonstrated that there were no severe adverse reactions among people who had received the vaccine. Those findings became a key component of the international data that would lead to the selection of the VSV-EBOV vaccine for a Phase II-III trial to test the vaccine's real world efficacy in preventing infection with Ebola.
As the Phase I trial launched, officials from CIHR, PHAC, the International Development and Research Centre (IDRC), and the Department of Foreign Affairs, Trade, and Development (DFATD) engaged in discussions with the World Health Organization (WHO) to offer Canadian research support in setting up this Phase II-III Ebola vaccine trial in affected countries.  The decision was made to carry out the study in Guinea, in collaboration with Norway (which already had contacts on the ground), and to use a ring-vaccination approach, which focusses on contacts of infected patients.
Michel Perron, CIHR Vice-President of External Affairs and Business Development, represented CIHR at the WHO discussions. "Never before had the world come together so quickly and so collaboratively to stop an epidemic," said Mr. Perron.  "It was an unprecedented global exercise – among governments, industry, and NGOs – in fast-tracking the development, validation, and administration of this vaccine."
A made-in-Canada success story
The study's Data and Safety Monitoring Board, chaired by Dr. Benoît Mâsse of Montreal's Centre de recherche du CHU Sainte-Justine, tracked the results.  After 4,394 doses of the vaccine had been administered to people in Guinea, and the results carefully tracked, researchers concluded that the Canadian vaccine had clearly proven its effectiveness against the disease.  In July 2015, that dramatic result would go on to be published in The Lancet, one of the most prestigious medical journals in the world, which described VSV-EBOV as "highly efficacious and safe in preventing Ebola virus disease."
The VSV-EBOV vaccine is now being further developed and commercialized by Merck Vaccines.  "It is the first proven, effective Ebola vaccine," said CIHR's Dr. Marc Ouellette. "It demonstrates that Canada's health research community can rapidly deliver evidence-based research in the face of urgent public health threats requiring vaccination."
"The fact that this vaccine is now helping people is so immensely rewarding," said Dr. Gilmour of the National Microbiology Laboratory.  "This further invigorates us to continue to investigate these microbes that cause serious disease and to work towards solutions such as this vaccine."
The Ebola vaccine clinical trials have further raised Canada's profile as a world leader in international research partnerships.  Today, CIHR is representing Canada in the new Global Research Collaboration for Infectious Disease Preparedness, involving a group of 13 countries and the European Union.  The only initiative of its kind, it brings together the world's major research funding organizations so they are able to respond within 48 hours to an outbreak of an infectious disease with pandemic potential.
CIHR's Dr. Alain Beaudet believes that VSV-EBOV was a major achievement for vaccine research in Canada and around the world.  "First, this success is a concrete example of how basic investigator-initiated research – a prerequisite for innovation – can provide the knowledge necessary to make important discoveries and solve pressing problems," said Dr. Beaudet.  "Second, this accomplishment demonstrates that vaccine researchers, science and technology authorities, and government officials can come together effectively and quickly in a global crisis to deliver timely solutions."
"The vaccine has proven itself to be effective, and holds the promise of saving many lives in the future," added Dr. Beaudet.  "As Canadians, we can all take pride in the major role Canadian science is playing in the global struggle against this deadly disease."
Associated Links
Date modified: