Improving Recovery After Stroke in Newborns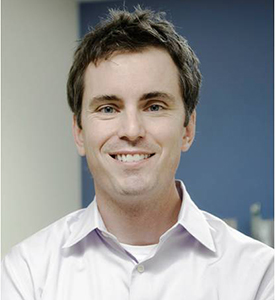 CIHR Foundation Grant Recipient
Dr. Adam Kirton
University of Calgary
Dr. Kirton's Research
Children who suffer strokes before birth or during their first month of life — known as a perinatal stroke — can experience a wide range of negative, long-term consequences. For example, perinatal stroke is a leading cause of cerebral palsy, a permanent movement disorder that affects more than 25,000 Canadian children. Perinatal stroke can also cause life-long learning difficulties and epilepsy. Beyond the physical effects, it can lead to psychological and social issues for children and their families. But despite the severe consequences, researchers have only recently begun to explore the causes and potential treatments for this serious condition.
Each year, an estimated 200 to 300 Canadian children experience a stroke before birth or during their first month of life. (Source: Canadian Stroke Network)
"Only in the past 10 to 15 years have doctors and researchers improved our ability to diagnose stroke in infants, so now there's a lot more awareness," says Dr. Adam Kirton, a perinatal stroke researcher at the University of Calgary. "We are now better able to identify affected kids and help them—and their families."
Dr. Kirton's research has focused on understanding how a child's brain recovers after a stroke, what causes these strokes, and how doctors can support families living with perinatal stroke. He and his team have built a lab — the first of its kind in Canada — where they can do brain-mapping and neuroimaging to study the recovering brain, and assess the impact of neuromodulation (a treatment that involves mild electrical currents to stimulate brain activity and maximize stroke recovery).
His team has also assembled the Alberta Perinatal Stroke Program, the largest study on perinatal stroke. In addition, through his work with NeuroDevNet, one of Canada's Networks of Centres of Excellence, Dr. Kirton and his colleagues are trying to build a national clinical trials network for studying cerebral palsy. In collaboration with the Heart and Stroke Foundation of Canada (HSF), he has also launched a successful community support program for survivors of perinatal stroke and their parents. This program has been particularly effective at reducing the guilt that many mothers feel about their child's stroke.
"Moms of children with perinatal stroke often assume they did something wrong," explains Dr. Kirton. "When they are reassured that their child's stroke wasn't their fault, they are often visibly relieved. This kind of intervention is simple, but it has a big impact."
Supporting Advances in Perinatal Stroke Research
With their Foundation Grant, Dr. Kirton and his team would like to build the world's leading clinic for studying new, non-invasive therapies for improving recovery after perinatal stroke.
In particular, Dr. Kirton's lab will be studying how the brain learns motor skills, which parts of the brain may respond best to treatment, and what factors promote stroke recovery.
They will also continue to study the causes of perinatal stroke, which aren't well understood at this point. Dr. Kirton's team will focus on the role that the placenta plays in stroke, and will follow thousands of children, both in Alberta and across the country, to identify risk factors. These findings could ultimately open the door for developing prevention strategies for perinatal stroke.
"Because children's brains are still developing, they are more complex than adult brains. But they are also more plastic. This raises the hope that we can intervene to improve stroke recovery." – Dr. Adam Kirton
About Dr. Kirton
Dr. Kirton is a researcher and pediatric neurologist at the Alberta Children's Hospital in Calgary. He became an HSF Clinician Scientist in 2008. In 2014, he received the President's Excellence Prize in Research from Alberta Health Services and the Co-Chair's Award for Innovation from the Canadian Stroke Congress. Dr. Kirton has also chaired the perinatal section of the International Pediatric Stroke Study, and leads the regional (southern Alberta) Canadian Cerebral Palsy Registry.
Date modified: