Can mother's milk help protect kids from obesity?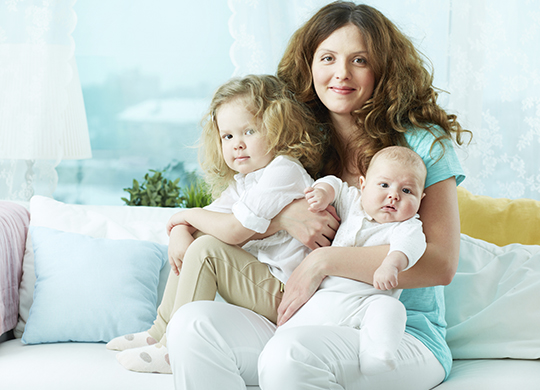 Uncovering the link between breastfeeding and early childhood obesity
October 13, 2015
Obesity is a growing problem among kids in Canada. The rate of obesity for children and youth has nearly tripled in the last 30 years in this country. Today, more than one in four Canadian children and youth are overweight or obese.
The long-term effects of this trend could be very serious. Obesity increases the risk of developing a host of chronic health conditions, including diabetes, high blood pressure and heart disease.
To curb this problem, public health authorities and health professionals have mainly focused on finding ways to encourage kids to eat healthy foods and to be physically active. Parents are told to get their kids off the couch and on the playing field. They're told to get rid of the junk food and to load up the fridge with fruits and vegetables.
While these lifestyle management strategies are important, recent scientific evidence suggests that obesity may be rooted, at least in part, to early life, long before junk food and exercise come into play. At the same time, studies commonly report that breastfed babies have a reduced risk of obesity.
Breast milk is considered the ideal nutrition for babies because it contains nutrients and other components such as hormones that contribute to healthy growth and development.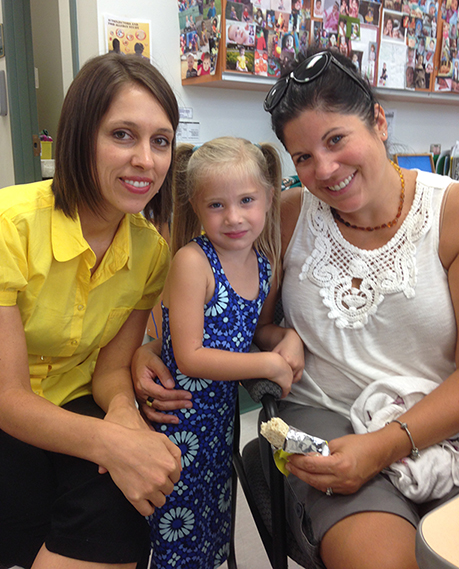 Dr. Meghan Azad (left) with five-year-old Jillian and her mom Melissa, who are participants in the CHILD study. Photo credit: Dr. Meghan Azad, University of Manitoba.
But it isn't exactly clear how breastfeeding protects against obesity. Are there protective factors in breast milk? Does breastfeeding improve a baby's appetite control? Do a mother's genes, diet or health status alter the composition of breast milk?
Dr. Meghan Azad, an assistant professor at the University of Manitoba and a research scientist at the Children's Hospital Research Institute of Manitoba, is leading a research study that aims to find answers to those questions.
"While we know breastfeeding has a protective effect, we need to dig deeper and find out what factors contribute to this effect," says Dr. Azad.
Dr. Azad and her team will use data and biological samples from the CIHR-funded Canadian Healthy Infant Longitudinal Development (CHILD) Study, which involves more than 3,500 Canadian families with children who have been followed since before birth. They will analyze breast milk samples and examine information about the mothers' health, breastfeeding patterns and the body mass index of their children at one and three years of age.
"This is a very interesting study," says Dr. Debbie O'Connor, a dietitian and researcher at The Hospital for Sick Children and University of Toronto, who is leading a CIHR-funded research project on how to optimize mother's milk to support the healthy development of premature babies. "This research will give us new insights into how the individual components of mother's milk can affect an infant's health. I'm keen to see the results."
The results of Dr. Azad's study may contribute to new strategies to prevent obesity, including better infant nutrition guidelines, dietary recommendations for nursing mothers, and improved infant formulas for use in situations where breastfeeding is not possible.
"Our hope is that this research will lead to new strategies for addressing the challenge of childhood obesity," says Dr. Azad. In the end, it may also contribute to a healthier future for children.
The study is supported by the Canadian Institutes of Health Research, AllerGen, Manitoba Medical Services Foundation and the Children's Hospital Foundation of Manitoba.
For more information on breastfeeding and infant nutrition, visit the Healthy Canadians website.
Watch a video produced by Dr. Azad on breastfeeding and childhood obesity for a video competition sponsored by CIHR's Institute of Human Development Child and Youth Health.
Date modified: