CIHR@15 – Canadian Institutes of Health Research Annual Report 2014‑15
President's Message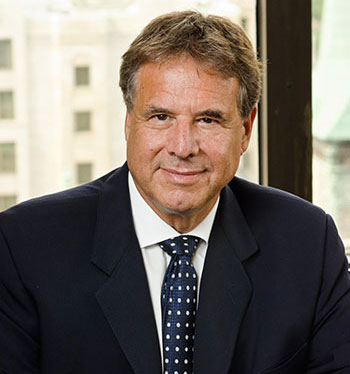 Dr. Alain Beaudet, President of the Canadian Institutes of Health Research
A physician, professor, and neuroscientist, Dr. Alain Beaudet was appointed to head CIHR in 2008, after directing Quebec's health research funding agency, the Fonds de recherche du Québec – Santé.
In this interview, Dr. Beaudet shares his views on Canada's health research investment agency – its achievements, its impact on the health of Canadians, and its future.
What were CIHR's biggest accomplishments or milestones of 2014-15?
We attained two major milestones this year.
After years of preparation and work, we launched the first Foundation grants competition. This first pilot was a huge challenge for CIHR. It was, for researchers, a new way of writing a grant; for evaluators, a new way of reviewing a grant; and for CIHR, a new way of administering the grant delivery process. At the same time, we were holding the last competition of our traditional open program. So, it was a bit like changing the motor of a plane while in flight!
The second milestone involved the Strategy for Patient-Oriented Research (SPOR). With the roll-out of the SUPPORT Units, the provinces and territories now realize they are in a position to shape the research agenda and access research results. The SUPPORT Units will help the provinces and territories deal with the pressing priorities they are facing. This is a milestone for CIHR because we finally have tangible evidence that we are delivering on a major part of our mandate: ensuring that the research we are supporting impacts health outcomes and the health care of Canadians.
CIHR is celebrating its 15th anniversary in 2015. What has been CIHR's major achievement over the past 15 years?
One of the reasons CIHR was created was to achieve more coherence in the funding of health research – to fund all aspects of health research under one roof, from molecular biology to the social determinants of health, and everything in between. I think CIHR, over this fifteen-year period, has finally realized that broad mandate – that dream – of having a single organization able to support the best research in all of the areas of health.
We are seeing a shift toward more collaboration and partnerships in health research – why is this happening?
Research is changing. Nobody is doing their own research in isolation anymore. We have discovered that innovation flourishes when we bring people from different disciplines together. Put together a mathematician, a physicist, and a biologist in a room and great things will happen.
We are also moving toward research that is more and more focused on problems rather than focused on a discipline. We used to do research in physiology or in anatomy or in biochemistry. Today, we are doing research on preventing lung diseases, or treating chronic heart disease. Researchers are now thinking of the impact of their research from the get-go.
It is important to encourage partnerships at all levels and this applies to international partnerships as well. When we tap the talent of two countries instead of one, we have a better selection of brains to start with and it is always better to have more brains! Working with another country can offer new ideas and a different cultural approach, which is very important for creativity and innovation.
Looking to the future, what change would you like to see in the realm of health research funding?
We must allow freedom for creativity, and this is what we are doing with our new approach to funding investigator-initiated research. We should increase that freedom and take more risks. Traditionally, I think we have been a bit like an old investor: very prudent. We invest in "blue chip stocks" but we do not invest in the daring little tech company… a company that might fail. However, if that company does not fail – if it succeeds, we are going to see a huge return on investment.
Alain Beaudet, MD, PhD
President, CIHR
Date modified: