It doesn't have to hurt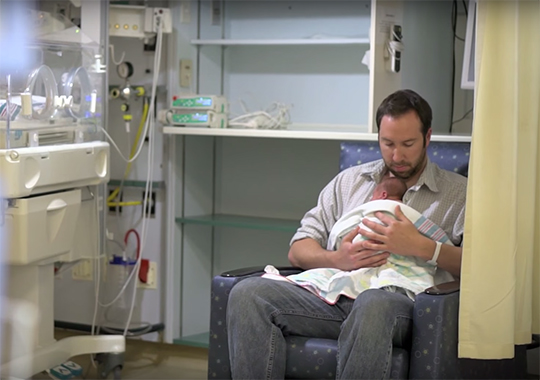 A new science-media partnership is putting the best research about managing children's pain into the hands of parents
September 18, 2015
No parent wants to see their child in pain.
Whether it's a broken arm, an operation, or the prick of a needle, dealing with pain can be stressful for parents who want to do whatever they can to ease their child's discomfort. Although research about children's pain lags behind what is known about adult pain, considerable strides have been made over the last three decades. It is excruciating to imagine today, but a premature baby requiring open-heart surgery thirty years ago would not have received anesthesia (due to the belief that premature babies couldn't experience pain and that using anesthesia would be too risky). Since that time, research about children's pain and pain management has fostered new ways to provide comfort and reduce suffering.
Unfortunately, it takes a long time for the results of this research to reach parents. Current estimates show that it can take seventeen years for this to happen, which a lot of people think is too long.
For Dr. Christine Chambers, a clinical psychologist and professor at Dalhousie University and the IWK Health Centre in Halifax, the gap between research results and healthcare practices came as a bit of a shock. After spending years conducting research on children's pain, she assumed that the work was making a difference in how pain was managed for young patients. "But when I became a mom," she explains, "I realized that my kids were not always receiving evidence-based pain care."
Determined to change the way that research evidence gets disseminated, Dr. Chambers and her team decided to create a short YouTube video about helping children deal with the needle pain (and related fear) of getting their vaccinations. Despite the fact that proven strategies exist, only 5% of children receive any type of pain relief for common needle procedures. The video, which earned a special mention in the CIHR Institute of Human Development, Child and Youth Health's first video competition, aims to help parents change that statistic by offering the following tips:
distract the child with games or by singing songs;
blow bubbles to encourage the child to take deep breaths;
use topical anesthetics to numb the skin before the needle; and
don't say "it will be okay" or "it will be over soon", as this can make the child feel worse or become more nervous.
The video was a tremendous success, thanks in large part to extra support that Dr. Chambers received from the Nova Scotia Health Research Foundation, and it was shared widely through social media. It even led to the creation of a second video about the power of a parent's touch to ease pain in newborns, led by Dr. Marsha Campbell-Yeo (one of Dr. Chambers' colleagues at the Centre for Pediatric Pain Research), which won first place in the video competition noted above.
Still, Dr. Chambers wanted to share more information about children's pain management, and she wanted to put it into the hands of the people who need it: parents.
"There are limits to how many people I can reach on my own," she says, so she started to look for partners who could help her bring the information to a wider audience.
Enter Erica Ehm, the creator and publisher of YummyMummyClub.ca—Canada's largest independently owned online magazine for moms. Dr. Chambers had reached out to Ms. Ehm through Twitter to share her YouTube video, and soon it became clear that the YummyMummyClub.ca (YMC) audience was exactly the one that she wanted to reach. With a grant from the Canadian Institutes of Health Research (CIHR), Dr. Chambers and Ms. Ehm are embarking on an innovative partnership that will combine evidence-based information about managing children's pain with the savvy writing skills of YMC's content creators.
"It makes so much sense," says Ms. Ehm. "Our writers are great storytellers, and they create easily digestible content. As parents, we don't always know how to take medical information or research results and apply it to our lives, but readers will see the practical application in a real-life environment with this content. There will be a lot of 'a-ha moments.' "
Through the partnership, research evidence will provide the basis for YMC blogs—which Dr. Chambers and her research team will review before publication—and parents will be engaged through Twitter chats, Facebook posts, and videos. The team consists of top health researchers from across the country with expertise in pain, e-health, and communications.  Plus, to ensure that input from parents helps shape the campaign, a parent panel with cross-country representation was struck to provide advice about what topics are important and how they should be communicated.
Isabel Jordan, Chair of the Board of Directors for the Rare Disease Foundation and mom to two kids, was thrilled to join the panel. One of her children has a rare disease, and she notes that he has had some rough experiences with both procedural and chronic pain. "As a parent, I look for and have trouble finding information to make it better," she explains. In particular, she is happy to see the collaboration between researchers and parents. "There is tremendous power in going to the community that needs the information and asking them what they want and how they want to receive it."
The partnership, which puts a spin on the business model of "branded content" by showcasing research instead of a product or service, has the potential to spark a revolution in the way that solid scientific evidence reaches the people who will use it. "The great thing about social media is that the information is for everybody—not just parents but also doctors, nurses, and administrators," says Dr. Chambers, who will also study the reach of the campaign and whether it changes parent awareness and use of pain management strategies with their children. "There's a whole range of…health issues that could be mobilized [with this model]. It will also generate tons of great research ideas."
For more information, visit the campaign website and join the conversation on Twitter using the hashtag #itdoesnthavetohurt. The content will be available on the YMC website and social media. You can follow Dr. Chambers on Twitter (@drcchambers) as well as Ms. Ehm (@yummymummyclub).
The additional stakeholder organizations formally involved in the grant include the Nova Scotia Health Research Foundation, the Canadian Association of Paediatric Health Centres, and the Canadian Pain Coalition.
Date modified: