The best decision – Helping policy-makers make coverage choices about drugs for rare diseases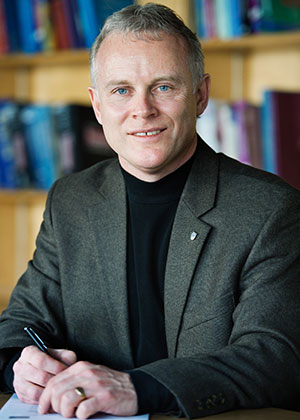 Photo: Dr. Larry Lynd is a professor in the Faculty of Pharmaceutical Sciences and Director of the Collaboration for Outcomes Research and Evaluation (CORE) at the University of British Columbia. He is also a scientist at the Centre for Clinical Epidemiology and Evaluation and the Centre for Health Evaluation and Outcomes Sciences.
"With the rapid growth of technology, genomic testing, and the development of targeted therapies, we are currently on the front of the curve of the many new, potential expensive drug therapies. It is therefore paramount that fair and transparent processes for making funding decisions for these drugs be identified or developed, implemented, and evaluated."
- Dr. Larry Lynd
Issue
There are over 7,000 different rare diseases, which collectively affect about 1 in 12 Canadians. "Orphan drugs" used in the treatment of rare diseases are typically very expensive, with costs exceeding $500,000 per year for one patient. The very high cost of these orphan drugs is resulting in a significant challenge for the health care system - in particular the pharmaceutical reimbursement plans.
A number of dynamics further complicate orphan drug policy. Developments in new genomic technologies and the emergence of personalized medicine are facilitating the identification of more rare diseases, as well as the stratification of common diseases into increasingly rare sub-types. While still rare in terms of the number of patients with a particular condition, the number of rare conditions, and consequently the number of patients with a rare disease, is growing.
Governments and private health insurance providers face difficult choices about when to cover the cost of orphan drugs. Decision-makers need tools to help them create drug coverage policies that balance the needs of patients, our society's values, and the economic realities of our health care system.
Approach
Given that economic evaluations of orphan drugs differ appreciably from evaluations of widely used therapies, there is significant need to develop a rational framework that reflects the moral societal impetus and economic and developmental factors that relate to orphan treatments. This structure should evaluate and determine which treatments public and private health care insurers should cover and help steer the innovation trajectory, and policy and decision-making in a manner closely attuned to social values. To achieve this, Dr. Larry Lynd and his team have undertaking a number of collaborative translational research projects.
Impact
With the growing number of treatments for rare diseases and their high cost, the overall potential financial burden to our health care systems is substantial. The tools Dr. Lynd and his team are developing will facilitate more informed health care decisions that are consistent with the values society places on the treatment of rare diseases. The team's findings will also contribute to the understanding of effective coverage decision-making methodologies that will help increase the sustainability of Canada's health care system and enhance patient care.
Date modified: