eHealth Innovation Partnership Program (eHIPP): Frequently Asked Questions
Archived information
Archived information is provided for reference, research or recordkeeping purposes. It is not subject to the Government of Canada Web Standards and has not been altered or updated since it was archived. Please contact us to request a format other than those available.
Table of Contents
---
1. Is this a medical or public health focused initiative?
The initiative focuses on patient centered, not technology centered solutions. We are looking for technology to be integrated into care delivery programs that will deliver solutions to real challenges, gaps and inefficiencies. There are two priority areas identified in the funding opportunity: seniors wanting to stay in their home of choice that could do so with the support of technology and their care provider, and early detection and better access and intervention for youth with mental health problems. Innovations are expected to bring about better outcomes in a more cost effective way.
2. What are the partner matching requirements?
We have a 1:1 funding arrangement for this initiative - half of the funds would come from CIHR and the other half will be brought forward by the applicant. In this half, we've asked that a minimum of 50% come from technology companies because we see their support, investment and involvement as an absolute key for success to create a vibrant Canadian technology industry sector that will help find solutions for the Canadian health care system. The other 50% can come from any other source with the exception of federally sourced funds from SSHRC, NSERC, CIHR, NCEs and CECR and BL-NCEs. There is a lot of flexibility, many smaller industries have received and continue to receive funding to help them achieve a certain technology readiness level (TRL) and this can be counted towards this initiative if spent within 18 months prior to the start date of the grant.
The following table outlines an example of a funding scenario:
Funder
Source
Funding Percentage
Amount Per Year
Total Amount Over Four Years
Note: Amounts may vary but funding percentage must stay consistent.
CIHR
IHSPR, IA, IHDCYH, INMHA
50%
$187,500 (max)
$750,000 (max)
Partners
Health Technology Industry
25%
$93,750 (min)
$375,000 (min)
Other (health charities, provincial funding organizations, venture capital, technology incubators, other economic development agencies, NRC-IRAP, etc.)
25%
$93,750 (min)
$375,000 (min)
Total
100%
$375,000
$1,500,000
3. Would international companies be eligible as matching partners?
Yes, international companies are eligible matching partners but applicants would have to demonstrate direct benefits to Canada. In other words, based on the first eHIPP objective, they would have to demonstrate, within the Canadian context, how the innovation would improve health outcomes, the patient experience and lower the cost of health care. Note that there are two evaluation criteria that speak to this. They are: 1) Probability the eHealth innovation enabled care delivery program will improve outcomes for the priority area populations within the Canadian health care system; and 2) Probability the eHealth innovation enabled care delivery program will be more cost-effective for the Canadian health care system than usual care.
4. Can the funds be used to pay companies to support the research projects (e.g. product enhancements, EMR integration, etc.)?
CIHR funding cannot be sent directly to companies. However, once grantees have access to their funding, eligible expenses can be managed as per the Tri-Agency Financial Admininstration Guide.
5. Do we require a prototype in order to apply, or is the intention to build a new product from scratch and evaluate its implementation?
eHIPP is targeted to support the 'experimental implementation phase' of the innovation pipeline: that is, the integration of suites of existing eHealth solutions, which are ready to progress beyond prototype stage, into care delivery programs for real-world evaluation. Technologies suitable for funding by eHIPP are those that meet the criteria for Technology Readiness Levels (TRL) of 6-9 within one year of the start of the project. In addition, adjustments to prototypes, informed by innovation communities, would also be within scope. Funds utilized to move to TRL 6-9 within the 18 months prior to the application will be considered eligible for matching dollars. Note that CIHR funds cannot be utilized to move an innovation to TRL 6 within the first year of the start of the grant.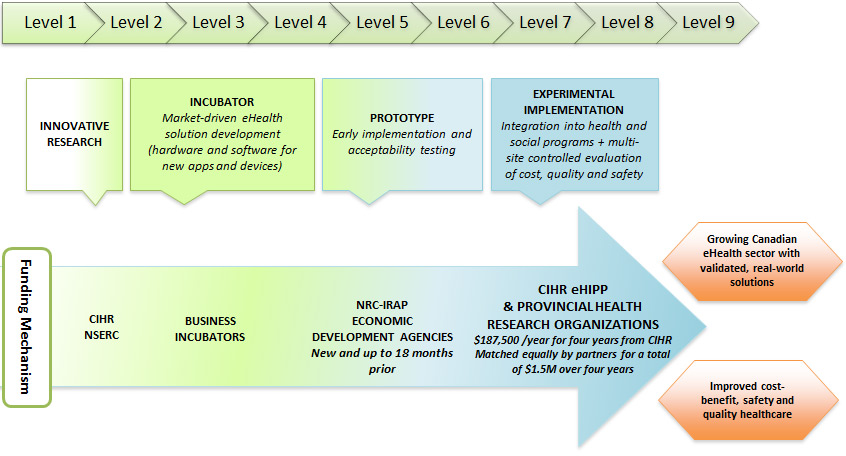 Stages of the innovation pipeline

Technology readiness level
Stage
Title
Description
Funding mechanism
Timing/amount
1
Innovative research
CIHR/NSERC
2-3
1
Incubator
Market-driven eHealth solution development (hardware and software for new apps and devices)
Business incubators
4-5
2
Prototype
Early implementation and acceptability testing
NRC-IRAP
Economic development agencies
New and up to 18 months prior
6-7
3
Experimental implementation
Integration into health and social programs and multi-site controlled evaluation of cost, quality and safety
CIHR eHIPP
And provincial health research organizations
$187,500/year for four years from CIHR
Matched equally by partners for a total of $1.5M over four years
8-9
N/A
Outcomes

Growing Canadian eHealth sector with validated, real-world solutions
Improved cost-benefit, safety and quality healthcare

N/A
6. Are there any rules around intellectual property?
Intellectual property is governed by institutional policies.
7. Can a technology company apply as a partner with multiple teams/organizations?
Yes, so long as the company is able to confirm funding availability in the event that all applications they are involved with are funded and that these are not same or similar projects. We would hope to see this because there are multiple challenges and there would need to be a variety of solutions to address these challenges.
8. How can I learn more about regional workshops in my area?
Please visit the CIHR website to learn more about planned activities in your area.
9. How do you define "seniors"?
Supporting seniors with complex care needs in their homes is one of the two priority areas for eHIPP funding. An appropriate "aging lens" that addresses the needs of older adults is required. Applicants will need to ensure that the population targeted with the e-health solution includes older adults.
10. Do retirement homes qualify for the seniors' exemplar?
"Keeping seniors at home" should be interpreted as the home of choice; a residential home or retirement home.
11. Is there a role for non-governmental organizations (NGOs)?
NGOs involvement is encouraged including a role in innovation communities and in the engagement of end-users (including patients, families, caregivers).
12. How do I access webinar recordings or slide presentations?
Contact Hawa Kombian (hkombian.ihspr@mcgill.ca) for more information.
13. What type of non-industry partners are eligible to provide matching funds for eHIPP?
All matching funds previously secured for innovation development (industry + other sources) are considered eligible if received within 18 months of the funding start date. All tri-council funders (CIHR, NSERC, SSHRC) are excluded for the matching contribution.
14. Can one person represent more than one role within the health care innovation community?
Yes (see Eligibility to Apply section in the Funding Opportunity).
Date modified: