eHealth Innovations Partnership Program
Learn about the eHealth Innovations Partnership Program (eHIPP) background and rationale
eHIPP will facilitate experimental "real-world" large scale implementations, focusing on the integration of existing innovations to create value (effectiveness, efficiency, cost-savings). The initiative will achieve this by developing inter-sectoral collaboration between:
health care innovation communities

researchers
clinicians
patients
decision makers from a variety of traditional and primary health care settings

industry
The expectation is for collaborative teams (health care innovation community + industry) to focus on the needs of one of the target populations:
Early detection of and intervention for youth (11-25 years of age) with mental health conditions.
Seniors with complex care needs in their homes and communities.
What is a health care innovation community?
Objectives
Identify patient-oriented eHealth solutions that will improve health outcomes, patient experience, and lower the cost of care along the continuum for the eHIPP priority areas.
Foster partnerships between health care innovation communities and industry to co-develop and evaluate the clinical benefit and cost-effectiveness of eHealth solutions in clinical- and population health-environments. These evaluations will take the form of cluster randomized, and/or randomized controlled trials (level 1 evidence) in order to assist in the subsequent commercialization of successful innovations.
Funding
eHIPP will fund grants from $500,000 up to $1.5 million over four years. Half of this funding will come from industry and/or industry support organizations, economic development agencies and other health funding agencies.
Funding Continuum of the Innovation Pipeline
Technology Readiness Levels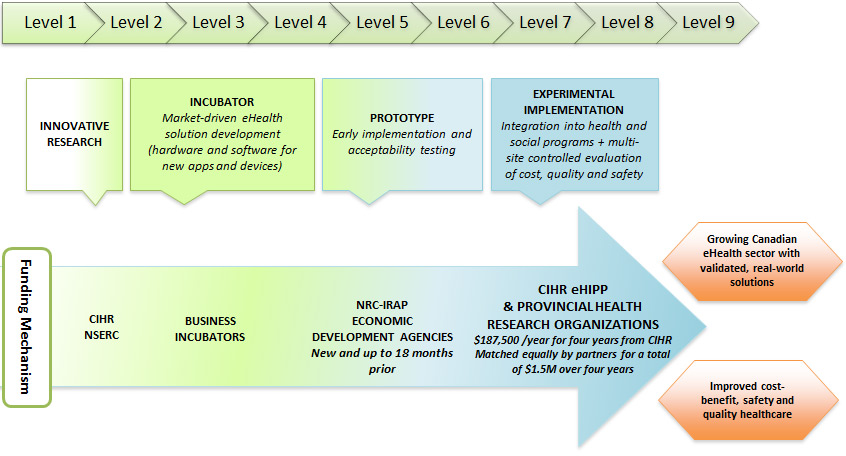 Long description: Funding Continuum of the Innovation Pipeline
Timeline
| Major steps | Key points | Timeframe/Deadline |
| --- | --- | --- |
| Webinars | Informative sessions for applicants and industry. | September 2014 – March 2015 |
| Partnership Workshops | Regional Workshops will be held to link potential health care innovation communities together with health technology industries | October 2014 – March 2015 |
| Registration | | April 1, 2015 |
| Full Applications | Submit full team (health care innovation community + industry) application | June 3, 2015 |
Date modified: