CBPHC Innovation team: Stewart Harris
Project title
Transformation of Indigenous primary healthcare delivery (FORGE AHEAD): Community-driven innovations and scale-up toolkits
Principal investigator
Stewart B Harris (Western University)
Focus
Given the dramatic rise and impact of chronic disease in Indigenous peoples in Canada, a shift from the existing health care model commonly employed in First Nations communities, to one that integrates prevention and chronic disease management is required. The overarching goal of the TransFORmation of IndiGEnous PrimAry HEAlthcare Delivery (FORGE AHEAD) research program is to develop and evaluate community-driven, culturally relevant, primary health care models that enhance chronic disease management and appropriate access to available services in First Nations communities in Canada. This goal will be accomplished through a series of 10 inter-related and progressive projects that will foster community-driven initiatives with type 2 diabetes mellitus as the action disease. FORGE AHEAD will use a participatory research approach that simultaneously ensures culturally appropriate implementation and integrates knowledge translation by involving relevant stakeholders throughout the entire program. Our strong multidisciplinary and cross-jurisdictional research team includes First Nations community representatives, Indigenous and non-Indigenous health care providers, clinician scientists, academic researchers reflecting a wide variety of disciplines from across Canada and policy decision-makers. The program will produce a tool-kit of tested strategies that can be successfully implemented, sustained and used for other chronic diseases in First Nations communities in Canada.
Funded by the CIHR Signature Initiative in Community-based Primary Health Care.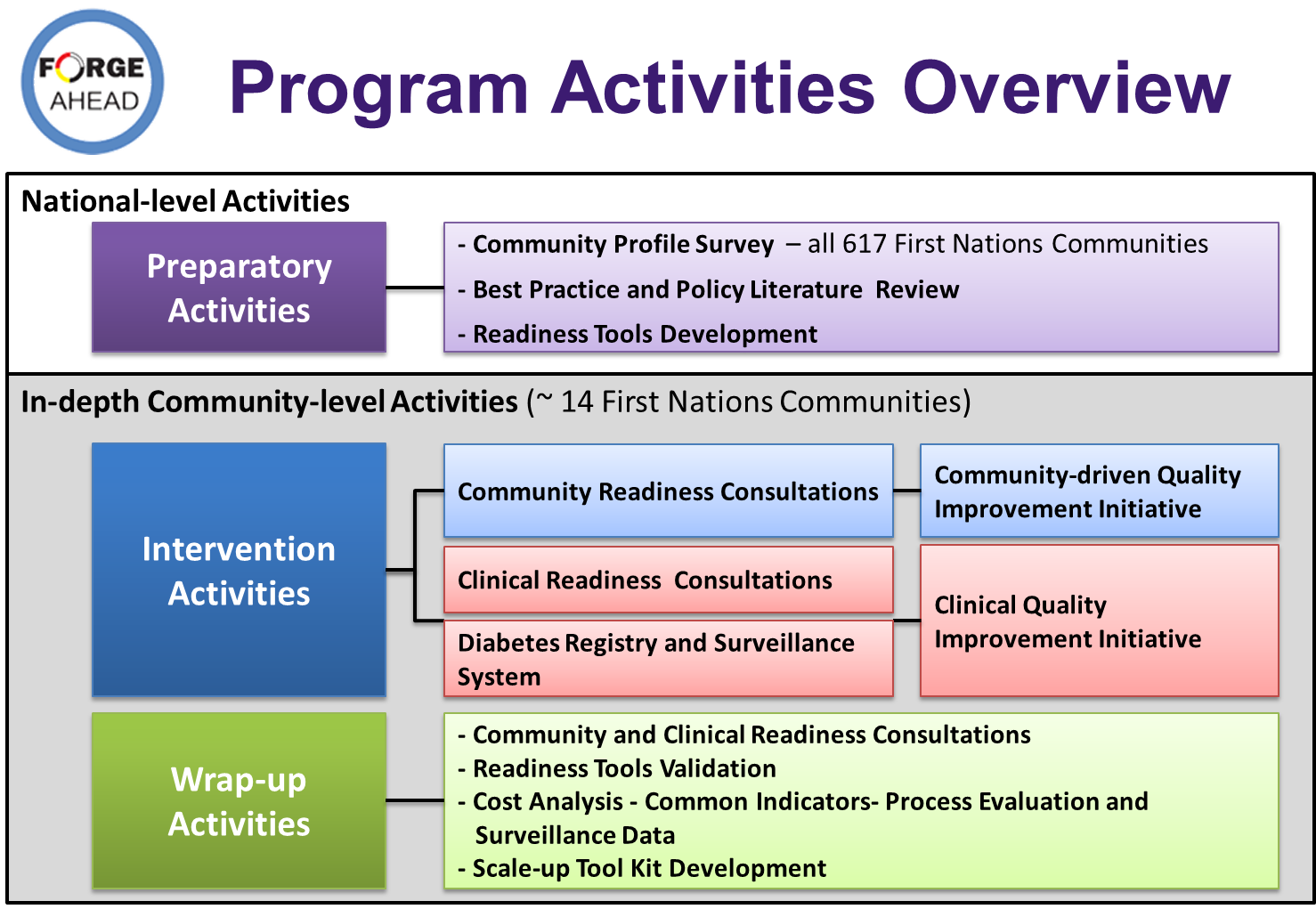 Long description: FORGE Ahead - Program Activites Overview
Partners and Collaborators
First Nations communities from 7 provinces (BC, AB, MB, ON, QC, NB, NL)
Assembly of First Nations
Canadian Diabetes Association
Centre for Addiction and Mental Health (Toronto)
Health Canada, First Nations and Inuit Health Branch (FNIHB)
Heart & Stroke Foundation, Ontario Stroke Network
Hindsight Healthcare Strategies
Menzies School of Health Research (Australia)
Newfoundland and Labrador Centre for Health Information
Tri-Ethnic Research Center (USA)
Toronto Health Economics and Technology Assessment (THETA) Collaborative
Learn more about the research team:
Website, Facebook, Contact Program Coordinator, Contact General Inquiries
Funded by the CIHR Signature Initiative in Community-based Primary Health Care.

Photo: FORGE AHEAD Team in London, ON for our 2nd annual 2014 Steering Committee Meeting.
Date modified: