Celebrating the impact of health research

Success stories in skin
Engineering a natural solution for chronic diabetic wounds
Paul Gratzer PhD PEng
Associate Professor, School of Biomedical Engineering, Department of Process Engineering and Applied Science, and Department of Surgery, Dalhousie University
Introduction: alarming statistics
An estimated 366 million people worldwide are affected by diabetes.1 Of those, 15–20% experience non–healing (chronic) foot ulcers and of those, 85% will ultimately require amputation.1 In starker terms, someone in the world is losing a limb to diabetes every 20 seconds.
As the number of people afflicted by diabetes is increasing significantly every year, expected to reach 439 million by 2030, equivalent to 7.8% of the world adult population,2 this problem can only be expected to grow. In Canada, nine million people are affected with diabetes today; by 2020, $16.9 billion dollars will be spent directly on diabetes.3 Our lab has developed a new way to heal diabetic foot wounds that could potentially eliminate the need for amputation; we are working to make it available to patients.
An unmet need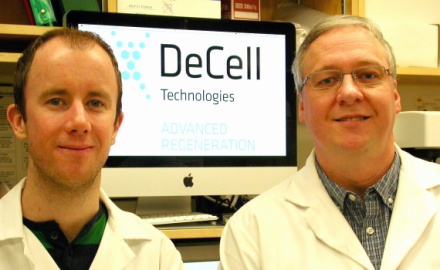 Karl Conlan (Research Associate, DeCell) on the left and Dr. Paul Gratzer (CEO and Founder) on the right.
The options for treating foot ulcers in people with diabetes are often insufficient. Currently in Canada, the standard of care involves removing dead or infected tissue within the wound site, wrapping the wound with saline–soaked sterile gauze and providing a method to keep the patient from walking on the affected area during healing. The patient will be seen weekly and the standard of care treatment will be repeated until healing is successful, a process that can take up to six months. Often, however, healing does not occur. The risk of the patient experiencing an infection increases dramatically if significant healing (>50%) does not occur within four weeks. Infected wounds can receive another level of treatment involving the application of anti–microbial dressings and topical anti–septic agents. If these measures fail, the infection will persist and spread, until surgical removal of the affected portions of the foot is the only option.
There is a third line of treatment prior to amputation, which involves the use of biologic agents or engineered tissues. This is used in the United States but, due to the very high cost of these treatments, it is used very infrequently and usually as a last–ditch effort to save the affected limb from surgical amputation. Currently, these types of products are not available in Canada for the treatment of diabetic chronic wounds.
Patient, heal thyself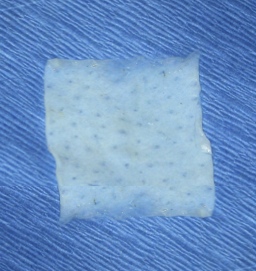 DermGEN – a sterile decellularized human dermis product.
Our Matrix Engineering Lab at Dalhousie University is using a technology known as "decellularization". In a process somewhat analogous to removing the yolk and the white from an egg without damaging the shell, we extract immune–reaction inducing cellular materials from animal or human tissues. This leaves behind an intact, native, non–living protein matrix scaffold4 that acts as a foundation for the repair and regeneration of tissues. The scaffold is both safe and sterile, because decellularization has removed any bacteria or viruses from tissues.
Our research has shown that, after decellularization and with the processing methods we have developed, the remaining scaffolds retain the essential properties of their tissue of origin. Further, these scaffolds encourage cells to migrate back into them and begin forming new living tissue. This has been shown for a variety of tissues obtained from animals and, most recently, humans. These results indicate that once the decellularized scaffolds are implanted into a patient's body, they can combine with the patient's own cells to repair and ultimately regenerate new living tissue.
Translating this new treatment to the patient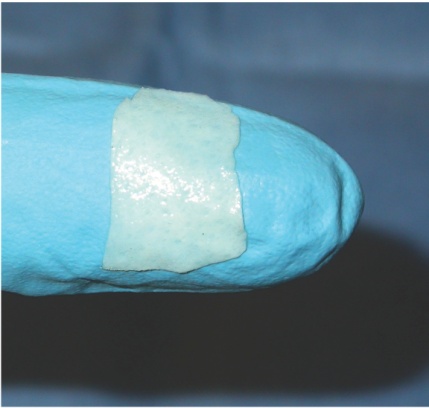 DermGEN draped over a finger showing how well it conforms to contours just like natural skin.
There are a number of areas where decellularization of human tissues would have a great impact on patient treatment and outcomes. One growing and unmet need identified early on was the treatment of chronic diabetic wounds. The use of decellularization technology could potentially eliminate the need for amputation. To be successful, however, the decellularization technology would not only have to be effective at healing the wounds, but also easy to use and cost effective.
With commercial development funding from CIHR and Nova Scotia funding agencies (Springboard, InNOVAcorp, ACOA) and support provided by the Capital District Health Authority (CDHA) in Halifax, we have developed a sterile decellularized human skin–derived scaffold capable of facilitating healing in chronic diabetic wounds. In addition, to ensure that this new treatment would be affordable and, therefore, available, we developed in parallel an innovative automated manufacturing system to provide large numbers of these scaffolds at a very low cost. As a result, the new technology can be used as a front–line treatment and create a new standard of care for treating chronic diabetic wounds.
We have secured patent protection for our discoveries and we have established a company, DeCell Technologies Inc., which will be bringing decellularized tissue–based products to the Canadian market and, in turn, to Canadian patients. Currently, DeCell Technologies Inc., is completing pre–clinical studies on its first decellularized human tissue derived product, called DermGEN. This product is specifically targeted at treating chronic diabetic foot ulcers and will be undergoing clinical testing with diabetic patients in the fall of 2013. We anticipate that our product can potentially eliminate amputation as a necessary option in the treatment of chronic wounds in diabetic patients within two–to–three years.
Acknowledgments
Collaborators: Sean Margueratt, DeCell Technologies Inc.; Karl Conlan, DeCell Technologies Inc.; Jason Williams MD, QEII Health Sciences Centre; Martin LeBlanc MD, QEII Health Sciences Centre; Amanda Murphy MD, QEII Health Sciences Centre; Paul Hong MD, IWK Hospital; Michael Bezuhly MD, IWK Hospital; Barbara Campbell,Hammock Facilitation Inc.; Diana Pliura PhD, CEO, Albry Inc.; Halifax Regional Tissue Bank (HRTB); Sean Moulton (HRTB)
Funding: Canadian Institutes of Health research (CIHR), InNOVAcorp, Springboard, Halifax Capital District Health Authority (CDHA), Atlantic Canada Opportunities Agency (ACOA)
---
See TCL: research providing solutions to hard–to–diagnose skin cancers
Yuanshen Huang
Department of Dermatology and Skin Science, University of British Columbia
Youwen Zhou
Department of Dermatology and Skin Science, University of British Columbia
Dermatologic Oncology Program, British Columbia Cancer Agency
Introduction
After 17 years of suffering from an itchy, scaly and red rash on his back and legs and after 17 years of being told he had eczema and being prescribed ineffective steroid creams, a new doctor finally told Michael5 he had cutaneous T cell lymphoma, a type of skin cancer that has no cure.
Cutaneous T cell lymphoma (CTCL), a group of skin lymphoma, is a notorious chameleon, mimicking a wide range of benign skin disorders, such as psoriasis and chronic dermatitis. But this group of skin cancers, which arises from abnormal accumulation of cancerous T lymphocytes, affects more than 30,000 people in North America, many of whom are diagnosed only at a late stage of the disease.
Part of the difficulty in telling CTCL from psoriasis and chronic dermatitis is the lack of an accurate diagnostic test. So it is not uncommon for many individuals with skin lymphoma to go through what Michael went through, being treated for benign skin inflammation only to later on be diagnosed with skin lymphoma. And although patients diagnosed with CTCL early have a normal life expectancy, survival is poor once the disease progresses to the advanced stage, for which there is no cure. We have developed the world's first diagnostic test for CTCL; our further research could lead to a more effective treatment for the cancer.
The "See TCL" story
The "See TCL" project has two objectives: First, to identify unique markers for skin lymphomas and evaluate whether they can be used to diagnose or predict the course of the diseases; and second, to learn whether these markers are actually the reason that cancerous cells multiply uncontrollably in skin lymphomas. If we can confirm that these markers are, indeed, the "on switch" for the disease, we can then look for ways to switch them off and eliminate the tumour cells.
We have accomplished our first task. Over the past three years, we have identified a set of specific molecular markers (disease–signature changes) in skin lymphomas. We can now "see" the malignant T cells in skin lymphomas, and tell them apart from other benign inflammatory skin diseases such as psoriasis and chronic dermatitis. As a result, we now have the world's first and only diagnostic test for CTCL, the SeeTCLTM technology, and have started a British Columbia–registered biotechnology company9 to commercialize the technology.
The road to this achievement had many steps. We undertook traditional knowledge translation activities, including publication in scholarly journals6 and presentations at multiple national and international conferences. Our work was showcased in the Crossroad for BioTransfer 2012 meeting,7, 8 where Canadian research centres, universities and technology transfer offices show their best life sciences technologies for commercialization. In addition, part of this project has received CIHR commercialization support in the form of a Proof–of–Principle grant.
Outcomes
Through a collaborative effort with dedicated researchers in the skin lymphoma research community, website developer, business consultants, university and industrial liaison office of University of British Columbia, and Technology Development Office of British Columbia Cancer Agency, our research findings have been translated into measurable changes.
We have developed and are commercializing the world's first specific and sensitive diagnostic test for skin lymphomas.
We are also making progress on our second objective, which was to gain a better understanding of the cause of skin lymphomas. We now know that, in addition to resistance to programmed cell death, skin lymphoma cells also grow by producing higher–than–normal amounts of a growth–promoting protein, TOX. If we could eliminate this cancer growth factor, the cancerous cells can potentially be wiped out.
We are now working to turn this potential into a clinical weapon to fight skin lymphomas. We have found a gene–based method to specifically turn off the production of the TOX cancer promoter and are currently testing this method. At the same time, we are developing the world's first skin lymphoma experimental model to facilitate development of skin lymphoma therapies. We believe that our goal, of not only being able to diagnose CTCL, but also treat it, is within reach, enabling people like Michael to lead long and healthy lives.
Acknowledgments
Individuals: Yuanshen Huang, Youwen Zhou, Xiaoyan Jiang, Ron Lauener, and Magdalene Martinka et al.
Cities: Vancouver, Beijing
Organizations: University of British Columbia; Vancouver Coastal Health Research Institute; British Columbia Cancer Agency, Peking University
Funding: Youwen Zhou is a recipient of research support from Canadian Institutes of Health Research (CIHR) and from IMHA. Yuanshen Huang is a recipient of CIHR–Skin Research Training Center scholarship.
Footnotes
footnote 1

Footnote 2

Footnote 3

Footnote 4

Footnote 5

Footnote 6

Footnote 7

Footnote 8

Footnote 9
Date modified: