Celebrating the impact of health research

Success stories in
musculoskeletal rehabilitation
The evolution of
fire-well

: improving firefighters' health through research and partnership

Kathryn Sinden PhD candidate
School of Rehabilitation Sciences, McMaster University

Joy MacDermid PT PhD
Professor, Assistant Dean of Rehabilitation Science
CIHR Chair - Gender in Measurement and Rehabilitation of Musculoskeletal Work Disability
School of Rehabilitation Sciences, McMaster University
Hand and Upper Limb Centre, Clinical Research Laboratory, St. Joseph's Health Centre
Introduction
Firefighters provide an essential service within our communities; they respond to emergency situations and ensure our neighborhoods are safe. The intersecting and cumulative effects of the cardiovascular, physical and emotional demands of firefighting, have been linked to high rates of injury,1 with musculoskeletal disorders (MSD) accounting for one–third of all injuries.2 Although female firefighters represent only 3% of all firefighters,3 the number of female firefighters is increasing and they experience elevated risks of injury compared to their male counterparts.4 Firefighters and their municipal employers are challenged to support optimum health given the complex physical and psychological challenges associated with firefighting.
The Knowledge–to–Action (KTA) process model5 is a theoretical framework based on synthesis of multiple planned action theories and has guided our program of research with the firefighters. One of the guiding tenets of the KTA is that evidence about effective musculoskeletal injury prevention needs to be contextualized to this unique occupational context to ensure that the outcomes are relevant. To date, there has been little translational work directed towards injury management programs for firefighters. For example, it is not known what musculoskeletal tests or screening processes, might detect MSD in firefighters. The following story tells of the evolving participatory research and knowledge translation (KT) partnership between researchers and firefighters focused on development of fire-well, an evidence–based injury management program. This case emphasizes the barriers and facilitators to KT within this complex occupational context (see Figure 1).
Figure 1: Schematic of knowledge translation partnership for the development of a firefighter physical demands analysis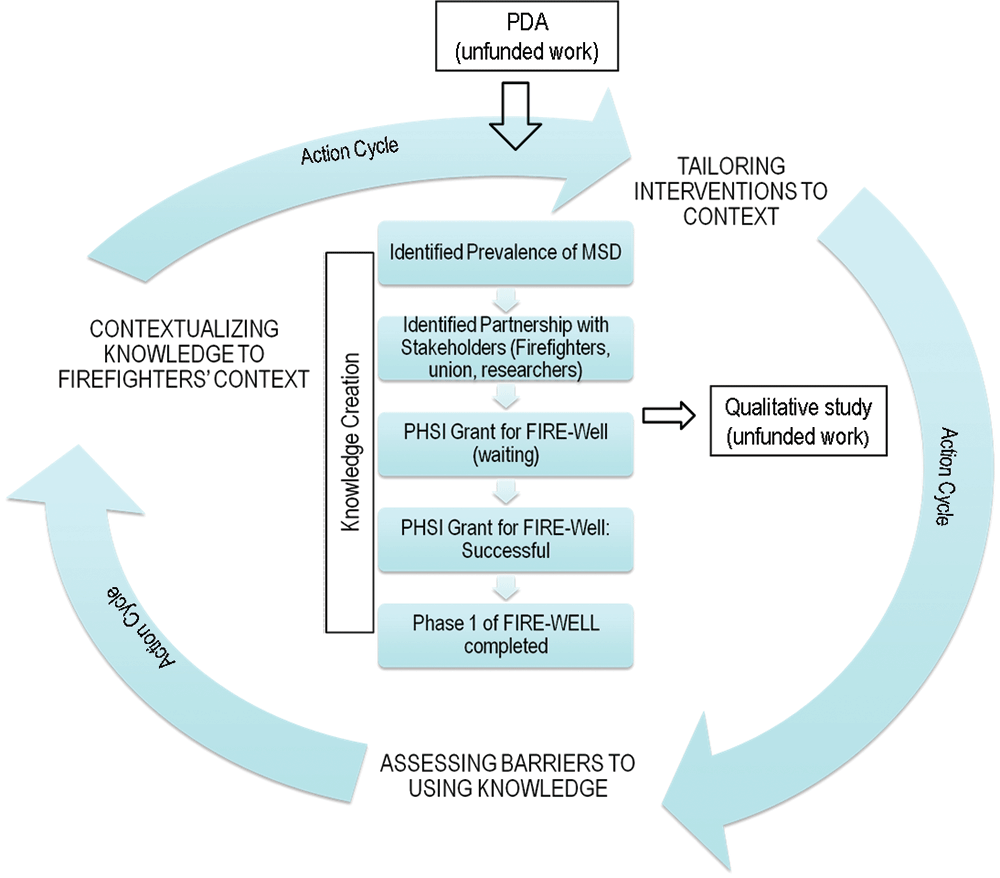 Building partnerships to build success
Developing effective partnerships between occupational stakeholders and researchers can be difficult, but is critical when identifying effective KT strategies. Active engagement of occupational groups during the initial phases of research is known to ensure the identified methods and outcomes are contextually relevant.6 The development and implementation of the fire-well project was led by firefighter research partners as full co–principal investigators which is essential to effective KT.
For instance, one of the early projects undertaken during the evolution of fire-well was the development of a firefighter physical demands analysis (PDA). The PDA involved cataloguing and weighing all firefighting equipment and describing the physical demands associated with firefighting tasks. This was selected by firefighters as a critical task and supported implementation of work restrictions and return to work plans and use of current evidence–based guidelines. Regular stakeholders meetings were conducted during the development of the PDA to ensure that the PDA could be used across multiple applications within the fire service. For example, the firefighters' return–to–work (RTW) specialist needed general information about firefighting tasks that could be modified to facilitate RTW. The occupational health and safety team, on the other hand, required detailed information to identify specific injury risks. The researchers and fire service were able to work together to review local information on job tasks/equipment/roles, PDAs from other municipalities, existing PDA development guidelines7 and how information was used in various injury management decisions. The firefighters made key decisions about the format and content of the PDA, while researchers used best evidence guidelines7 on PDAs to ensure quality. The fire service, insurers and employees now use this PDA to facilitate RTW, while occupational health and safety professionals use the PDA to identify tasks that predispose firefighters to injury. Building trust during our growing partnership was key to success in the making and implementation of the PDA as well to the development of fire-well.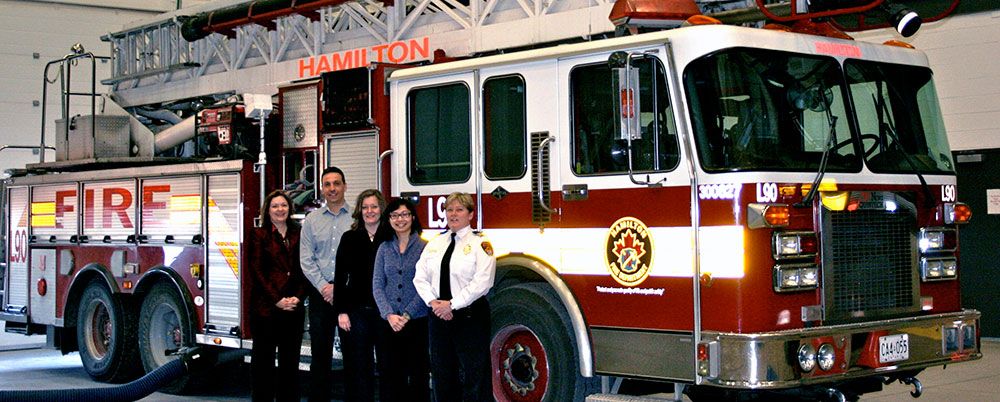 Photo: Dr. Joy C. MacDermid (McMaster University), Rob D'Amico (Hamilton Professional Firefighters), Kathryn Sinden (McMaster University), Margaret Lomotan (McMaster University), Karen Roche (Assistant Deputy Chief, Hamilton Emergency Services - Fire)
The challenges of partnerships across "cultures"
Although engaging all stakeholders through regular meetings ensured all perspectives were considered in developing fire-well, the project was also met with challenges. The groups had different, sometimes conflicting, priorities and obligations. There were periods where research decisions were on hold for contract negotiations or leadership decision and periods where firefighters decisions were on hold waiting for funder decisions. One of the biggest challenges in this regard lay in the nature of the research process. Researchers know that research grants are not adjudicated immediately and are often unsuccessful on the first attempt. Stakeholders, though, experience frustration during the prolonged period of inactivity while waiting for grant funding and can lose the enthusiasm generated during the grant application process. Maintaining relationships and confidence in the partnership during these "hurry up and wait" cycles is a challenge.
We solved this challenge by maintaining engagement through ongoing meetings, reassuring our firefighter partners about the nature of the granting process and accomplishing small projects using internal resources and graduate students. For example, the work of graduate students enabled us to complete a qualitative study of the unique challenges faced by female firefighters. This study resulted in a publication,8 providing a much–needed success. Furthermore, as attention to gender differences grew in different fire services, our proactivity on this issue increased confidence around the usefulness of research.
Once we were successful in receiving the Partnership in Health System Improvement (PHSI) grant for the fire-well project, the firefighters and their stakeholders were immediately engaged in initiating the work. Firefighters are goal–oriented; this culture and focus, with regular communication, were critical to expediting fire-well. One of the challenges in developing the screening component of the project was adapting protocols to be both valid and feasible. Researchers reviewed with firefighters the stages involved in the study and how the tasks were evolving to replicate the physiological and physical demands associated with firefighting. Once the research plan, space and protocols were established, the firefighters provided critical organization, allowing us to screen 150 firefighters in a six–month period. Their willing participation in this activity was seen as an indication of the level of commitment and partnership established between the researchers and fire service during the preliminary phases of this research program.
Outcomes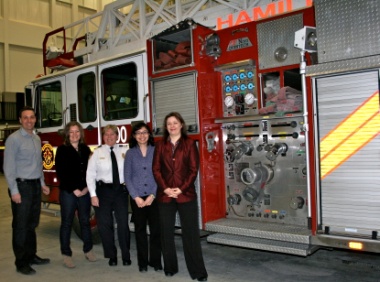 From right to left, FIRE-WELL research team members Dr. Joy C. MacDermid (McMaster University), Rob D'Amico (Hamilton Professional Firefighters), Kathryn Sinden (McMaster University), Margaret Lomotan (McMaster University), Karen Roche (Assistant Deputy Chief, Hamilton Emergency Services - Fire)
Our partnership with firefighters during the evolution and implementation of fire-well has resulted in mutual benefits. As researchers, we have improved our understanding of the unique challenges of implementing KT in a complex occupational context; firefighters have gained insights into the nuances of developing and implementing a research program.
As a result of our partnership, a standardized evidence–based screening program has been developed and is being used by firefighters in injury risk identification. Our research findings are also supporting next phases, including the development of ergonomic modules that will be used to teach injury prevention strategies during high–risk firefighting tasks.
The outcomes from this research program will improve our ability to identify risk of injury among firefighters, improving their health and ultimately, that of the communities within which they serve.
Acknowledgments
We wish to thank the city, district and firefighters for providing space, equipment and resources to support this research program. In particular, we thank, from the fire service, Karen Roche, Rob D'Amico, Walter Baumann, Colin Grieve and Henry Watson. As well, we thank Donna Barber and Mike Pysklywec for their contributions.
Funding: An Operating Grant from the Canadian Institutes of Health Research (CIHR) – Partnerships for Health System Improvement supported this work. KS is supported in part by the Joint Motion Program: A CIHR Training Program in Musculoskeletal Health Research and Leadership.
---
Making the care path consistent: Alberta protocols paying off for patients
Stephen Weiss PhD
Chief Operating Officer, Alberta Bone and Joint Health Institute
Introduction
Alberta has taken the battle to reduce stubbornly high variability in its provincial care path for hip and knee replacements to the front lines of health care, and the move is paying off.
In 2005–2006, Alberta developed and evaluated a fully integrated care path in a multi–disciplinary setting for patients needing hip and knee surgery. The evaluation showed it produced superior results compared with conventional care. Patients had significantly greater improvement in general health, less pain and greater ability to perform daily activities after their hip or knee surgery than those who received conventional care. An added bonus – their wait from decision to have surgery to date of surgery was one–eighth that of conventional care patients.
Based on these findings, Alberta adopted the care path as the standard of care in 2007. Spreading it across the province, however, proved slow and the extent of adherence to its protocols and procedures varied from site to site. At the same time, patient waits in Alberta and most other jurisdictions in Canada remained well above the national benchmark of 26 weeks.
Alberta Health Services (AHS) decided to test the effectiveness of non–monetary incentives for increasing adherence to the care path and accelerating its spread across the province. It turned to the people on the front lines of health care, forming a multidisciplinary team at Calgary's Rockyview General Hospital to conduct the test in 2009.
The Rockyview team set performance targets in key areas of the care path and created a scorecard to track its progress toward the targets. Non–monetary incentives included increased autonomy over orthopaedic bed management in the hospital, educational opportunities and team recognition. Adhering to the care path, the team reduced wait time, had patients up and moving earlier after surgery, and had them out of acute care sooner without any adverse effects.
Expanded 12–month research project
Positive results at Rockyview were followed by an expanded 12–month research project in 2010 to test the impact of incentives at all of the 12 hip and knee replacement surgery sites in Alberta. The project was sponsored by AHS's Bone and Joint Strategic Clinical Network (BJSCN). Alberta Bone and Joint Health Institute (ABJHI), which designed the care path and managed the trial in 2005–2006, was enlisted to coordinate the work.
A secondary aim of the expanded research was to determine the extent to which adhering to the care path's benchmark four–day stay in acute care while also reducing the stay in sub–acute care would have an impact on provincial wait times. Freeing up beds would open up capacity for more surgeries, reducing wait times. This became significantly more urgent in 2010 as AHS set aside the 26–week national benchmark in favour of even more ambitious targets – progressively shorter annual waits culminating in a maximum wait of 14 weeks for nine of 10 patients by 2015.
A multidisciplinary team was formed at each of the hospitals performing hip and knee replacements in Alberta. Using the Rockyview model, team members came from across the care continuum – acute care units, rehabilitation, operating rooms and hip and knee central intake clinics. They included surgeons, nurses, therapists and managers.
Each team selected at least one key performance indicator (KPI) in each of six dimensions of health–care quality: accessibility, appropriateness, acceptability, effectiveness, efficiency and safety. Shorter acute care stay (efficiency) and reduced wait for surgery (accessibility) were mandatory, but KPIs selected in the other dimensions were discretionary. Each team developed an improvement plan, tracked its performance on a standardized scorecard, and met monthly to review progress. Results were shared within hospital units to encourage broader interest and among teams to create an undercurrent of competition.
The incentive was a commitment from AHS to return a portion of any resource savings to hip and knee replacement services in areas where the teams could see the impact of their success first–hand.
The study design – involving frontline clinicians and managers – encouraged each team member to address the question: "What do I do in my area of the care path that affects others on my team?" This, in turn, led to the next logical step, which was to address the issue at the heart of the research: "How do all of us work together as a team to improve results?" These questions were critical because they reflect the nature of care delivery along the integrated care path, which involves a multidisciplinary partnership rather than a provider–to–provider handoff.
Associated improvements in wait times
The implementation of an integrated care path is having its intended impact on wait times. Beyond that, though, and in parallel with this work, ABJHI has been developing a system that will make Alberta's wait times data on hip and knee replacements more reliable, supporting further reductions.
Up until now, data have been flawed because definitions of key events during the wait and practices used to measure data have differed markedly across the province. These inconsistencies have made the wait times reported from different locations unreliable, which in turn has made reducing waits much more difficult. Hip and knee wait times reporting in Alberta, as in most jurisdictions, has also focused exclusively on just two major timeframes – from referral to consultation with a specialist and from the decision to have surgery to the date of surgery. The wait between important steps within these timeframes has been largely ignored, leading to missed opportunity to identify and address causes of delays.
Further, data have not distinguished between voluntary delays caused by patients and the involuntary delays caused by deficiencies in the health–care system. Voluntary delays – for example, a patient's decision to travel or refusal to take time off work – are factored into provincial wait times even though they are unrelated to system performance.
In response, AHS set out to develop Wait Time Rules and enlisted ABJHI to lead the work. These rules would provide standardized definitions of wait times between key events from referral to surgery and the metrics used for measuring performance. Wait times between seven key events were selected to be tracked:
date of referral;
date the referral is received;
date of consultation with a musculoskeletal physician;
date of consultation with an orthopaedic surgeon;
date of decision to have surgery;
date patient is ready for surgery; and
date of surgery.
Data on the date patients are ready for surgery is unique and makes Alberta the first jurisdiction in Canada able to identify and measure voluntary delays. This enables service planners to focus wait–time reduction efforts solely on the operational areas over which they have influence, such as operating room time, hospital bed space and referral processing.
Alberta's Wait Times Rules also capture data on patient characteristics and demographics. This information gives the province an accurate snapshot of who is waiting, where they are waiting and how long they have been waiting on a real–time basis. As a bonus, the rules have laid the foundation for developing a provincial online referral system that will show primary care physicians the availability of specialists across the province. The Wait Times Rules are now being phased in.
Outcomes: incentives and measurement effective for spreading the care path
The outcomes of the 2010 research project demonstrated that incentives and performance measurement form an effective mechanism for spreading the care path. All teams followed its protocols and procedures. Furthermore, length of stay in acute and sub–acute care declined an average of 1.3 days – a large gain in view of the 10,000 hip and knee replacements performed in Alberta annually. The acute and sub–acute bed–days saved set the stage for increasing surgery volumes and reducing wait times in the subsequent year.
Translation of this research, beginning with the Rockyview incentives project, resulted in a permanent provincial program to build on the teams' improvements. Outcomes have been impressive. Since the start in 2010:
adherence to the protocols and procedures in the care path has solidified;
length of stay in acute care has declined to a provincial average of 4.1 days, closing in on the four–day benchmark with no detrimental impact on patient safety or satisfaction;
a projected 32,300 bed–days – 22,400 in acute care and 9,900 in sub–acute care – will be saved by March 31, 2013, the end of the current fiscal year, with a value of more than $22 million;
used solely for hip and knee replacement patients, the savings would have opened up bed capacity for additional 8,625 surgeries without having to add a single new bed; and
key performance indicators have improved across all the dimensions of quality.
In addition, Alberta is now on a trajectory to meet, or even better, its ultimate wait time target of 14 weeks by 2015.
Acknowledgments
Funding: Alberta Health Services, Bone and Joint Health Strategic Clinical Network
Footnotes
Footnote 1

Footnote 2

Footnote 3

Footnote 4

Footnote 5

Footnote 6

Footnote 7

Footnote 8
Date modified: