Sexual minority youth and bullying
Back to feature: Tackling Bullying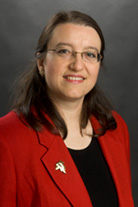 Dr. Elizabeth Saewyc, CIHR/PHAC Chair in Applied Public Health Research
Professor at the University of British Columbia School of Nursing
Dr. Saewyc and her team of researchers studied substance use and the consequences of social stigma among Asian sexual minority youths in British Columbia. The researchers looked at a sample of 5,432 Asian youths who completed the 2003 BC Adolescent Health Survey.
Their findings showed that adolescents who are sexual minorities (lesbian, gay or bisexual, or LGB) were more likely to be victimized and bullied than Asian heterosexual teens – twice as high for Asian LGB boys as heterosexual peers and 1.5 times as high for Asian LGB girls as heterosexual peers.
These teens experienced higher rates of abuse, rejection, violence and discrimination. And because these adolescents also come from an ethnic minority they can be a double target for bullies. This societal stigma can lead to mental health problems, such as anxiety and depression. Sexual minority youths are also more likely to skip school out of fear.
Dr. Saewyc's study also showed that protective factors, such as extracurricular activities and healthy connections with peers in school, can reduce the likelihood of problem substance use, risky sexual behaviours and HIV infection. Creating safe and supporting schools and community environments for Asian sexual minority youth is essential for tackling bullying.
Dr. Saewyc, whose research focuses on health issues of youth, is currently leading a national study that looks at how schools and community organizations are making a difference in reducing homophobic bullying and improving health and school outcomes for sexual minority youth.
Date modified: