Tackling Bullying
In Canada, at least 1 in 3 adolescent students have reported being bullied recently and 40% of Canadian workers have experienced bullying on a weekly basis.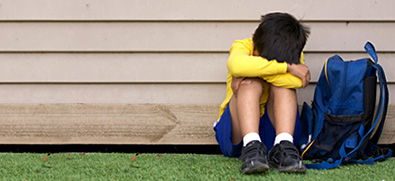 Teasing, name-calling, hitting, spreading rumors or embarrassing someone in public; these aggressive behaviours are all forms of bullying.
Bullying can have both short and long-term impacts on someone's physical and psychological health. Victims often feel lonely, isolated and unsafe. Researchers have also shown that bullying can lead to depression, anxiety, low self-esteem and physical illness. In extreme cases, bullying can be fatal. In fact, over the past few years the media reported cases of suicide among teens who ended their life after being the target of repeated harassment at school and in cyberspace.
Bullying is a serious issue, and governments are taking steps to protect kids. For example, Ontario is implementing new anti-bullying legislation in the province's schools this September, and last winter Québec adopted Bill n°56: An Act to prevent and stop bullying and violence in schools.
CIHR supports research that looks into the health impacts of bullying. In 2012, CIHR invested $2 million in a study that looks at how schools and community organizations are making a difference in reducing homophobic bullying and improving health and school outcomes for sexual minority youth.
A Message from Dr. Joy Johnson, Scientific Director of the Institute of Gender and Health
Date modified: