CIHR Centres for Research Development Corner - 2002 to 2010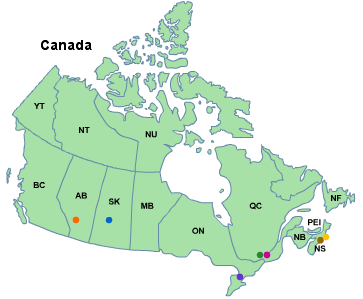 Table of Contents
---
1. Description
In 2002 the CIHR Institute of Population and Public Health (IPPH) launched an inaugural funding program to support Centres for Research Development. These Centres, jointly governed by research-users and researchers, focused on understanding and addressing the impacts that physical and social environments have on health. This arrangement was designed to maximize the transfer of research results into practical applications and the development of new policies and programs that will lead to population-health benefits. Through the active engagement of policy makers and community leaders, these Centres, the first of their kind in Canada, aimed to build research capacity to better understand and address the impacts of programs and policies that help to improve the quality of physical and social environments.
These unique Centres were supported in partnership with the Canadian Lung Association; Association pulmonaire du Québec; L'Institut de recherche Robert-Sauvé en santé et en sécurité du travail (IRSST), and the CIHR Strategic Initiative in Rural and Northern Health Research, representing an investment of over $15 million in Population and Public Health Research and Knowledge Translation.
2. Objectives
The objectives of the Centres Program were to:
Align capacity building with strategic health research themes and knowledge exchange activities of participating Institutes
Better position interdisciplinary teams of researchers, in newly emerging and less developed fields, for accessing open-competition (investigator-initiated) research funding
Promote networking and mentoring across researchers and existing institutions
Foster meaningful interactions with research users such as policy makers, public and voluntary sector program administrators, and clinical and public health practitioners
Create a sustainable path for the activities of Centres for Research Development, with committed multi-year funding
Facilitate capacity building in regions of Canada with underdeveloped research strengths
3. Centres for Research Development
Dr. Penelope Hawe (University of Calgary),
Population Health Intervention Research Centre - Website
The Popuation Health Intervention Research Centre brought together researchers from Canada, the United States, the United Kingdom, and Australia, to promote best practices in health interventions in schools, workplaces, communities and other environments. The objective of the centre was to build stronger theory and context-assessment methods, in order to improve the likelihood of successful interventions and to better understand the factors that determine the effectiveness and applicability of particular interventions. In 2013, PHIRC's name changed from the Population Health Intervention Research Centre to the Population Health and Inequities Research Centre. PHIRC continues to embrace innovations in theory, methodologies, and ethics with respect to research and knowledge exchange on policies and programs that impact upon population health.
Dr. James Dosman (University of Saskatchewan),
Canadian Centre for Health and Safety in Agriculture - Website
The Canadian Centre for Health and Safety in Agriculture (CCHSA) addressed issues of health and safety for workers, family members and the public at large as a result of inhalation exposures (what we breathe), food and water contamination (what we eat and drink), adverse working conditions (how we work), and health issues for the public (how we live). The Institute of Agricultural Rural and Environmental Health (IAREH) at the University of Saskatchewan and collaborators currently have established programs, capacity and infrastructure in each of the necessary building blocks of research, capacity building (training) and knowledge transfer for the development of the CCHSA. The CCHSA connected these building blocks together and: 1) made more efficient use of intellectual resources and created new knowledge that would otherwise not be developed, leading to 2) unique training opportunities and 3) new collaborative research initiatives with effective consumer-driven knowledge transfer. All of these activities were grounded in a series of cooperative relationships with agricultural producers and health policy initiatives.
Dr. John Myles (University of Toronto),
Centre for Urban Health Initiatives - Website
The Centre for Urban Health Initiatives (CUHI) facilitated the development of high-quality, innovative, trans-disciplinary research that investigated the combined effects of local physical and social environments on the health of urban residents. CUHI supported scholarship in emerging areas by supporting the synthesis of existing literatures, promoting the development of innovative methodologies in pilot studies, and informing the design of neighborhood-level action strategies. The centre was home to an urban health data repository that facilitated dissemination and the development of research projects.
Dr. Jean-Luc Malo (Hôpital du Sacré-Coeur de Montréal, affiliated with l'Université de Montréal),
Asthma in the Workplace Centre - Website
The Asthma in the Workplace Centre studied a wide range of health impacts of asthma in the workplace, including psychological and social, as well as biological considerations. The centre facilitated the translation of research results to improve the health of those affected with asthma in the workplace in the Canadian population. To achieve these objectives, the centre: 1) united researchers from Université de Montréal and McGill in psychological, social, economic, clinical, epidemiological, evaluative and biological methodologies; 2) exchanged with partners and stakeholders who shared knowledge and made it rapidly useful to Canadian asthmatics and those at-risk of developing asthma in the workplace; 3) became a world-renowned centre of excellence in which most aspects of asthma in the workplace were examined and, thus, attracted a vast number of students and ensured continuing education for health professionals.
Drs. Louise Potvin and Marie-France Raynault (Université de Montréal), Centre de recherche Léa-Roback sur les inégalités sociales et de santé de Montréal - Website
The Centre d'études et d'interventions sur les inégalités sociales de santé de Montréal extended and intensified the development of infrastructures for researching health inequalities in Montréal. The centre developed and supported three new infrastructures: 1) an infrastructure for the exchange of knowledge among multidisciplinary researchers, practitioners and policy makers; 2) a system for linking information on the health of the population of Montreal by grouping together existing data banks and new investigations; 3) an infrastructure for knowledge transfer.
Dr. Renée Lyons (Dalhousie University),
Atlantic Networks for Prevention Research - Website
The Atlantic Network for Prevention Research developed research infrastructure in Atlantic Canada to advance population health science and public health systems in the area of illness and injury prevention and developed a ground-breaking program of research, knowledge translation, and training in environmental diagnostics in three environments: workplaces, communities, and schools. The alliance capitalized on and enhanced the collective resources of universities, governments, community organizations, and the private sector.
Dr. Judith Guernsey (Dalhousie University),
Atlantic Rural Environments and Health Centre - Website
The Atlantic Rural Environments and Health Centre focused on building a collaborative research network and resource centre to increase our understanding of the physical and socio-economic environmental influences of health on rural Canadians, and the capacity of rural Canadians to respond to these challenges. The centre linked to participating Atlantic academic institutions through the establishment of regional nodes facilitating shared access to existing and newly developing research capacity and resources. A three dimensional conceptual model that integrated the rural physical and social environmental context, with health outcomes at a range of spatial and population levels, provided the research framework. Opportunities for 'virtual' transdisciplinary interaction on specific research questions, using WebCT and other teleconferencing methods, were built into the research program.
4. Funding allocation per Centre
Principal Investigator
Name of Establishment
Title*
Total*
Dosman, James
University of Saskatchewan
Health of Canadians associated with agricultural production, in particular inhalation exposure, food and water contamination and adverse working conditions
$2,040,000
Guernsey, Judith
Dalhousie University
Atlantic Rural Environments and Health Centre
$2,400,000
Hawe, Penelope
University of Calgary
Internatonal Collaborative Centre for the Study of Social and Physical Environments and Health
$2,336,892
Lyons, Renée
Dalhousie University
Atlantic Health Network for Prevention Research
$2,133,772
Malo,
Jean-Luc
Hôpital du Sacré-Coeur de Montréal
Asthma in the Workplace Centre
$2,270,250
Myles, John
University of Toronto
Centre for Urban Health Initiatives
$2,348,115
Potvin, Louise et Raynault, Marie-France
Université de Montréal
Centre d'études et d'interventions sur les inégalités sociales de santé de Montréal
$2,291,101
Grand total
$15,820,130
Research project titles are listed in the language in which they were provided.
Date modified: