YouthCan IMPACT – A more efficient way to support youth mental health
Adolescence can be a difficult period of life – particularly for young people dealing with mental health issues.
Finding support services for these young people can also be a challenge, due to long wait times and the lack of availability of services in some communities. To further complicate matters, in Ontario, young people who turn 18 are shifted from the youth mental health system to the adult mental health system, which provides a very different set of services.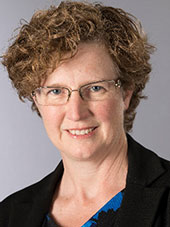 Dr. Joanna Henderson, a University of Toronto researcher and Executive Director of Youth Wellness Hubs Ontario, has devoted much of her career to investigating these issues and finding ways to improve the delivery of care.
"Consider a 17-year-old young woman receiving some counselling and services through the adolescent mental health system. She might be struggling with anxiety and depression, or cutting herself, or having thoughts of suicide. But when she turns 18, she no longer has access to support," said Dr. Henderson. "The adult mental health system is really geared toward mental illnesses such as schizophrenia or bipolar disorder. So there's this big gap where we have young people who are still in the process of developing, tend to be dealing with some big challenges at that point of their lives (they may be moving out, or going to post-secondary school, or trying to find a job) and we take away the services that could be useful to them to successfully navigate those difficulties."
In response, Dr. Henderson and her team created YouthCan IMPACT – a collection of drop-in centres where youth who are experiencing mental health issues can seek guidance and support without waiting in line.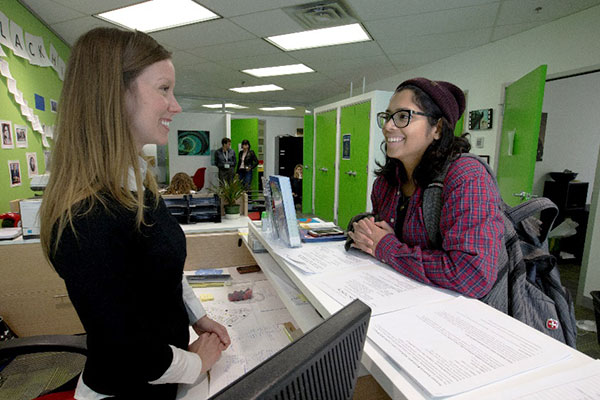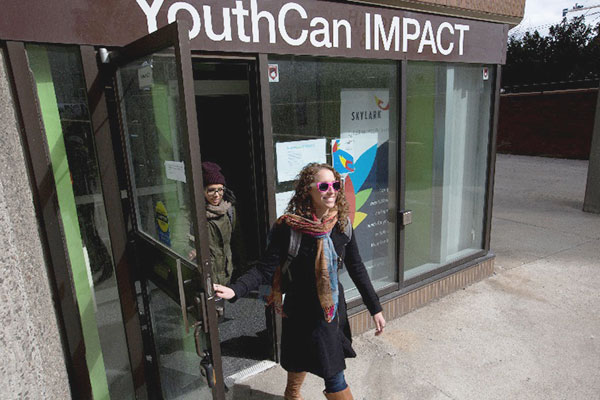 "One of the challenges with hospital-based services is the long wait to meet with a psychiatrist. But many of the young people waiting in those lines don't actually need to see a psychiatrist. In our current system, many psychiatrists focus on providing medication rather than providing psychotherapy, so there are lots of young people who don't need to be in that line, which is creating a longer wait for the individuals who actually do need to see a psychiatrist," noted Dr. Henderson. "With our community-based model we're using what's called a stepped or staged model – we figure out right at the front door what level of care should be provided and then we provide that level of care."
The YouthCan IMPACT model was developed through extensive consultations with youth and families to identify the changes they most wanted to make to the system. Dr. Henderson also hired some youth with lived experience to actually join her team, to ensure that their voices and experiences would continue to inform the roll-out of services.
With support from the Ontario SPOR SUPPORT Unit, Dr. Henderson and her team are now conducting a randomized control trial to compare these two models of service delivery: the traditional, hospital-based psychiatric consultation versus a community-based model using an integrated, collaborative-care team, offered through a walk-in centre that can be accessed anytime.
"The SPOR funding has really helped us build a model that is able to support the entire community, not just the research participants," said Dr. Henderson. "After a bit of a slow start, we're now seeing that each centre has around 500-900 individual youth per year, so they're quite robust."
The project has also attracted the attention of the provincial government, which has shown an interest in expanding this model to a total of nine sites. Supported by resources from the Provincial System Support Program of the Centre for Addiction and Mental Health and the Ontario Centre of Excellence for Child and Youth Mental Health, the team is now in the process of reviewing proposals for similar centres in communities across Ontario.
What is SPOR?
The Strategy for Patient-Oriented Research (SPOR) is a collection of funding partnerships between the Canadian Institutes of Health Research, provinces and territories, philanthropic organizations, academic institutions, and health charities. At its core, SPOR is about providing the evidence needed to inform the development of health policies and improve the health care system. It is about putting scientific discoveries into practice, and producing the information decision-makers and health care providers need to improve patient care.
More information on the Ontario SPOR SUPPORT Unit.
Date modified: