Dr. Sameera Hussain, CIHR Health System Impact Fellow Invited to Attend 71st World Health Assembly, Geneva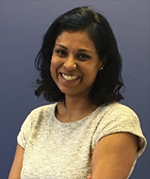 Dr. Sameera Hussain, a CIHR-Health System Impact Fellow based at the host institution Canadian Society for International Health (CSIH), was invited by The Honourable Ginette Petitpas Taylor, Minister of Health, to participate as a member of the Canadian delegation at World Health Assembly in May 2018 in Geneva. Sameera took on the role of civil society representative while attending on behalf of CSIH and its members, and the larger NGO community in Canada. Learn more about Dr. Hussain's experience in Geneva.
Dr. Sameera Hussain had the opportunity to interact with representatives of the Canadian government and to provide important policy and program perspectives on a wide range of important public health issues. They include the draft 13th General Programme of Work; public health preparedness and response; environment and climate change; access to medicines and vaccines; and a global plan of action on physical activity.
Congratulations, Sameera, on this wonderful opportunity and achievement!
Follow the hashtag #WHA71 on Twitter and Facebook for updates.
Date modified: