Notice of upcoming RFA: ERA-NET on Cardiovascular Diseases Joint Transnational Call for Proposals 2018 (JTC2018)

Transnational Cardiovascular Research Projects driven by Early Career Scientists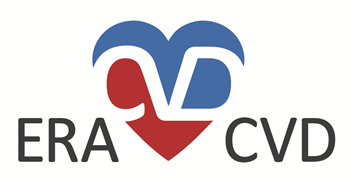 CIHR's Institute of Circulatory and Respiratory Health (CIHR-ICRH) is happy to announce that it will make funding available for Canadian researchers to join the European Research Area Network on Cardiovascular Diseases (ERA-CVD) Joint Transnational Call for Proposals 2018 (JTC2018) for Transnational Cardiovascular Research Projects driven by Early Career Scientists.
Cardiovascular diseases (CVD) are a leading cause of death, one of the major causes of long-term sickness; chronic disease and loss to the labour market, and thus represent a major health and socioeconomic problem. Development of new and innovative medicinal products and improvement in medical technology requires innovative research based on scientific excellence founded on a better understanding of the causes of CVD. Cardiovascular research and its translation into better preventive, diagnostic and therapeutic outcomes are fundamental for patients.
Funded under Horizon 2020, ERA-CVD is a relatively new consortium comprising 23 partners from 18 countries/regions (Austria, Belgium, Estonia, France, Germany, Italy, Israel, Latvia, Netherlands, Norway, Poland, Portugal, Romania, Slovakia, Slovenia, Spain, Taiwan, and Turkey). CIHR-ICRH is partnering with the ERA-CVD partners to fund Canadian researchers through JTC2018. The aim of ERA-CVD is to foster transnational collaboration of European countries and beyond, and to coordinate research efforts and funding programmes of its partner countries.
The JTC2018 is the third joint transnational call from ERA-CVD, and this call has overlap with several ICRH mandate areas. The call is designed to enable Early Career Scientists, in different countries to build an effective collaboration on common multidisciplinary research projects in CVD by joining in transnational consortia (i.e., teams). The call aims to promote co-operation and interchange between Early Career Scientists and thus enable international collaboration and new consortia establishment in cardiovascular research.
The ERA-CVD funding partners and Canada particularly wish to promote multi-disciplinary work and translational research proposals. Applications will be complementary and contain novel, ambitious ideas to address key questions or lead to a step-wise change in understanding of CVD topics. There should be a clear added value in funding the collaboration over individual projects by sharing of resources (e.g., models, databases, diagnosis etc.), harmonization of data, sharing of specific know-how and/or innovative technologies, etc. The research proposals should be built on an effective collaboration among the different research participants from different countries. Each transnational consortium should represent the critical mass necessary to achieve ambitious scientific goals.
Eligibility
Canadian researchers awarded their first doctoral degree at least 3 and up to 10 years prior to the pre-proposal submission deadline and within 0 – 60 months of first academic appointment will be eligible to apply in consortia with international colleagues.
Specifically, for a Canadian application to be eligible:
The Nominated Principal Applicant must be an independent researcher
The Nominated Principal Applicant must be an Investigator (early career) within 0 and 60 months of first appointment at an eligible institution; and
Under JTC2018 applicants must have been awarded their first doctoral degree at least 3 and up to 10 years prior to the pre-proposal submission. (See JTC2018 call text and applicant guidelines for full details)
Funds available
The CIHR Institute of Circulatory and Respiratory Health is partnering with the ERA-CVD partners to provide more than 9.49 M € for JCT2018. The total amount available for Canadian applications is $585,000 CAD, which is enough to fund two (2) grants. The maximum amount available per grant to Canadian participants in transnational consortia is $97,500 CAD per year for up to three (3) years for a total of $292,500 CAD, per grant.
Relevant Research Areas
Under JTC2018, CVD research can comprise hypertensive, ischaemic, pulmonary heart diseases and diseases of pulmonary circulation, other forms of heart disease, diseases of arteries, arterioles and capillaries and congenital malformations of cardiac chambers and connections and cardiac septa (analogues to ICD-10).
Excluded from the call are interventional clinical trials, building up of new cohorts, registries and/or biomaterial banks, cerebrovascular and rheumatic diseases, research that primarily leads to cardiovascular risk management as long term health improvement and/or CVD prevention, and the conduct of screenings.
Anticipated timelines
Launch: January 11, 2018
Deadline for submitting the pre-proposals: March 15, 2018, 17:00 CET
Notification of invitation of pre-proposals to full proposal: Mid-May 2018
Deadline for submitting invited full proposals: June 15, 2018, 17:00 CET
Funding start date: early in 2019
Of note, no documents need to be submitted to CIHR for the pre-application stage.
Contact and further information
Further information on ERA-CVD and the Preliminary Announcement on ERA-CVD JTC2018 is available at the ERA-CVD website. The JTC2018 Call Text and Guidelines for Applicants will be available there following the launch.
The Canadian Request for Applications will be published on ResearchNet in early 2018.
Date modified: