INMD Connections – November 2017
Inside this Issue:
---
Message from Philip Sherman, INMD Scientific Director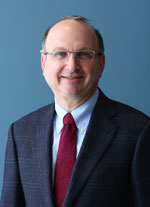 It is with great pleasure that I introduce you to the incoming Scientific Director of INMD, my colleague, Dr. Norman D. Rosenblum. Norm is a Senior Scientist in the Developmental & Stem Cell Biology Program at SickKids Research Institute, where his CIHR-funded laboratory studies the cellular and molecular mechanisms controlling renal and malformation development. Norm is the recipient of a Tier 1 Canada Research Chair in Developmental Nephrology and a Professor of Paediatrics, Physiology, and Laboratory Medicine & Pathobiology at Univ. Toronto where he is also Associate Dean of Physician Scientist Training in the Faculty of Medicine. He has a passion for excellence in research training, as evidenced by his national leadership in the Canadian Child Health Clinician Scientist Program (CCHCSP), a transdisciplinary training program focused on developing the next generation of pediatric clinician-researchers, and in MD/PhD programs and postgraduate Clinical Investigator programs in medical schools across the country. I have known Norm as a colleague and friend for close to thirty years, and am confident that the INMD research communities and partners will benefit from his leadership skills, vision and passion for training and science. Norm assumes the role as Scientific Director of INMD on January 1, 2018.
Welcome aboard, Norm!
Philip M. Sherman, MD, FRCPC
Scientific Director, CIHR-INMD
---
Diabetes Canada/CSEM Professional Conference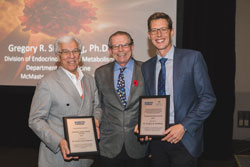 The 20th annual professional conference of Diabetes Canada (formerly the Canadian Diabetes Association) and the Canadian Society of Endocrinology and Metabolism (CSEM) was held November 1-4, 2017 in Edmonton. To open the meeting, a keynote address was presented by Daniel Drucker (Univ. Toronto), Incretin therapies – mechanisms to inform clinical outcomes. George Fantus (Univ. Toronto) was honoured with the Diabetes Canada Gerald S. Wong Award and Cheri Deal (Univ. Montreal) with the CSEM Dr. Robert Volpe Distinguished Service Award. Jean-Louis Chiasson (Univ. Montreal) and Greg Steinberg (McMaster Univ.) presented lectures in receipt of Lifetime Achievement and Young Scientist awards, respectively. Congratulations to all!
---
What's the scoop on sugar?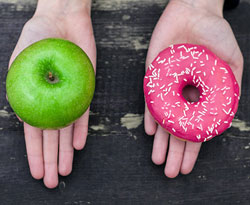 Obesity is on the rise in Canada and in countries throughout the world, resulting in an increase in diseases such as diabetes, cardiovascular disease, and some cancers. In an effort to reverse this trend, policy makers are intervening to reduce free-sugar consumption at the population level. A number of avenues are being explored to discourage excess sugar consumption. These include introducing policies and educational programs (such as updating dietary guidelines and implementing public awareness campaigns), changes to nutrition labelling regulations, and fiscal measures such as taxation. CIHR, in partnership with Health Canada's Office of Nutrition Policy and Promotion and Bureau of Nutritional Sciences, is providing $2 million to support research that will inform policies and programs that seek to reduce free sugar consumption and improve overall health outcomes of Canadians. Read more about the funded research.
---
CIHR Funding Results
INMD, in partnership with the Canadian Association of Gastroenterology and Crohn's and Colitis Canada, congratulates the successful applicants in the Fellowship - Priority Announcement: Gastroenterology competition.
Nominated Principal Investigators
Supervisor
Institution
Project Title
Joannie Allaire
Bruce Vallance
Univ. British Columbia
IL-37 recruitment of SIGIRR: A novel mechanism to suppress intestinal epithelial cell driven inflammation and microbial dysbiosis in Inflammatory Bowel Disease.
Jean-Baptiste Cavin
Keith Sharkey
Wallace MacNaughton
Univ. Calgary
Nutrient regulation of intestinal barrier function in health and inflammatory bowel disease.
Kyle Flannigan
Simon Hirota
Univ. Calgary
Microbiota modulation of xenbiotic receptor signaling and drug metabolism: A microbial take on precision medicine.
Gabriella Leung
Alexio Muise
Hospital for Sick Children
Functional studies of a genetic mutation in the development of a Wiskott-Aldrich-like syndrome in paediatric patients.
Yidan Lu
Johane Allard
University Health Network
Impact of a mobile phone application for home parenteral nutrition (HPN) patients to improve treatment outcomes, adherence and cost analysis.
Christopher Ma
Remo Panaccione
Vipul Jairath
Western Univ.
Development of a core outcomes set for clinical trials in IBD: An International Collaboration.
James McCoy
Brett Finlay
Univ. British Columbia
Transformation of the human cell protein landscape by enterohemorrhagic Escherichia coli during infection by rewiring host phosphorylation signalling.
---
Canadian Lipoprotein Conference 2017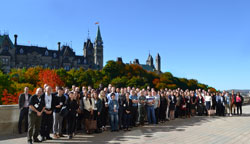 Congratulations to organizers Tom Lagace and Morgan Fullerton (Univ. Ottawa) of the 2017 Canadian Lipoprotein Conference held October 19-20 in Ottawa. Outstanding award lectureships were delivered by Marica Bakovic (Univ. Guelph), Katherine Morrison (McMaster Univ.) and Kathryn Moore (New York Univ.). INMD was pleased to sponsor this important national meeting.
---
CIHR Funding Announcement
KRESCENT/CIHR New Investigator Award and the KRESCENT/CIHR Fellowships
INMD is pleased to announce the Kidney Research Scientist Core Education and National Training Program (KRESCENT) 2018 funding opportunities in partnership with the Kidney Foundation of Canada (KFOC) and the Canadian Society of Nephrology (CSN). Please visit ResearchNet for details about the KRESCENT/CIHR New Investigator Award and the KRESCENT/CIHR Fellowships.
---
Call for applications: KRESCENT Program Director
The Kidney Research Scientist Core Education and National Training Program (KRESCENT) is seeking a new Program Director. The KRESCENT program is a partnership of The Kidney Foundation of Canada, The Canadian Society of Nephrology, and CIHR-INMD. Individuals who are interested in applying for the role of KRESCENT Program Director are asked to send a letter of intent and their CV to Elisabeth Fowler, National Director of Research of the Kidney Foundation of Canada.
Application deadline: February 15, 2018. For more information, please visit the KRESCENT website.
---
Feedback on the INMD Newsletter
INMD welcomes researchers, partners and other stakeholders to share news stories that relate to areas of our mandate. If you have interesting research results or developments, are organizing a conference or workshop, or wish to report on a past event, we would like to feature them in our newsletter or other communication materials.
Have a comment? Please share it with us! You can also write to subscribe or unsubscribe to our Newsletter. Simply send us an e-mail at: inmd.comms@sickkids.ca.
---
Date modified: